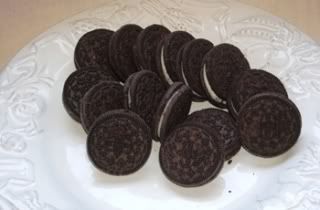 Newman-O's Original
(vegan "Oreos")
I had plans to start experimenting with various items on my list right away, but, to tell you the truth, I'm having a little vacation from serious cooking after the weeks of cooking for photographs! In addition, I've been diagnosed with something called a "
Bakers cyst
" behind my left knee, so I'm supposed to rest my leg. So, I was being a bit lazy today and started thinking about foods that really tempt me when I'm down in the dumps-- guilty pleasures. I didn't want to actually eat any of them, as I've got to lose some weight gained in the last few weeks of cooking more elaborate meals than we are used to, but I thought it might be fun to make a list of some of my vegan "guilty pleasures" in the food department.
Below is my baker's dozen list of indulgences
(it could be longer, but I have to stop somewhere!), which includes some things that we only indulge in about once a year, some items that we only eat in restaurants, and at least one that is very mundane! None of them is a complete loss nutritionally, but they are all quite rich, sometimes downright oily-- definitely not everyday food for me!