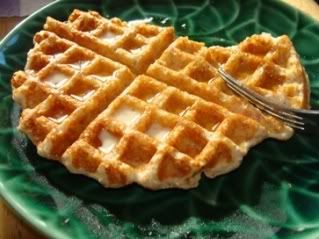 I like Cooks' Illustrated magazine. I know that it's not even vegetarian, and can be quite meat-centered, but they have good reporting on the food science of their recipes. In their latest issue, they had a recipe and article about waffles. Their challenge was to make buttermilk waffles that come out light and fluffy on the inside, and crisp on the outside every time, with no beating of egg whites.

Now, I love my bean waffles-- they are crispy every time and nutritious as well! But I like to try different recipes for common foods, and this one sounded easy and intriguing. Of course, I wasn't going to use eggs or buttermilk in my version, but the use of seltzer water, as in some tempura batters, made sense. They also found out the following: "After some experimentation, we found that waffles made with oil stayed significantly crispier than those made with melted butter, which is partly water." Good for vegans to know!

Long story short, I made a vegan version of their recipe, with half unbleached and half whole wheat flour instead of all white. It turned out very well! My husband and granddaughter loved them! I'm not giving up my bean waffles, but these are great for a spur-of-the-moment meal!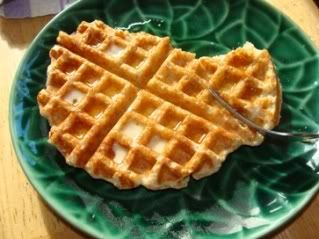 Printable Recipe

BRYANNA'S VEGAN VERSION OF SELTZER WAFFLES
Makes about eight 7-inch round waffles.

I used a regular waffle irons, not the Belgian type that makes thicker waffles. I cooked them until the steam stopped pouring from the iron.They recommend a nonstick iron. A good one is the round Cuisinart Traditional
.
Other waffles irons recommended by Cooks Illustrated are: Chef's Choice WafflePro Express
; Cloer Double Waffle Maker
; Cuisinart 6-Slice Traditional Waffle Iron
.

1 cup (5 ounces) unbleached all-purpose flour
1 cup (5 ounces) wholewheat flour (regular, not pastry)
1 tablespoon organic granulated sugar

3/4 teaspoon table salt (sea salt)
1/4 cup Better than Milk
beverage mix powder
1/2 teaspoon baking soda
1/2 cup unflavored soy yogurt
1 tablespoon apple cider vinegar
2 tablespoons golden flaxseed

1/2 cup water
1 tablespoon Ener-G Egg Replacer
Powder (or Orgran
brand)
1/4 teaspoon vanilla extract

1/4 cup vegetable oil
1 1/4 cups unflavored seltzer water (or club soda)

Adjust oven rack to middle position and heat oven to 250 degrees F. Set a wire rack in rimmed baking sheet and place baking sheet in oven.

Whisk the flours, sugar, salt, Better than Milk powder, and baking soda in large bowl to combine.

In a blender, whiz together the water and flaxseeds until the mixture is fluffy and white. Add the egg replacer powder and whiz again until thick.

Whisk together the blender mixture, soy yogurt, vinegar, vanilla, and oil in medium bowl to combine. Gently stir the seltzer water into the wet ingredients. Make a well in center of dry ingredients and pour in wet ingredients. Using a rubber spatula, gently stir until just combined. The batter should remain slightly lumpy with streaks of flour.

Heat your waffle irons, spray with oil from a pump sprayer
, and bake waffles according to manufacturer's instructions (use about 1/3-1/2 cup batter for 7-inch round iron). Transfer waffles to rack in warm oven and hold for up to 10 minutes before serving with warm maple syrup.

Nutrition Facts
Nutrition (per serving): 440.9 calories; 34% calories from fat; 17.2g total fat; 0.0mg cholesterol; 579.8mg sodium; 326.9mg potassium; 61.3g carbohydrates; 6.3g fiber; 8.5g sugar; 55.0g net carbs; 12.3g protein; 9.4 points.

Enjoy!


TUESDAY, JUNE 8, 2010
http://veganfeastkitchen.blogspot.com/2010/06/waffles-made-with-seltzer-water.html
FACEBOOK COMMENTS:
---