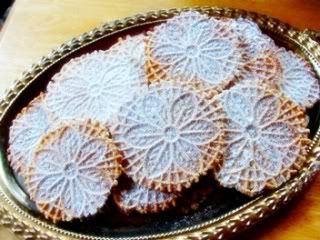 This recipe has been a long time coming. In 2005 I started having a conversation with an old friend of my daughter's, who asked about making vegan cannoli without frying. One of the things I thought of was using vegan pizzelle rolled around a tube before it crisped up. Of course, many others have done this, but not necessarily with a vegan pizzelle. But, I wasn't willing to spend $60 Cnd for a pizzelle iron to test this out, so I put it on the back burner. However, a few weeks ago I found a used Villaware pizzelle iron
(baker) at Value Village for $10, and that was just too good to pass up, so I bought it. (The model I bought is the "Prima", which I don't think is available now, but they have other versions and there are several other brands of pizzelle bakers.)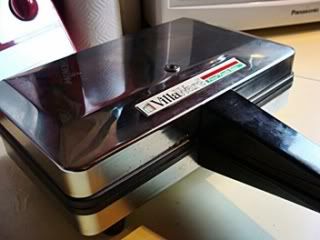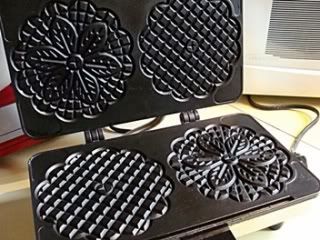 I've been too busy until now to try it out, but today I decided to give it a try. Now, I'd already done some research on pizzelle, which evidently originated in the region of Abruzzo and its relatives (cialde--another Italian version, from Tuscany; French or Belgian gaufrette, Scandinavian krumkake
, Dutch or Belgian stroopwafels, etc.), all of which are baked in specially embossed irons, similar to a waffle iron, but producing a very thin waffle/cookie. It seems that this is a very ancient type of sweet and in some parts of Italy, the irons would be made with family crests on them which would be passed down to each generation.

Pizzelle and it relatives are typical of festival sweets-- rich with eggs, sugar, butter and sometimes cream. I decided to start with a recipe that contained little or no eggs, if I could find one, because that is usually the component that is the hardest to replace in some recipes. Cialde seems to contain fewer eggs than pizzelle, but the French gaufrette often contains no eggs at all, so that seemed a good place to start. My main problem was what to use instead of cream-- I live on an island, as you may know, and our store doesn't carry soy creamer, so I couldn't use that. So I used soy milk (you can use any kind of nondairy milk, so it can be soy or nut-free) with melted Earth Balance added.


They turned out very well on the first try, even with some whole wheat flour! The recipe is below. They are delicious just plain with some powdered sugar, but I had a few spoonfuls of my Almond Creme Whipped Topping (which will be in my new book), so we each had one with the Almond Cream and some grated dark chocolate on top-- yum!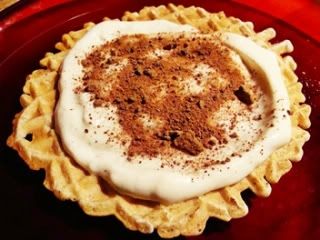 Then I remembered that I had some vegan Dulce de Leche in the freezer, so I got that out and made a "fake Stroopwafel", which is a Dutch or Belgian treat made of caramel sandwiched between thin waffle cookies. The cookies are actually yeast-leavened and they are split in half while still warm to make very thin cookies. I'll tackle those one of these days, but this version was very delicious!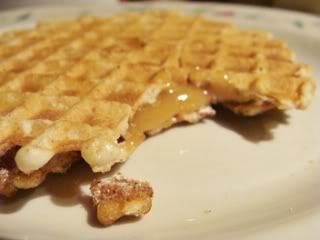 There are many, many variations of these types of cookies-- lemon, chocolate, hazelnut, etc.-- to try out. I have to look for a cone roller
or cream cone molds
, and cannoli molds
soon to try homemade waffle cones and, finally, my own vegan cannoli!


Printable Recipe
BRYANNA'S VEGAN PIZZELLE, CIALDE, OR GAUFRETTE
1/3 cup Earth Balance, melted
1/2 Tbs pure vanilla extract
1 1/2 cups organic powdered sugar
3/4 cup whole wheat pastry flour (I used white whole wheat pastry flour)
3/4 cup unbleached white flour
1 Tbs oat flour (grind dry oatmeal in a dry, clean electric coffee grinder or blender)
FLAVORING:
For Pizzelle or Cialde:
1/2 teaspoon ground anise seed
For Gaufrettes:
1/4 tsp cinnamon
Combine the ingredients in a food processor until smooth.
Heat an electric pizzelle iron according to directions (it takes 7 to 8 minutes and usually there is a light that tells you when it's hot). When it's hot, add a scoop of exactly 4 teaspoons batter to the middle of each cookie section.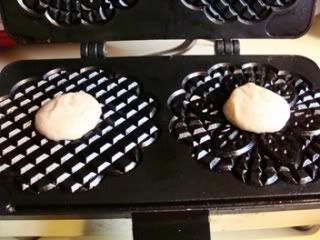 Close the iron and secure the handle. Set a timer for 30 to 40 seconds.
When the timer goes, open the iron and carefully loosen each cookie.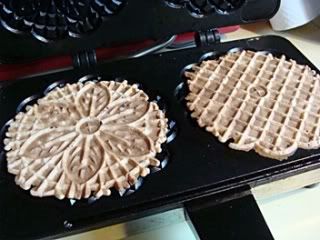 Place on paper towels on top of cooling racks. Continue until you have used up all of the batter.
The cookies get crisp very fast. Sift powdered sugar over the decorative side of each cookie. Serve with tea , coffee or wine.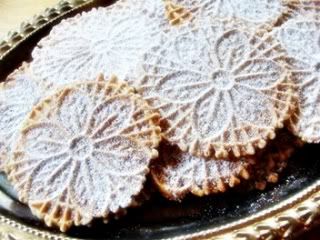 Nutrition (per cookie):
69.5 calories; 38% calories from fat; 3.0g total fat; 0.0mg cholesterol; 31.2mg sodium; 44.8mg potassium; 8.9g carbohydrates; 0.9g fiber; 0.4g sugar; 8.0g net carbs; 1.7g protein; 1.5 points.
1.) My pizzelle iron is non-stick, and the instruction booklet (which I found online) said there was no need to grease the cooking surfaces, but I found that I had to lightly and quickly grease the top and bottoms with a wadded paper towel coated with unhydrogenated shortening before baking each batch, or they stuck. (And the surface is in excellent condition.)


2.) My iron's instructions said to using one heaping teaspoon of batter for each cookie, but this yielded a small cookie-- which may be what you want. But for a cookie which filled each "depression" in the iron, I had to use 4 teaspoons of batter exactly.

Enjoy!



SATURDAY, NOVEMBER 20, 2010
http://veganfeastkitchen.blogspot.com/2010/11/vegan-pizzellegaufrettecialde-with.html
FACEBOOK COMMENTS:
---