This was posted on my blog 2 years ago today!
I love just about anything with peanut butter and chocolate together, and these brownies (actually pretty low in fat) are no exception. They are dark and rich-tasting. (If you are allergic to peanuts, substitute another tasty nut butter-- I would suggest roasted hazelnut or filbert butter.) These are easy to make!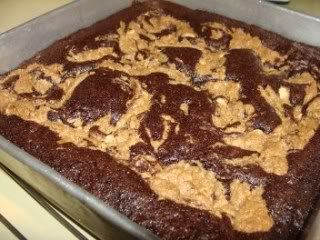 BRYANNA'S VEGAN PEANUT BUTTER SWIRL FUDGE BROWNIES
Makes 16 squares
BROWNIE BATTER:
3 TBS. Earth Balance Natural "Buttery Spread"
OR 3 TBS. oil (this works just fine!)
3 TBS. water
1 c. packed brown sugar
1/2 c. organic cocoa powder (unsweetened)
2 tsp. pure vanilla extract
1 TBS. grated orange zest (organic, if possible— orange part only)
1/4 c. water
1 TBS. flaxseeds
1TBS. Ener-G egg replacer powder (in my experience, other types don't work in this, so use Ener-G)
1/2 c. regular wholewheat flour (not pastry flour)
1/2 tsp. baking powder
1/4 tsp. salt
PEANUT BUTTER SWIRL:
Mix together in a bowl:
1/2 c. natural peanut butter (or you could use other nut butters, such as hazelnut)
1/3 c. packed brown sugar
2 tsp. EnerG Egg Replacer beaten with 2 TBS. water
1 TBS. flour
1/4 tsp. pure vanilla extract
Preheat the oven to 350 degrees F.
In a small saucepan, melt the Earth Balance and 3 TBS. water gently over medium heat OR melt it in a medium-small microwave-proof bowl in the microwave for 1 minute. Stir in the sugar until dissolved, then stir in the cocoa, vanilla and orange zest. Set aside.
IF YOU USE OIL INSTEAD OF EARTH BALANCE, skip the melting step. Just mix the oil with 3 TBS. HOT water and stir in the sugar, then the cocoa, etc. (I use a whisk for the cocoa).
Place the 1/4 c. water, flaxseeds and egg replacer in a blender or mix with a stick/immersion blender. Blend on high for several minutes, until the mixture is "gloppy" like slightly beaten egg whites, with little brown flecks of flax skin throughout. Fold this into the cocoa mixture.
In a small bowl, mix together the flour, baking powder, salt and nuts. Add the flour mixture to the cocoa mixture and stir briefly.
Spread brownie batter in an 8" square baking pan, greased lightly with margarine or sprayed with pan spray or oil from a pump sprayer.
Mix up the Peanut Butter Swirl mixture. Drop the mixture in small "blobs" evenly spaced over the brownie batter.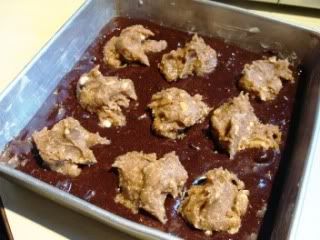 Swirl the peanut butter mixture through the batter with a knife, as if making a marble cake.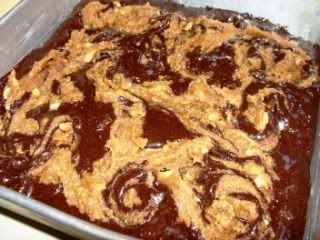 Bake 25 minutes.
Cool on a rack (yes, you have to wait!), then cut into 16 squares.
Nutrition Facts
Nutrition (per square): 165.6 calories; 34% calories from fat; 6.8g total fat; 0.0mg cholesterol; 61.7mg sodium; 202.5mg potassium; 25.7g carbohydrates; 2.3g fiber; 18.4g sugar; 23.4g net carbs; 3.2g protein; 3.4 points.
Enjoy!

http://veganfeastkitchen.blogspot.com/2009/03/vegan-peanut-butter-swirl-brownies.html
THURSDAY, MARCH 12, 2009
FACEBOOK COMMENTS:
---