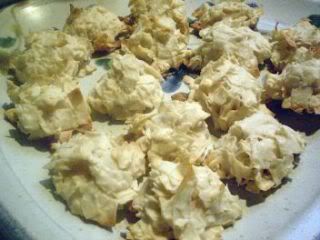 I'm still busy playing catch-up with housework and variosu projects and haven't blogged as much as I'd like to! I've been dying to bake, but I'm trying to lose weight as well, so I've been holding off until I have company. I hadn't quite got into the Christmas spirit yet, but we attended a great Christmas concert on Denman last night, put on by the Denman Is. Elementary and Community School and the "Rock Club" (as in "rock'n'roll"!). Half the island came and we all had a ball-- what talented kids (including 2 of my grandaughters!).

I wanted to share this favorite cookie recipe with you for the holidays before we head off to Vancouver for a few days to visit family and friends, and see my stepson Laurence play with his Celtic/rock band at a concert in Kitsalano.


DH loves macaroons, so some time ago I played with this recipe for several weeks. Recipes solely based on beaten egg whites inevitably fall short of the mark when veganized, so I started with an old-fashioned American recipe which is based on sweetened condensed milk. I used unsweetened large-flake coconut because I liked the texture better and I wanted them less sweet than usual.
We really enjoyed these, and they are easy to make and pretty, with lots of coconut crunch. They are also versatile, and can easily be altered by adding bits of chocolate or dried fruits. The recipe can be doubled, in which case, beat the sugar mixture in a blender
.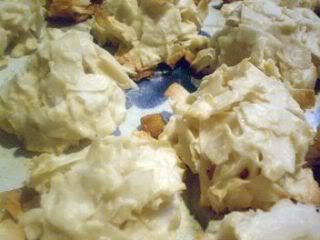 BRYANNA'S VEGAN COCONUT MACAROONS
Yield: 30
3/4 cup light organic sugar
1/3 cup boiling water
1/2 Tbs Earth Balance (non-hydrogenated vegan margarine)
3 Tbs soy milk powder
2 1/2 Tbs soy protein powder
(plain)
1 tsp pure vanilla extract
1/4 tsp pure almond extract
1 pinch salt
Whipped Egg Replacer:
2 Tbs Ener-G
or Orgran
egg replacer powder
1/4 cup water
Additional:
7 oz large-flake unsweetened coconut
OPTIONAL:
If you like, you can add up to a cup of finely-chopped dried cranberries, pineapple, mango or papaya, or vegan semi-sweet chocolate
In the container that comes with a hand immersion blender, mix the sugar, boiling water, and Earth Balance. Stir to melt. Add the remaining ingredients up to and including the salt. Blend until the mixture is smooth.
Preheat the oven to 325° F.
Beat the water and egg replacer in a stand mixer until like almost-stiffly-beaten egg whites (about 7-10 minutes). You can use the whip attachment on a Kitchen-Aid mixer
, or the small whip attachment to the Bosch Universal
Slicer/Shredder bowl,
or the beaters on any inexpensive stand mixer
-- it doesn't need a powerful motor to perform this task. You just don't want to stand there and hold a hand-held mixer for 7-10 minutes!
Scoop the sugar mixture into the beaten egg replacer and fold until thoroughly mixed. Add the coconut (and any optionals you are using) and mix evenly.
Line two cookie sheets with cooking parchment. Scoop the cookie mixture out in slightly rounded tablespoons or with a small ice cream scoop with a release mechanism. Place the mounds, which should not be loose-- make sure the mixture sticks together well-- about 1" apart on the cookie sheets.
Bake for 18 minutes, or until the cookies begin to turn golden. Cool on racks.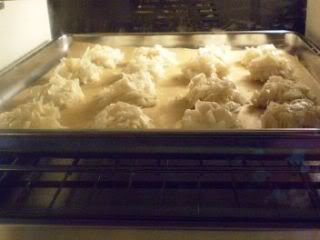 Nutrition Facts
Nutrition (per cookie): 71.5 calories; 53% calories from fat; 4.5g total fat; 0.0mg cholesterol; 24.1mg sodium; 46.7mg potassium; 7.4g carbohydrates; 1.1g fiber; 5.7g sugar; 1.1g protein; 1.6 points.
Enjoy!


FRIDAY, DECEMBER 17, 2010
http://veganfeastkitchen.blogspot.com/2010/12/vegan-coconut-macaroon-cookies-for.html
FACEBOOK COMMENTS:
---