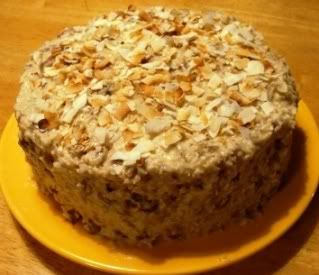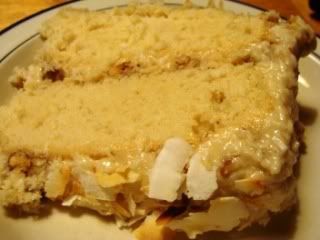 I developed this cake several years ago. I wanted to make a light, tender, and coco-nutty cake without an inordinate amount of fat. I recently made an improved version for my stepson Sean's birthday, and I used a coconut-pecan frosting, which I think is more interesting than a plain coconut icing. I think it would make a great Christmas holiday cake. (It is whiter than it looks in the pictures-- I think the yellow plate was a mistake!)

This cake is rich, despite doing my best to keep the calories and fat to a reasonable level. But it's a far cry from this Vegan Coconut Cake recipe I found on the Food Network site, which serves up, for each 12th of the cake, 1204.9 calories; 55% calories from fat; 76.1g total fat; 0.0mg cholesterol; 511.1mg sodium; 391.6mg potassium; 127.2g carbohydrates; 5.9g fiber; 84.3g sugar; 121.2g net carbs; 9.1g protein; 29.6 points; or for 1/16th the cake: 903.7 calories; 55% calories from fat; 57.0g total fat; 0.0mg cholesterol; 383.3mg sodium; 293.7mg potassium; 95.4g carbohydrates; 4.4g fiber; 63.2g sugar; 90.9g net carbs; 6.8g protein; 22.0 points. Compare that to the Nutrition Facts at the end of my recipe below.
I add coconut powder to the cake batter to add more coconut flavor with a minimum of calories. This product is getting easier to find. I use the South Asian version in the packets-- I think it is more flavorful than the kind you get in a big package in the health food store (and it's less expensive). Some health food stores carry the South Asian coconut powder, but several large supermarkets in my area carry it. You can also purchase it online. See this post for info.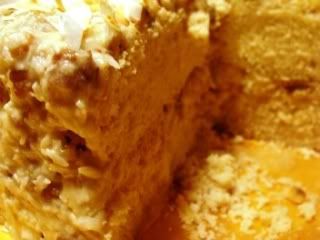 Printable Recipe

BRYANNA'S VEGAN WHITE COCONUT CAKE WITH COCONUT-PECAN FROSTING
Servings: 12-16
Yield: 1 double-layer round 9" frosted cake

If you make this EXACTLY as directed (timing of the mixing is especially important, since you don't want to develop the gluten too much, or it will be tough), you'll have a lovely, tender white cake with a fine crumb and a buttery taste that belies the fact that it less fat than of most recipes for this type of cake. Light-colored cake pans are best for this delicate cake (dark pans may brown the outside too much).

Here are directions for different methods of toasting nuts and coconut.

RECIPE TIP: If you are out of pastry flour, or you want to use an organic and/or unbleached version and you can't find it, you can place 2-3 tablespoons cornstarch (organic, if possible) in your measuring cup and then fill the cup to level with white flour (as directed below).

DRY MIX:
3 cups white cake flour (spoon it into the measuring cup and level the top with a knife)
1 tablespoon baking powder
3/4 teaspoon salt
BLENDED MIX:
1 1/2 cups cups lite coconut milk
6 tablespoons extra-firm SILKEN tofu crumbled
1 teaspoon pure vanilla extract
2 tablespoons dairy-free coconut powder (see this post)
CREAMED MIXTURE:
6 tablespoons Earth Balance or Soy Garden Natural Buttery Spread
1 1/2 cups light granulated organic unbleached sugar
BRYANNA'S VEGAN COCONUT-PECAN MOCK BUTTERCREAM FROSTING
1 cup lite coconut milk
6 tablespoons white unbleached flour
6 tablespoons Earth Balance or Soy Garden Natural Buttery Spread
1 cup light granulated organic unbleached sugar
1 teaspoon pure vanilla extract
1/8 teaspoon salt
1 1/3 cups unsweetened dried grated coconut
1 cup chopped lightly-toasted pecans
GARNISH:
1 cup large flake unsweetened coconut, lightly toasted if desired

Preheat the oven to 350 °F. Grease and flour two 9" round cake pans. Use light-colored pans and line the bottoms with baking parchment cut to fit.

Sift the Dry Mix ingredients into a medium bowl, whisking together well. (NOTE: To measure the flour, stir the flour in the bag or container, then spoon it out into the cup measure and level off with a knife. Do not sift or pack down.)

Place the Blended Mix ingredients in a blender and blend about 1 minute, or until perfectly smooth.

For the Creamed Mixture, in a medium bowl, beat the Earth Balance and sugar with an electric mixer (a stand mixer or hand-held) for about 2 minutes.

Whiz the Blended Mix in the blender for a few seconds again and then add it to the bowl with the Creamed Mixture. Beat it with the electric mixer on medium speed for about 1 minute, increasing it to high speed after 30 seconds.

When nice and frothy, IF USING A HAND-HELD MIXER, make a well in the center of the Dry Mix and pour in the liquids. Beat the mixture just until you can't see flour anymore, then beat it with the electric mixer for about 5 seconds, no more.

IF USING A STAND MIXER, add the Dry Ingredients in 3 batches, beating just to mix after each addition. You want a smooth batter, but you want to beat it as little as possible so that it will be tender. NOTE: This batter is runnier than ordinary cake batter, so don't worry!

Divide the batter gently and evenly between the pans and smooth the batter gently with a rubber spatula so that it is a little higher on the sides than in the middle--- this is so it will not rise into a "hump" in the middle.

Place gently onto the center rack of the oven and bake the cake for 25 minutes; cupcakes about 15-20 minutes. Do not open the oven before the minimum time.

While the cake bakes, make the Frosting:
Whisk milk into flour in small saucepan until smooth. Heat and stir until it boils and thickens. Cool thoroughly (place in a small bowl inside of a larger bowl of cold water).

With an electric mixer beat the shortening or margarine, sugar, vanilla and salt until light and fluffy-- several minutes. Beat in the cooled flour paste with the electric beaters and mix until smooth and fluffy. Stir in the coconut and pecans. Use to frost cooled cake. IMPORTANT! Chill the cake thoroughly before frosting.

Test the cake with a cake tester. Do not over-bake it. Remove from oven to racks and cool in pans 10 minutes before removing carefully from pans. Cool completely before frosting with Vegan Coconut-Pecan Mock Buttercream Frosting, then coat the top with flaked unsweetened coconut (lightly toasted, if desired).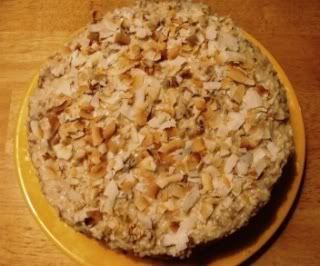 IMPORTANT! Keep the frosted cake refrigerated until serving time.

Nutrition Facts
Nutrition (per 1/16th of the cake): 447.7 calories; 45% calories from fat; 23.1g total fat; 0.0mg cholesterol; 212.0mg sodium; 214.8mg potassium; 56.6g carbohydrates; 3.0g fiber; 33.1g sugar; 53.6g net carbs; 5.1g protein; 10.3 points.

Nutrition (per 1/12th of the cake): 596.9 calories; 45% calories from fat; 30.8g total fat; 0.0mg cholesterol; 282.6mg sodium; 286.4mg potassium; 75.5g carbohydrates; 4.0g fiber; 44.1g sugar; 71.5g net carbs; 6.8g protein; 13.7 points.

Enjoy!


See more of Bryanna's blog entries (going back to 2005!) at http://veganfeastkitchen.blogspot.com/
See Bryanna's website at http://www.bryannaclarkgrogan.com/page/page/579094.htm
SEE LINKS TO FALL/WINTER HOLIDAY RECIPES ON MY WEBSITE
List of my blog recipes suitable for the winter holidays (with links)
FACEBOOK COMMENTS:
---