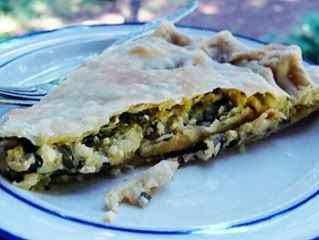 As I mentioned in my blog last week, we have lots of lovely Swiss chard growing in our mini-garden, so I thought of this dish to use up some of it in an interesting way.

This type of delicious savory pie (many of them based on vegetables in season) is common all over Italy, but especially in the Italian province of Liguria, on the Italian Riviera, where my paternal grandmother's family originated. It's a large, thin double-crusted tart baked on a pizza pan
. The thin olive oil dough (a little different from the olive oil pastry I used for a fruit pie here) is surprisingly pliable and easy to work with.

Though this type of tart is a gourmet treat, it was born of necessity--in earlier times wheat was expensive in that region and the thin dough used a small amount of flour and oil to feed quite a few. The filling could contain anything that was plentiful in the garden or on the farm, plus wild greens, mushrooms and herbs gleaned from nearby meadows, hillsides and forests.

(BTW, you can substitute any of your favorite greens for the chard in this pie.)

I've used my "Quick Tofu Feta Crumble" in place of the mildly tangy tuma fresca soft cheese of the region, and a binding mixture of silken tofu, nondairy milk and egg replacer instead of the customary eggs.

I think you'll like this!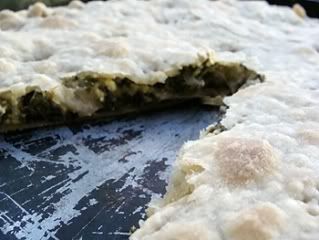 Printable Recipe

BRYANNA'S TORTA VERDE (LIGURIAN CHARD, POTATO AND "SOFT CHEESE" TART)
Serves 6 to 8


Dough:
1 1/4 cups unbleached white flour
1/2 teaspoon salt
1 1/2 tablespoons extra virgin olive oil
1/2 cup ice cold water
Filling:
10 large Swiss chard leaves, washed, drained, stems discarded, leaves sliced 1/2" thick (4 cups)
1 medium Russet potato, steamed, peeled, and cut into 1/2" dice
1 medium onion, minced
2 tablespoons Italian parsley (flat leaf), minced
(Note: I mince the onions and parsley together in the food processor)
1 1/4 cups "Quick Tofu Feta Crumble" (recipe below)
1/2 teaspoon salt
Freshly-ground black pepper to taste
2 tablespoons extra virgin olive oil
Binder:
1/4 cup medium firm tofu, or extra-firm silken tofu

2 tablespoons nondairy milk
1/2 tablespoon nutritional yeast flakes

1 tablespoon egg replacer
powder
To Finish:
1 1/2 tablespoons extra virgin olive oil

Make the dough first: Whisk together the flour and salt in a medium bowl. Drizzle in the oil and mix with your fingers or a fork. Drizzle in the cold water slowly, mixing with a fork as you go. When it holds together, knead it gently into a ball, cover with plastic wrap or a damp cloth and refrigerate for at least 30 minutes.


While the Dough is chilling, make the Filling: Heat a large pot
of water over high heat until it boils. Add the sliced chard and boil for about 30 seconds--just long enough to wilt it. Immediately drain it in a colander
and cool it off under cold running water. Squeeze it in your hands to get as much liquid out as you can. Transfer it to a food processor and pulse it until it is minced.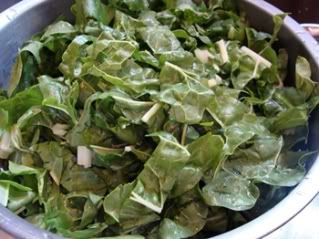 Chard before blanching in boiling water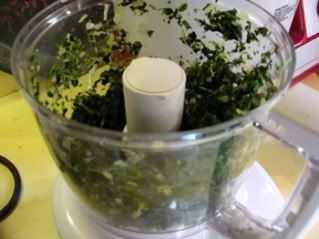 Chard minced in the food processor


Make the Tofu Feta Crumble (see recipe below) and mix 1 1/4 cups of it in a large bowl with the potatoes, onions and parsley. Add the 1/2 teaspoon salt and freshly-ground pepper to taste, and mix well. Stir in the minced chard.

Mix the Binder ingredients with an immersion/stick blender
, or in the (cleaned) food processor
until smooth. Scrape this mixture into the bowl of Filling ingredients, along with the 2 tablespoons of olive oil and mix well. Set aside.

Preheat the oven to 375˚F.

Spray or lightly brush a 14" pizza pan
with olive oil and sprinkle lightly with flour.

Cut of 1/3rd of the dough and set aside under a damp towel or plastic wrap while you work with the large piece. On a floured surface (Note: you can cover your counter with a large sheet of baking parchment and flour that, if you wish--this helps prevent sticking), flatten the larger ball of dough a bit and, using the "roll from the center forward, quarter turn, repeat" method, and flouring lightly if necessary, roll the dough out into a 15"-in-diameter round. This dough will roll out thinly quite nicely, but watch for tearing.

Sprinkle the round lightly with flour, fold loosely in half and then in half again. Transfer the dough carefully to the prepared pizza pan
and carefully unfold the dough to fit the pan. Evenly spread the Filling over the dough, leaving 1" of exposed dough all around (Important!).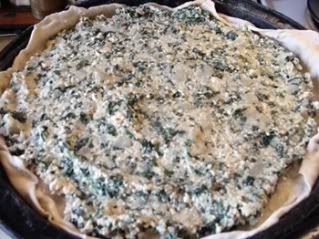 Now roll out the remaining, smaller ball of dough the same way to make a thin 13"-in-diameter round. Using the same method of transfer, place the dough over the Filling. It should overlap the Filling a little. Brush the exposed part of the bottom crust lightly with water and fold it over the top crust edge. Crimp to seal and pierce the top crust in various places to allow steam to escape and prevent the crust from puffing up. "Dimple" the top of the torta with your fingertips and drizzle or brush with the remaining 1 1/2 tablespoons of olive oil.

Bake about 35 minutes, or until it is golden and starting to brown. Place the pan on a cooling rack
. Cut the torta into 6 or 8 wedges and serve hot or at room temperature.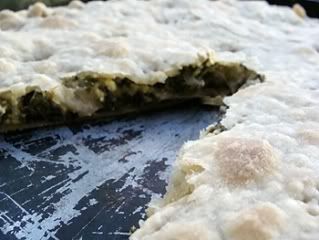 "Tofu Feta Crumble"

BRYANNA'S QUICK TOFU FETA CRUMBLE
Makes about 2 cups


12 ounces firm tofu, crumbled
2 tablespoons miso (not a very dark type)
1 tablespoon lemon juice
1/2 teaspoon salt

Mix and mash together all of the ingredients well with a fork. Leftovers will keep for a week or so, refrigerated in a covered container.

Enjoy!

Friday, July 30, 2010
http://veganfeastkitchen.blogspot.com/2010/07/torta-verde-ligurian-savory-chard-and.html
FACEBOOK COMMENTS:
---