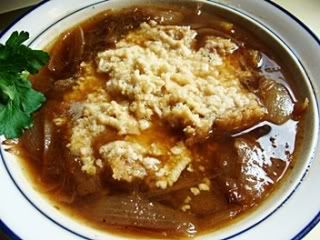 I've said before that I read all kinds of cookbooks, not just vegetarian or vegan ones. Lately, I've been perusing a couple of books by the great British chef and author, Nigel Slater. He's not a vegetarian, but he does plenty of tasty and imaginative (but simple) things with vegetables and legumes. He's known for his uncomplicated, even fast, recipes.
The roasted onion soup recipe caught my eye because I love onion soup, but I don't always have time to caramelize onions, nor do I always have pre-cooked caramelized onions in the freezer. I tried it, with a few changes (noted below)-- it's a winner, rich in flavor and satisfying. "Why didn't I think of this?" kept running through my head!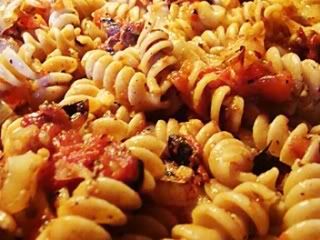 The methods of roasting, grilling and broiling all bring out the natural sweetness of vegetables and intensify their natural flavors. I even enjoy turnips and rutabagas when they are roasted-- and they are not usually my favorite vegetables! So it makes sense to incorporate roasted and broiled vegetables (I actually find these methods less of a hassle than grilling!) into recipes where you might usually use a stove top method. Browning foods produces umami compounds, which create a "flavor explosion"!
Notice that the roasted onions in the soup recipe are cooked in white wine until the wine reduces almost to nothing. This further increases the flavor. Why? To quote from a past blog post on "synergizing umami": "When you splash some wine into the pan to scrape up the browned bits, you are not only getting the flavors of the wine and the caramelized bits (double umami—8 times the flavor!), but you are also releasing some extra flavors that only alcohol can extract! How neat is that?"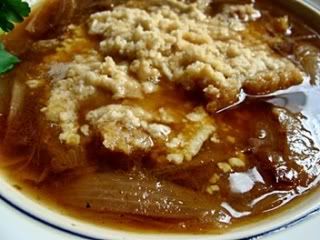 VEGAN ROASTED ONION SOUP
Serves 4
Adapted from a brilliant idea/recipe from the great Nigel Slater. I'll make onion soup far more often this way, since it eliminates the time and careful watching of caramelizing onions! The roasting renders the onions every bit as sweet and tender, with a little bit of a "smokey" edge. (My Changes: I cut down on the fat a bit; cut the onions into smaller pieces before roasting; used a whole grain sourdough bread for "croutons" instead of grilled French bread slices; and of course used a vegan broth and vegan cheeses.)
4 medium yellow onions, peeled and cut into quarters
2 tablespoons melted Earth Balance (non-hydrogenated vegan margarine) or olive oil
3/4 cup white vermouth or dry white wine (he said "a glass" and this was my interpretation)
6 1/4 cups (1.5 L) dark, rich-tasting vegetarian broth (I used Better Than Bouillon No Beef Broth Paste)
(Alternative broth —a homemade brown vegetable stock made with roasted vegetables)
salt and freshly-ground black pepper
Garnish:
cubes of toasted whole grain sourdough bread (a handful per bowl—you'll need about 3 thickish slices)
grated white vegan cheese (such as Daiya)—about 5 ounces
OPTIONAL: vegan parmesan such as Galaxy Vegan or my homemade Okara Parmesan


Preheat the oven to 400°F. Spread the onions on a cookie sheet or baking pan and toss with the melted Earth Balance or olive oil. Sprinkle with salt. Bake the onions until the are tender and browned in places. I turned them over when the bottoms started to brown and I separated the layers after a bit, too. This takes about half an hour, but you don't have to stir or watch carefully.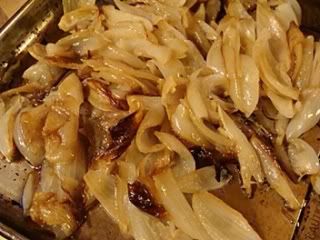 When the onions are done to your satisfaction, cut them into thinner pieces (they don't have to be really thin or even all the same!). Scrape them into a soup pot and add the wine. Bring to a boil and the wine is almost reduced to nothing.
Pour in the broth it and bring to a boil. Turn the heat down and simmer the soup, covered, for about 20 minutes. Taste for salt and pepper.
To serve, ladle the soup into heat-proof bowl and add a fistful of toasted sourdough bread cubes to the top of each bowl. Sprinkle liberally with the cheese (both, if you like) and place the bowls on a cookie sheet and place under a broiler for a minute to melt the cheese. (Or, you can microwave each bowl separately for 30 seconds or so.) Enjoy!
Nutrition Facts
Nutrition (per serving): 340.3 calories; 45% calories from fat; 17.5g total fat; 0.0mg cholesterol; 1216.7mg sodium; 320.2mg potassium; 34.9g carbohydrates; 6.3g fiber; 8.1g sugar; 28.5g net carbs; 6.9g protein; 7.5 points.
*********************************************************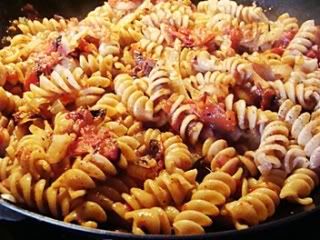 I wouldn't normally use fresh tomatoes at this time of year, but my brother-in-law brought some when he and my sister and my niece visited last week, and I needed to use them up. This is my version of another Nigel Slater recipe.
BROILED ROMA TOMATO AND ONION FUSILLI
Serves 4
Another brilliant idea from the great British cookbook author/chef, Nigel Slater. So simple and tasty! He broiled his veggies separately-- I did them together. He used thyme-- you can use whatever herb you enjoy. I probably used less oil than he would have, judging by his other recipes, and I cut the onions into thinner slices.
6 large ripe Roma tomatoes
1 tablespoon fresh herbs-- you can use basil, thyme, oregano, marjoram, or whatever you like (use 1 teaspoon dried if you have no fresh.)
2 tablespoons extra-virgin olive oil
2 medium yellow onions, sliced about 1/4" thick
2 large cloves garlic, minced
10 ounces whole wheat fusilli (or rotini or gemelli) (you can use a gluten-free pasta, if you wish)
salt and freshly-ground pepper
vegan parmesan (such as Galaxy Vegan or my homemade Okara Parmesan)
Cut the tomatoes in half lengthwise and then in 8 chunks. Place them cut-side-down on a baking sheet with sides, leaving room between the chunks. Sprinkle the onions and garlic and herbs in between the tomatoes. Drizzle with the olive oil and sprinkle with salt. Grind plenty of pepper on top. Place the pan under the broiler, about 3-4 inches below the heat source (depending on how hot your broiler element is-- you don't want to burn the vegetables before they are softened!).
While the vegetables broil, boil the pasta in a large pot of salted water for 10 minutes. Check on the vegetables every few minutes and turn them once in a while. The skins of the tomatoes should be blackened at least a bit and the tomatoes should be juicy and soft. The onions should be soft-ish and browned in places, too. Cut the tomatoes up a bit more with a knfe and fork and mix them up with the onions and juices.
Drain the pasta (save a bit of the cooking water) and add back to the pot. Add the broiled mixture and more salt and pepper to taste, if necessary. If the mixture seems too dry, add a bit of the pasta cooking water. Serve with plenty of vegan parmesan.
Nutrition Facts
Nutrition (per serving): 384.7 calories; 18% calories from fat; 8.3g total fat; 0.0mg cholesterol; 21.6mg sodium; 894.3mg potassium; 70.8g carbohydrates; 4.2g fiber; 9.8g sugar; 66.7g net carbs; 13.5g protein; 7.6 points.
Enjoy!

FACEBOOK COMMENTS:
---