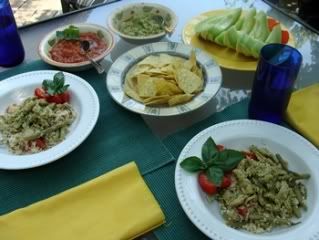 A summer lunch on the back deck

I can't believe this week has gone by so fast! Sheesh! And here it is Thursday again! We did have a fun few days with DH's stepdaughter from Montreal and her two lovely 12-year-old twin daughters. We had a picnic the beach with some friends and 2 of my granddaughters, the girls having a great time swimming, canoeing, going out on my stepson's motor boat, and getting to know each other. We went to Salt Spring Island for a night, with the "gang" (as DH calls them) to visit more family-- driving in style in a friend's immaculate white1972 Chevy Caprice. We would have been squished in our little car, with no air conditioning on the hottest weekend of the year, so our friend offered his ride. Very fun, and a big surprise for the Salt Spring relatives when we drove up!

But, along with company, cooking, the ordinary daily running of a house and job, family, and, of course, the Book-- hours of editing-- it's been mostly work and very little serious cooking, I'm afraid!

I did make an interesting recipe yesterday-- Lucuma ice cream (vegan, of course!). Lucuma is a Peruvian fruit and, as many of you may know, my father was Peruvian. I remember lucuma ice cream from my three months in Peru as a six-year-old. Lucuma is a fruit with a quite dry texture, so it isn't eaten as a fruit, per se. Mostly it is used for a delectable, rich ice cream. Lucuma is rather sweet and has a butterscotch-y sort of flavor. When I was in Vancouver last, I found a store with Peruvian foods and bought some frozen lucuma puree-- what a coup, I thought!

Yesterday I worked out a recipe based on my vanilla gelato recipe made with Instant Clearjel, with the help of a (non-vegan) recipe from the internet. After splattering the kitchen with soy cream after a little accident (Mercury is in retrograde-- what can I say?), I made the mix and tasted it-- WAY too sweet!! I couldn't figure it out! My gelato is not as sweet as most, and I had used less sweetener than the non-vegan recipe called for (in relation to the volume of liquid, etc.). So, I got out my (new, under-used) reading glasses and read the small print on the bag of lucuma puree-- sugar! I had been assuming that it was unsweetened, since the label did not say "sweetened" and the recipes I found online all called for unsweetened puree. My mistake!

I tried diluting it with more soymilk-- still overpoweringly sweet! (I now have about 2 quarts of very sweet milky liquid in the fridge that I have to think of some ways to use! Any ideas?) So, I started over and used no sweetener at all. It still tasted too sweet to me, but I know that when food is frozen, the sweetness is not as apparent, so there was hope. I stuck it in the freezer and hoped for the best, as I was hoping to take it to a family dinner with my sister and my mother on Friday-- they will remember this treat, too!

Last night I looked for unsweetened lucuma puree in Canada online-- no luck. But I did find lucuma powder
. It seems that lucuma is all the rage in the raw foods community and is even used as a natural sweetener. I found some at a good price from this Canadian vendor, and ordered 2 lbs for future experiments!

BTW, lucuma is being called a "superfood", but I think this is somewhat of an exaggeration. It's true that it has lots of fiber and beta carotene, but, then, so do carrots! It is high in natural carbohydrates, so it was used by the Incas to provide energy, and evidently the trees are very prolific-- no wonder it was a popular food. Tasting sweet and butterscotch-y didn't hurt! I just feel that we should not go hog wild over exotic foods that are supposed to provide miraculous nutrients, when, in fact, we have foods at home that are just as good, more available, and much cheaper! For me, his is an exotic treat to relive some childhood memories.

Anyway, that said, we tried a bit of the ice cream when I was photographing it and re-packing it, and it is delicious! I will give you the recipe I used with the sweetened puree, but I plan to try it again with the lucuma powder
and will report back!

The recipe is at the end of this post. Before that, here is a little photo diary of some of our meals this last week, which I'd promised to report on. Unfortunately, I didn't take any photos on Salt Spring, as I had forgotten my camera!

Last Thursday we had a potluck dinner with our guests at my son's house and I brought this Summer Bulgur Wheat Salad with fresh Denman Island Green Beans and our own tomatoes (the recipe is here):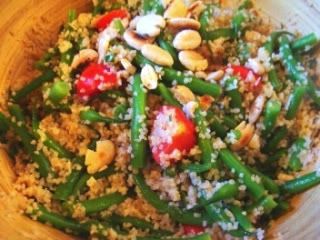 I also brought a Roasted Potato and Sundried Tomato Salad: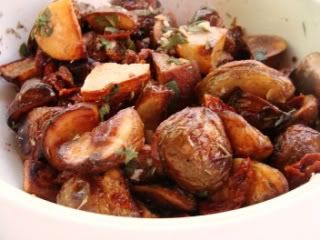 and some of my crusty no-knead bread: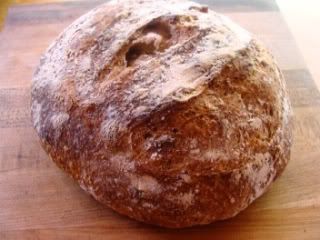 A few days later, I used the leftover Summer Bulgur Salad for lunch, topped with some Soy Curls tossed in homemade pesto. We had ir with tortilla chips and homemade salsa and guacamole, and some honeydew melon: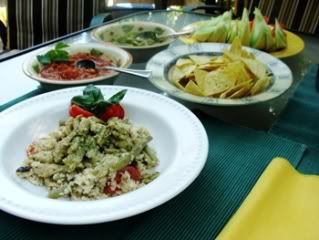 Another lunch was what I call "Fruity Tabouli", on our homegrown lettuce: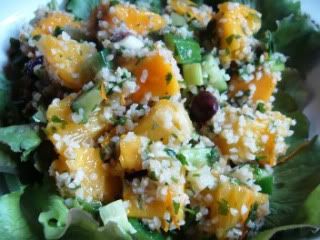 Last night we had a brown rice vegan Jambalaya (from my book "The Fiber for Life Cookbook
") and some of our pattypan squash braised with pesto.

I topped my serving of Jambalaya with some Chinese vegan "shrimp" that I get for an occasional treat from the Asian grocery store in Nanaimo, Man Lee (too "fishy" for DH-- he never liked seafood in pre-vegan days):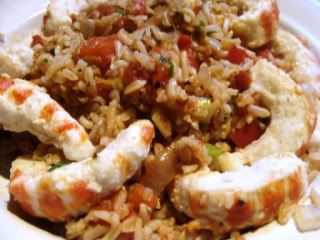 Lovely Pesto Pattypan!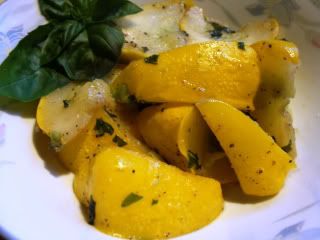 Well, I'd better get back to work! Here's the Lucuma ice cream recipe!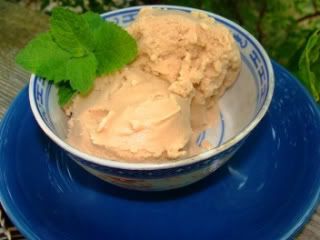 Printable Recipe

BRYANNA'S VEGAN LUCUMA ICE CREAM (PERUVIAN), TAKE 1 (WITH SWEETENED LUCUMA PUREE)
Servings: 10
Yield: 5 cups

1 1/2 cups soy creamer (plain)
1 1/2 cups nondairy milk
1 1/2 cups lucuma puree (with sugar)
3/4 cup raw cashews or cashew pieces, soaked in boiling water for 10 minutes and drained
(if allergic to nuts, use 1/2 cup more nondairy milk, or soy creamer, and 2 tablespoons oil)
1/2 tablespoon pure vanilla extract
or vanilla paste

3/8 teaspoon salt
2 1/4 teaspoons Instant Clearjel®


Place the creamer, milk, and lucuma puree into a blender along with the soaked, drained cashews, and blend until VERY smooth and frothy (make sure that it is not grainy at all).

Mix all of the remaining ingredients, into this mixture and blend again until it is VERY smooth .

Chill the gelato mixture thoroughly, and then freeze according to directions for your ice cream machine. Scoop into a quart plastic container, cover and freeze for several hours (preferably 24 hours) before serving.

(I don't have any Nutrition Facts yet-- will try to add them later!)

Cooking Tips
A while ago, I started playing with my gelato recipe from my book "Nonna's Italian Kitchen
". I wanted to make it richer-tasting, easier to make, and with more servings. One of the things I did was to use Instant Clearjel® instead of the cooked tapioca flour mixture that I generally use (tapioca thickens the mixture instead of eggs, and it has better mouth feel than cornstarch). This eliminates cooking the starch mixture, which means the whole thing takes less time and it doesn't take so long to chill the gelato mixture before freezing.. Instant Clearjel® is a modified corn starch, which simply means that it is precooked, used to thicken recipes. And the vegan ice cream made with it does not crystallize, or get rock-hard. It's creamy, and has no starchy mouth feel.

INSTANT CLEARJEL®
Instant Clearjel®
is a modified corn starch, which simply means that it is precooked, used to thicken recipes. And the vegan ice cream made with it does not crystallize, or get rock-hard. It's creamy, and has no starchy mouth feel.

For clump-free, smooth results: "...it is best when first combined with dry ingredients, before adding liquid. It will begin to swell or thicken as soon as it is added to water, milk or juices; it will impart a smooth, short texture when fully hydrated, reaching its full thickness within 5-10 minutes (without requiring any cooking). Instant Clearjel® can be used in cooking as well. The viscosity will increase slightly upon heating. It has excellent heat and acid resistance and can be used in acid containing foods and in those applications where heating is required. It has good cold temperature storage stability, making it particularly well suited for refrigerated and frozen foods."http://recipes.wikia.com/wiki/Instant_Clearjel®

America's Test Kitchen recommends it for fruit pies, BTW.

It isn't available on store shelves-- here in Canada I had to get 11 lbs. of it from a bakery supply company (Snowcap), but maybe a bakery would sell you a smaller amount (this will last me for life!).

You can now order it in Canada from the Viva Granola online vegan store:

In the US, you can mail-order it from
Everday Dish (vegan supplies)
amazon.com

Barry Farm
and
http://www.kingarthurflour.com/shop/items/instant-clearjel-8-oz

Keep cool!



THURSDAY, AUGUST 19, 2010
http://veganfeastkitchen.blogspot.com/2010/08/some-simple-summer-meals-kitchen.html
FACEBOOK COMMENTS:
---