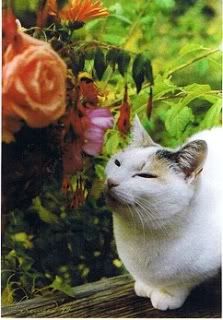 Sinéad smelling the roses in her younger days. (Photo by my good friend Fireweed. See also here and here)

Sinéad (yes, named after Sinéad O'Connor!) was 20 years old and the senior cat (read "Queen", literally!) in our house. She survived a number of our companion cats. She chose us to live with, and she was quirky and affectionate cat. (She loved spaghetti sauce and was known to sneak vegetables out of the sink or off the table a few times!) We will miss her greatly, but we're so grateful to have had her gracing our house with her elegance and attitude for so many years!

She is, as they say, survived by her cat companions, Ringo and Isis (the big tortoiseshell who adopted us a couple of months ago). She was buried next to our little Tina (Ringo's sister):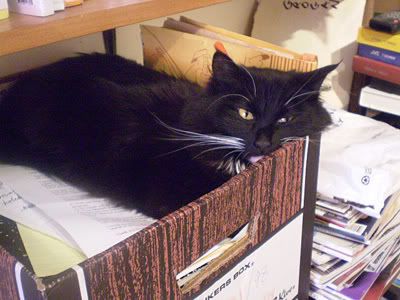 Tina regarding me from a file box on my desk

and my stepson Sean's dog Huan: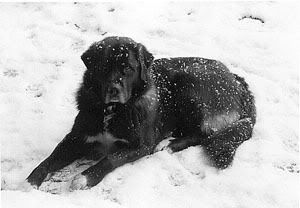 in the woods behind our house, under what I call "the Four Guardians"-- four trees growing in a semi-circle in 2 pairs.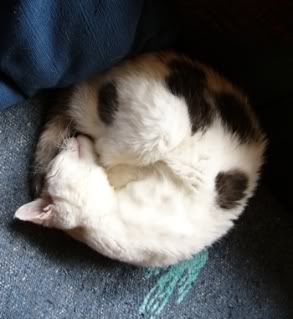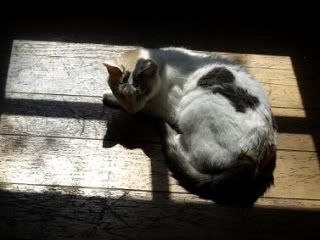 DH took this lovely photo of Sinéad about 18 months ago.

All the best,


http://veganfeastkitchen.blogspot.com/2010/02/sinead-memorium-for-beloved-cat.html
FACEBOOK COMMENTS:
---