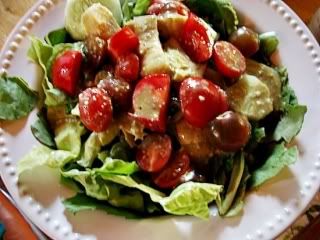 Our dinner salad last night-- heavy on the home-grown tomatoes!

Friday evening I came home from work (my "day job"-- managing a small branch of our island library system) and checked our little garden for anything that needed picking. Tomato bonanza! (And some basil, as you can see.) We love the "Black Cherry" tomatoes
that you can see nestled among the red ones!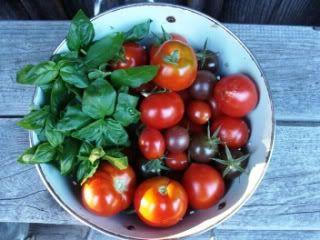 I found an interesting-looking tiny purple frog sitting under a basil plant! (Or is it some kind of little toad? I don't know much about amphibians, I'm afraid!) We have other tiny frogs that we see often on the deck, but they are bright green. These pics don't do it justice (it was evening when I took these):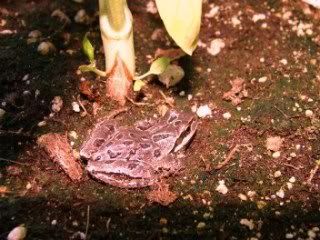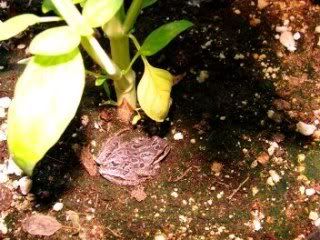 Anyone know what this is?

I also picked a little lettuce and mesclun for my solo dinner salad. (DH was off in Vancouver to see his youngest son's new Celtic band play!)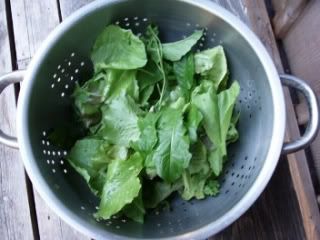 For lunch yesterday, DH back home, we had vegan BLT sandwiches onBrian's white bread (an occasional treat!), toasted . The "bacon" part was provided by a generous sprinkling of my Homemade Smoky Veggie Bacon Salt-- recipe on my blog here. The low-fat (and very tasty!) vegan mayo recipe is here . (There's also a Hemp Milk Vegan Mayonnaise.) Yum!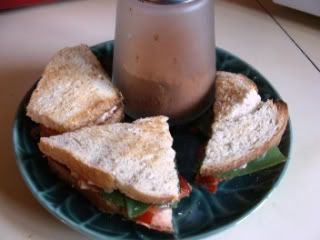 Last night we simply had salad and Denman Island corn (picked that day) for dinner: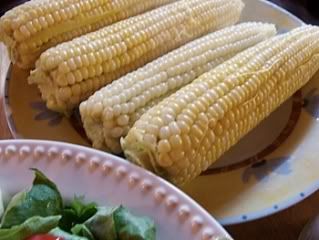 I'm keeping things pretty simple these days, due to The Book! BTW, if you're looking for tasty low-fat vegan salad dressing recipes, here are some posted on my blog:


Lowfat Poppyseed Dressing


Sesame Dressing


Raspberry-Balsamic Vinaigrette


Figgy-Balsamic-Sesame Vinaigrette


Creamy Lemon-Agave Dressing


Vegan Yogurt Dressing


My Mother's Lemon Salad Dressing


Chef Ken Bergeron's Smoked Dulse and Red Miso Dressing




Happy Salad Days!



SUNDAY, AUGUST 29, 2010
http://veganfeastkitchen.blogspot.com/2010/08/salad-days.html
FACEBOOK COMMENTS:
---