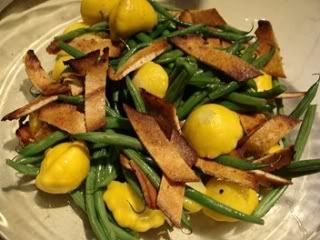 Steamed baby green beans and patty pan squash with Tofu "Bacon"

The other day I revisited a recipe from my very first cookbook, "The Almost No-fat Cookbook
"-- a simple recipe for Tofu "Bacon". I hadn't made it for a long time, but I really wanted "bacon" on a fresh tomato sandwich! So I got out a block of extra-firm tofu and mixed up the marinade in the book.

The results were tasty but, though I used Kikkoman Lite Soy Sauce
(low salt), it seemed too salty to me. So, this morning before I left for work I "tweaked" my recipe to give it more flavor with less salt. It marinated all day and I browned a few slices tonight to flavor our steamed green beans and baby patty pan squash (the latter from our garden).


Success! Here's the recipe: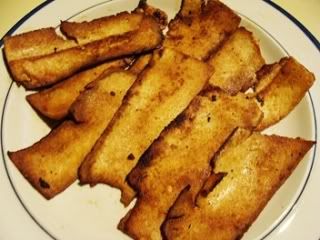 Printable Recipe
BRYANNA'S NEW TOFU "BACON"
Makes about about 24 thin slices

12-16 ounces extra-firm tofu
Marinade:
1/2 cup water
1/2 cup Kikkoman Lite Soy Sauce (low salt)

2 tablespoons nutritional yeast flakes

2 tablespoons brown sugar
2 tablespoons ketchup
1 tablespoon liquid smoke

Dark sesame oil
Pat the tofu with a clean cloth and shave it into long, thin slices with a cheese slicer
(see pictures below).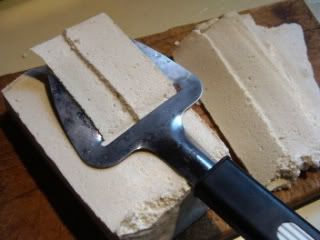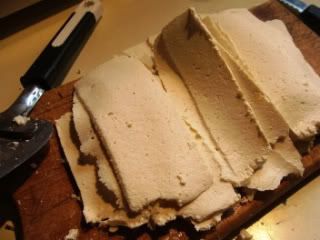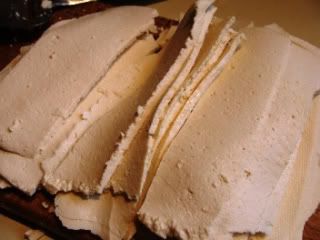 Mix together the Marinade ingredients in a shallow container. Carefully add the tofu slices to the Marinade, making sure that they are covered by the Marinade. Cover the container and refrigerate it. Let the tofu marinate for at least 8 hours, or for a few days.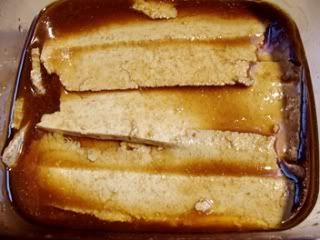 When you are ready to cook the "Bacon", heat a large, sturdy nonstick skillet over high heat. Add about 1/2 tablespoon of dark sesame oil to the skillet and swirl it around the pan to cover the bottom. When the pan is hot, add some of the slices.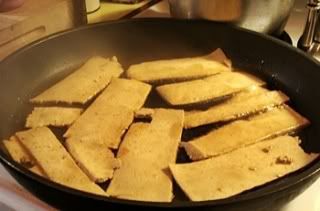 Fry the slices on both sides until golden-brown and a little crispy. Turn the slices several times as the cook. If you cool the slices in the pan, they crisp up more that way, but I just cool them on a plate and cook the next batch. (Add a bit more dark sesame oil for each batch.)

The "bacon" is delicious hot or cold, and terrific on a vegan BLT!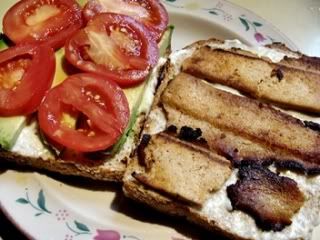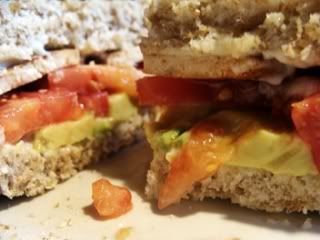 Vegan "BLT", except I used avocado instead of lettuce-- this was my breakfast this morning!
(Note: the Nutrition Facts are approximate because the number of slices you get varies. I calculated this using 12 ounces of extra-firm tofu cut into 24 slices, and 1 1/2 tablespoons sesame oil in total.)

Nutrition Facts Nutrition (per 4 slices, approximately): 125.2 calories; 47% calories from fat; 7.0g total fat; 0.0mg cholesterol; 805.8mg sodium; 201.1mg potassium; 9.7g carbohydrates; 1.2g fiber; 6.2g sugar; 8.5g net carbs; 8.2g protein; 2.8 points.
(As a comparison, 4 slices of cooked cured pork bacon [7 g each] contains 164 calories, and 12 g fat, 36 g cholesterol.)

Enjoy!



FRIDAY, OCTOBER 1, 2010
http://veganfeastkitchen.blogspot.com/2010/10/revisiting-tofu-bacon.html
FACEBOOK COMMENTS:
---