I had a craving for pho the other day and thought it also might be the perfect antidote for the over-eating at Thanksgiving-- not that I had that problem (we had our Thanksgiving in October), but we were overeating while I made all those dishes to photograph!
According to Vietnamese pho experts, pho is "noodles in soup", not "noodle soup". You're supposed to have plenty of the savory broth to drink after you eat the noodles, etc.. Also, I have it on good authority that pho is not really pho unless you use beef or chicken (not turkey, pork, etc.), BUT there is a dispensation for vegetarian pho (which is called Pho Chay). Pho Chay is usually made with tofu (or tofu and mushrooms), but I decided to make it with thin slices of my Seitan Steak (
that recipe will be in my new book
, but you can use any favorite "beefy seitan", or
beefy Chinese TVP strip
s, or commercial "steak strips" or "beef strips", such as Morningstar Farms, Gardein, Lightlife, Yves, or President's Choice instead). Since gluten "mock meats" have been common in Asia for centuries, I'm hoping that this doesn't take my soup out of the real pho realm!
Choices for "beef strips":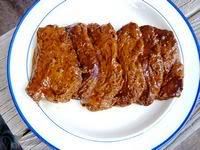 My Beefy Seitan Steaks (recipe will be in my new book)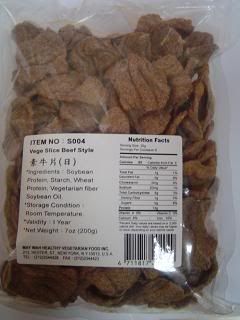 Chinese TVP "Beef" Slices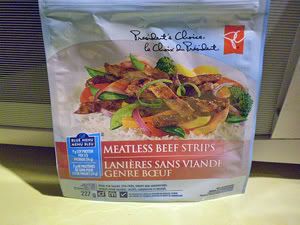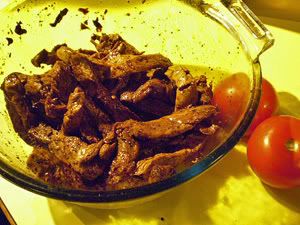 Commercial "beef strips" or "steak strips"-- there are several brands (see text above)-- these ones are a Canadian Brand, presidents Choice, but made by Gardein.
Y
ou could also use "Beefy Soy Curls
®
" (recipe at link):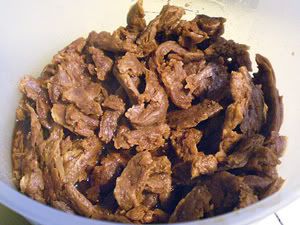 I wanted to be as authentic as possible, but I also needed to make a slightly streamlined version (time was short). I know that the broth is very important and should be particularly tasty, but I needed to skip the traditional charring of the ginger (and sometimes onion, too) to save time. (Acually, I already saved several hours by not using animal bones to make the broth!) The broth was still delicious!
The green onions for the garnish should be the green part only, and sliced very thinly on the diagonal (not chopped) and the onion should be sliced paper-thin with a
mandoline slicer
. Cilantro is the most common garnish, but Thai basil and mint are also used (and I generally use one of these because DH dislikes cilantro).
This soup is so comforting on a cold day! And yet you have all the crunchy fresh sprouts and herbs to add sunshine to the meal!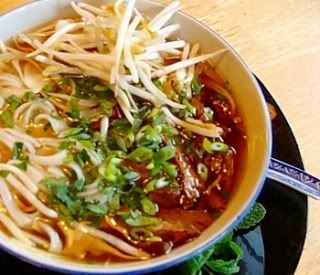 Printable Recipe
BRYANNA'S EASY PHO CHAY (VEGETARIAN PHO) NOODLES WITH SEITAN STEAK IN FRAGRANT MUSHROOM BROTH

Serves 4
This comforting vegan version of the popular Vietnamese noodle soup is light but filling. Slurping is practically mandatory!
8 ounces dry flat medium Vietnamese rice noodles (rice stick noodles)--not the "vermicelli" or the very wide ones
8 cups mushroom bouillon or Rich Mushroom Broth (good brands of mushroom bouillon at same link)
4 ounces fresh ginger, smashed with the side of a cleaver or large knife
2/ 3" cinnamon sticks
1/2 teaspoon coriander seed
3 star anise
1 teaspoon sugar
1 teaspoon freshly-ground black pepper
4 teaspoons Bragg's Liquid Aminos, or light soy sauce
1 to 1 1/4 lb. Seitan Steaks (the recipe will be in my new book), or you can use 16 ounces (
458 g)
of one of the suggested substitutes above in the text (if the substitute is dried, the weight is for the reconstituted product)
2-4 cups fresh bean sprouts
1/2 a medium yellow onion, sliced paper-thin
8 green onions, green only, very thinly sliced on the diagonal
1/4 cup thinly-sliced cilantro, mint, or Thai basil
Garnishes (choose all of them or whichever you like):
Hoisin sauce
Vietnamese hot sauce (Sriracha)
sliced hot red or geen chiles
more fresh Thai basil, cilantro or mint leaves
fresh lime juice or lime wedges
Bragg's Liquid Aminos, or light soy sauce
Soak the dry noodles by covering in cold water in a large bowl for 20-30 minutes while you make the broth.
Mix together the mushroom bouillon or Rich Mushroom Broth, ginger, cinnamon sticks, coriander seeds, and star anise in a large pot. Bring to a boil, then turn down to a simmer and cook for 15 minutes.
While the broth simmers, assemble the other ingredients and garnishes, bring another large pot of water to a boil (to cook the noodles), and prepare the steak. Sear the steak (or the commercial "steak strips") on all sides over medium-high heat in a non-stick skillet sprayed with oil from a pump sprayer. Slice the steak into thin strips. If using one of the alternatives, slice the strips into even thinner strips.
Strain the broth through a cheesecloth-lined colander and pour the broth back into the pot. Add the sugar, pepper, and Bragg's or soy sauce to the broth.
Drain the soaked dried noodles, transfer to the pot of boiling water, and boil for a for a short time-- check after 2 minutes. When they are tender but not mushy, drain them in a colander.
Divide the cooked noodles between 4 soup bowls, and add handful of the bean sprouts, and some of the green onions to each bowl. Top with 1/4 of the steak strips.
Ladle the broth over the vegetables. Top each bowl with another handful of bean sprouts and some of the chopped herbs. Serve with the garnishes, and each diner adds what they like to the soup.
Cheers!