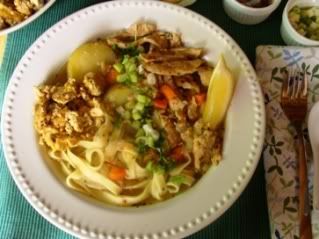 I meant to blog earlier, but I was tired from my Portland blog-blitz and my poor mom went into hospital this week! She, typically, did not tell me she wasn't feeling well (some people are complainers-- I wish my mom would complain more!), so, when I went to see her, I was shocked at how wheezy and rattly her chest was and how weak she was-- she is generally in very good health. (She still was dressed to go, with her hair up and make-up on, at 92!) Whisked her off to her doctor, who told us to get her to hospital right away. Turns out she had congestive heart failure (water in heart and lung tissues)! So she is still there, but feeling better and not on so much oxygen. My stepson Sean saw her last night and said she had finished the book she was reading and had make-up on-- a good sign!

Anyway, I have been reading about Peruvian food (some of you may know that my father was Peruvian) and also about breakfast in different countries, so this blog is a combination of those two interests. In Peru, depending on where you live, and probably your economic status, a typical breakfast (desayuno) might be a sweet bun, baguette, or some other kind of bread (mostly white) with coffee. (I remember it being cafe con leche, or, basically, a latte, when I was there.) But it could also be fruit, a sandwich, scrambled eggs, cheese, a Peruvian tamale or humita ( a sweet tamale), even beans or stews. Sounds good to me-- I like savory things for breakfast.

(Another interesting snack and breakfast is a fruit and oatmeal drink [taken hot or cold] called Avena or Cuaquer [Spanish translation of "Quaker", for the oats!]. It's popular in Latin America, especially Peru and Ecuador. I'll work on that for another post and I'm anxious to run it by my youngest daughter-- her son is part Ecuadorian as well as part Peruvian.)

Another common breakfast item is soup (sopa), and a favorite one isCaldo de Gallina, sometimes called "Peruvian penecillin", just like Jewish chicken soup! (It's also called "levanta muertos", or "wake the dead"!) I'm told that it is a favored cure-all of Peruvian mothers. So, especially since I woke up with a sore throat, I decided to try making a vegan version of this for my Sunday breakfast. I have always enjoyed leftover soup for breakfast. (I would advise making this the day before, so you don't have to cook first thing. It makes lots, so you can have it for a few days.)

It's important that you use a good, rich-tasting vegan "chicken" broth for this recipe, so please read this blog entry on that subject.

Traditionally, the vegetables are strained out of the broth (since they cook down to nothing after 3-4 hours of making real chicken broth from scratch), but I left the onions and carrots in the broth, for extra flavor, nutrition, and color. I also decided to mash up the cooked head of garlic and throw it in. It's good for you and the taste is very mellow. I think it was a good move. (The ginger, by the way, shows the influence of the large Chinese population on Peruvian cooking.)

The soup is often served with hard-boiled eggs, but not always. I have added a scrambled tofu option, but you can do without it, if you like.

I live on an island, and the only store is closed on Sunday, so I couldn't rush out to find fresh red chiles, limes and cilantro (if they even had them at our little store-- well, maybe the limes), so that's why I gave the options for the dried chile flakes and dried cilantro, added parsley as a green garnish option, and used lemon wedges.

I loved this, and, I don't know if it's the soup or not, but I feel better!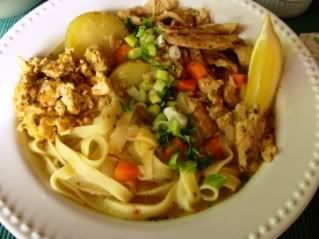 Printable Recipe

BRYANNA'S VERSION OF CALDO DE "GALLINA" VEGAN (VEGAN "PERUVIAN PENECILLIN" OR "CHICKEN" SOUP)
Servings: 6

Broth:
10 cups good vegetarian chicken-style broth (a rich-tasting broth-- I like to use Vegan No-Chicken Better than Bouillon Broth Past
e )
1 large onion, chopped small
4 small inner celery stalks with leaves, left whole
2 medium carrots, scrubbed and cut in small dice
1 whole head of garlic, sliced in half horizontally
1/ 1" piece of fresh ginger (don't peel) sliced in half and smashed with the side of a knife
Later additions:
6 medium (3 oz. each) Yukon Gold or other yellow potatoes, cut in half
1/2 teaspoon dried red chile flakes (optional-- don't use if you serve the soup with fresh chiles)
2 teaspoons dried cilantro (optional-- don't use if you serve the soup with fresh cilantro)
3 cups reconstituted Soy Curls® (3 oz. dry) (OR you can use vegan "chicken strips" or "tenders", or strips of "chickeny" seitan instead--see alternates here.)
6 oz tagliatelle pasta (preferably the kind in little "nests
") or fettuccine (takes the place of egg noodles)
salt, if needed, and freshly-ground black pepper to taste
Garnishes and Condiments:
4 green onions, chopped
2 limes (or lemons), quartered
2-4 tablespoons fresh chopped cilantro or parsley, preferably Italian (if you use this, use the dried cilantro above)
1 fresh red chile, seeded and minced (if you use this, don't use the dried chile flakes above)
OPTIONAL: Scrambled Tofu
12 oz firm tofu, crumbled (not too finely)
4 teaspoons olive oil
3 tablespoons nutritional yeast flakes

1/2 teaspoon onion powder
1/4 teaspoon garlic granules

4 teaspoons soy sauce

In a large pot, place the broth, chopped onion, whole celery stalks, diced carrots, halved garlic head, and ginger. Bring to a boil, then turn down to a simmer and cook, uncovered, for 30 minutes.

During this time, you can assemble the Garnishes and Condiments, and make the optional Scrambled Tofu, if you are using it (see procedure at end of this recipe). This takes the place of the hard-boiled eggs often served with this soup at breakfast, but it's optional. This is a variation of Julie Hasson's recipe.

Fish the celery stalks, the garlic, and the ginger out of the broth with a slotted spoon. Discard the celery and ginger. Squeeze the garlic cloves out of the skins and mash them on a plate with a fork. Set aside.

Add the potatoes to the broth, and the dried cilantro and chile flakes, if you are using them. Simmer, covered, until the potatoes are just tender.

Add the reconstituted Soy Curls® (or alternate) and the pasta.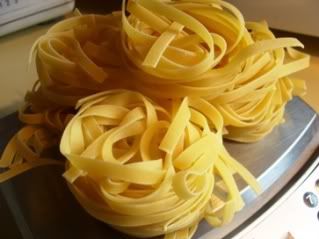 Cook at a lively simmer, covered, until the pasta is tender. Stir in the reserved mashed garlic.

To serve, arrange the garnishes on the table. Serve the soup in wide bowls, placing 2 halves of a potato in each bowl, about 1/2 cup of the Soy Curls®, and a clump of pasta side-by-side in each bowl. Ladle on some of the broth with the carrots. Let each diner add garnishes and condiments as they like.

To Make the Optional Scrambled Tofu:
Heat a nonstick or cast iron pan with 2 teaspoons of the olive oil, When hot, add the crumbled tofu. Stir around in the hot oil until it starts to get golden. Mix the nutritional yeast with the onion powder and garlic granules. Sprinkle it over the tofu and mix around. Add the last 2 teaspoons of olive oil and toss well. Add the soy sauce and stir to distribute evenly. Scrape into a serving bowl.

Nutrition Facts
Nutrition (per serving WITHOUT Scrambled Tofu): 263.8 calories; 9% calories from fat; 2.9g total fat; 0.0mg cholesterol; 751.6mg sodium; 676.0mg potassium; 48.2g carbohydrates; 4.8g fiber; 2.8g sugar; 43.4g net carbs; 13.1g protein; 4.7 points.

Nutrition (per serving WITH the Scrambled Tofu): 344.7 calories; 21% calories from fat; 8.5g total fat; 0.0mg cholesterol; 877.7mg sodium; 849.4mg potassium; 51.0g carbohydrates; 6.4g fiber; 3.3g sugar; 44.6g net carbs; 19.9g protein; 6.8 points.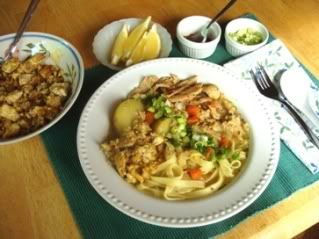 Enjoy!



http://veganfeastkitchen.blogspot.com/2010/05/peruvian-penecillin-vegan-style-caldo.html
FACEBOOK COMMENTS:
---