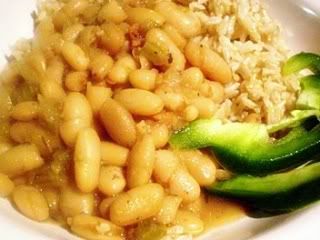 New Orleans-Style White Beans

Last week I posted about beans and how food science can give you more options for cooking beans, or cooking them faster, maybe even make them tastier. I also posted a photo album of bean dishes I "have known and loved" on my Facebook page and one friend asked about the recipes for two of the dishes, so I'm posting them here this week. They both happen to have Louisiana flair!

About the first recipe: everyone knows about Red Beans and Rice from New Orleans, but I was interested to read about a recipe for Creole "butter beans" and rice, a spicy dish made with "slab bacon" and ham. It was in a 1975 cookbook called "The New Orleans Cookbook" by Rima and Richard Collin. The "butter beans" are actually a type of lima bean-- Gigantes
, the very large Greek-style lima beans. I wanted to veganize this dish, but I had no Gigantes (have to go to Vancouver to buy them!), so I used white kidney beans
.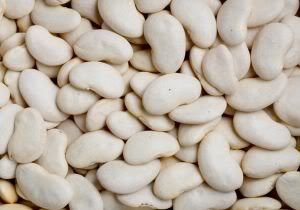 "Butter beans"

The second dish is fat-free recipe I developed for "Dr. Neal Barnard's Program for Reversing Diabetes
", for which I did the recipes, but it didn't make the cut in the end. Dr. Barnard wanted plenty of bean breakfast dishes, but in the end the editor's nixed all but my bean and grain waffle recipe. This spicy hash of red beans, potatoes and sweet potatoes is really tasty, especially with the Vegan "Ham" Gravy at the end of this post! (And, if you prefer, you can use some oil in cooking the dish.)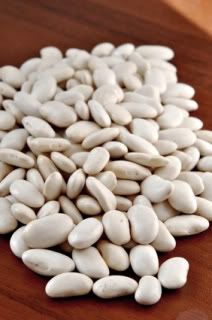 White Kidney Beans

Printable Recipe

BRYANNA'S NEW ORLEANS-STYLE WHITE BEANS (pictured above)
Serves 6
We loved this simple dish and enjoyed it for several days running. To give the dish the sensuous feeling that the bacon would add, I used a little bit more olive oil than I might ordinarily use, plus some dark sesame oil for smoky depth of flavor. PS: I developed this recipe before I learned about the salt-soak and no-soak methods of cooking beans, outlined in last week's blog, but feel free to adapt the recipe--I'm going to very soon!

1 lb. white kidney beans (or Gigantes/giant lima beans/butter beans)
5 cups chicken-style vegetarian broth
Aromatics:
2 Tbs olive oil
1 Tbs dark sesame oil

1 large onion, chopped
1 cup sliced mushrooms
1/2 cup chopped celery with leaves
1 Tbs chopped garlic
Seasonings:
2 Tbs soy bacon bits
or chips
2 bay leaves
1 tsp liquid smoke
(see this post about this ingredient)
1/2 tsp dried thyme leaves
1/2 tsp dried marjoram
freshly-ground black pepper to taste
1/8 tsp cayenne pepper (or more to taste)
1/8 tsp ground mace or allspice

Soak the beans in plenty of water overnight. Drain and add to a large heavy pot with the broth. Place over medium heat.

Meanwhile, heat the oils in a large nonstick frying pan over high heat. Add the onions and stir-fry until they soften a bit.

Add the mushrooms, celery and garlic. Stir-fry further, until the vegetables are wilted and slightly-browned. Scrape the vegetables and all of the oil into the pot with the beans.

Add the Seasonings to the pot, stir well and bring to a boil over high heat. Turn down to a simmer, cover, and cook over low heat until the beans are tender, but not mushy, about 1 1/2 to 2 hours.

Serve with long grain rice.

Nutrition Facts
Nutrition (per serving): 294.4 calories; 24% calories from fat; 8.2g total fat; 0.0mg cholesterol; 71.0mg sodium; 996.3mg potassium; 42.3g carbohydrates; 13.3g fiber; 2.7g sugar; 14.9g protein; 5.8 points.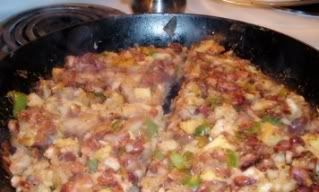 Printable Recipe

BRYANNA'S CAJUN RED BEAN BREAKFAST HASH
Serves 4
Meat and potato hash is an old-fashioned way of serving leftovers for breakfast. This is a tasty modern take-off on that concept, using Cajun spices and the New Orleans staple, red beans. Serve with Vegan "Ham" Gravy (recipe below), or with ketchup. For a special breakfast, serve with scrambled tofu (my favorite is Julie Hasson's recipe).

6 ounces new or red potato, diced small
6 ounces sweet potato, peeled and diced small
1/2 large green bell pepper, chopped
1 small onion, finely-chopped
2 green onions, finely-chopped
2 cloves garlic, minced
2 cups cooked or canned (a 19-ounce can) small red beans (or red kidney beans), rinsed and drained
2 teaspoons Cajun seasoning (for a good homemade recipe, see this one from Mother Earth News)

1/2 teaspoon dried thyme
1/2 teaspoon salt
1/4 cup vegetarian broth
Steam the diced potatoes and sweet potatoes until just tender.

Spray a large nonstick skillet with oil from a pump sprayer, or with cooking spray. Steam-fry the green pepper, onions, green onions, and garlic until the onion is softened and starting to brown a little. PS: You can use some oil to sauté the veggies, if you prefer. Add the steamed potatoes and yams or sweet potatoes, and the beans. Mash the potatoes and beans coarsely right in the skillet with a potato masher. Add the Cajun seasoning, thyme and salt, and the broth. Mix well.

Turn down the heat to medium. Smooth the hash out evenly over the skillet and cover. Cook for about 5 minutes, or until a crust forms on the bottom. Cut the "cake" into four pieces and carefully loosen it from the pan with a thin spatula.

Turn each piece over on a plate so that the crust is on top. Serve hot with gravy or ketchup.

Nutrition Facts
Nutrition (per serving): 200.3 calories; 1% calories from fat; 0.3g total fat; 0.0mg cholesterol; 272.0mg sodium; 811.8mg potassium; 40.5g carbohydrates; 11.3g fiber; 3.3g sugar; 10.7g protein.

Printable Recipe

BRYANNA'S VEGAN "HAM" GRAVY
Yield: Makes about 2 1/2 cups
NOTE: If you don't use alcohol, you can use a non-alcoholic wine (Ariel is a good brand)--a sweeter type such as Riesling--instead of the sherry.

1 1/2 cups mushroom bouillon
1/3 cup browned flour (see instructions below)
2 3/4 Tbs nutritional yeast flakes

3/4 cup water
1/4 cup dry sherry
1/2 Tbs soy sauce
1/2 Tbs dark sesame oil

1/2 Tbs brown sugar or maple syrup
1/2 Tbs ketchup
3/8 tsp salt
1/4 tsp liquid smoke
(see this post about this ingredient)
freshly-ground black pepper to taste

TO MAKE BROWNED FLOUR, brown 1/3 c. unbleached flour over medium heat in a DRY cast iron pan, stirring constantly, until it is as dark as brown coffee, being careful not to burn it.

In a blender, or with a hand immersion blender, blend the mushroom broth, browned flour, nutritional yeast, water, sherry, nutritional yeast, sesame oil, soy sauce, ketchup, liquid smoke, and salt until smooth. Stir constantly in a heavy saucepan over medium-high heat until it thickens and comes to a boil. Reduce the heat and simmer for 2-5 minutes. Add freshly-ground black pepper to taste.

MICROWAVE OPTION: Pour the mixture into 1 qt. microwave-proof bowl or measuring pitcher. Cook on High for 2 minutes. Whisk vigorously so that the gravy is smooth. Cook again for 2 minutes on High. Whisk again. Cook one more time on High for 1-2 minutes. Whisk well.

NOTE: This can be made ahead and reheated.

Enjoy!



SATURDAY, OCTOBER 23, 2010
http://veganfeastkitchen.blogspot.com/2010/10/new-orleans-style-white-beans-cajun-red.html
FACEBOOK COMMENTS:
---