Thanks so much for all the good wishes and condolences!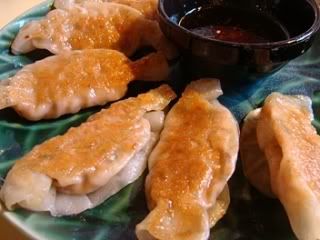 I promised you a recipe or two from our Lunar New Year feast, so here's the all-time favorite one.

Guo Tie are called "potstickers" because of the unique cooking method-- the juicy dumplings fry and steam at the same time, leaving them delicately soft on top and crispy on the bottom. They are so popular in Japan that they have been assimilated into Japanese cuisine, under the name "gyoza". I've seldom met anyone who could stop eating them unless the plate was taken away! For this reason, I'm giving you a large recipe. If you can't use it all at once, they freeze well. You might as well make a large batch while you are putting out the effort!

As long as the filling is not too wet, the dumplings can be made in the morning, covered with plastic wrap and refrigerated until time to cook them. Or they can be frozen (directions below) and a few cooked whenever you want them.

This is my vegetarian version of the traditional pork-and-vegetable-stuffed potstickers, using either textured soy protein, ground seitan, or frozen tofu.

In my cookbook, I have a recipe for homemade dumpling wrappers, which are actually very easy to make, but a bit time-consuming. (There is also an alternative filling recipe.) This time, I used the commercial ROUND egg-free dumpling wrappers (sometimes called "gyoza wrappers"). (The square wuntun wrappers contain egg.) The wrappers are often available frozen or in the produce section of large supermarkets, where egg roll and wonton wrappers are found. A 1 lb. package may contain from 50 to 75, depending on their thickness, so buy two packages for this recipe (extras can be frozen). If they are frozen, thaw them out completely before filling.
They come in a package something like this: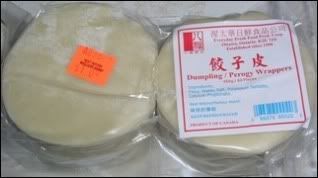 I also used a handy little gadget for filling and sealing the dumplings, instead of doing it by hand (hand-filling instructions are in my book)-- it's called a potsticker press. It's a little hinged plastic gadget (usually white, but he one I have is purple!) that's available in Asian and gourmet stores, usually for under $5. Amazon has them, too. (I would advise against getting a set of different-sized dumpling presses. I bought one, and the small press, which is for potstickers, doesn't seal properly.)
(If you don't have a potsticker press yet, and you just have to make these right now, here are 2 videos showing how to seal them by hand: this one gives you a close-up lesson on how to pleat and seal them; this one shows how fast you can do it once you know how!)

These are really very easy to make, and fun to make with friends!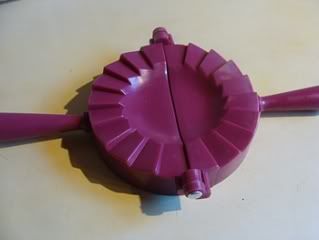 It pleats and seals the dough for you with just a little pressure on the handles. With this handy gizmo, even a novice cook can make perfect potstickers and other dumplings.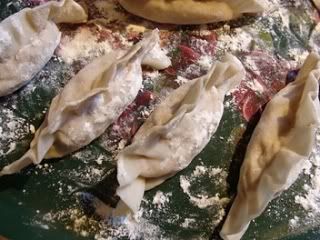 Printable Recipe

BRYANNA'S BEIJING-STYLE VEGAN GUO TIE (OR "POTSTICKERS" OR GYOZA) (SAVORY STEAM-FRIED DUMPLINGS, WITH STEAMED
VARIATION)
Makes 80 dumplings

This recipe is from my book "Authentic Chinese Cuisine for the Contemporary Kitchen". (Reviews)

INGREDIENTS:

DUMPLING WRAPPERS: Use 80 round commercial egg-free "gyoza" or steamed dumpling wrappers (see notes in text above-- the square wuntun wrappers contain egg.)

FILLING:
2 2/3 c. dry textured soy protein granules,
reconstituted with 2 c. plus 2 T. boiling water for 5 minutes
OR about 3 2/3 c. crumbled, squeezed frozen tofu
OR about 3 2/3 c. ground plain boiled un-seasoned gluten
2 large carrots, grated OR 2 c. fresh bean sprouts (or 1 c. each) 1 c. minced green onions
4 large cloves garlic, minced or crushed
4 tsp. grated fresh ginger
1/4 c. light soy sauce
1 tsp. salt

FOR STEAM-FRYING:
3 1/2 T. oil (such as peanut or canola) PLUS 1 T. roasted sesame oil, mixed

BRYANNA'S SPICY DIPPING SAUCE Makes about 3/4 c.

1/2 c. light soy sauce
1/4 c. rice, cider or white wine vinegar
2 tsp. roasted sesame oil
2 tsp. grated fresh ginger
1 tsp. brown sugar
OPTIONAL: pinch dried red chili flakes or 1/8 tsp. chili garlic paste

Mix all of the ingredients in a bowl. Can be made ahead of time.

DIRECTIONS: Make the various components of the recipes in the order given.

MAKE THE DIPPING SAUCE and set aside.

TO MAKE THE FILLING, mix all of the ingredients together well, preferably in a food processor. Before filling the dumplings, drain off any excess liquid from the Filling.

TO FILL USING A POTSTICKER PRESS: center a wrapper on the opened-up press. (If the wrapper is not perfectly round and does not fit to the edge of the press, you can gently stretch the wrapper with dry hands.)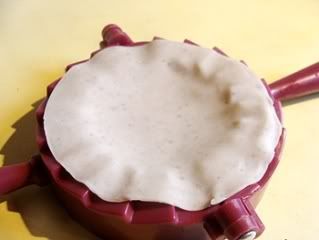 Moisten the wrapper edge with water, using a small brush, and place about 2 teaspoons of Filling in the center of each circle.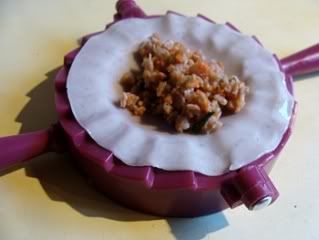 Close the press, using pressure to seal the wrapper.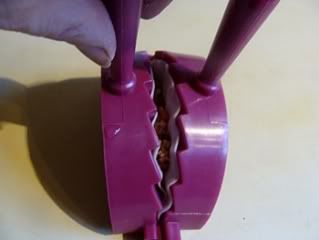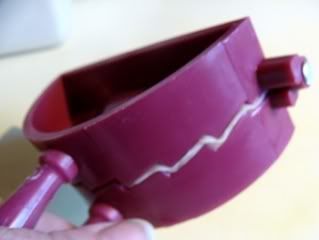 Pop the dumpling out and start again.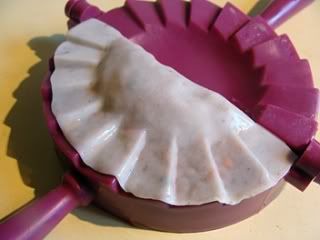 Arrange the dumplings on floured cookie sheets and cover with clean tea towels as you work. NOTE: It's important to keep your hands and the potsticker press dry, so keep a clean cloth nearby to wipe with.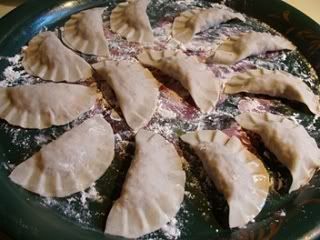 TO FREEZE THE UNCOOKED DUMPLINGS place them on floured cookie sheets in the freezer until frozen solid. Loosen the frozen dumplings by banging the pan on the table. Place them in plastic bags or rigid freezer containers and fasten airtight before returning to the freezer. Freeze up to a month. Cook them about a minute longer than unfrozen ones.

NOW, TO STEAM-FRY THE DUMPLINGS:
A 10" skillet will hold about 15 dumplings, a 12" skillet about 18, and a 14" skillet about 30 dumplings, but with a skillet this large you will probably have to move the outer ones to the middle and vice versa for even browning. If you are cooking all of the dumplings at once, you will need several skillets, or you'll have to cook in batches. Use heavy skillets, such as cast iron.

Heat the skillet(s) over high heat until very hot. Add 1 T. of the mixed oil to the 10" skillet (1 and 1/2 T. to the 12" skillet, or 2 T. to the 14" skillet). Swirl the oil around and lower the heat to medium-high. Remove the pan(s) from the heat while you place the dumplings in the pans(s), not quite touching, pleated side up. Return the pan(s) to the heat.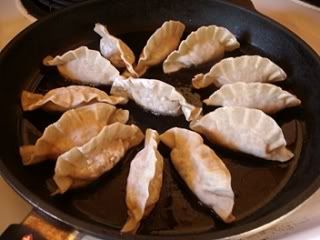 When the bottoms of the dumplings begin to brown-- about 1 minute-- add about 1/3 c. of hot water to the pan (about 1/2 c. to the 12", 2/3 c. to the 14"). Cover and cook until the water evaporates-- about 5 minutes. Cook 2-3 minutes more, until a dark-golden-brown crust forms on the bottom, the dumpling dough is translucent on top, and they start to puff up.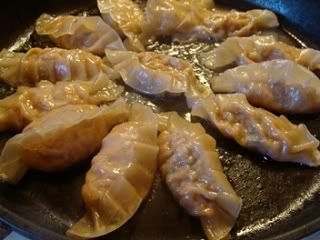 Remove from the pan and serve them browned-side-up with a little bowl of dipping sauce for each diner.

Clean each skillet out thoroughly before cooking another batch in it.

TO OVEN STEAM-FRY THE DUMPLINGS, (This is an option if you're making lots at once and are busy with other things-- not quite as crispy, but still good!)

Preheat the oven to 400 degrees F and oil two 9x13" baking pans with a bit of roasted sesame oil. Place the dumplings in rows, pleated-side-up, barely touching but in a single layer. Pour 1 c. of hot vegetarian broth into each pan. Cover the pans tightly with foil. Bake for 20 minutes near the bottom of the oven, or until the wrappers are tender and the bottoms are browned. Serve them hot, giving each guest a little bowl of Dipping Sauce.

VARIATION: CHENG JIAO (BEIJING-STYLE STEAMED DUMPLINGS)
If you use bamboo steamers, line them with a couple of layers of cheesecloth, or place a little square of foil under each dumpling and place them 1/2" apart. You can stack two steamers up at once. Steam over high heat 8 minutes and serve immediately. Or you can arrange the dumplings on an oiled plate and steam in a wok or other pot over medium-high heat for 8 minutes.

Steamed dumplings are usually served with a simple dipping sauce of rice vinegar with shredded fresh ginger added.

Enjoy!



http://veganfeastkitchen.blogspot.com/2010/02/my-vegan-potsticker-recipe.html
FACEBOOK COMMENTS:
---