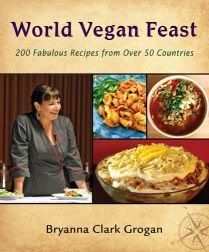 You can see 82 color photos of many of the recipes in my new book, World Vegan Feast, in this photo album. **1st amazon review!**
UPDATE ON MY NEW BOOK: I'm so stunned by the response to my new book, "World Vegan Feast"! Amazon.com sold out of it within a few days but now has it in stock again; veganessentials.com now has it on their "vegan cookbooks" list on their online catalog-- 3rd page!! Herbivore in Portland is now carrying my book now & also Angus & Robertson in Australia. barnesandnoble.com carries it, too. Thanks so much everyone!

**CANADIANS who are interested in buying my book-- You can ask for it in your local bookstore and give them the info from the VHP website-- my publisher tells me that Canadian stores just order from him.
veganessentials.com, which is American, but a great place for Canadians to buy vegan stuff, BTW (very reasonable shipping!) now has it on their "vegan cookbooks" list on their online catalog-- 3rd page! Also, amazon.ca is going to be carrying it soon, and also Canadian vegan stores vivagranola.com (Montreal) and karmavore.ca (Vancouver -- I will post when they have them on their catalogs! **For more info about the book, or to order directly from my publisher, Vegan Heritage Press (you can use Paypal), click here (Canadians can order directly from VHP, too).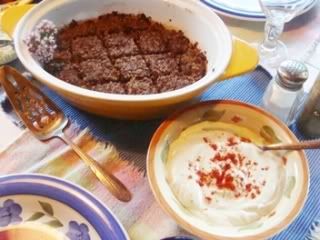 My new Meatless Kibbeh with my lower-fat version of Taheena
Sauce

I've been working on this recipe for a few weeks and served it to friends Sunday night for dinner-- it was all eaten up by 4 of us! You know that I've written about various types of kibbeh (here, and here in past posts (and there's another recipe in my new book
), and what kibbeh is. Most kibbeh is made from meat, but many varieties are made from potatoes, squash and other vegetables, along with bulgur and onions and spices. I love kibbeh! I wanted to make a vegan meatless variety that was quick and easy to throw together, so I chose to use Yves "ground Round", but you could use any vegan "hamburger crumbles", or even 2 cups of ground seitan. It is very easy to make and it's best at room temperature, so it's fine-- better, actually-- to make it ahead of time.

I want to fool around with this recipe in future, perhaps adding dried fruit and or pine nuts, using a pomegranate glaze or sauce, layering with vegetables or lentils, etc. Any ideas?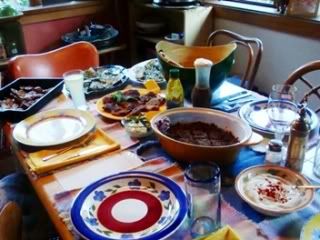 I hope you enjoy it as much as we did!
BRYANNA'S MEATLESS KIBBEH
Best made ahead of time and served at room temperature. Another optionwould be to top the loaf with sliced tomatoes and onions, salt, pepper, a little olive oil before baking, as in the photos at this blog post.
2 cups vegetarian "hamburger crumbles" (such as 1 pckg. Yves "Ground Round")
1 medium onion, cut into chunks
1/2 cup medium (#2) bulgur wheat, rinsed and drained
4 oz potato, peeled and grated
2 tablespoons soy sauce
2 tablespoons ketchup
2 tablespoons nutritional yeast flakes
1 tablespoon dried mint
1 tsp ground cumin
1/2 tsp salt
1/2 tsp garlic granules or powder
1/2 tsp cinnamon
1/4 tsp allspice
freshly-ground black pepper to taste
olive oil
To accompany:
Taheena Sauce
Preheat the oven to 350° F.

Process the onion in a food processor until minced, then add the "hamburger crumbles" and process until it is a slightly finer texture. Mix this with the remaining ingredients (except the olive oil) together well in a large bowl with your hands.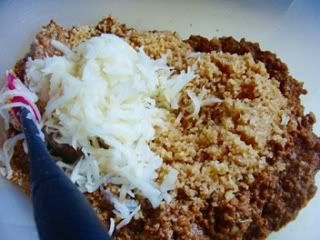 Press the mixture into 2 qt. round or oval baking dish, sprayed with olive oil from a pump sprayer, and press it down gently and evenly. (You can line the bottom with cooking parchment, if you like.) Spray the top with olive oil from a pump sprayer, or brush it on lightly. Cut the mixture carefully right through in a diamond pattern (see photos).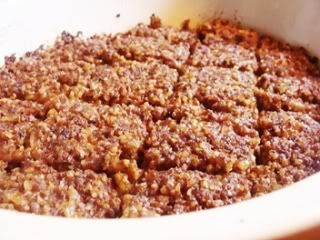 Before baking

Bake, covered, for 1 hour. Place it under the broiler for a few minutes to brown the top slightly. This firms up as it cools and can be reheated. Re-cut the wedges you cut before baking and loosen the sides with a table knife. Serve with Taheena Sauce.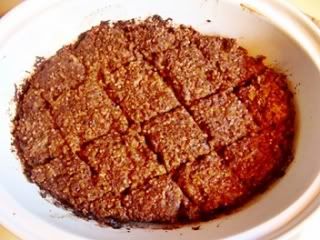 Kibbeh After Baking
Nutrition (per serving): 148.5 calories; 5% calories from fat; 0.9g total fat; 0.0mg cholesterol; 631.0mg sodium; 586.3mg potassium; 23.8g carbohydrates; 6.8g fiber; 3.3g sugar; 17.0g net carbs; 14.2g protein; 2.2 points.

FACEBOOK COMMENTS:
---