"Marshie Fluff"



I know it's been a long time coming, and I'm sorry to have kept you waiting. I'm full of excuses! Other projects, being on Weight Watchers, etc, etc.... I was working with my good friend and fellow cook/author/blogger
Julie Hasson
on some experiments with a new product called Versawhip 600K™ and it seemed to have alot of potential. We were even planning an e-book! However, Versawhip 600K™ proved to be a bit more problematic than we expected.

Versawhip 600K™ is a

"pure enzymatically treated soy protein which can be hydrated with water and whipped to make a foam. Can replace egg-albumin or gelatin..."

, to quote one
online vendor
. And several vegan chefs have done their homework and discovered that Versawhip 600K™

IS

, indeed, vegan and also kosher (some of the other Versawhip™ products are not). It is used mostly in
Molecular Gastronomy
and is a
hydrocolloid
. It definitely has potential for vegans, but you need alot of time and patience to work with it!



Here's from a past blog post updating my work with Julie on a vegan whipped topping using Versawhip 600K™:

"We are working separately (we live in different countries!) and tossing ideas around by phone and email. My first batch was pretty good, and certainly looked good, but was lacking in several departments. I haven't had as much time as I would like to to work on this, and other ideas I have for using this product, so my progress has been slow. Today (rather guiltily) I spent most of the day on it (this included research on food science) and had to throw out two experiments. That is the nature of recipe development, and this product is particularly tricky-- there is a steep learning curve! Recipe development begins in your head, and ends in the kitchen, but in between, you crack open the books, you do online research-- it takes time. This is particularly true in alot of vegan cooking because you need to know what you are aiming for, and then how to achieve that with products that act differently from the ones you used as an omni! If you are a perfectionist, it may take even longer!"



In addition, this product is not cheap (it can be as much as
$57 lb.
!), and I have to get it from the States, so far. (See recipe below for best bulk buy , which is less than half that price, and for where to get it in 2 oz. packets.) You only need 4 teaspoons for this recipe, so it will last a long time.

It's only if you are making failed experiments one after another and throwing them out that it gets really pricey!!

)

But, to make a long story short, we both came out with two Versawhip 600K™ recipes-- yes, two each! And then we had to get on with other things! Maybe someday I'll fool around with it some more, but, for now....

Julie developed a great

Homemade Vegan Marshmallow

recipe and a wonderful

Vegan Meringue Topping

for pies, etc., which you can access by becoming a
subscriber to her blog
. (Lots of other good stuff there, too!)

I developed what I call

Marshie Fluff

(down-under-speak for vegan Marshmallow Creme) and a vegan "whipped creme" (

Versawhipped Creme

, I call it). Julie was going to film them for her website "
cooking show
", but she has been extremely busy with a new book, and running a new fabulous vegan food cart called

Native Bowl

in Portland (gourmet food cart capitol of the West!). (I'm proud to say that Julie uses my "Crack Gravy" in one of her bowls!) So, no time for much filming!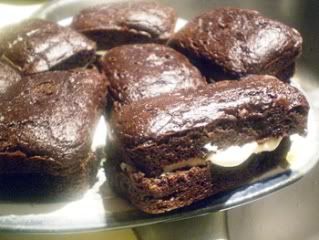 Little chocolate cakes with

Marshie Fluff

filling

We talked yesterday and decided I would just post my recipes, one at a time. They are still sort of "in progress", but definitely usable-- I just like to get things perfect!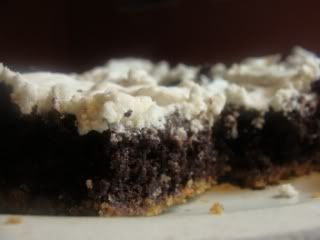 S'More Brownies

with

Marshie Fluff

Topping (

recipe here

)
Printable Recipe
BRYANNA'S VERSAWHIP™ "MARSHIE FLUFF" (
VEGAN
MARSHMALLOW CRÈME) (an "in progress" recipe)
Servings: 8
Yield: 2 cups

This keeps pretty well in a closed jar in the fridge for a few days. It will deflate a bit after that, but can be whipped up again in a few seconds with an electric mixer. I've used it as a filling in little chocolate cakes and in S'Mores and as a topping on my lowfat S'More Brownies (photo above), but I did not broil it. I have to play around with it more to see if it can be browned-- perhaps with a torch.



IMPORTANT NOTE--

Coconut milk does not work with this mixture. Versawhip 600K™ does not seem to do well with fat, and coconut milk is quite high in fat. Tofu also makes it refuse to whip up--even as little as 3 tablespoons!




Best price
for BULK Versawhip 600K™. (There is a 620K version there, too, but I don't know if it's vegan.) It's about $24 a lb. at this online vendor and that will make quite a lot of marshmallow creme (you only need 4 teaspoons for a batch!). If you prefer to buy a smaller amount, Julie has at in her online
Everday Dish Market
for $7.95 for 2 oz. (Julie also sells fine powdered agar and Instant Clear Jel [another useful thickener-- see the end of
this blog post
for info] in small amounts at Everyday Dish.)

INGREDIENTS:
Mixture A:


1 tablespoons soymilk or other nondairy milk (NOT coconut milk!)
1/8 teaspoon agar powder



Mixture B:


3 tablespoons soymilk or other nondairy milk (NOT coconut milk!)
3/4 tablespoon pure vanilla extract or vanilla paste
1/8 teaspoon lemon juice
1 1/2 tablespoons light granulated organic sugar

Mixture C: (have this measured out ahead of time)
1 teaspoon Versawhip 600K™
1 pinch table salt



Final Additions:


1 cup organic powdered sugar (icing sugar; confectioner's sugar)
1 tablespoon Versawhip 600K™
1/2 teaspoon xanthan gum



INSTRUCTIONS:




Mixture A:


Mix the 1 tablespoon soymilk and the agar together in a small ramekin or cup. Mix with a tiny whisk. Let stand while you proceed.



Mixture B:


Place Mixture B ingredients in the bowl of a stand mixer with a whip attachment that touches the bottom of the bowl, or in a bowl that you can use with an electric hand-held mixer (NOT an immersion/stick blender).

Combining A, B and C:
Whisk Mixture A again and then microwave at 50% power for 30 seconds.

WORKING QUICKLY, scoop the agar mixture into Mixture B in the mixer bowl, using a small spatula to get all of it out of the cup. Dump in Mixture C (the Versawhip and salt) and immediately start beating at medium speed for a few seconds. Stop and quickly scrape the sides of the bowl so that all of the Versawhip gets incorporated. Turn the machine on again and beat on high speed for 2 minutes.

The creme will increase in volume by about 5 times, and should be white and fluffy.

Final Additions:
To the fluffy white mixture (with the machine stopped, add the powdered sugar, 1 tablespoon Versawhip, and the xanthan gum. Beat for another 2 minutes or so, or until the mixture is thick and gooey.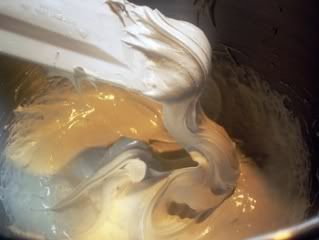 Scoop into a container, cover and refrigerate.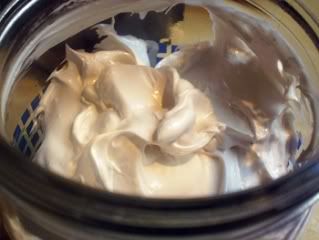 Nutrition (per 1/4 cup serving):

21.0 calories; 4% calories from fat; 0.1g total fat; 0.0mg cholesterol; 52.9mg sodium; 13.4mg potassium; 3.3g carbohydrates; 0.2g fiber; 3.0g sugar; 3.1g net carbs; 1.1g protein; 0.4 points.

Enjoy!


FACEBOOK COMMENTS:
---