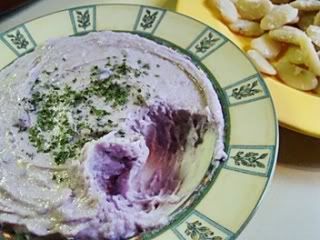 I have some purple potatoes that need to be used. A friend purchased them for me in the fall at a farmers' market in Vancouver -- organic ones at $3 lb! I was saving them for a Peruvian recipe (that's coming!), but today I decided to pretty-up a delicious potato-based Greek dip (or spread) called Skordalia by using them instead of the usual white ones. I also wanted to lower the fat in the recipe (the traditional recipes contain LOTS of olive oil), which I did by using my low-fat homemade vegan mayonnaise (you can also use Reduced Fat Vegenaise®, if you prefer). The result is a creamy, deliciously-garlicky dip that is very simple to make.

This dip is traditionally served with fried fish, but is delicious with fried tempeh or tofu strips, or raw or steamed vegetables (green beans would be yummy!). We like it with cooked gigante beans
(giant lima beans
). These are sometimes called giant butter beans, and are sometimes available already cooked in large cans
in Mediterranean grocery stores) as dippers. Just soak the dried ones overnight and change the water, add a bit of salt and simmer for about 1 hour, or until tender, but whole and intact. Scoop them carefully out of the pot and spread them on cookie sheets to cool before using-- use any broken ones in soups, etc..

This combination makes a hearty snack or lunch.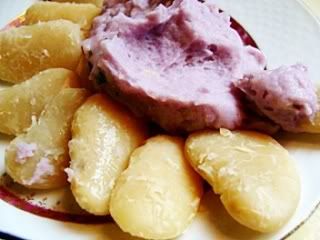 BTW, anthocyanin pigments, which are responsible for red, purple and blue vegetables and fruits, give these potatoes their unusual color and have nutritional value as antioxidants. Consequently, blue/purple potatoes have higher levels of antioxidants than ordinary potatoes.

Are purple and blue potatoes different varieties? Yes and no-- read this article!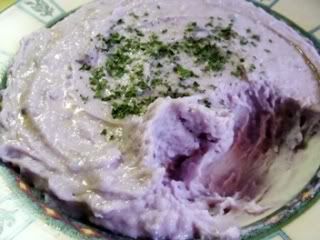 Printable Recipe

BRYANNA'S PURPLE SKORDALIA (GREEK POTATO AND GARLIC DIP OR SPREAD), LOWER FAT!

Servings: 6 (1/2-cup)
Yield: 3 cups

Purple (or blue) potatoes make this delicious dip even more special and certainly prettier! TIP: Purple or blue potatoes react best to steaming, rather than boiling.

1 lb.

purple or blue potatoes

6 large cloves

garlic, crushed

1 cup

Bryanna's Lowfat Veggienaisse
or Reduced Fat Vegenaise®

1/2 medium

lemon, juiced

1/2 teaspoon

salt

chopped or dried parsley for garnish
Wash the potatoes and cut into even-sized halves or chunks. Do not peel! Steam them over simmering water until fork-tender, but not mushy. Peel each chunk under cold running water-- the skins should slip of easily.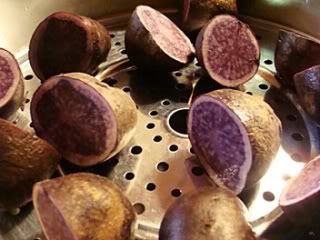 In a large bowl, mash the potatoes well with a potato masher (or use a potato ricer). Add the crushed garlic and the vegan mayonnaise. Mash again, and then switch to a heavy wooden spoon and beat in the lemon juice and salt.


Smooth the mixture into a shallow serving bowl and spray with olive oil from a pump sprayer. Sprinkle with fresh chopped or dried parsley. Serve at room temperature (if refrigerated, let it sit at room temperature for about an hour before serving).

Nutrition Facts
Nutrition (per 1/2 cup): 131.9 calories; 33% calories from fat; 5.0g total fat; 0.0mg cholesterol; 407.9mg sodium; 334.9mg potassium; 20.1g carbohydrates; 1.7g fiber; 0.9g sugar; 18.3g net carbs; 2.6g protein; 2.7 points.
If you use Reduced-Fat Vegenaise®, the fat and calorie content will be higher, as follows per 1/2 cup: 191.5 calories; 57% calories from fat; 13.4g total fat; 0.0mg cholesterol; 400.3mg sodium; 304.7mg potassium; 19.3g carbohydrates; 1.4g fiber; 0.8g sugar; 17.9g net carbs; 1.6g protein; 4.7 points.

Enjoy!



THURSDAY, JANUARY 27, 2011
http://veganfeastkitchen.blogspot.com/2011/01/lower-fat-purple-skordalia-greek-potato.html
FACEBOOK COMMENTS:
---