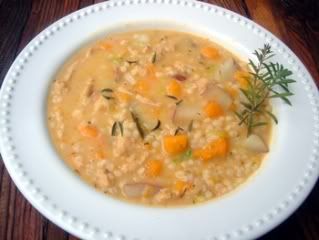 I haven't been doing much in the way of interesting cooking lately, as life has been a bit helter-skelter due to my mother's illness. I have alot of things I want to experiment with, but it's just not going to happen right now, so I'm making quick or slow-cooking favorites. Soup is a life-saver these days. The following soup is my "go-to" when I want something really hearty and filling, but quick to make and low in fat. We'll probably have leftovers for dinner when we get off the ferry tonight from being with my mom in Courtenay.

One thing good about this time is that I have to slow down on certain things, and do some reflection. This has led me to take care of some parts of me that have been neglected. I've started dancing with my dance sisters, Gillian and Bronwyn, once a week again (and vowed to do some by myself, too!)-- good for the spirit and the body. We're eating simply, which is what we need after the Christmas season. I've also started up a new cooking journal like I used to keep (read about those here), with a brand new red and black volume of blank lined pages-- you know, there's something satisfying about putting pen to paper sometimes, rather than using the computer. I'm enjoying sitting down and reading randomly from the old ones.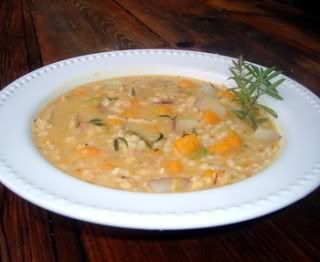 BRYANNA'S BARLEY AND WINTER SQUASH CHOWDER
Serves 6
This is a lovely, homey soup for fall and winter.
1 pound winter squash (such as butternut), peeled and seeded and cut into 3/4" cubes
1 1/2 cups reconstituted Soy Curls®
(see
here for info
), or commercial vegan "chicken strips", or slivers of smoked or baked tofu, or "chicken"-style seitan
8 ounces red potato, diced
1/4 cup chopped celery leaves and tops
1/2 tablespoon soy bacon bits (or use smoked salt a little liquid smoke)
1/2 teaspoon dried savory
1 1/2 cups non-dairy milk
salt and freshly-ground black pepper to taste
Place the broth, onion, squash, chicken substitute or tofu, barley, potato, celery, soy bacon bits (or liquid smoke), bay leaf, thyme, and savory into a soup pot and bring to a boil. Turn down to low heat, cover and simmer for 30 minutes. Stir in the milk and taste for salt and pepper. Sprinkle each serving with chopped parsley, if you like. NOTE: If the soup is too thick, or gets too thick when cooled, just add a bit more broth and/or nondairy milk.
Nutrition (per serving):
236.1 calories; 8% calories from fat; 2.2g total fat; 0.0mg cholesterol; 86.8mg sodium; 659.4mg potassium; 47.8g carbohydrates; 8.7g fiber; 4.1g sugar; 9.0g protein.
FACEBOOK COMMENTS:
---