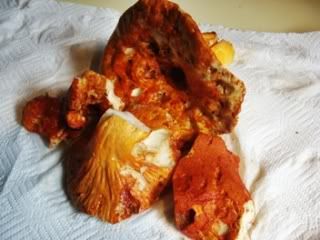 Lobster mushrooms we picked on the way back from our morning walk a few days ago

This going to be a quick one because I had a busy week of writing (sent the manuscript off in the middle of the night, with trees cracking in the bush from the wind and fearing that the power would go again!) and now three of my beautiful granddaughters are here for the weekend. Monday is Canadian Thanksgiving and I have to play catch-up! I haven't had time to plan, or to write anything Thanksgiving-ish for the blog, but I'll post about it after the fact (and below I'll list some recipes on the blog that would be good for Thanksgiving festivities).

*********************************************************************
I love these gorgeous orange fungi; DH does not, so more for me! They are easy to spot and you can't really confuse them with anything else. You can read about them here. They are best just sautéed, so that's what I did, in a little Earth Balance, after trimming (I had about a pound after trimming-- worth about $18 on the market!).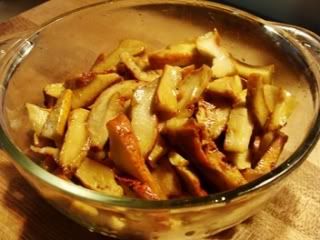 They were so tasty, with a little natural spiciness! But what to do with them? I ended up adding them to my spicy brown Basmati
Thai Pineapple Fried Rice, which will be in the new book-- brilliant! I ate the leftovers for days (not much time to cook!) and enjoyed it every time!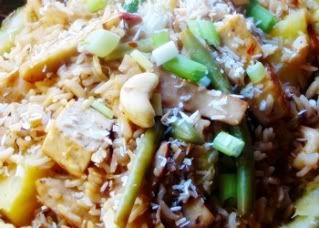 Here are some ideas for the holiday weekend!
FACEBOOK COMMENTS:
---