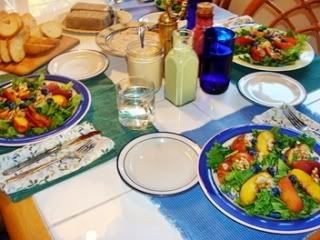 Dinner with Grilled Peach Salad, baguettes, a vegan cheesey spread and Vegan Liverwurst from my new book.

You can see 82 color photos of many of the recipes in my new book, World Vegan Feast, in this photo album. There are nowFIVE 5-star reviews of "World Vegan Feast" on amazon.com.Herbivore Clothing now, too, carries it, BTW.
You also have the option of purchasing "World Vegan Feast" in or outside of the USA DIRECTLY (even internationally) from the publisher and it's on sale for $14.96 right now! Even with the shipping, it's a great buy in many areas!
CANADIANS AND EUROPEANS-- amazon.ca (great price and free shipping if you purchase over $25) and amazon.co.uk now have my book listed and are just waiting for stock, so go ahead and pre-order or add it to your wish list, if you like.
IN AUSTRALIA, NZ: order from Angus&Robertson.

I wish this could be a long and leisurely post, since it has been 2 weeks since I last posted! I was in Portland at the VidaVeganCon (1st Vegan Bloggers' Conference-- more about that great event next time!) for almost a week, and then had daughters and grandchildren visiting as soon as I got home, so not much time for experimenting or writing.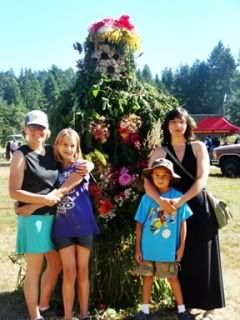 My two younger daughters: Sarah on the L, with her youngest daughter, and Justine on the R, with her son, at the Denman Is. Blackberry Faire on Sunday.

I did lots of cooking, but quick things and mostly dishes that I know well and don't have to think much about! Salads were a staple, and we were finally able to pick something besides kale and chard out of the garden, since the weather has decided to be hot and sunny at last.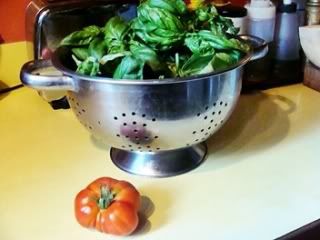 The very 1st tomato from out garden, with a colander-full of fresh basil from the pots on our back deck.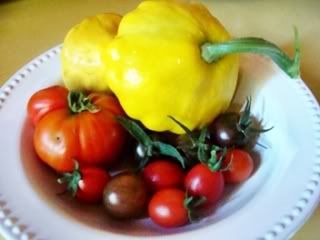 Cherry tomatoes, both red and black, are coming now, along with yellow pattypan squash.

One salad that we enjoyed for dinner one night was simply fresh, crispy lettuce leaves, topped with grilled peach slices, toasted walnuts (I would have used pecans if I had had some in the house) and fresh blueberries, with a vegan "Blue Cheese" dressing. I pitted and cut the washed peaches in half and grilled them on my indoor grill after brushing the cut sides with fig balsamic vinegar and spraying with olive oil from a spray pump. I used the highest ("sear") setting and they cooked very quickly. Then I sliced each half into 4 slices and arranged them over the salad. The Dressing recipe is below. We thought he dressing contrasted well with the peaches.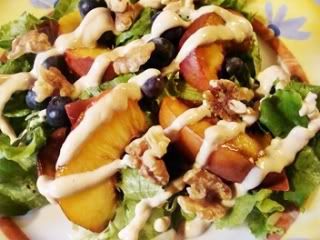 Grilled Peach Salad with Almost-Blue-Cheese Dressing

Printable Recipe

BRYANNA'S ALMOST-BLUE-CHEESE DRESSING!
Yield: about 3 cups
I've been playing with this recipe for years. It's never going to be just like blue cheese dressing, but this is good! Try it on a classic Ruby grapefruit and avocado salad on baby organic greens-- it makes a great change from sweet dressings on a salad like that!

1 (12.3 oz.) box extra-firm SILKEN tofu
, crumbled
1/2 cup water
1/4 cup soymilk

12 little cubes white Chinese fermented beancurd, gently rinsed (see Cooking Tips below for info and where to buy)
3 1/2 Tbs lemon juice

2 1/2 Tbs tahini

4 tsp cider vinegar
1 Tbs light miso

1/2 tsp salt
1 large clove garlic, crushed
1/8 tsp white pepper

Blend everything in a blender
(or with an immersion blender
) until smooth, scrape into a covered jar, and refrigerate.

Nutrition Facts
Nutrition (per 2 Tbs): 26.3 calories; 49% calories from fat; 1.5g total fat; 0.0mg cholesterol; 235.6mg sodium; 41.7mg potassium; 1.5g carbohydrates; 0.2g fiber; 0.3g sugar; 1.3g net carbs; 2.0g protein; 0.6 points.

Cooking Tips
To achieve the full "punch" in this dressing you need Chinese fermented or preserved bean curd (white doufu-ru) for it. This is a very inexpensive Chinese condiment that has a kind of "bleu cheese" flavor . (The cubes are very strong-tasting when eaten by themselves, which you aren't meant to do.)

It comes in little jars (you can see little white cubes of tofu in a clear liquid) and you can get it in Asian stores or the Asian section of large supermarkets (I have never NOT been able to find it in a Chinese store, but I'm having a hard time finding it online! UPDATE: I found some on this American website!). It keeps forever in the fridge, so you can get a few jars when you find it, if you like this dressing.

There are several varieties of this product and may be referred to by different names, but the jar is clear glass and you can see little white cubes in an almost clear liquid. If the liquid is reddish, it's got chile in it (you can get this kind on amazon
-- you could try gently rinsing the chili brine off of it if that's the only kind you can get). You want the kind with just soybeans, salt, water and wine, but if all you can find is the one with sesame oil in it, that will do. SEE MORE ABOUT THIS PRODUCT AT THIS POST.

********************************************************************
Another salad that we enjoyed was made totally spur-of-the-moment, after perusing the inside of my freezer for inspiration. I seized upon a package of Gardein (or, in this case, Gardein-made for President's Choice, a Canadian brand from Superstore) breaded "chickn" tenders, placed some in the oven on a tray to brown, while I decided on the dressing. I decided to do "traditional" Southern and opted for a "Honey-Mustard" one, but using agave nectar for the honey. The crispy lettuce leaves were topped with diced cucumber, julienned carrots and garden-fresh tomatoes. I lay the crispy vegan "chickn" tenders on top of the salad and drizzled it with the Dressing (recipe below). Didn't take us long to devour!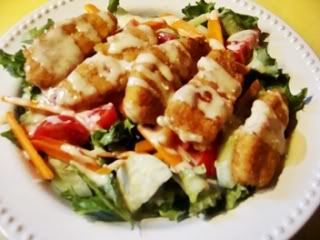 Vegan "Fried Chickn" Salad with Agave-Mustard Dressing

Printable Recipe

BRYANNA'S VEGAN AGAVE-MUSTARD SALAD DRESSING
Makes about 7/8 cup

1/2 cup vegan reduced-fat mayonnaise (such as Bryanna's Eggless Low-Fat Mayonnaise or Reduced-Fat Vegenaise)
2 tablespoons smooth Dijon mustard

2 tablespoons agave nectar

2 tablespoons fresh lemon juice (or bottled organic lemon juice
)

In a small bowl, whisk together the mayonnaise, mustard, agave nectar and lemon juice. Cover and refrigerate until using.

Nutrition Facts (using Reduced-Fat Vegenaise):
Nutrition (per tablespoon): 31.3 calories; 77% calories from fat; 3.0g total fat; 0.0mg cholesterol; 78.3mg sodium; 5.5mg potassium; 2.0g carbohydrates; 0.1g fiber; 1.1g sugar; 1.9g net carbs; 0.1g protein; 0.9 points.

Nutrition Facts (using my homemade low-fat mayo are as follows:
Nutrition (per tablespoon): 18.6 calories; 54% calories from fat; 1.2g total fat; 0.0mg cholesterol; 79.9mg sodium; 5.5mg potassium; 2.1g carbohydrates; 0.1g fiber; 1.1g sugar; 2.0g net carbs; 0.3g protein; 0.4 points.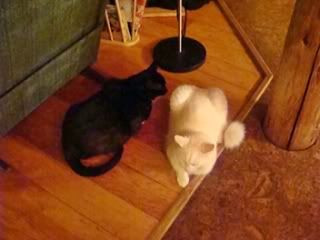 Ringo and Sadie waiting for their dinner.

Until the next post-- soon, I promise!



TUESDAY, SEPTEMBER 6, 2011
http://veganfeastkitchen.blogspot.com/2011/09/grilled-peach-salad-w-almost-blue.html
FACEBOOK COMMENTS:
---