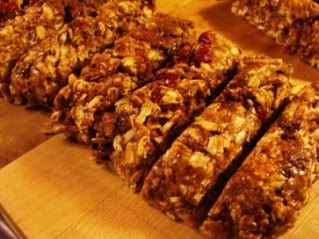 I had to make a healthy "goodie" for my granddaughter's school lunch last night, and I remembered a recipe I had seen on the blog of Camilla V. Saulsbury, whose delightful book "Enlightened Chocolate", I reviewed last month. I recalled that it could be easily veganized and I had most of the ingredients.

It was easy and quick to make, and full of healthful ingredients. I made them with tahini because they don't allow peanut butter in her school. It was a big hit with my grandaughter, AND her grandfather, and me, too, as well as a vegan friend (adult) who stopped by. This is definitely a keeper!


CAMILLA'S NO-BAKE VEGAN OATMEAL ENERGY BARS WITH DRIED CRANBERRIES, CHOCOLATE CHIPS AND ALMONDS
Makes 16 bars

This is Camilla Saulsbury's recipe, with my slight adjustments. View the original recipe here:
http://enlightenedcooking.blogspot.com/2008/02/continuing-from-yesterdays-post-i-offer.html
You can make many variations, with different syrups, nut or seed butters, nuts, seeds or coconut, dried fruits, even different rolled cereals, such as rolled barley. I didn't have any commercial toasted wheat germ, so I toasted it on a plate in the microwave for 2 minutes at 1/2 power.
2 and 1/2 cups old-fashioned oatmeal, uncooked
1/2 cup toasted wheat germ
1/2 cup dried soymilk powder
(This was instead of dried milk powdery--I used
Better Than Milk
Soy Beverage Mix, and they have a rice milk powder, too.)
1/2 cup dried cranberries
(instead of dried cherries)
1/2 cup lightly salted roasted almonds
1 cup tahini
(instead of peanut butter or nut butter)
1/2 cup maple syrup
1/2 cup brown rice syrup
(I used the above combination of syrups instead of honey and I used less molasses.)
1 1/2 tablespoons dark molasses (not blackstrap)
1 teaspoon vanilla extract
1/4 teaspoon ground cinnamon
1/8 teaspoon salt
OPTIONAL ADDITION:
1/2 cup organic, fair trade, dairy-free chocolate chips
(I used
Cocoa Camino
brand)
Line a 9x9-inch square metal baking pan foil; spray with nonstick cooking spray.
In a medium bowl mix the oatmeal, wheat germ, milk powder, dried fruit and nuts; set aside.
Place the tahini, syrups and molasses in a heavy saucepan. Cook and stir over medium heat until bubbly, melted and smooth, about 1-2 minutes. Remove from heat and stir in the vanilla, cinnamon and salt. Mix in the cereal mixture (mix until well blended and all of the oat mixture is coated). When the mixture is partially blended, add the chocolate chips (so they don't melt too much.)
Transfer mixture to prepared pan. Using a large square of wax paper or foil, very firmly press mixture down into pan to compact. (I used baking parchment and pressed it down with the bottom of another 8" square pan.)
Cool completely. Remove bars using foil overhang and then cut into 16 bars or squares.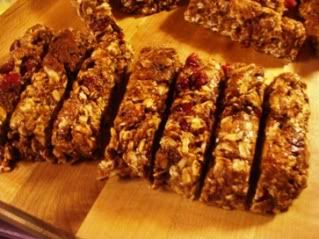 Tightly wrap each bar in plastic wrap. Store the wrapped bars in a plastic zip-top bag in the refrigerator.
Nutrition per Serving (1 bar):
Calories 234; Fat 9.1g (sat 1.3g, mono 4.6g, poly 2.9g); Protein 8.4g; Cholesterol 0.4mg; Carbohydrate 34.8g; Sodium 93.2mg.
Thanks for the great recipe, Camilla!

FACEBOOK COMMENTS:
---