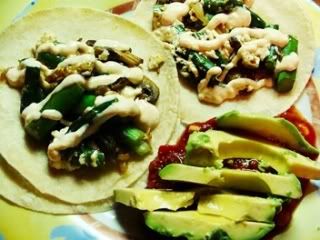 A hurried shot of dinner last night-- tortillas get cold fast!
Yesterday we had to go to town on various bits of business, and we decided to have lunch at a little cafe, the Roadrunner Cafe, that's been in Courtenay for years, attached to a motel, but never really attracted our attention. But I've been intrigued by their new sign "Tortilla Factory" for some time, so we thought we'd go check it out for lunch. It's under new management, a couple and their daughter, it looked like, and the female half of the couple, and the cook, is from Mexico. It's very diner-like inside, with colorful, but bot kitchy, Mexican decor. The menu is small (they serve breakfast and lunch and close at 2 PM) and not terribly vegan-friendly, but, as they advertise, they have a few vegetarian entries and lots of gluten-free choices. One, the Veggi-Lover's Quesadilla, can be made vegan, though, by asking for no cheese and more veggies in the filling. It comes with mildly spicy pureed beans and fresh salsa. (BTW, the tortillas are served soft, not fried, so nothing is greasy!) There is also a cheese quesadilla with a bean sauce. Hmmm, I wonder if they would do the veggie quesadilla with the bean sauce?? One can only ask! Anyway, the service was friendly, the tea was nice and strong and came in a Brown Betty teapot, and the price was right! Of course, I had to take home some fresh tortillas! (Those of you south of the border or who live in Vancouver, may not realize how hard it is to purchase fresh tortillas in small BC communities!)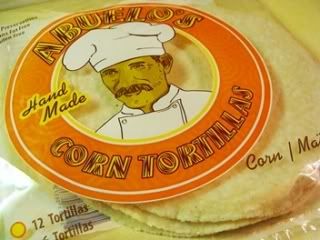 Their tortillas are now sold at the local HFS, Edible Island, and they make blue corn ones, too!
On the way home, I asked DH for some dinner ideas, and he suggested crepes with asparagus (we had some asparagus in the fridge). But I was still over-the-moon about the fresh tortillas, and wanted to eat them immediately, so I asked, why not asparagus in tortillas instead of crepes? He was all for it, so this is what I came up with in a very short amount of time (making it up as I went). It was very fast and easy and very tasty!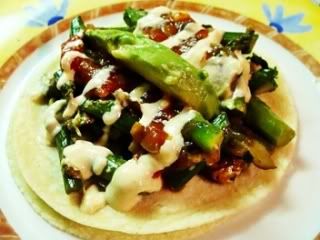 You could use more filling, if you like, and eat it with a knife and fork!
BRYANNA'S ASPARAGUS AND MUSHROOM SOFT TACOS WITH LIME AND CHILE CREMA
Serves 3
12 small fresh corn tortillas
Crema:
1/2 cup tofu sour creme (commercial, like Tofutti, or homemade)
2 tablespoons low-fat vegan mayonnaise (my lowfat eggless mayo, OR Reduced-Fat Vegenaise or Spectrum Naturals Eggless,Vegan Light Canola Mayo
)
1/2 tsp. or more hot chile sauce
or paste of choice
Filling:
4 tsp. olive oil
8 medium white mushrooms, thinly sliced
1 small onion, thinly-sliced
2 large cloves garlic, chopped
1 lb. asparagus, cleaned, trimmed and cut into 1" lengths
salt to taste
1/2 tsp. ground cumin
1/2 tsp. hot smoked paprika
(pimenton) (you could use chipotle powder
for more heat)
OPTIONAL: about 1/2 cup grated vegan cheese (I used white Daiya
)
Garnishes (optional):
chopped fresh cilantro or Italian parsley
hot tomato salsa
sliced avocado tossed in lime juice
hot sauce
Make the Crema before you start anything else. (I had to make the Tofu Sour Creme, as well, but that only takes a few minutes and the rest will keep in the fridge for another meal.) Whisk everything together. If you have a small squeeze bottle, scoop the Crema into that.
Heat the tortillas in a tortilla warmer
, or warm them in a covered casserole in the oven, OR in the microwave for a minute or two (if you use the microwave, heat them AFTER the Filling is done). Here's some advice on heating tortillas from Steve Sando of Rancho Gordo (author of "Heirloom Beans
"). Here's advice on using a terra cotta tortilla warmer in your stove's oven, and here is advice for using it in a microwave. You can use other types of covered casseroles or tortilla warmer
s. You can also wrap them in foil and use the oven. You could wrap them in cloth and use a bamboo or other steamer
. Here is a page with examples of the many ways to heat soft tortillas: http://ask.metafilter.com/16385/Warming-Tortillas.
To make the Filling, heat the oil in a large wok, stir-fry pan or skillet (preferably well-seasoned wok or cast iron skillet, or nonstick pan). When it's hot, add the onion and mushrooms, sprinkle with salt (to help release the juices) and stir-fry like crazy! Add a small splash of hot water if it's sticking. When the onion wilts, add the garlic and stir-fry a bit more. Add the asparagus pieces and stir-fry, keeping the asparagus moving. It's okay of it chars a bit. Sprinkle with a little more salt and the cumin and paprika. Add about 1/4 cup of veggie broth, white wine, or water. Cover and cook over high heat just until the liquid is gone and the asparagus is crisp-tender.
If you use the vegan cheese, you can add it before serving or sprinkle it on top of each serving. My Daiya cheese was frozen, so I crumbled it on top of the vegetables and put the lid over it for a minute to melt it.
Quickly microwave the tortillas if you haven't got them warming already (see above).
For each serving, place 2 hot, soft tortillas on a warmed dinner plate and top each with another tortilla (so you have 2 stacks of 2 tortillas each). Scoop 1/6th of the filling down the middle of each torilla stack. Drizzle of squirt some of the Crema over each mound of filling. Serve immediately and let the dinners add their own garnishes before folding the tacos and eating (leaning over the plate) with lots of napkins! Very satisfying!
Enjoy!

http://veganfeastkitchen.blogspot.com/2011/02/asparagus-and-mushroom-soft-tacos-with.html
THURSDAY, FEBRUARY 17, 2011
FACEBOOK COMMENTS:
---