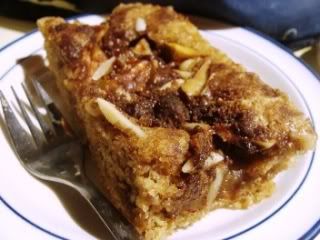 Moist, delicious Rustic Apple-Almond Cake

This is going to be a very short blog post. I just returned from Seattle last night, worked at the library today, and I'm still playing catch-up with Christmas preparations, shopping, housework, invitations, and practical matters like making soymilk and writing blogs!

In a day or two I'll blog about my trip, etc... Today I'm just going to share a recipe for a delicious cake that goes well with coffee or tea and utilizes the zillions of apples that were harvested around here this year! If you have some unexpected guests, you can whip this up quickly and serve it hot, or you can have it ready and waiting and serve it cold or at room temperature-- it's yummy either way.

Don't be fooled by the simple ingredients-- you won't be able to have just one piece!

Printable Recipe

BRYANNA'S RUSTIC APPLE-ALMOND CAKE
makes 1/ 9x13" cake

DRY MIX:
1 and 3/4 cups wholewheat pastry flour PLUS 1/4 c. oat bran
OR 2 cups wholewheat pastry flour
1 tsp. baking powder
1/2 tsp. baking soda
1/2 tsp. salt
1/4 tsp. ground ginger

2 cups chopped apples (I don't peel them if they are organic)

WET MIX:
1/3 cup smooth unsweetened applesauce
3 Tbs. oil
1 cup unbleached organic granulated sugar
7/8 cup nondairy milk

TOPPING:
1/2 cup brown sugar
1 tsp. cinnamon
1/4 cup slivered, blanched almonds

Preheat oven to 350 degrees F. Grease a 9x13" cake pan.

Whisk together the Dry Mix ingredients in a medium mixing bowl. Stir in the apples. In a blender, blend the Wet Mix ingredients until smooth. Mix the Wet Mix into Dry Mix, stirring as briefly as possible. Spread into prepared pan. Mix the Topping ingredients together in a small bowl. Sprinkle the Topping evenly over the cake. Bake 35 minutes. Test for doneness. Cool on a rack and serve right out of the pan, cut into squares.

Enjoy, and I'll blog again soon!


FACEBOOK COMMENTS:
---