DH got a new Bosch Universal Machine from our "Bosch Lady", Grace, now semi-retired. Only, it's not the new, new one! It's a slightly older limited edition model, in red! Isn't it cool? She only had one left. DH uses the Bosch more than I do, since he makes and sells bread to friends and neighbors several times a week.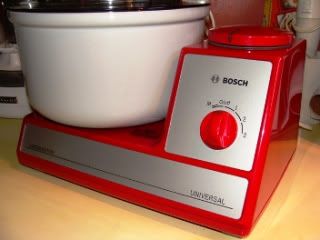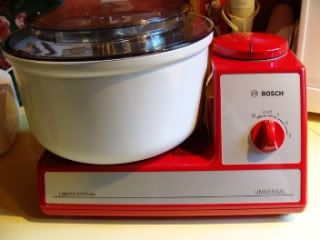 I still use the Bosch often for mixing and making pizza dough, etc., but I make more and more of the crusty, no-knead bread these days. Here are two boule that I made from the master recipe from "Artisan Bread in Five Minutes a Day
" by Jeff Hertzberg and Zoe Francois, except that I added 1/2 cup of bran and baked them in a cast iron pot and a "cloche" made from a flower pot!
I made them for dinner with a friend who was introducing us to her Italian boyfriend. He was having a hard time finding good bread in our town-- well, Italian-style bread. They loved it, so I promised to teach her this ridiculously easy method.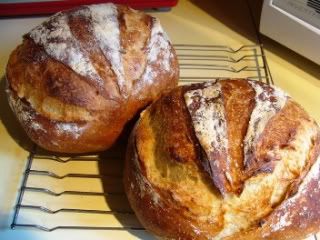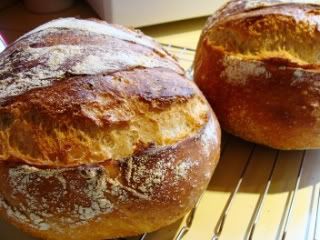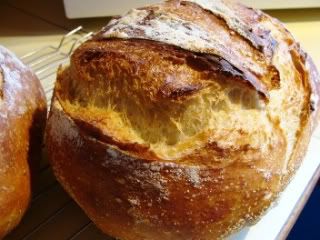 ***************************************************
Last, but not least, the recipe with the unusual ingredient.
I've talked about this before, but I am revisiting it. Cocoa and chocolate have been used for centuries in savory cooking, in Central America and Mexico, of course, but also in Europe, particularly parts of France and Italy. "In Tuscany, chocolate is a key ingredient with venison and wild boar," says Remo Vannini, executive chef of Florence's L'Incontro at Hotel Savoy. "Like wine, vinegar or lemon juice, chocolate provides just the right touch of acidity. We Italians add a hint of chocolate to many sauces. Chocolate acts not only as an emulsifier, adding natural thickness to sauces, but also enhances the other flavors. It is wonderful with game meats, but lovely, too, with chicken and beef." (Source) (I hope this doesn't offend-- just wanted to give an example of the types of dishes to which cocoa or chocolate might traditionally be added.) Here's another article about this subject.
This can also apply to vegan dishes-- I will have a recipe for a Sicilian-style stew containing cocoa in my new book. The following dish is much faster to make, and contains the medieval touch of raisins soaked in wine. The mushrooms are rich tasting enough to use instead of the above-mentioned "game meats". I thought it was absolutely delicious. DH remarked, "This is the kind of meal you don't want to end!"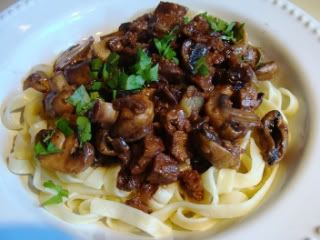 Unusual ingredient in a savory dish, but truly "food of the gods"!
BRYANNA'S MUSHROOMS IN ITALIAN-STYLE COCOA SAUCE
This is easy and pretty fast to make, and really excellent flavor.
1/2 cup dark raisins, coarsely chopped
1/2 cup medium-dry sherry
1 tablespoon olive oil
1 large onion, chopped
1 tablespoon olive oil
1 1/4 lbs button or cremini mushrooms
1 1/2 cups any kind or seitan or chicken sub (such as Soy Curls), cut into 1/4" dice
1 cup chicken-style vegan broth
, or mushroom broth (about broths, see this page, and this one)
4 teaspoons organic, fair trade unsweetened cocoa powder
2 tablespoons hot water
salt and freshly-ground pepper to taste
chopped flat-leaf (Italian) parsley for garnish
8 ounces dry linguine
Place the raisins in a bowl with the sherry and set aside to soak.
Heat 1 tablespoon of the olive oil in a medium nonstick skillet
over medium heat. Add the onions, salt them a bit, and cook them, stirring often, until they are soft and turn brown, but not burnt. Alternate Method to save time: Place the olive oil in a microwaveable casserole, add the onions, salt lightly, cover and microwave on 50% power for about 5 minutes, or until the onions are softened. Then scoop them into a heated nonstick pan and continue cooking over medium heat until they turn brown, as above.
Cut the mushrooms into about 3/4" chunks. If the mushrooms are small, you can leave them whole, or cut them in half; if they are large cut them into quarters.
Have a large pot of water heating to cook the linguine. When it boils, add the linguine and until al dente: drain.
While the onions cook, heat the second tablespoon of olive oil a larger nonstick skillet
over high heat. Add the mushrooms and salt lightly. Stir-fry them until the start to exude their liquid. Keep cooking them until they are done to your liking, adding a splash of water if necessary to keep them from sticking. Add the browned onions, diced seitan, and the sherry and raisins. Toss well and add the broth. Whisk the cocoa and hot water together in a cup and add to the pan. Keep cooking over high heat, stirring oftebn, until the sauce reduces and thickens a bit. Taste for salt and pepper.
Divide the pasta between 4 pasta bowls and top evenly with the mushroom mixture and some of the sauce. Sprinkle with the parsley.
Servings: 4

Nutrition Facts (made with Soy Curls and including the pasta)
Nutrition (per serving): 428.3 calories; 19% calories from fat; 9.7g total fat; 0.0mg cholesterol; 126.9mg sodium; 965.2mg potassium; 66.7g carbohydrates; 4.9g fiber; 16.4g sugar; 61.8g net carbs; 15.0g protein; 8.6 points.
Enjoy!

MONDAY, JULY 19, 2010
http://veganfeastkitchen.blogspot.com/2010/07/easy-dish-with-unusual-ingredient-and.html
FACEBOOK COMMENTS:
---