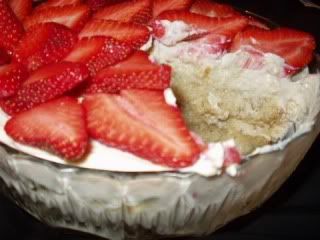 My Almond Cream Whipped Topping on the Lemon Tiramisu from my new book, World Vegan Feast.
For many years (like most vegans, I suspect) I tried to make a tofu whipped cream that I really liked. I finally came up with a version that was acceptable, but it was always evident that it was tofu. While developing recipes for my subscription newsletter, The Vegan Feast (it ran for 5 years but I am no longer producing it), I developed a delicious, light, clean-tasting, not-too-sweet whipped topping made mostly from almond milk, and it remains my favorite still.
I tried making it with commercial almond milk, but it just didn't have the fine taste and the body of that made with homemade almond milk. However, that's not really a deterrent because nut milk is really easy and relatively quick to make. In fact, the whipped topping is very easy to make, especially if you use a microwave to do the cooked part. (Scared of microwave ovens? No need to be-- here's some info I've collected and here's an article from The Sierra Club. And, in the book "Cooking Green: Reducing Your Carbon Footprint in the Kitchen", author Kate Heyhoe tells us that microwaves can save up to 80% energy compared to doing the same tasks made on the stovetop or in a conventional oven-- so it makes sense to use it for little tasks like heating a cornstarch mixture.)
I'm sharing the recipe with you below (after some photos of the topping used on some yummy desserts), and I hope you'll enjoy it!
More desserts heaped with this delicious (and fairly low-fat) homemade vegan whipped topping: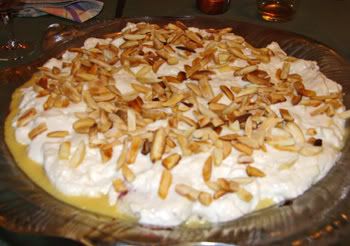 On Scottish Trifle, from my new book, World Vegan Feast.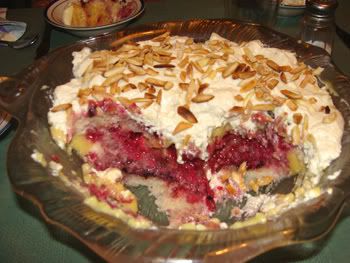 On Scottish Trifle (after we've dug into it!), from my new book, World Vegan Feast.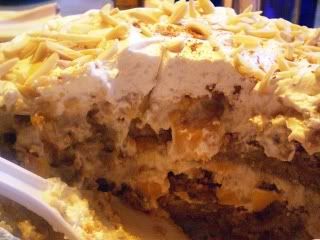 On Mango Trifle with Indian Spices, from my new book, World Vegan Feast.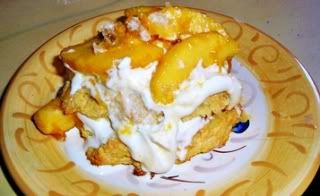 On a peach shortcake
BRYANNA'S ALMOND CREAM WHIPPED TOPPING
Makes about 2 cups, GF (Recipe from my new book, World Vegan Feast.)
This is my all-purpose whipped topping – rich, creamy, and light, with a lovely, subtle almond
flavor. It can be the perfect shortcake topping when made with a little less agar powder (1/2 teaspoon) because traditionally, the cream for shortcakes is not whipped to stiff peaks, but left soft. For best results, make the topping at least 4 to 6 hours before serving, but it can be made several days ahead of time. (For triflesThe recipe is easily doubled for a crowd.
1 cup blanched, slivered raw almonds
2 cups hot water
2 tablespoons unbleached organic sugar (light-colored)
2 tablespoons cornstarch (here's an organic one) or 3 tablespoons white rice flour
3/4 teaspoon agar powder (use 1/2 teaspoon for a softer cream)
1/4 cup firm silken tofu
1/2 tablespoon lemon juice
1 pinch salt
1/2 teaspoon pure vanilla extract
1/4 teaspoon pure almond extract, optional
1.) In a blender, combine the almonds and hot water and blend until very smooth. Be patient and let it run for several minutes. Strain the resulting almond milk through a cheesecloth-lined colander over a clean pot, measuring pitcher or bowl. Use 2 layers of fine cheesecloth from a fabric store (or use a nut milk bag). Gather the cheesecloth up to make a "bag" and twist and squeeze the "bag" to squeeze out as much of the almond milk as possible. You can use the almond meal for a facial scrub.
2.) In a small saucepan, mix 1/2 cup plus 2 tablespoons of the almond milk with the sugar, agarand cornstarch. Stir the mixture over medium heat until thickened and translucent.
3.) Microwave Option: Mix in a 2-quart microwave-safe bowl (with room for the mixture torise up) and cook 30 seconds on 100% power (default setting), whisk and repeat 3 more timesor until thickened and translucent.
4.) In the blender, combine 1 cup more of the almond milk, the silken tofu, salt, lemon juice, vanilla, and almond extract, if using. Scrape the cooked mixture into the blender. Blend until smooth. Transfer to a bowl and refrigerate for about 1 hour, then beat the mixture briefly so that it is creamy. Chill again for at least 3 hours.
Nutrition Facts:
Nutrition (per 1/4 cup): 133.4 calories; 58% calories from fat; 9.3g total fat; 0.0mg cholesterol; 47.3mg sodium; 149.0mg potassium; 9.7g carbohydrates; 2.0g fiber; 4.2g sugar; 7.7g net carbs; 4.6g protein; 3.0 points.
Enjoy on your favorite desserts!

FACEBOOK COMMENTS:
---