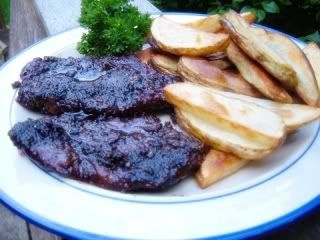 Seitan Steak au Poivre

This is a French steak dinner for vegans! It's a simple but elegant menu from my new book "World Vegan Feast" and, though it was meant for a "Father's Day" menu, it makes a marvelous special occasion menu any time of the year, especially with a bottle of vegan red wine!.

Vegan "Steak Dinner" Menu:
Seitan Steak au Poivre
Oven-Fried "Patate Frite"
Green Salad with a simple vinaigrette
Chocolate-Hazelnut Praline Lava Cakes (with your favorite non-dairy vanilla ice cream)

The main dish, a French pepper steak, utilizes my homemade seitan steak recipe, which is also provided in the book. (You can make a batch of 16 and freeze the remaining steaks for future meals.) I've worked and re-worked my seitan recipes over the years to improve upon taste and texture, and this is one of our favorite "beefy" seitan recipes. It's easy to make and versatile, as it can be used for not only steaks, but roasts, stews and kebabs.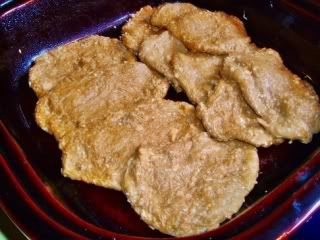 The "steaks" before cooking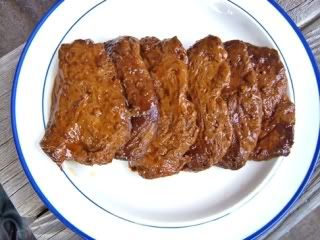 The "steaks" after cooking, ready to use in a recipe or to freeze for future use.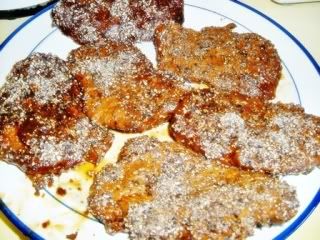 The "steaks" coated with the pepper mixture before browning.

This dish is a successful vegan version of a French classic. It's quick to make and quite impressive. I serve it with a simple green salad and the traditional "patate frite", but I oven-fry the potatoes (directions in the book). In the interests of keeping fat even further to a minimum, I tried the wine glaze without the Earth Balance, but it just didn't have the glossiness and richness that's needed. It's worth it for a treat now and then! However, I did use far less than the butter called for in classic recipes. (The seitan steaks are low in fat to begin with.)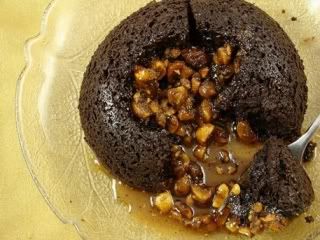 After such a delicious main course, one must serve an elegant and equally impressive dessert. My Chocolate-Hazelnut Praline Lava Cakes are incredibly decadent and moist individual chocolate cakes. They have a soft center of melted hazelnut praline filling that erupts from the cakes when you dig into them. Originally, "lava cakes" were French egg-based, flourless cakes that formed a molten center when the cakes were deliberately under-baked. More often than not, these days (due to concerns about under-cooked eggs) a rich cake batter containing flour is used and a frozen chocolate mixture is placed between layers of batter before baking. This is the type that I started with to make my original all-chocolate vegan version. My batter has very little fat in it, yet it is rich, moist, tender, and dark. The hazelnut praline filling contrasts perfectly with the dark chocolate cake, and the result seems rich enough that half a cake is plenty for one serving, especially when served with a scoop of your favorite vegan vanilla ice cream on top of or alongside.

Bon Appétit!




http://veganfeastkitchen.blogspot.com/2011/09/steak-dinner-for-vegans.html

MONDAY, SEPTEMBER 19, 2011
FACEBOOK COMMENTS:
---