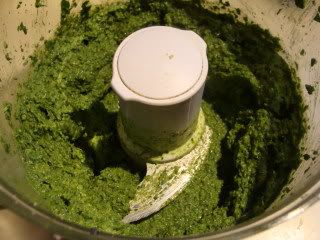 Homemade Vegan Pesto-- see recipe below

Who says that good vegan meals take hours to make? I was about to freeze some homemade pesto (we're having a good basil year!) and I decided to use some for a quick pasta lunch. I planned to cook some tagliatelle "nests", but I wanted to add a vegetable to the dish. I had a zucchini from one of our neighbors, so I decided to make zucchini strands with it, using my handy-dandy Messermeister julienne peeler
-- a great low-tech gadget that doesn't take up much room in your utensil drawer! You use it just as you would peeler and it makes long, or short, thin strands.


Here are the results from one medium zucchini-- very nice!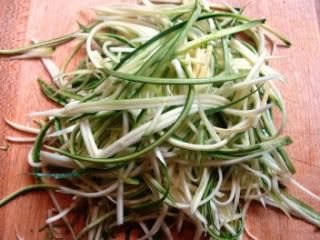 I added the zucchini strands to the pasta in the pot about 1 minute before the pasta was done and then drained them all together: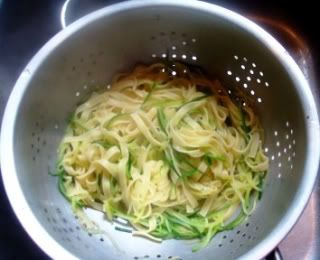 An old-fashioned Italian fat-saving tip: If you don't want to use olive oil (or not as much, anyway), mix the pesto with some of the water the pasta was cooked in to thin it out and toss with the pasta.
(BTW , if you can't make your own, try Sunflower Kitchen dairy-free Basil Pesto.)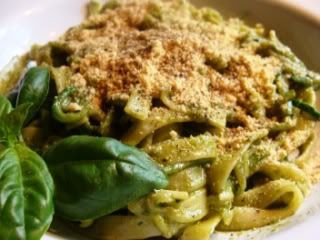 The finished dish, with my New, Improved Okara Parmesan Substitute. Of course, you could use Parma! (walnut-based vegan parmesan sub) or Galaxy Foods Vegan Parmesan Flavor Grated Topping, instead. Another good topping (and a traditional one) would be dry breadcrumbs toasted with some olive oil, and/or finely-chopped toasted nuts.

BRYANNA'S TRADITIONAL-STYLE PESTO (DAIRY-FREE)
Makes about 1 1/2 cups
Adapted from my book "Nonna's Italian Kitchen
".

4 cups packed-down fresh basil leaves
1/2 cup extra-virgin olive oil (see Variation #2 below for low-fat version)
1/4 cup lightly-toasted pine nuts, or chopped walnuts, filberts (hazelnuts), almonds, or Brazil nuts
(If you are allergic to nuts, you can omit them, or use shelled, lightly-toasted sunflower and/or pumpkin seeds instead)
2 tablespoons light-colored miso
(can be chickpea miso
for soy-free)
2 to 4 cloves garlic (NOTE: the garlic should not overwhelm the basil in authentic pesto.)
OPTIONAL: 1/2 tablespoon lemon juice to preserve the color

Place everything in a food processor and process until a paste forms. Place the paste in two or three small containers (the less air the pesto is exposed to, the better). Cover the pesto with a thin film of olive oil or a piece of plastic wrap (touching the pesto), to prevent discoloration, and cover tightly. Refrigerate. Use this up within two or three days (you can halve or even quarter the recipe). After that, you should freeze it in small containers or make frozen cubes of it, but don't leave it in the freezer for more than a month or so, or it loses flavor.

VARIATIONS:
#1) FOR HEMP SEED BUTTER PESTO: Use only hemp seed oil
, or 1/2 hemp seed oil and 1/2 olive oil. Omit the nuts or seeds and use 1/3 cup hemp seed butter instead. Everything else is the same.
#2.) FOR A LOWER-FAT VERSION that is still quite delicious, omit all or some of the oil and substitute instead an equal quantity medium-firm or silken tofu, OR mashed cooked or canned white kidney beans (or use 1/2 and 1/2).
#3.) WINTER PESTO: This is an authentic method of stretching expensive storebought fresh basil during the winter months. Use 2 cups of fresh basil and 2 cups fresh Italian parsley leaves, instead of 4 cups basil. It is traditional in Liguria to add 2 tablespoons of chopped fresh marjoram to this winter version.

Enjoy!



MONDAY, SEPTEMBER 13, 2010
http://veganfeastkitchen.blogspot.com/2010/09/quick-lunch-tagliatelle-with-homemade.html
FACEBOOK COMMENTS:
---