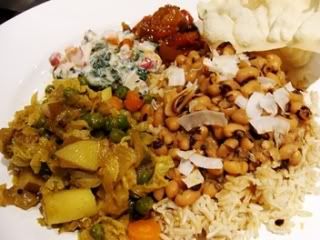 A plateful of flavor!
The night before last we brought dinner over to our friends Sarah and Gordon. I've been kind of a hermit lately, and decided we need to get out more, and they have been working very hard on a project (and Gord is still recovering from broken ribs). We hadn't seen them for a while, so this was an opportunity to visit and give them a little respite for a couple of hours. I was making a dish from each of my new cookbooks and we had plenty to share. To tell you the truth, I haven't been terribly inspired in the kitchen lately, so I was hoping this would kick-start some creativity, as well.
It was a great evening and we ate almost everything! I made Goan Black-Eyed Peas with Coconut from "The Indian Slow Cooker", which was super-easy to make and delicious (and made ALOT!). My only criticism was that it was a bit on the salty side (and I'm not a no-salt person!)-- maybe there was a typo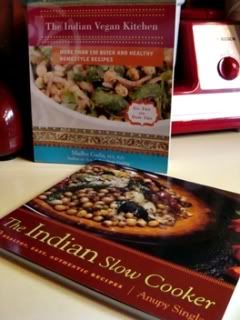 My 2 latest cookbook purchases
The vegetable dish was perfect-- quick and easy, flavorful, and utilizing staple veggies such as cabbage, carrots and frozen peas. This was the Cabbage Mixed Vegetables from my new copy of "The Indian Vegan Kitchen".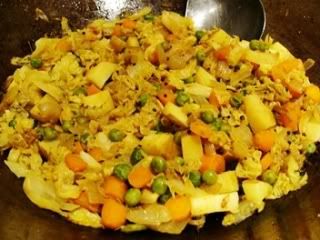 Spicy mixed vegetables
For the "salad", I made a mixed vegetable raita from a book on my shelves, "Indian Vegetarian Cooking at Your House". It contained spinach, carrots, green onions, radishes and other goodies-- very good! I used my Tofu Sour Cream instead of yogurt.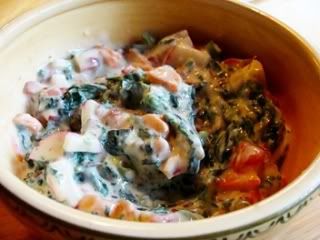 Vegan vegetable raita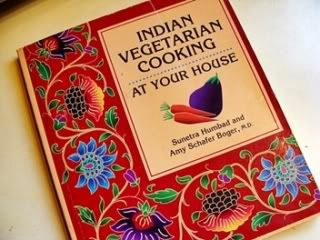 Got the original of the raita recipe from this book
I served the meal with some chutney I had around, poppadoms crisped in the microwave, and brown basmati rice.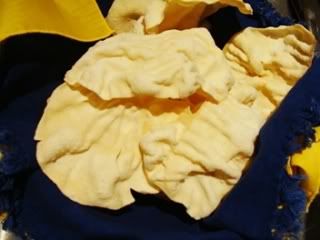 Little poppadams crisped in the microwave with no fat
I wasn't going to make a dessert, but finally decided to make an Indian-style pudding that is a favorite of mine. It's adapted from a recipe in my holiday cookbook. The original dish is a thick, sweet mixture made from drained yogurt. My original recipe was not quite thick enough,I decided, so I revised it to squeeze much of the liquid out of the creamy silken tofu before blending it with the other ingredients. I also added rose water and a little tahini (or you can use almond butter instead) for more flavor and richness. We were more than happy with the results! I hope you like it, too.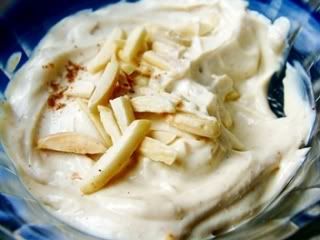 BRYANNA'S TOFU SHRIKAND (GUJARATI "YOGURT" PUDDING)
Servings: 4
This delicious pudding is usually made with a rich drained yogurt. This vegan version utilizes drained silken tofu and lemon juice for a smooth, rich-tasting and tangy dessert that has amazed some friends who are devotees of good Indian cuisine. You have some lee-way with the sugar content in this recipe.
2 (12.3 oz.) boxes extra-firm silken tofu, crumbled, drained and squeezed as directed below
1/2 to 2/3 cup light organic unbleached sugar OR organic powdered sugar
1/4 cup lemon juice
(An alternative to sugar would be 7 to 8 tablespoons of light agave nectar, but the puddng won't be as thick.)
2 tablespoons tahini or almond butter
1/2 tsp salt
1/4 tsp pure almond extract
1/4 tsp grated fresh nutmeg
1/4 tsp ground cardamom
1/4 tsp Spanish saffron soaked in
1 tablespoon hot nondairy milk
OPTIONAL:
4 tsp rose water
GARNISH:
grated lemon zest (preferably organic) and/or chopped toasted pistachio nuts or almonds
grated nutmeg
Line a colander with clean cotton sheeting or fine cheesecloth, with some over-hang. Place the colander in the sink. Crumble the silken tofu into the cloth-lined colander. Gather up the ends of the cloth and twist the cloth and squeeze to extract the water from the tofu. Twist and squeeze until you get as much liquid as possible out of the tofu. Place the squeezed tofu into a food processor.
Transfer all of the remaining ingredients to the food processor and blend until VERY smooth. Scoop it evenly into 4 decorative pudding dishes or goblets. Cover and chill for at least 2 hours. Garnish before serving.
Nutrition Facts
Nutrition (per serving): 240.3 calories; 25% calories from fat; 6.9g total fat; 0.0mg cholesterol; 352.4mg sodium; 323.6mg potassium; 31.9g carbohydrates; 0.9g fiber; 27.2g sugar; 30.9g net carbs; 14.4g protein; 5.2 points.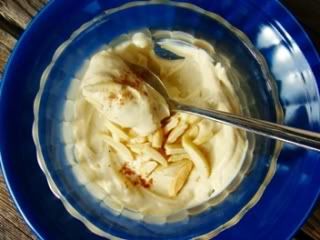 Enjoy!

FACEBOOK COMMENTS:
---