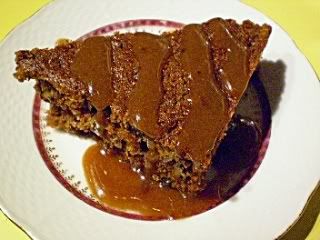 A favorite restaurant of ours in Courtenay, BC used to make a cake like this and it was one of the few restaurant desserts we ordered now and then. But there is a different chef now and they serve it without the caramel sauce, smothered in whipped cream, so we don't order it anymore. In any case, we can have it whenever we like because a few years ago I did some experimenting and developed a whole grain vegan version. It's luscious, but not fat-laden, and perfect for a holiday dessert!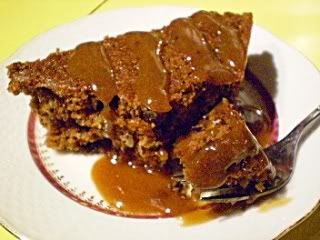 Printable Recipe

BRYANNA'S DECADENT CARAMEL-CRANBERRY-PECAN CAKE
Serves 8
This cake actually isn't that decadent, but it really seems so! This is a great choice when you want something rich (but not too sweet) and special, but not chocolate.

THE CAKE:
Dry Mix:
1 2/3 cups whole wheat pastry flour
3/4 cup brown sugar
1 tsp baking powder
1/2 tsp ground nutmeg
1/2 tsp ground allspice
1/4 tsp salt
1 cup chopped lightly-toasted pecans
1 cup fresh or frozen cranberries, chopped (or 2/3 cup dried cranberries, soaked in hot water and drained well)
Wet Mix:
1 cup water
3 Tbs oil
3 Tbs smooth unsweetened applesauce
1 Tbs cider vinegar
1/2 Tbs pure vanilla extract
CARAMEL SAUCE:
1/3 cup brown rice syrup
1/2 cup plus 2 Tbs. brown sugar
2 Tbs Earth Balance (vegan non-hydrogenated margarine)
1/8 tsp salt
1/3 cup soy (or coconut) creamer
1/2 tsp pure vanilla extract

Preheat the oven to 350°F. Oil an 8" square pan and line the bottom with cooking parchment cut to fit.

Whisk all of the Dry Mix ingredients except for the pecans and cranberries, together in a medium bowl. Add the pecans and cranberries and mix briefly.

Whisk together the wet Mix ingredients in another bowl. Pour into the Dry Mix ingredients and stir briefly, just until mixed. Scrape the batter into the prepared pan. Bake for 35 minutes.

Cool the cake on a rack.

To make the sauce:
Bring the syrup, brown sugar, Earth Balance and salt to a boil in a heavy saucepan and boil over medium heat, stirring constantly, until the consistency of heavy syrup.

Remove from heat and cool a bit. Heat the creamer just until warm. Whisk into the syrup along with vanilla.

The cake can be served warm or at room temperature, but the sauce should be hot. Cut the cake into 8 triangular servings and drizzle each serving generously with some of the hot sauce.

Nutrition Facts
Nutrition (per serving): 485.6 calories; 33% calories from fat; 18.8g total fat; 0.0mg cholesterol; 163.5mg sodium; 368.6mg potassium; 80.5g carbohydrates; 4.9g fiber; 54.1g sugar; 5.4g protein; 10.5 points.

Enjoy!


MONDAY, DECEMBER 20, 2010
http://veganfeastkitchen.blogspot.com/2010/12/holiday-caramel-cranberry-pecan-cake.html
FACEBOOK COMMENTS:
---