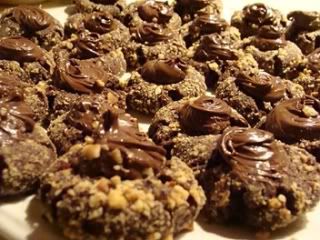 VEGAN CHOCOLATE-HAZELNUT THUMBPRINTS
Yield: about 50 cookies
I made these last night-- yum! I adapted a recipe from the Dec. 2009 Cooking Light magazine.
9 ounces unbleached white flour (about 1 cup, lightly spooned into cup)
2 cups organic powdered sugar
2/3 cup organic unsweetened cocoa
1/2 teaspoon salt
1 cup Earth Balance (non-hydrogenated vegan margarine), softened
2 tablespoons Ener-G or Orgran egg replacer powder
1 tablespoon instant espresso or 2 tablespoons instant coffee
1 teaspoon vanilla extract
1 1/3 cups finely chopped toasted hazelnuts
about 1/2 cup vegan hazelnut-chocolate spread (such as Chocoreale Hazelnut Spread or Justin's All-Natural Chocolate Hazelnut Butter)
Preheat oven to 350°F.
Weigh or lightly spoon flour into a dry measuring cup; level with a knife. Combine the flour, sugar, cocoa, and salt in a bowl and whisk.
Place margarine in a large bowl, or the bowl of your stand mixer, and beat at medium speed until light and fluffy (about 2 minutes). Whisk the egg replacer and the espresso powder with 1/4 cup water until frothy and add to the margarine. Add this and the vanilla to the margarine and beat well. Add flour mixture to butter mixture; beat at low speed just until combined, then, if you are using a stand mixer, use the cookie paddle to mix it until it is smooth and shiny.
if you don't have a cookie paddle, turn the dough out onto a sheet of baking parchment and knead the dough 6 times or until smooth and shiny. Shape dough into about 50 (1-inch) balls. Roll sides of balls in the nuts, pressing gently. Arrange the cookie balls 1 inch apart on baking sheets lined with baking parchment. Press your thumb gently into center of each cookie, leaving an indentation. Bake, 1 batch at a time, at 350° for 10 minutes. Remove the cookies from the pans and cool completely on wire racks.
Spoon a scant 1/2 teaspoon of the hazelnut-chocolate spread into center of each cookie, swirling it to a peak. Refrigerate the cookies until the spread hardens and then cover the plates.
MERRY CHRISTMAS TO YOU ALL!

FACEBOOK COMMENTS:
---