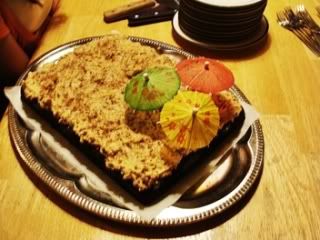 A rather fuzzy picture of my grandaughter Hannah's birthday cake, myNew Lower-Fat Chocolate Mudpie Cake with Coffee/Coconut/Pecan Frosting-- recipe here!-- we celebrated her 12th birthday (belatedly) on Sunday night.

We had 8 guests for the weekend-- 2 of my daughters and their spouses, and 4 grandchildren, ages 15 to 6. I simply forgot to take pictures most of the time! When I did, the light wasn't great, but below is a bit of what we ate. On Monday everyone headed home, and DH and I went to one of our vegan potlucks, where 5 couples meet to eat great vegan food and chat up a storm. Again, the light was bad and the pics are not great, but the meal was very yummy and we could hardly walk out of the door! This time we had a rainbow theme and I chose yellow, mostly to use up our homegrown patty pan squash!

Friday night my youngest daughter and her husband and son came from Vancouver, so we were few enough to have a sit-down meal. We had a Middle-Eastern meal of hummous (my lower-fat version), Saniya, a Levantine dish in wish I use ground Field Roast Classic Grain Meatloaf instead of meat, topped with my lower-fat Taheena Sauce (recipes here). They loved the Saniya!

We had a green salad with our own tomatoes, olives, and wholewheat pita bread brushed with olive oil, sprinkled with the wonderful herb blend, Zatar, and heated in the oven. We used this to scoop up both the hummous and Saniya.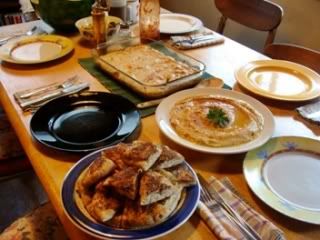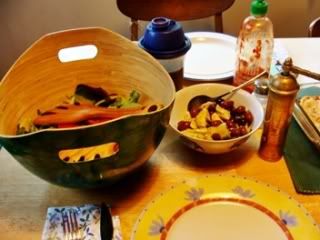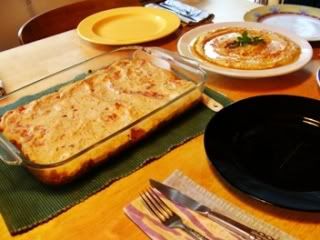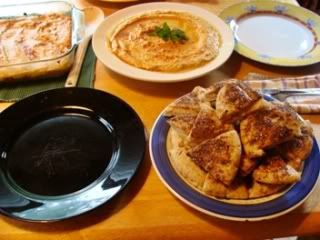 Everyone brought food, of course, and we had Terra chips, homemade blueberry popsicles, homemade banana muffins, lots of fruit, corn, chile and cornbread, and vegan posole soup. DH made crepes for breakfast one morning and on another morning I made Orange-Blackberry-Pecan Scones (recipe here, but I left out the chocolate chips).

On Monday night, we brought 2 items to the vegan potluck, both yellow to stay with the theme. I made a very simple patty pan squash (from our garden) and fresh local corn casserole in a creamy sauce with thyme and tarragon, with a topping of my "New, Improved" Okara Parmesan Substitute and Daiya vegan cheese. (I had just purchased 10 lbs. of Daiya from our local food co-op!) It didn't look like much (and the picture is bad-- sorry!), but it was really delicious! The recipe is below.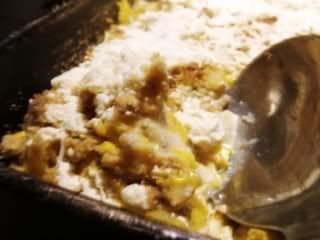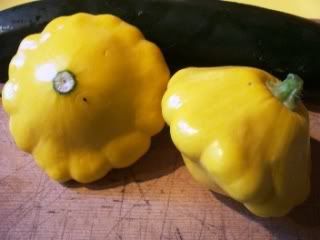 Two of our homegrown patty pan squash

Printable Recipe
BRYANNA'S CHEESEY VEGAN PATTY PAN SQUASH AND CORN CASSEROLE
A perfect summer casserole--good enough for a main dish! (I quadrupled this recipe for the potluck!)
1 medium yellow onion, thinly sliced
4 medium patty pan squash, trimmed and sliced into thin wedges
(you could substitute just about any summer squash, actually!)
1 ear of fresh sweet corn, kernels sliced off the cob
1/2 teaspoon dried tarragon
1/4 cup nut milk or full-fat soymilk
salt and freshly-ground pepper to taste
1/4 cup of your favorite vegan parmesan substitute (I used my homemade version)
about 2 ounces Daiya grated white vegan cheese (or your favorite type)
Heat the olive oil in a large nonstick skillet over medium-high heat. Add the sliced onions and sauté them slowly until they are tender and beginning to brown. Add the patty pan squash and corn kernels and sauté until the squash is almost tender enough to serve, but not quite. Stir in the herbs and then the milk.
Taste for salt and pepper.
Transfer the mixture to an oiled baking dish (unless your skillet can go in the oven!) and cover with the parmesan sub and then the grated vegan cheese. Place under your broiler on the second rack setting own from the broiler. Broil the casserole for 5 to 10 minutes, or until it gets bubbly and hot. Serve immediately, or you can keep it warm in a low oven until serving time.
*****************************************************
I also made a pan of Vegan Lemon Meringue Bars, using Julie Hasson's vegan meringue recipe, which is available if you have a subscription to Everyday Dish TV. This dish, as you can imagine, was very well-received! The meringue is awesome! You can even brown it! (I don't have a torch, so I put it about 3 inches under my broiler and watched it like a hawk! I had some left over, which I swirled into shapes on a piece of baking parchment and have stored in my freezer to see if they'll thaw out and still be usable.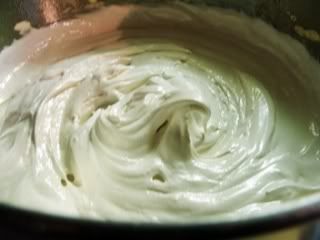 The meringue after beating.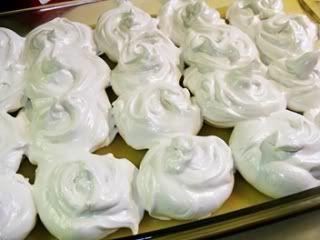 The meringue before browning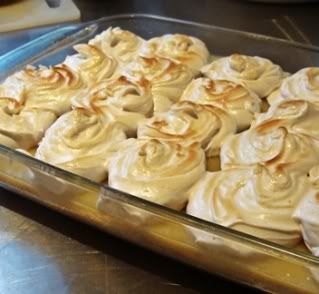 Ready to serve!

Here is most of the rest of our potluck meal, which was much better than these terrible pictures reveal!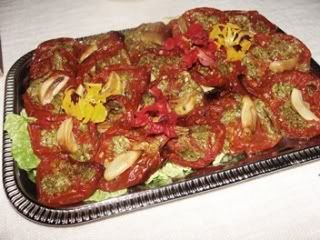 Fireweed's delicious pesto roasted tomatoes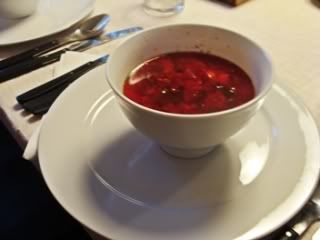 Pelka's delightful Borscht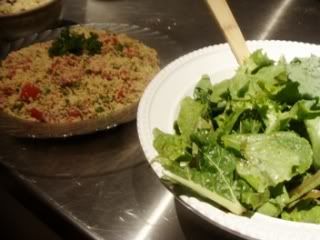 A couple of lovely salads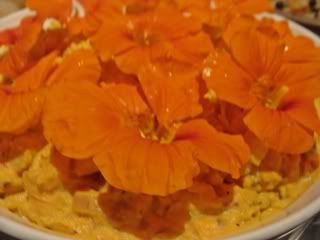 Ellen's yummy colorful Sweet Potato Salad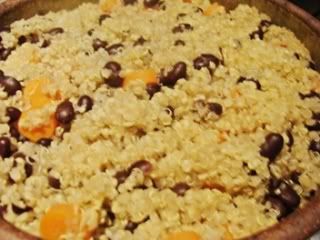 Ellen's Quinoa and Black Bean Pilaf



Sarah's terrific wholewheat penne with olive oil, green beans, rapini, sundried tomatoes, pine nuts and herbs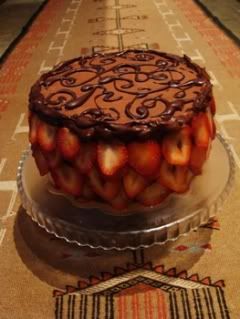 Fireweed's deliciously rich chocolate strawberry layer cake




Enjoy!




THURSDAY, SEPTEMBER 9, 2010
http://veganfeastkitchen.blogspot.com/2010/09/busy-labour-day-weekend.html
FACEBOOK COMMENTS:
---