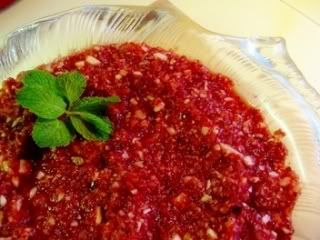 Dori's Raw Cranberry Relish


We don't go to alot of parties, but yesterday we had 2 in one day-- our neighborhood Christmas get-together, and our vegan dinner party group holiday meal. Both are potluck, so I made most of my contributions, or the components to them, on Saturday.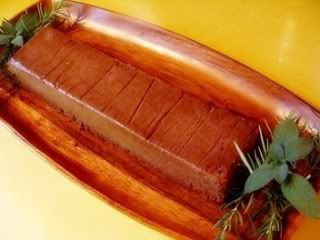 Herbed Mushroom Pate


At 4 PM we went up the road a piece to our neighbors, Toby and Mikell, to meet and greet and eat with the neighbors in our little area of Denman Island. It's a diverse group of interesting people of all ages, incomes and backgrounds. Unfortunately, in order to finish off my dishes for the vegan dinner party, we only had an hour! Most of the nibblies there looked wonderful, but were not vegan. There were some lovely roasted nuts, olives, a spicy bowl of popcorn and some aromatic mulled (local) cider, which was plenty for us, since we had a feast to attend later! I brought my Herbed Mushroom Pate (recipe in my new book) because I got several requests for it after the last party I brought it to. ALL of the omnis loved it and I must admit that I take pleasure in watching the reactions when i tell them there's no meat involved! (I made an extra one for us to enjoy at home, too-- it makes a great snack on a rye crisp cracker, or a delicious sandwich. I usually make more than one at a time because it freezes well.)

We rushed home to turn on the oven and roll out the fat-free vegan brioche dough (rising in the refrigerator) for my Vegan Chikn Pot Pie, which is full of somewhat unusual veggies and a sherry-laced cream gravy-- I'd made the filling the day before and the gravy that morning. I popped those in the oven along with one of my seitan "hams" (made 2 of them on Thursday) and some pineapple chunks. I had made the "ham" gravy that morning, along with a delicious raw cranberry relish.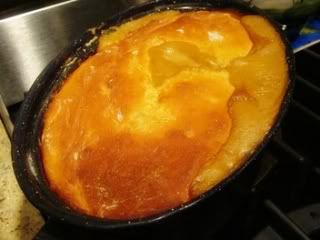 Vegan Chikn Pot Pie, just out of the oven above; leftovers below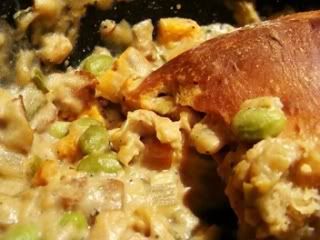 My seitan "ham":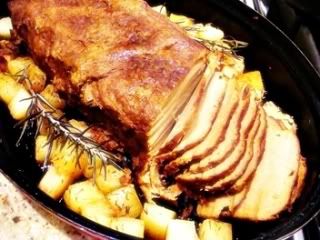 It was great to join with the four other couples in our vegan dinner group for great conversation, wine, and too much wonderful vegan food!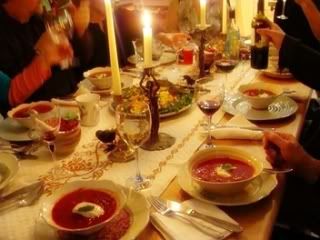 Starting the dinner with Fireweed's absolutely delicious Borscht, made with local (roasted) beets and potatoes! In the center of the table is Sarah's scrumptious Succotash Salad, which I neglected to get a separate photo of, darn it! It was soooo good-- full of lima beans, corn, arugula, zucchini and lots of other stuff.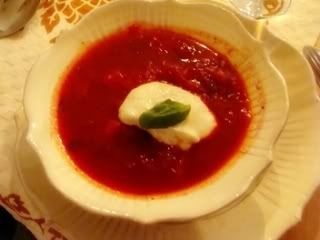 Also un-photographed, I'm afraid, was our hostess's lovely roasted potatoes and glazed, grilled eggplant slices.

Ellen brought the dessert, which included some delicious Scandinavian almond brittle, again, un-photographed, as well as: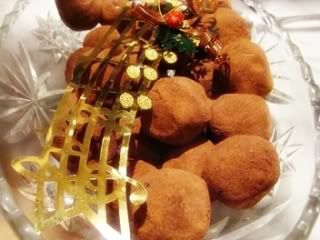 Homemade vegan truffles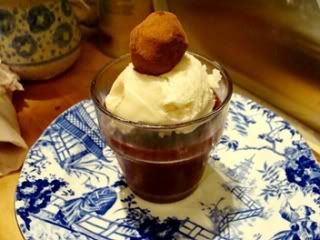 Ellen's refreshing raw berry pudding with vegan ice cream and a truffle on top!


Here's the recipe for the raw cranberry relish I brought. It was given to me by a longtime subscriber of my newsletter, an enthusiastic vegan cook, many years ago and we loved it! It was a hit at the dinner party, and I ate some for breakfast!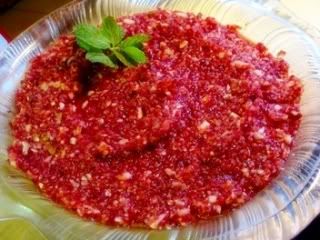 Printable Recipe

DORI'S RAW CRANBERRY RELISH (BRYANNA'S VERSION)
Place the following in a food processor
and chop to the size of rice:
12 ounces fresh whole cranberries
1 peeled orange or 2 mandarin oranges, removing most of the pith
2 Tbsp. grated organic orange zest
1 medium apples, cored and chunked
Add the following to a medium mixing bowl along with the processed mixture above:
1/2 cup crushed pineapple
1 tbsp. minced fresh ginger
Optional: 1/4 tsp cinnamon
Combine well. Allow flavors to meld one hour.
Dori wrote: "Whenever I find a great buy on cranberries I make a bunch of this up and freeze it in addition to just freezing the berries. I add it to muffins, put it in salad dressing, and directly onto the salad when I want color. I also add it to sandwiches, stir into my morning oatmeal, and top cornbread with it for an interesting change. Even after it has been frozen it has an acceptable texture. As you can tell this is my favorite."
PS: My new book on international vegan cooking will be out in August; The Field Roast book is on hold right now, but we hope to get it rolling again soon; and I'm working on my seitan book slowly between these projects. However, I hope to work on it more regularly in the new year. (The ham will be in the seitan book.)
FACEBOOK COMMENTS:
---