HOMESCHOOLERS: We have some very cool advertisers on this website, and as VegSource is supported by advertising, we're happy about that. If you can't see any ads, you might have an ad blocker, or a setting in your browser which blocks ads from showing up. Consider turning on ads while on vegsource so that you can see what they have to offer, and so that this site can remain free.
Reply To This Post Return to Posts Index VegSource Home
---
| | |
| --- | --- |
| From: | Myra (24.17.157.255) |
| Subject: | Sonlight Core G Complete Set 2012 in Perfect Condition |
| Date: | April 30, 2013 at 11:33 am PST |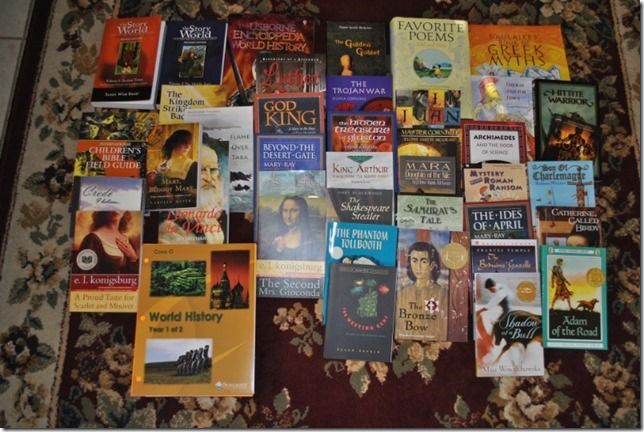 For Sale: Sonlight Core G Complete Set (Missing One Item) in perfect
condition!
I note there is one book change in 2013, and that is replacing
D'Aulaires' Book of Greek Myths with Greek Myths. The set is in truly
perfect condition other than one spine having a light crease. The
picture does not do the set justice. Three items are not pictured
(Kingfisher History Encyclopedia, The Great and Terrible Quest, and the
additional LA Student Activity Sheets.

IG w/ NEW stickers (2012 No writing/highlighting, etc. & includes the
laminated maps)

Bible:
International Childrenís Bible Field Guide
Credo: I Believe CD

History:
The Story of the World: Ancient Times
The Story of the World: The Middle Ages
The Usborne Encyclopedia of World History
The Kingdom Strikes Back
The Kingfisher History Enclyclopedia

Read-Alouds:
The Golden Goblet
Favorite Poems Old and New
The Trojan War
God King: King Hezekiah
Beyond the Desert Gate
Flame Over Tara
A Single Shard
The Hidden Treasure of Glaston
King Arthur: Tales from the Round Table
The Great and Terrible Quest
The Second Mrs. Giaconda
The Shakespeare Stealer
The Westing Game
I, Juan Pareja
Master Cornhill

Readers:
Mara, Daughter of the Nile
Hittite Warrior
DíAulairesí Book of Greek Myths (replaced by Greek Myths in 2013)
Theras and His Town
Archimedes and the Door of Science
Mystery of the Roman Ransom
The Bronze Bow
The Ides of April
Black Horses for the King
The Beduinsí Gazelle
Son of Charlemagne
A Proud Taste for Scarlet and Miniver
Catherine, Called Birdy
Adam of the Road
The Samuraiís Tale
Shadow of a Bull
Leonardo da Vinci
Luther: A Biography of a Reformer
Mary, Bloody Mary
The Phantom Tollbooth

AND added bonus: A NEW set of Language Arts G Student Activity Sheets
(not pictured)

NOT INCLUDED: Timeline Figures
Media mail with insurance included.
$400 Paypal or money order only.
Reply To This Post Return to Posts Index VegSource Home
---