HOMESCHOOLERS: We have some very cool advertisers on this website, and as VegSource is supported by advertising, we're happy about that. If you can't see any ads, you might have an ad blocker, or a setting in your browser which blocks ads from showing up. Consider turning on ads while on vegsource so that you can see what they have to offer, and so that this site can remain free.
Reply To This Post Return to Posts Index VegSource Home
---
| | |
| --- | --- |
| From: | Dena (71.94.189.203) |
| Subject: | SOTW Set - Ancient Times Vol. 1 (Story of the World) |
| Date: | July 12, 2013 at 12:11 pm PST |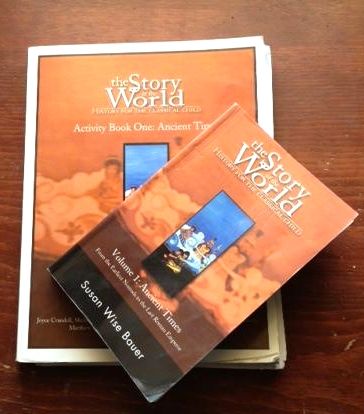 Story of the World Volume 1: Ancient Times
From the Earliest Nomads to the Last Roman Emperor
Reader is in gently used condition. Activity guide is more used but
perfectly usable. Some of the perforated Student Pages have been torn out
for easier copying, but are all there.
$25 free shipping
Reply To This Post Return to Posts Index VegSource Home
---