Here are some fabulous, trendy cute girls clothes size 10-12-14 in excellent gently used condition from our non-smoking and pet-free home! Shipping is extra and I only accept Paypal payments please.
We take excellent care of our girls clothes and always try to be very fair with our prices. I charge what I would be willing to pay andI'm very easy to work with. Lately I've had people asking what I would charge if they purchased everything. With the cost of shipping these days, the least expensive way to ship packages over 2 lbs. is flat rate priority and I'm a pro at stuffing as many clothes as possible in a box!:o)
I can fit everything into four large flat rate priority boxes.
If you would like to purchase ALL, shipping is FREE! Yahoo!! I will pay the shipping! :o)))
Thank you soooooooooo much!! Yahoo!!!
1) Yaso Jeans sz. 12 denim stretch skinny fit jeans....SOLD
Scooter Brown sz. 10/12 raspberry pink cotton knit lace trimmed shirt....$3
California Girls sz. 10/12 grey cotton knit shirt with sparkly pink LOVE print...$3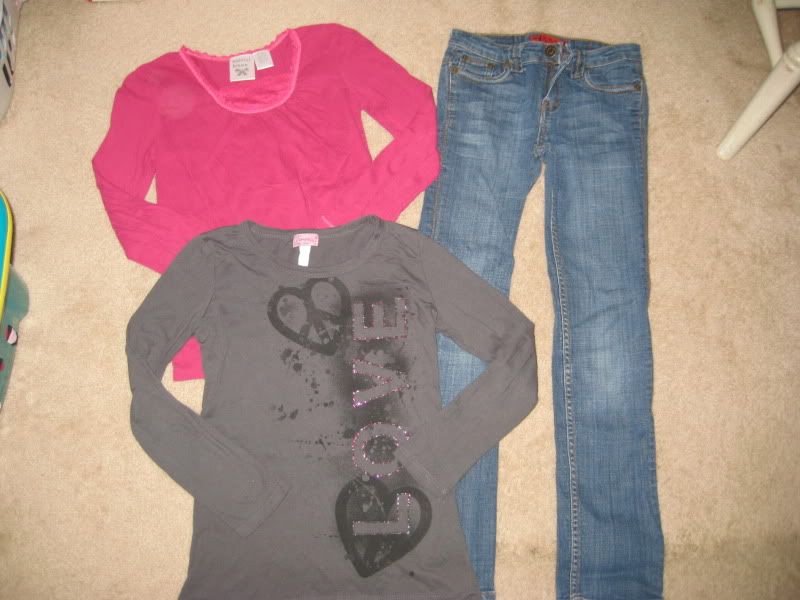 2) Limited Too sz. 12 grape cotton knit shirt....$3
Limited Too sz. 12 teal cotton knit shirt....$3
Self Esteem sz. L black ribbed cotton knit hoodie shirt with sparkly hearts...$3
Kirra sz. XS rosey pink cotton ribbed knit hoodie shirt...$3
Limited Too sz. 14 brown cotton ribbed knit shirt...$3

3) The Children's Place sz. 10/12 green sparkly princess print long sleeved shirt....$3
Mini Boden sz. 11/12 purple cotton knit shirt with cool shimmery sequin fairy angel print...SOLD
Hot Pink sz. 12(sz. tag was cut out...itchy) cotton/spandex knit hoodie style shirt with sparkly rhinestones..$3
Justice sz. M/12 navy blue cotton knit shimmery Love print....$3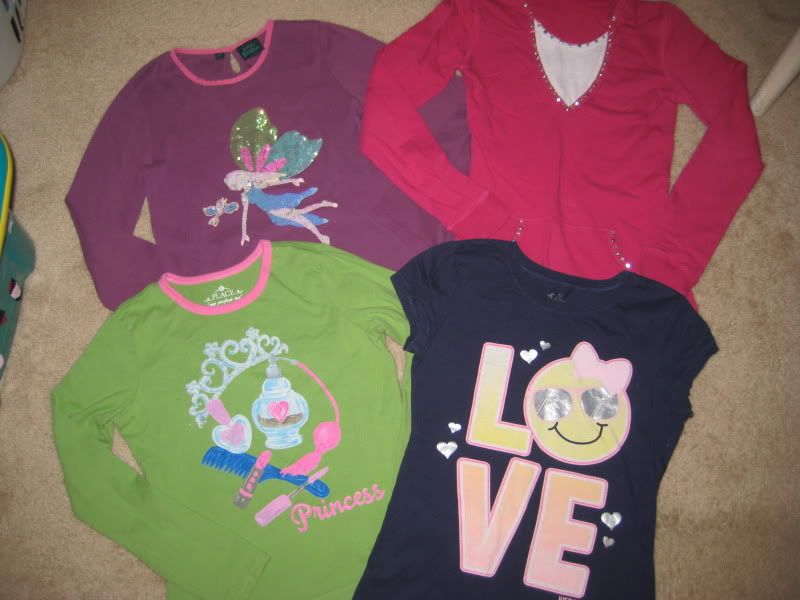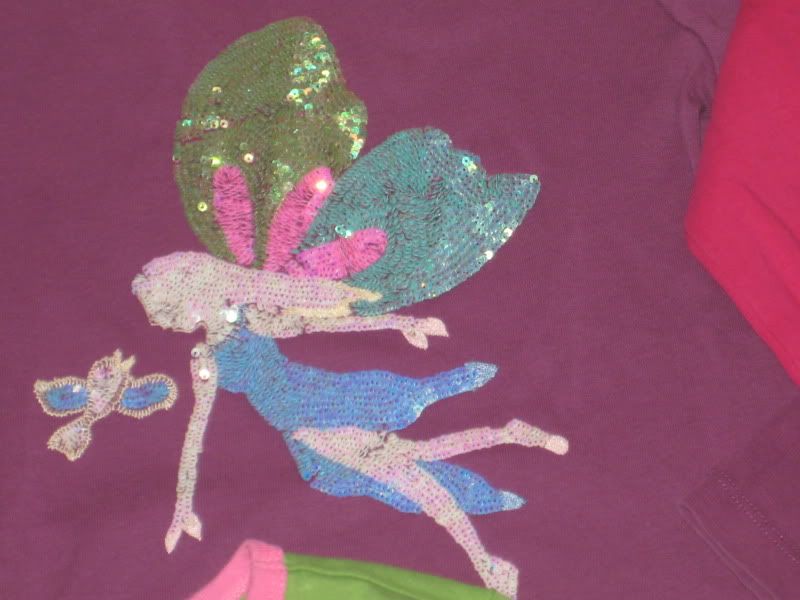 4) George sz. 10/12 cotton knit turtlenecks....$3 each....I also have a pink and white butterfly print turtleneck just like the blue one.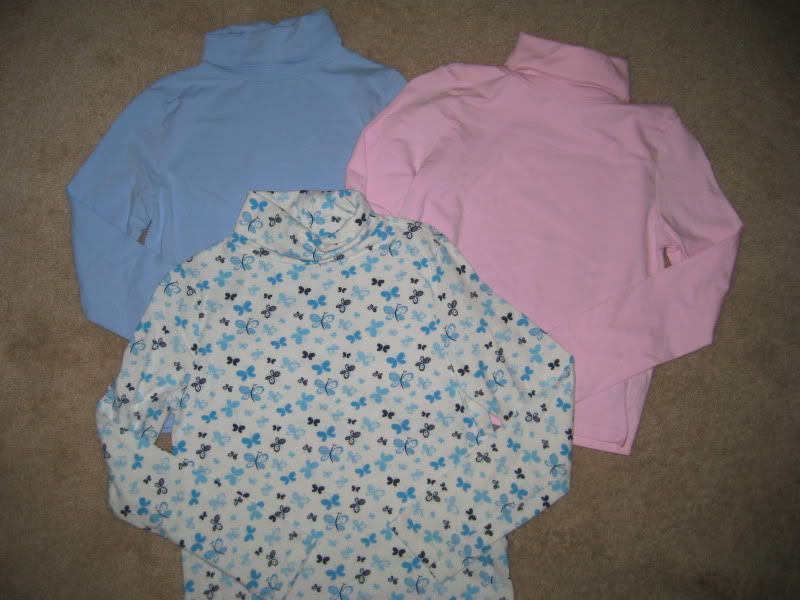 5) The Children's Place sz. 12 pink camo cargo pants that can be rolled up or down....$4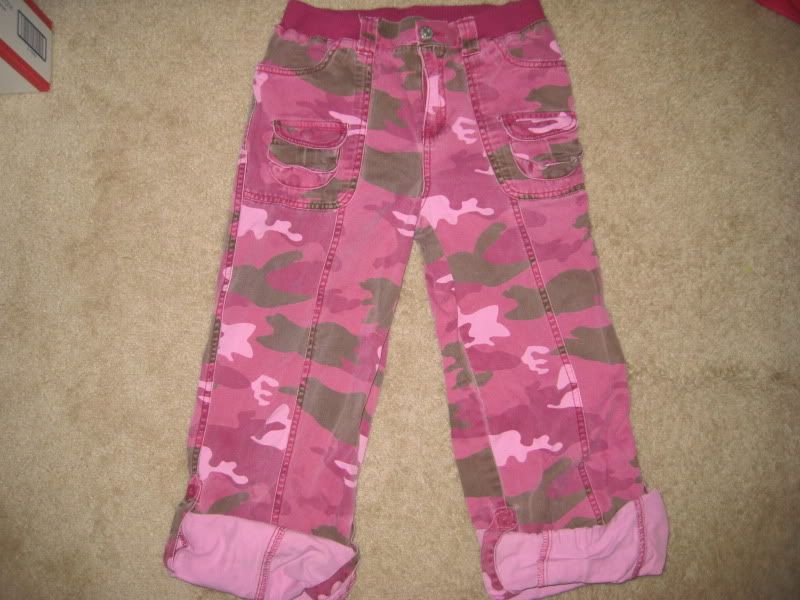 6) Limited Too sz. 10 Reg. blue floral butterfly print bermuda shorts....$5
The Children's Place sz. 12 lavendar floral striped cotton shorts with matching belt....$3
GAP Denim sz. 10 denim stretch shorts with embroidered flowers on back pockets....$5
NWT GAP Denim sz. 10 denim stretch skort with embroidered hearts on back pockets......$5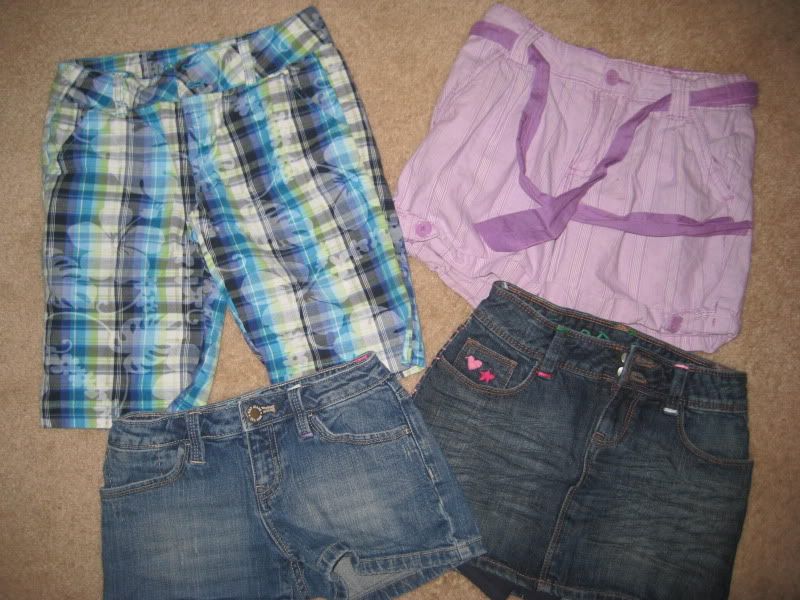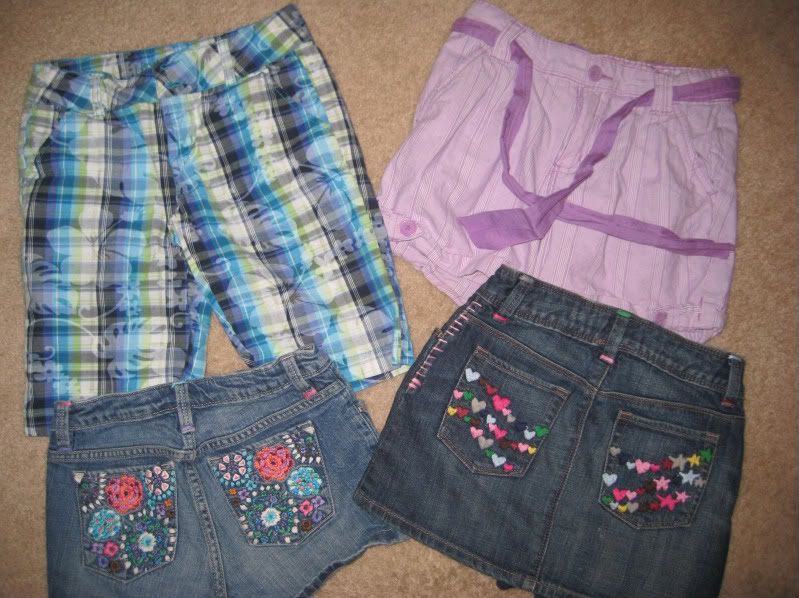 7) The Children's Place sz. 14 blue cotton knit ruffled edge long sleeved shirt with sparkly heart....$5
Aeropostale sz. S hot pink cotton knit silver sparkle 3/4 length shirt with AERO logo across the front...$6
Old Navy sz. 14 denim shorts with drawstring waist in front....$3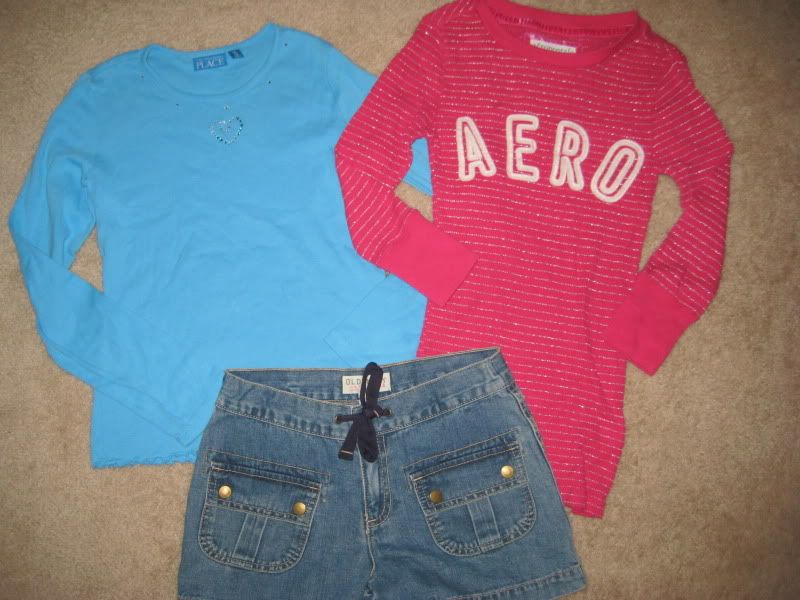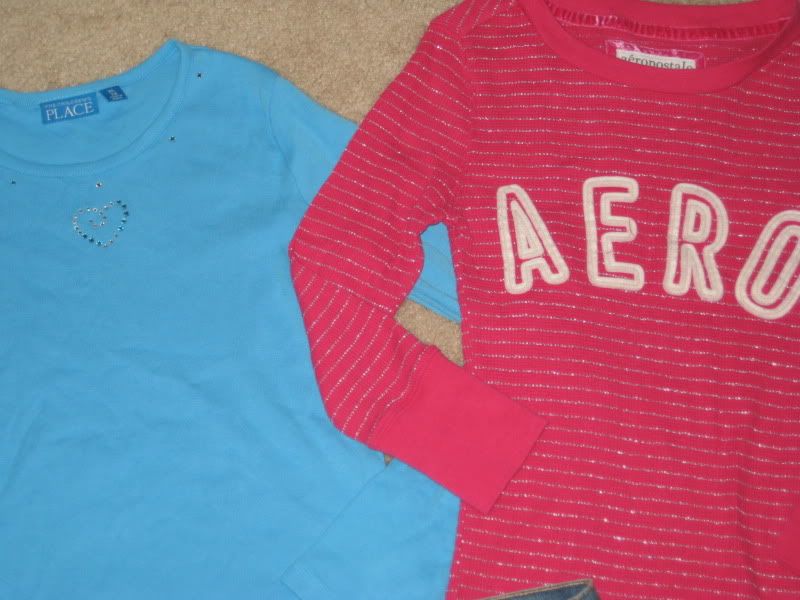 ** (Children's Place sz. 14 sparkly heart blue shirt...same shirt as above...)
Children's Place sz. 14 matching multi-striped hoodie sweater...$6


8) Aeropostale sz. XS blue sparkly silver striped tank....$3
Justice sz. 10 hot pink sparkly monkey print shirt.....$3
The Children's Place sz. 10/12 blue/white camo cotton ribbed knit tank...$3
The Children's Place sz. 10/12 cotton ribbed knit sparkly rhinestone multi-striped tank....$3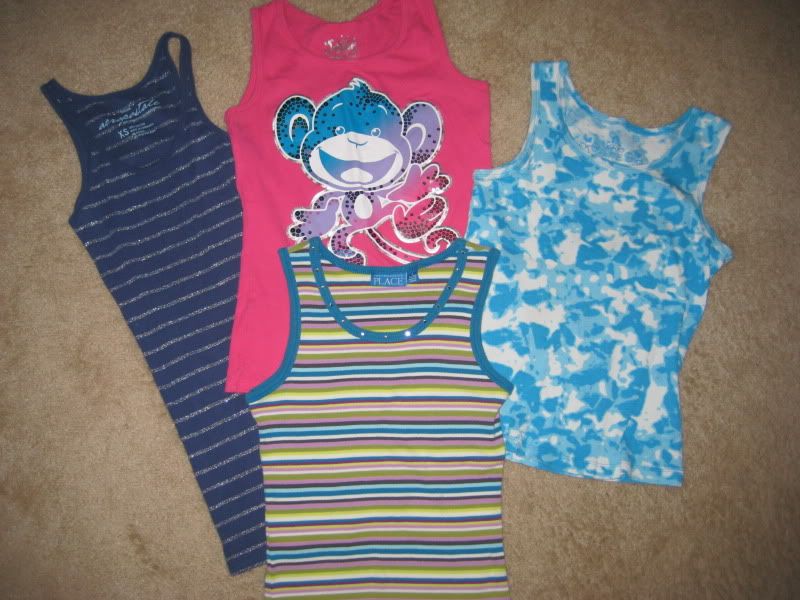 9)GAP sz. 10 creamy white textured cotton knit hoodie with front pocket and sparkly rhinestone heart on pocket...$5
Childen's Place sz. 14 shimmery floral love print blue shirt....$4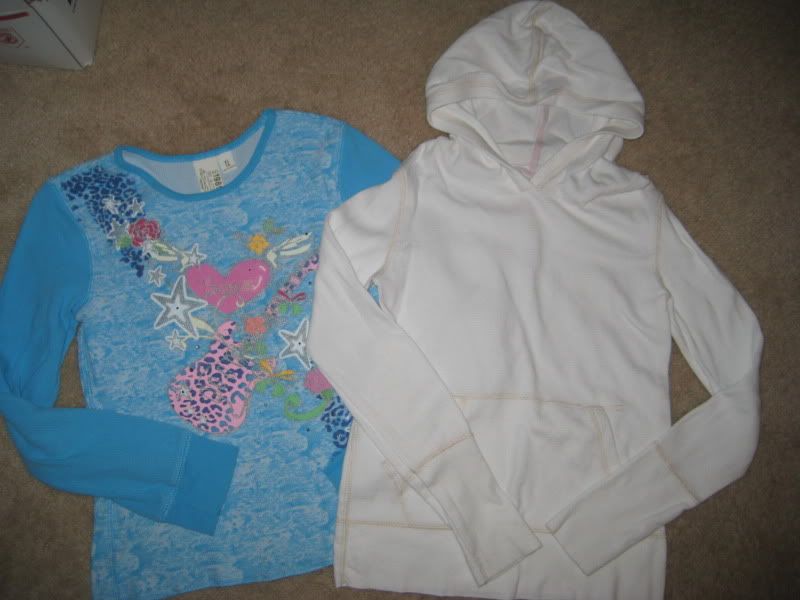 10)GAP sz. 10 shimmery I Wished UPon A Star shirt......light shadow in lower right hand corner....not real noticeable unless you are looking for it....doesn't show when wearing hoodie jacket....:o)) $5
GAP sz. 10 blue cotton sweatshirt knit zip up hoodie with sparkly flowers...$5


11) Old Navy "The Darling"(tag cut out) sz.12 Reg. denim stretch fashion flare jeans with adjustable waist....$5
Old Navy "The Girlfriend" sz. 12 Reg. classic rise denim stretch flare jeans with adjustable waist....$5
Old Navy "The Darling" sz. 12 slim denim stretch boot cut jeans with adjustable waist....$5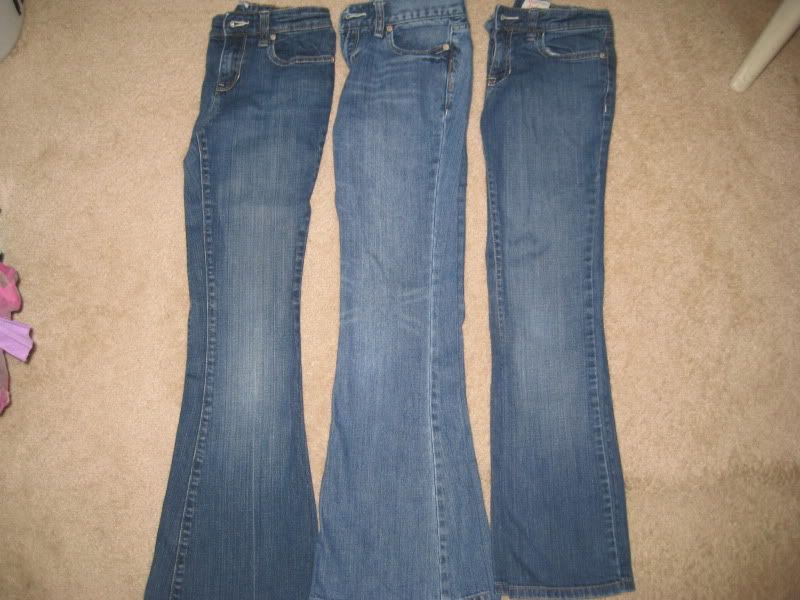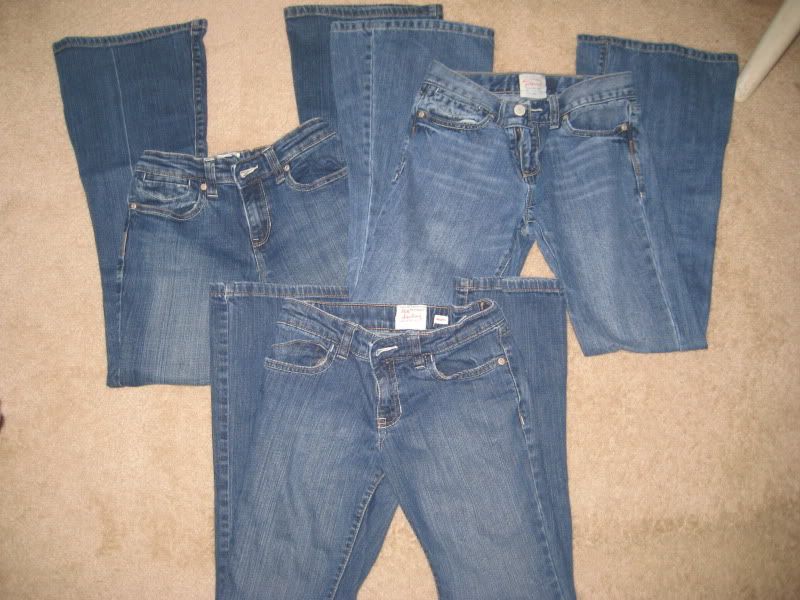 12) Xhiliration sz. 12 denim stretch fashion flared jeans with sparkly studded pockets and adjustable waist...$5
Macy's Imperial Star sz. 10 denim stretch jeans with adjustable waist, sparkly rhinestones and dangly silver stars on pockets....$5
Macy's Vigoss sz. 12 denim stretch jeans with embroidered pockets....$5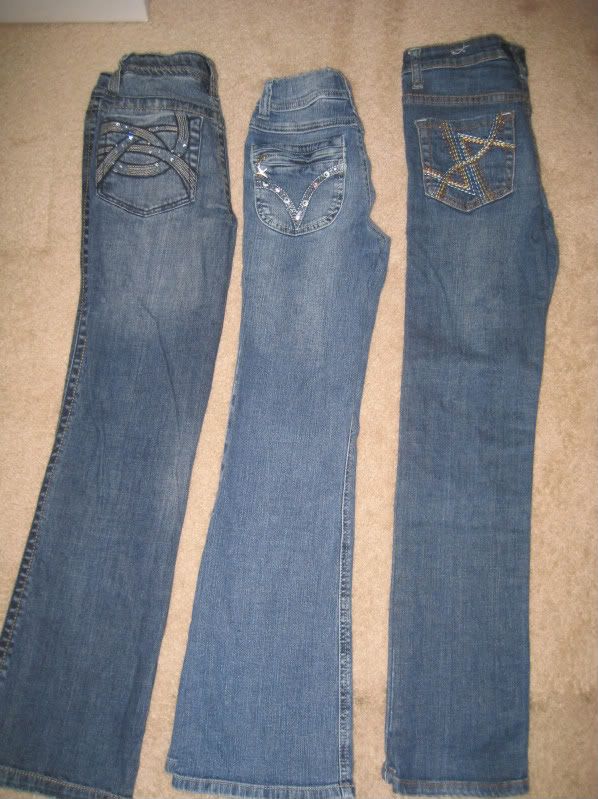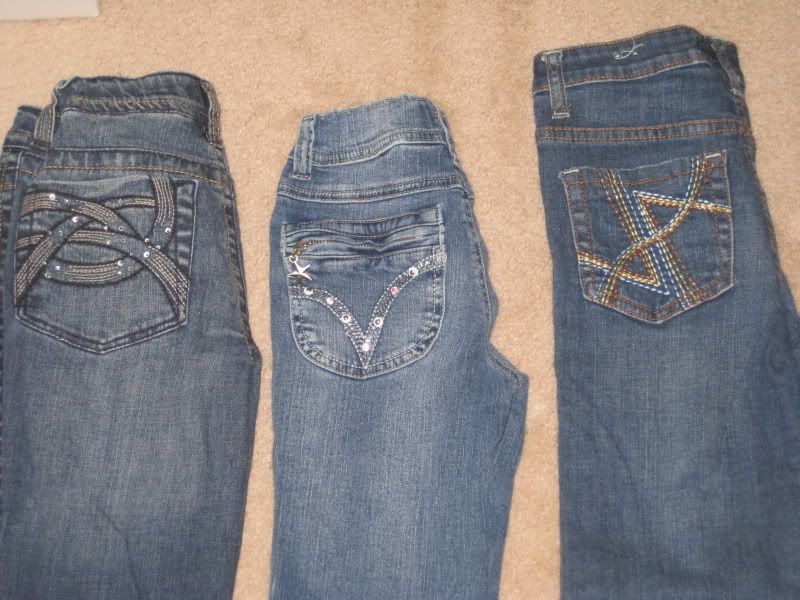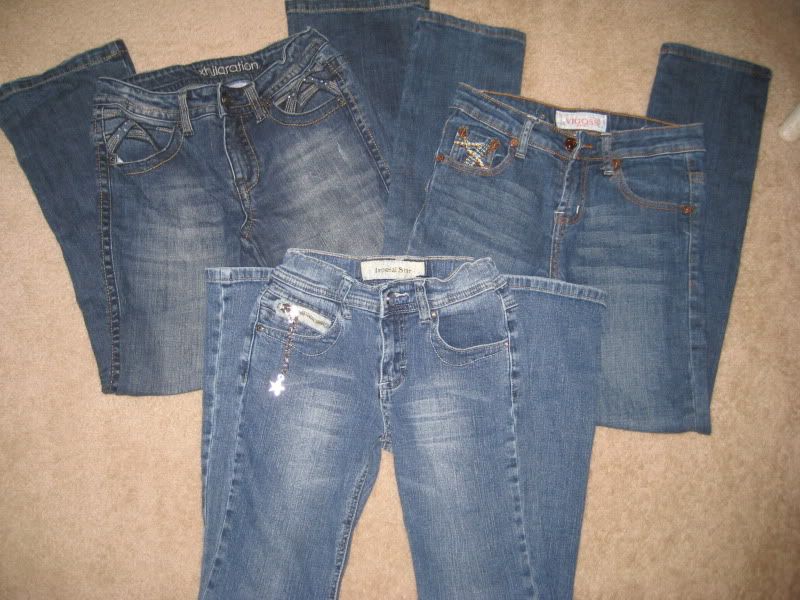 13) Old Navy sz. 12 slim denim stretch hipster bootcut jeans...$5
Old Navy sz. 12 slim hipster flare lighter wash denim jeans with adjustable waist....$5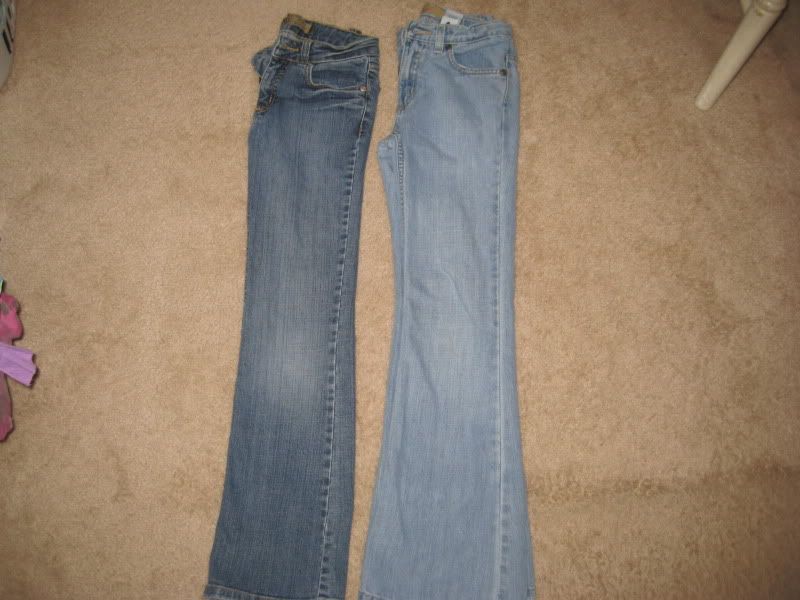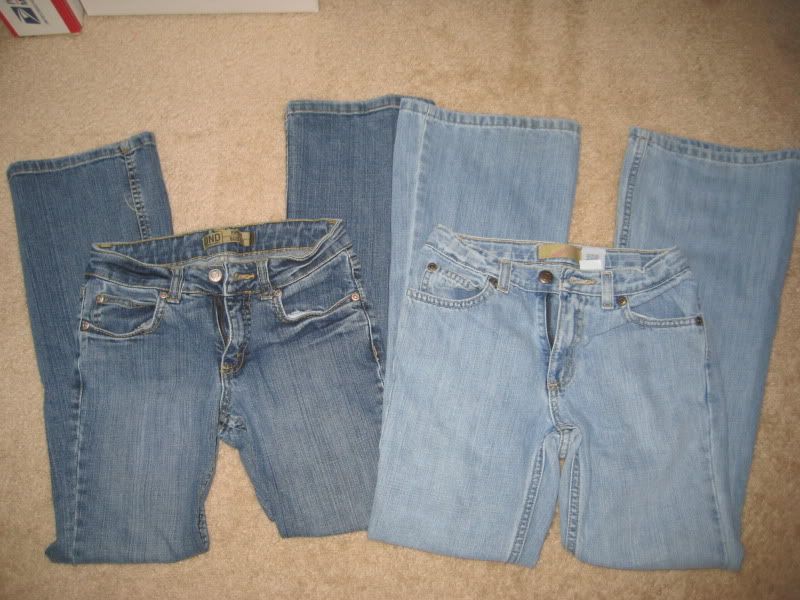 14) Justice sz. 10 Navy blue cotton ribbed knit button front shirt....cute, cute....$5
Limited Too sz. 10 bright pink cotton knit stylish shirt....SOLD
Justice sz. 12 slim lime green thin, thin corduroy velvet feeling stretch skinny fit pants.....awesome! SOLD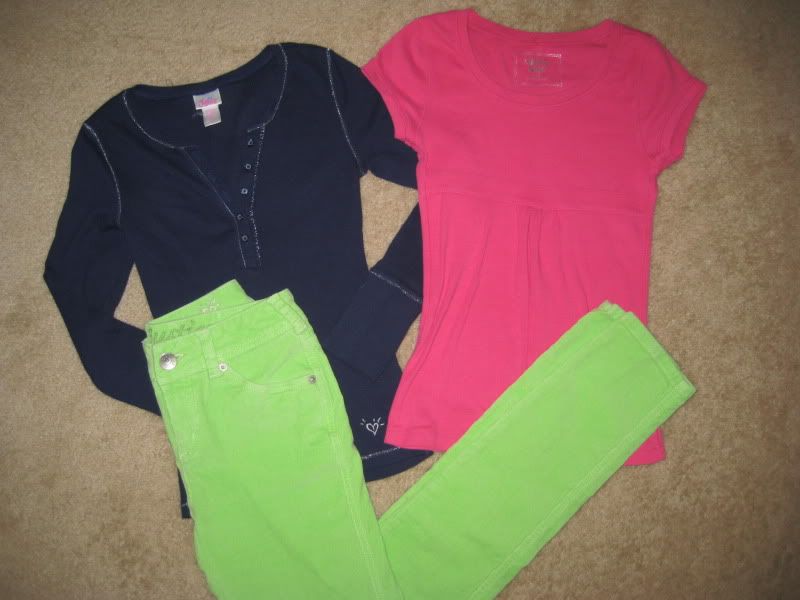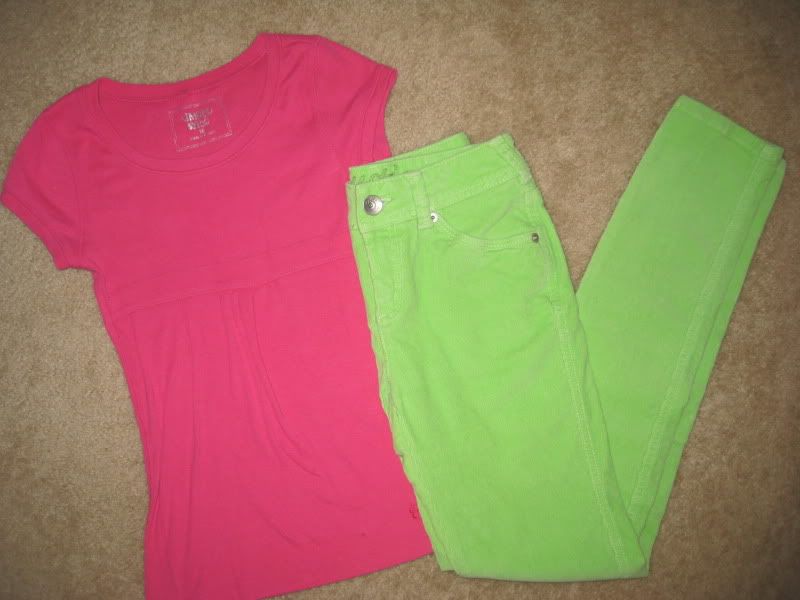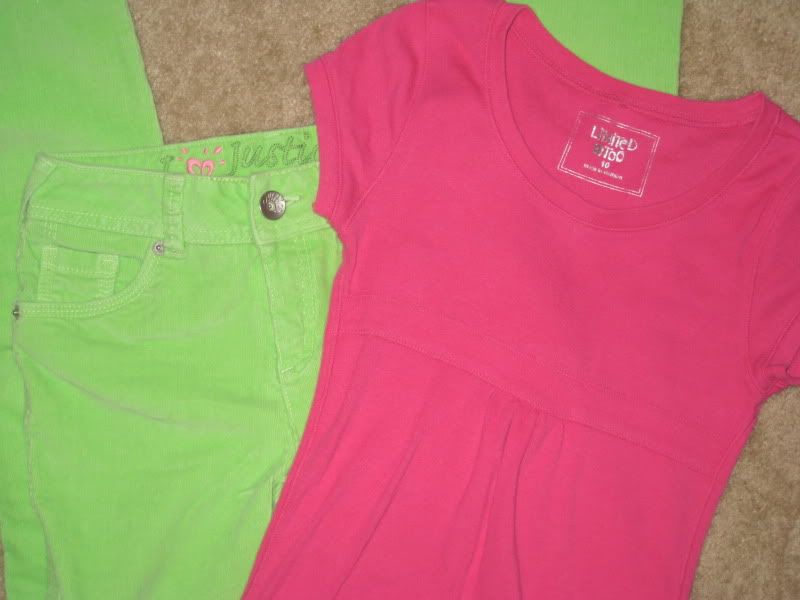 15) Faded Glory sz. 10/12 blue floral print cotton knit swing style shirt....$4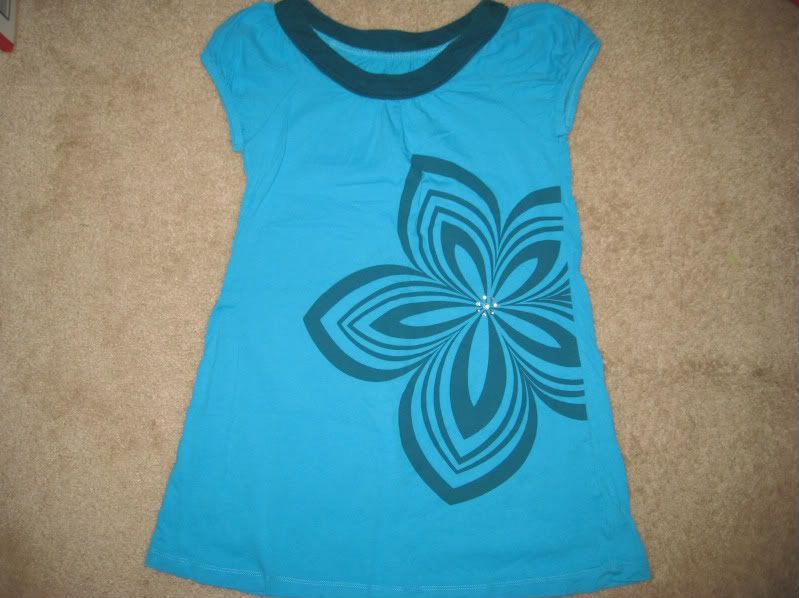 16) Bonnie Jean sz. 12 coral pink cotton knit plaid skirt dress....$5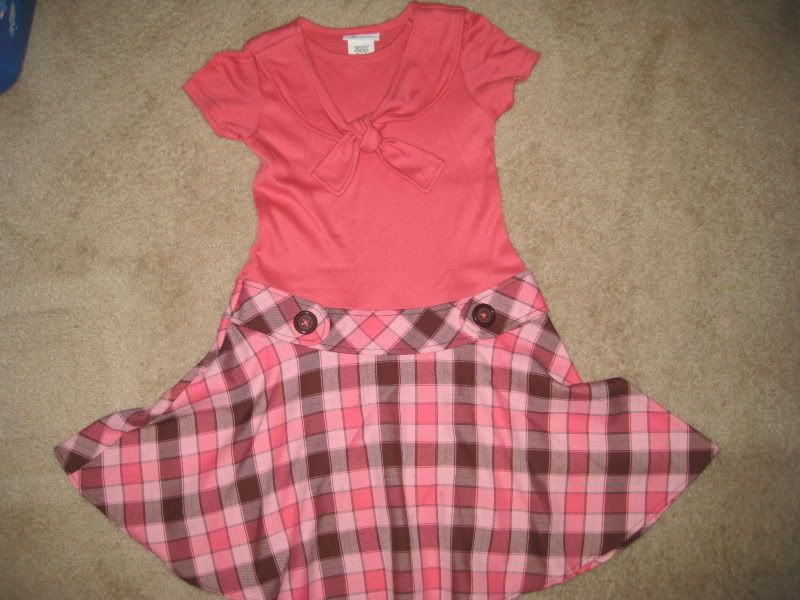 17) The Children's Place sz. 14 flowy polyester pink polka dot lined dress, zips in ties in back with ruffle along bottom....sweet dress....$5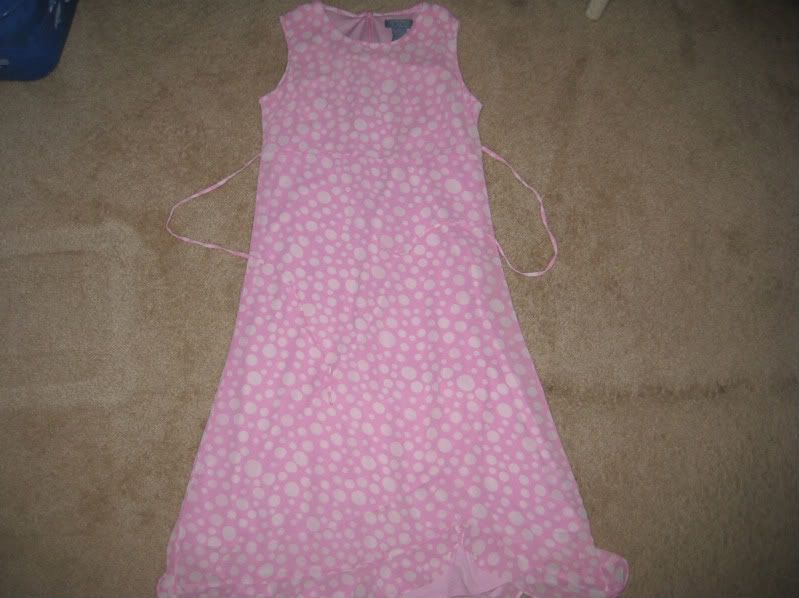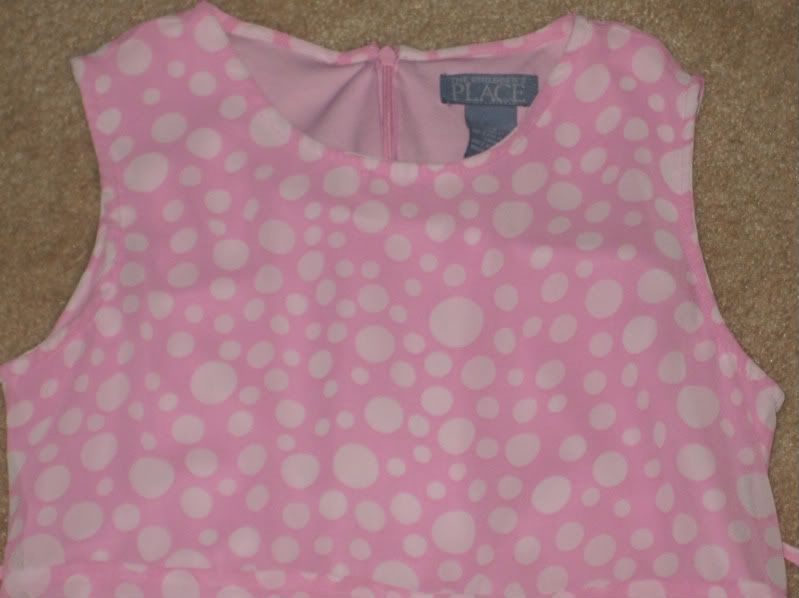 18) Pink Vanilla sz. 14 pink/brown/cream polka dot flowy polyester/spandex dress that also ties in back....$5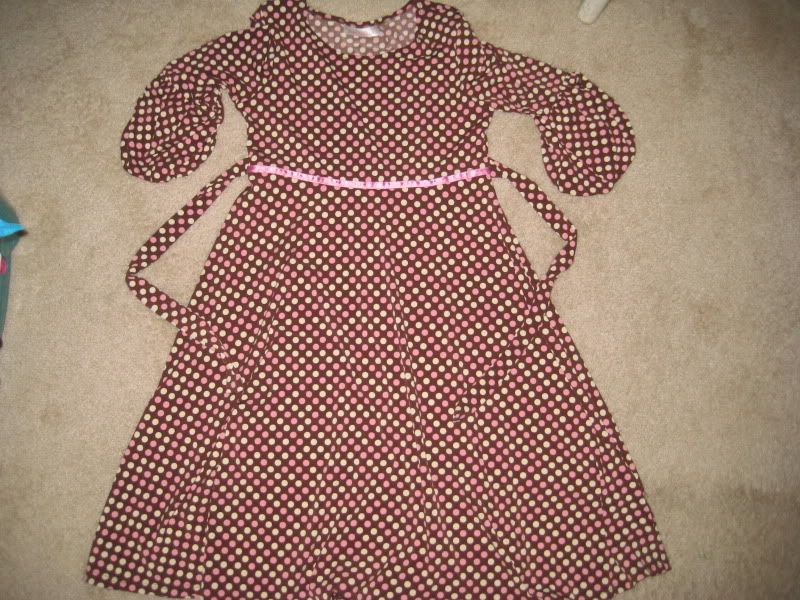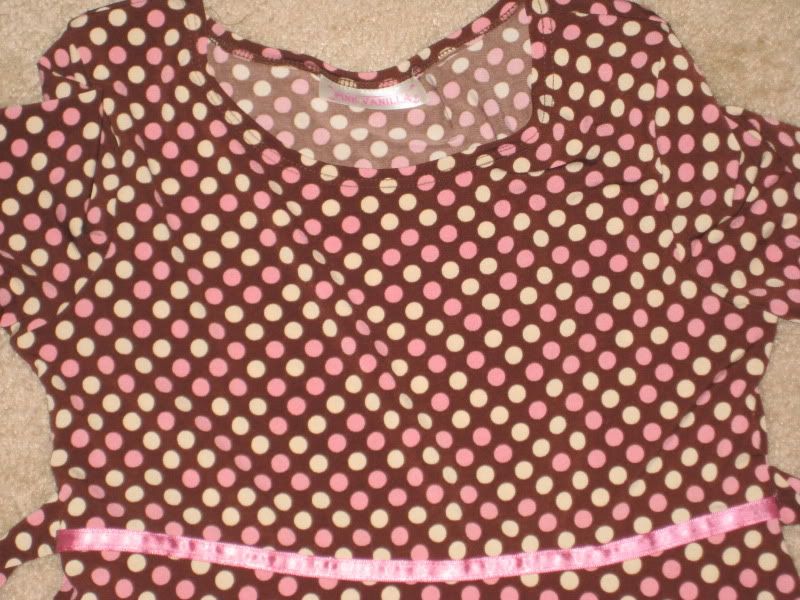 19) Sugar Tart sz. 14 cotton knit sweet sherbet orange multi-striped dress....$4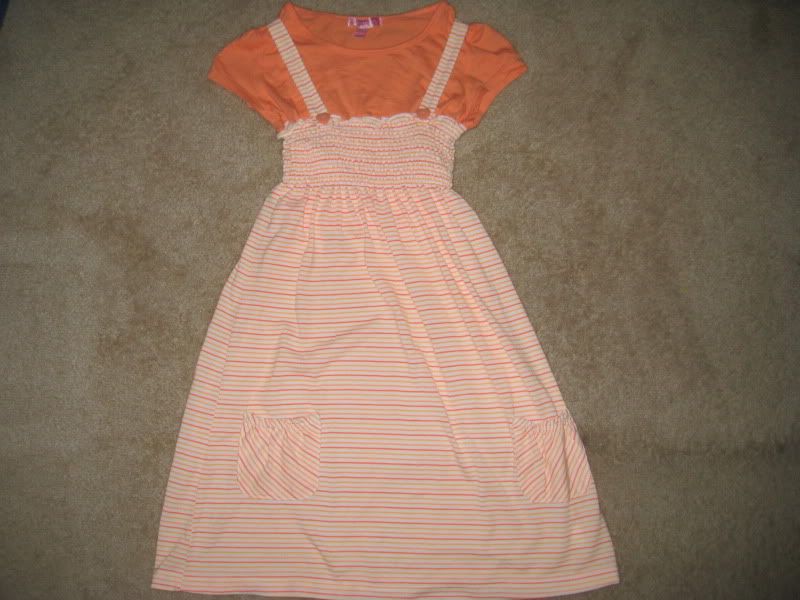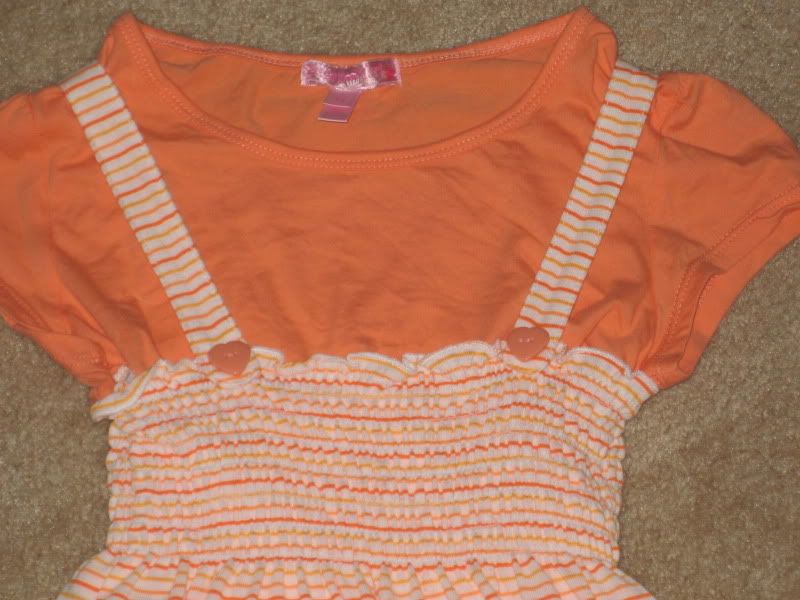 20) Faded Glory sz. 14 purple cotton knit plaid dress with sparkly rhinestone bow on front....$4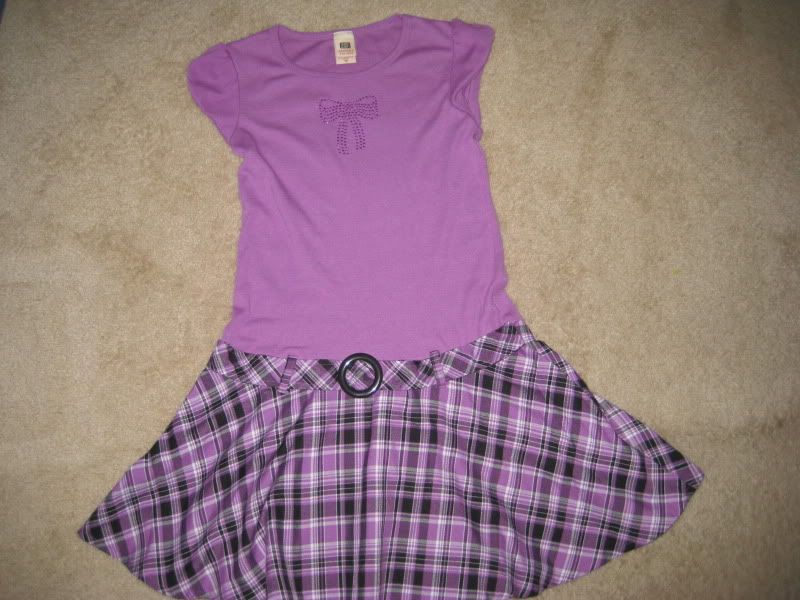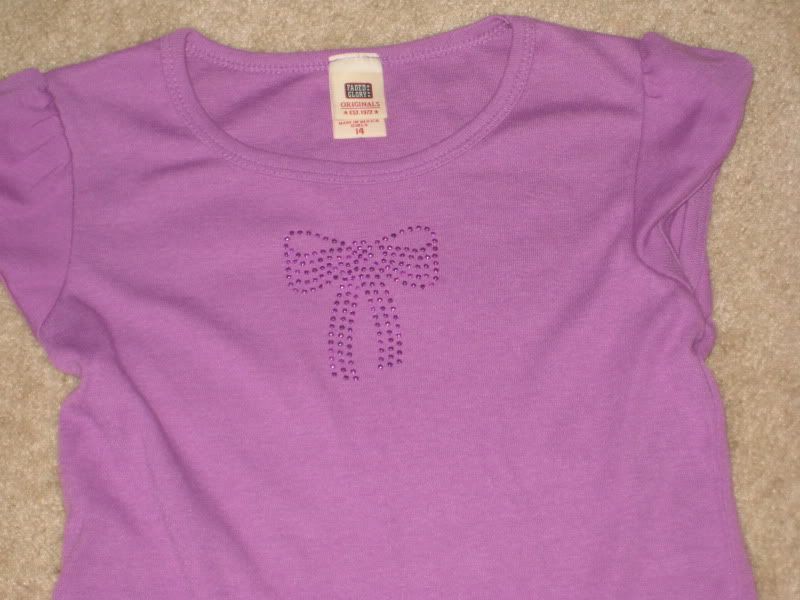 21)Total Girl sz. 10/12 leopard print flannel pajamas....$5
Total Girl sz. 10/12 flannel pink leopard print pajamas...$5
Total Girl sz. 10/12 flannel princess poodle print pajamas....$5
HIgh Sierra sz. 10 fleece angel kitty print pajamas....$4....SOLD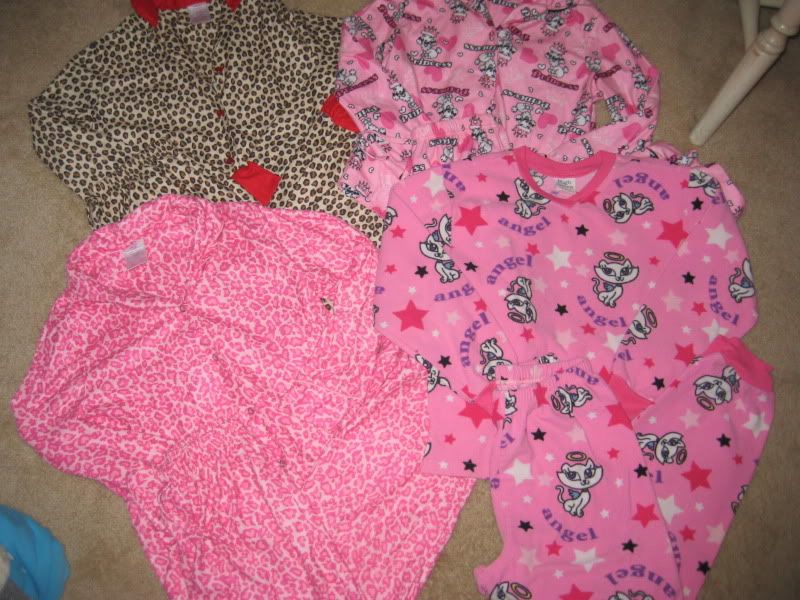 22) Children's Place sz. 12 floral print cotton knit dress....she wore this with leggings....$5
Children's Place sz. 14 brown cotton ribbed knit shirt with sparkly rhinestones....$5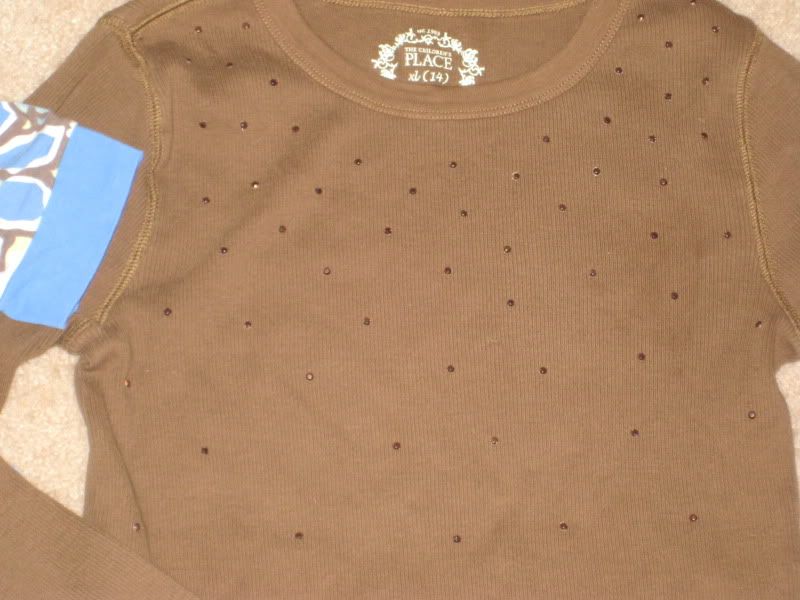 23) Children's Place sz. 14 pink cotton knit shirt....$5
Children's Place sz. 10 corduroy leopard print skort....$5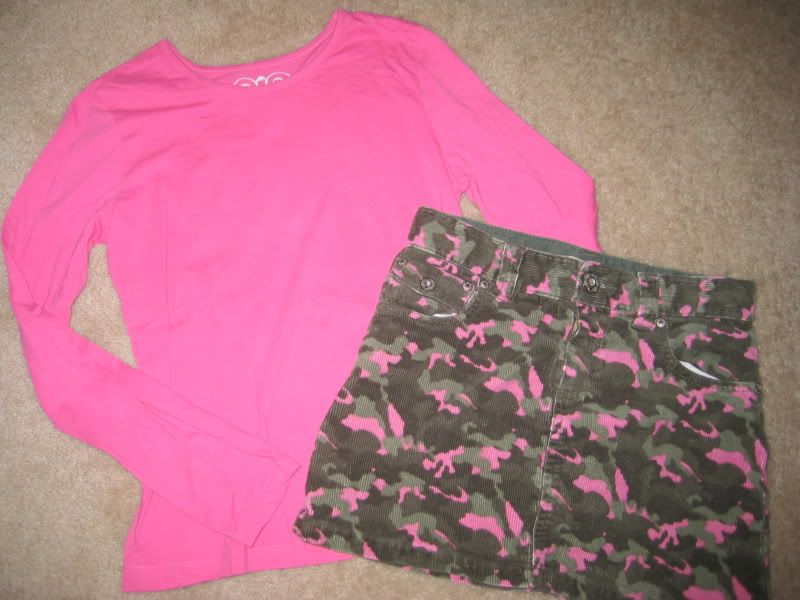 24) Macy's Sweet Tart sz. 14 black cotton knit tiered dress with sparkly gemstones around neckline...$5
Macy's Tempted black polka dot cotton knit top with attached little jacket and sparkly heart buttons....$5
Macy's iZ sz. 12-14 polyester black/pink polka dot top....$4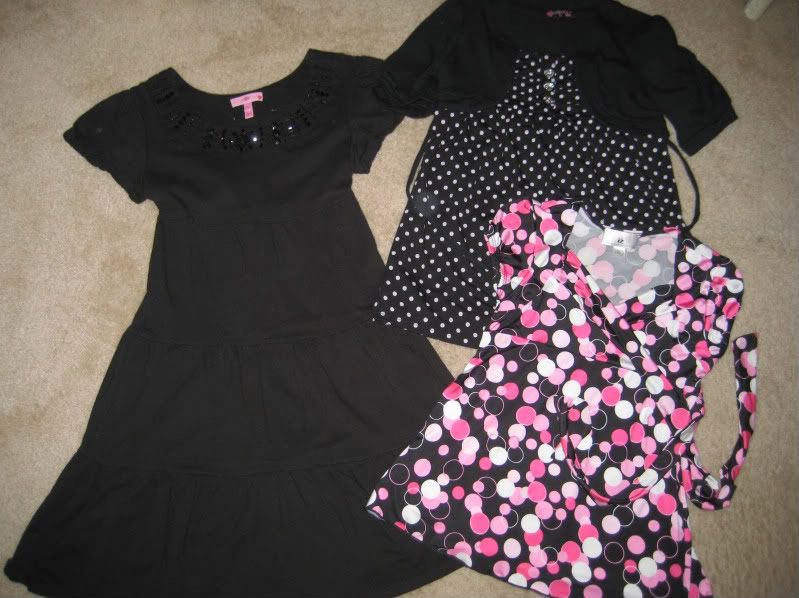 25) Amy's Closet sz. 14 gorgeous holiday dress with built in little jacket with black faux fur collar....embossed skirt with layer of tulling underneath.....ties in back....$10....SOLD
Jona Michelle sz. 8 ...but fit more like a 10/12...gorgeous black velvet holiday dress with embroidered floral skirt ....ties in back with satin and tulle lining....$10 ( I have the matching sister dress in a sz.6..which fit more like a 7/8)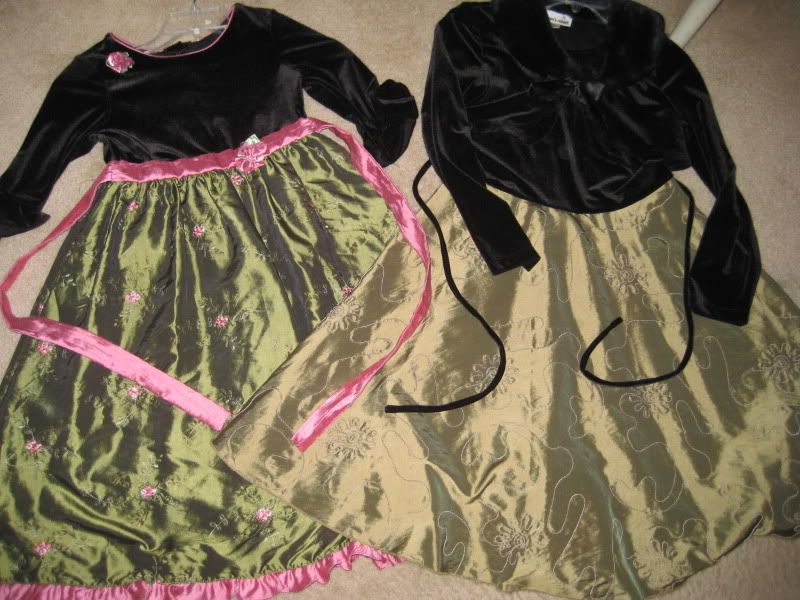 Rare Editions sz. 12 burgandy velvet holiday dress with full skirt lined in satin...ties in back....$7
Gymboree Holiday sz. 10 creamy sweater knit dress with fluffy faux fur collar and gold sparkly sequins on the front....adorable on.....$10...(SOLD)......I have matching sister dress in sz. 6)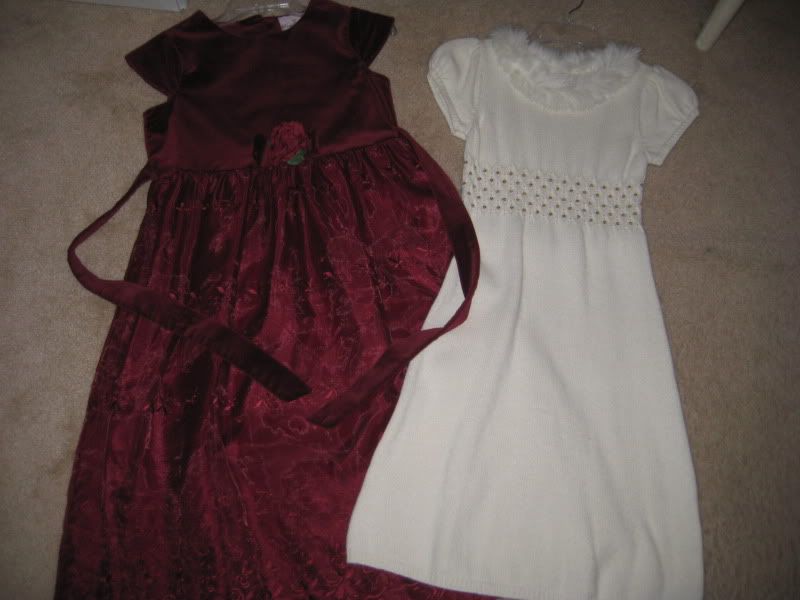 Speechless sz. 12 fluffy bubble holiday dress....$10
Jona Michelle sz. 6....but fit more like a 7/8 embroidered floral skirt beautiful holiday dress....$10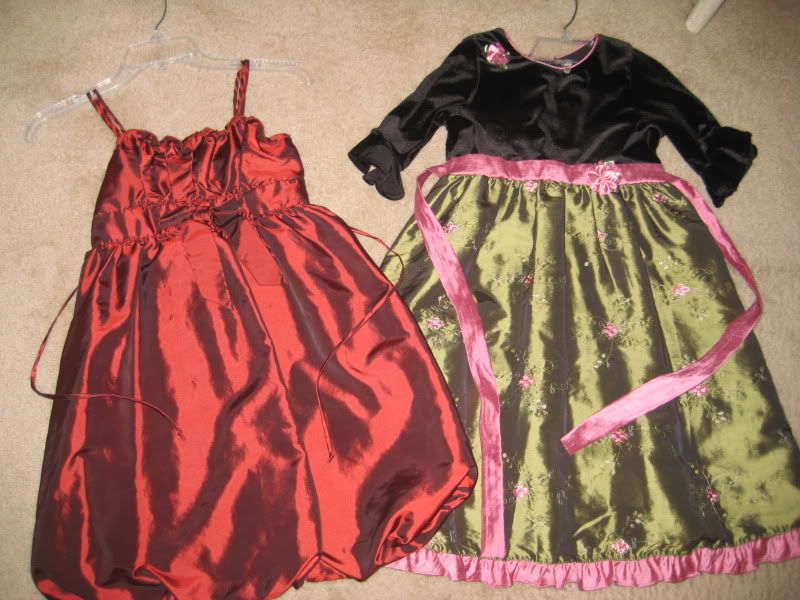 Reply To This Post Return to Posts Index VegSource Home
---