Reply To This Post Return to Posts Index VegSource Home
---
| | |
| --- | --- |
| From: | WendyCheryl (98.157.177.186) |
| Subject: | Back To School Girls sz. 10-12 to 12-14 Cute Clothes!*Pictures* |
| Date: | August 18, 2010 at 8:50 pm PST |
Just in time for Back to School! Here are lots of fantastic girls sz. 10-12 and 12-14 clothes in excellent gently used condition from our non-smoking and pet-free home! I accept Paypal payments only please, credit cards are welcome too. Shipping is extra and I ship immediately! If I don't get any response from this post then I'll be putting these up for auction, so email me soon if you are interested! Thanks so much! Blessings!
1) Yaso Jeans sz. 12 denim stretch skinny fit jeans.....$4
Scooter Brown sz. 10/12 raspberry pink cotton knit lace trimmed shirt....$3
California Girls sz. 10/12 grey cotton knit shirt with sparkly pink LOVE print...$3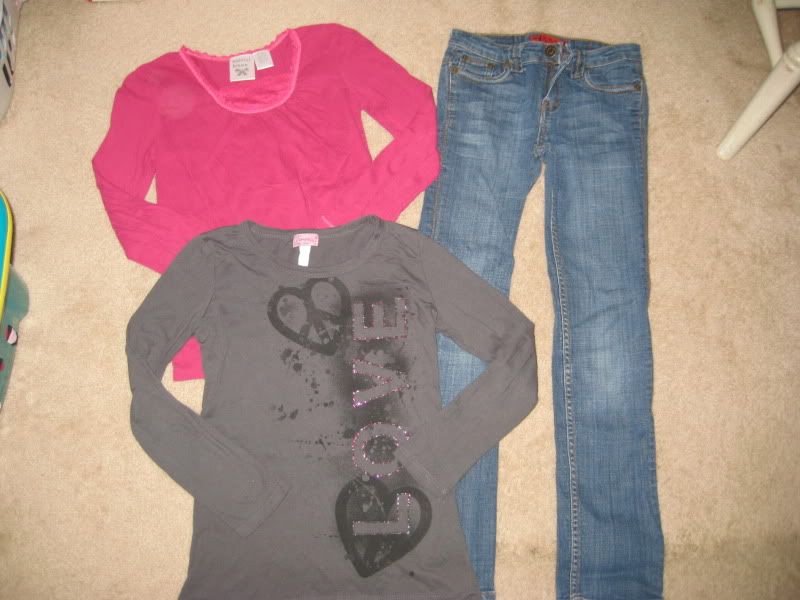 2) Circo sz. 10/12 cranberry or black ruffled sleeve, button down front velour tops.....beautiful! ....$4 each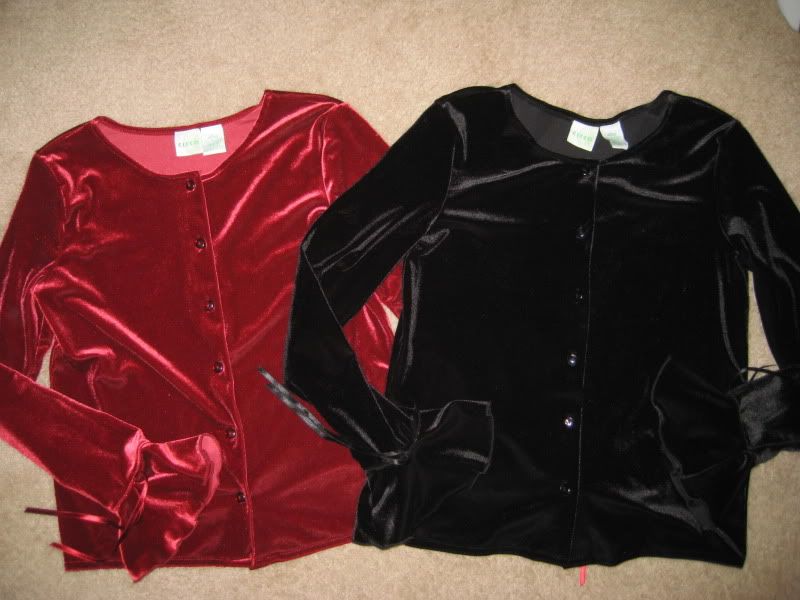 3) The Children's Place sz. 10/12 green sparkly princess print long sleeved shirt....$3
Mini Boden sz. 11/12 purple cotton knit shirt with cool shimmery sequin fairy angel print...$4
Hot Pink sz. 12(sz. tag was cut out...itchy) cotton/spandex knit hoodie style shirt with sparkly rhinestones...$2
Justice ¢¾ sz. M/12 navy blue cotton knit shimmery Love print....$3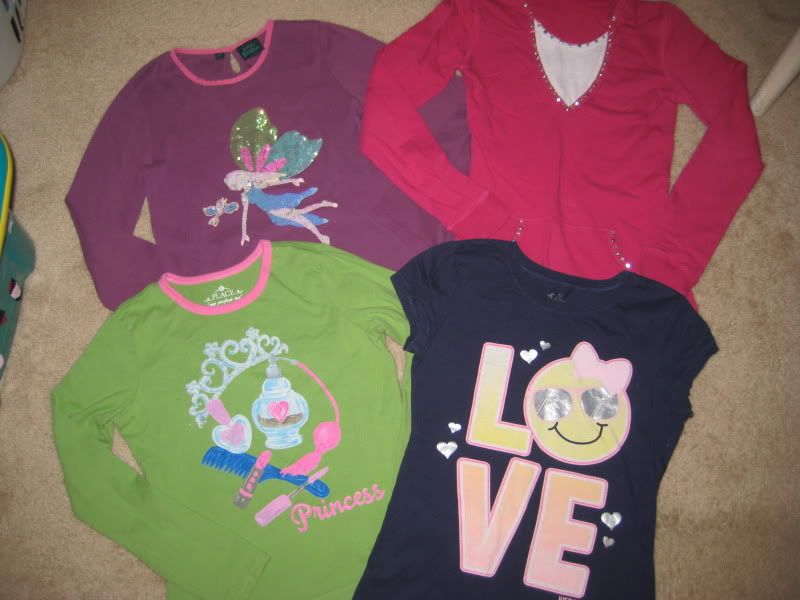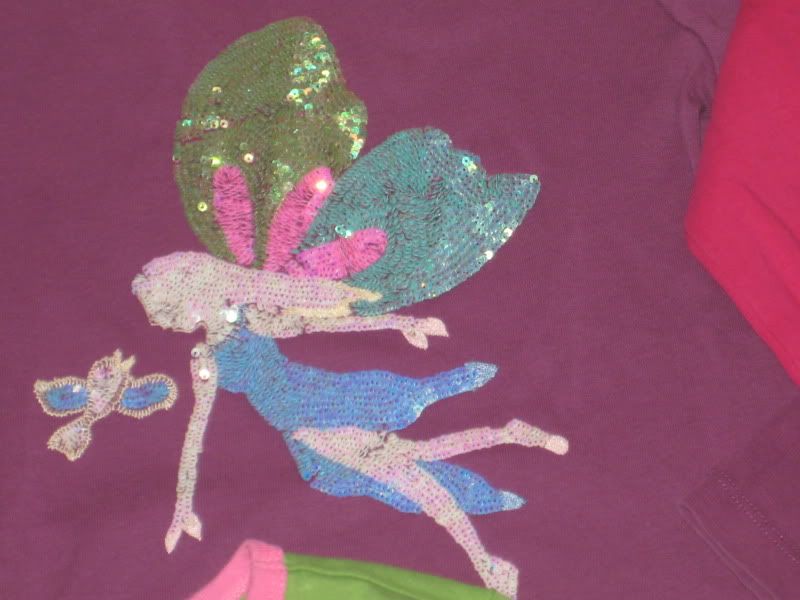 4) George sz. 10/12 cotton knit turtlenecks....$2 each....I also have a pink and white butterfly print turtleneck just like the blue one.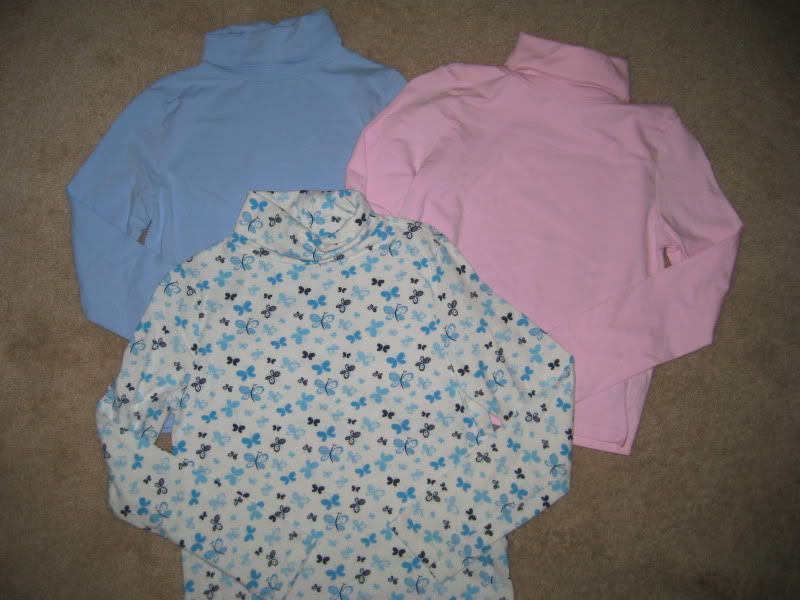 5) The Children's Place sz. 12 pink camo cargo pants that can be rolled up or down....$3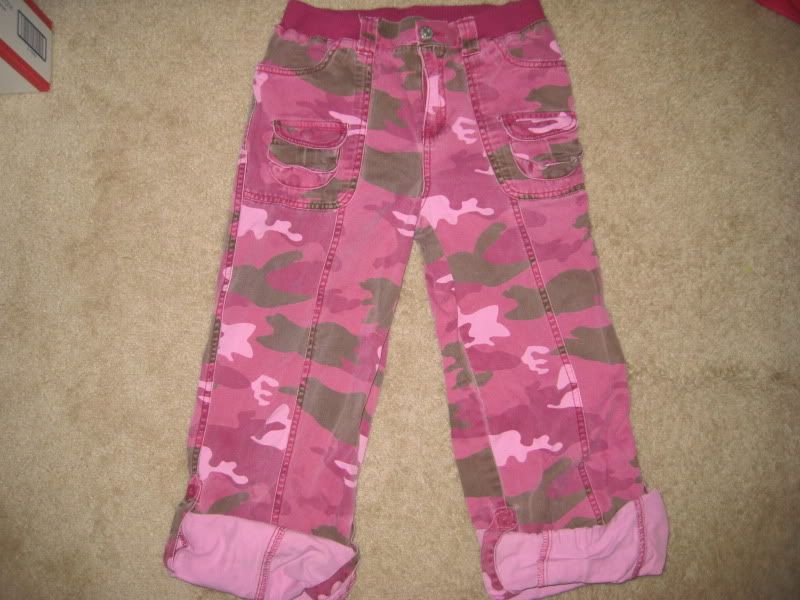 6) Limited Too sz. 10 Reg. blue floral butterfly print bermuda shorts....$4
The Children's Place sz. 12 lavendar floral striped cotton shorts with matching belt....$3
GAP Denim sz. 10 denim stretch shorts with embroidered flowers on back pockets....$4
NWT GAP Denim sz. 10 denim stretch skort with embroidered hearts on back pockets......$4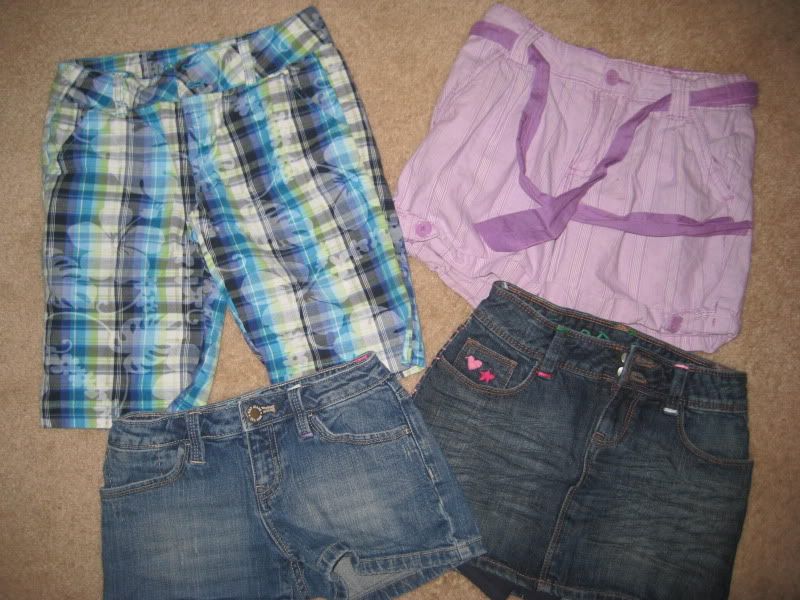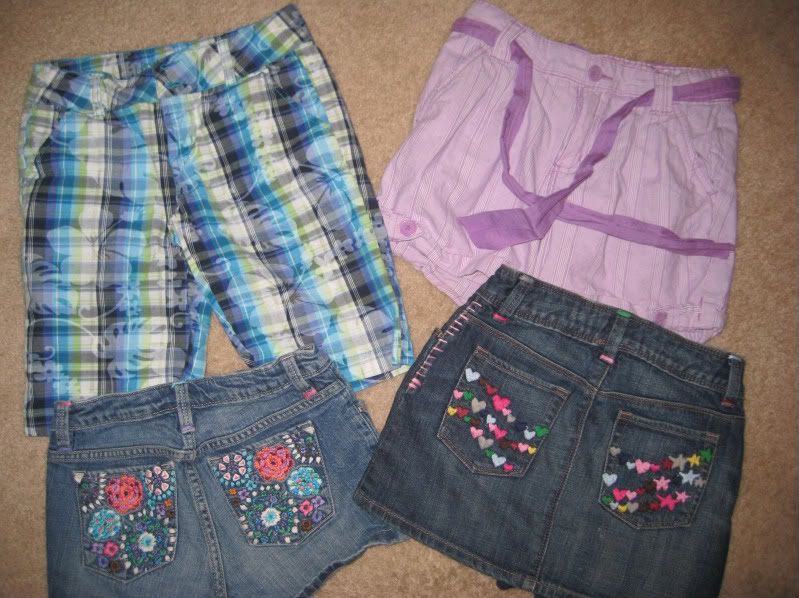 7) The Children's Place sz. 14 blue cotton knit ruffled edge long sleeved shirt with sparkly heart....$4
Aeropostale sz. S hot pink cotton knit silver sparkle 3/4 length shirt with AERO logo across the front...$5
Old Navy sz. 14 denim shorts with drawstring waist in front....$2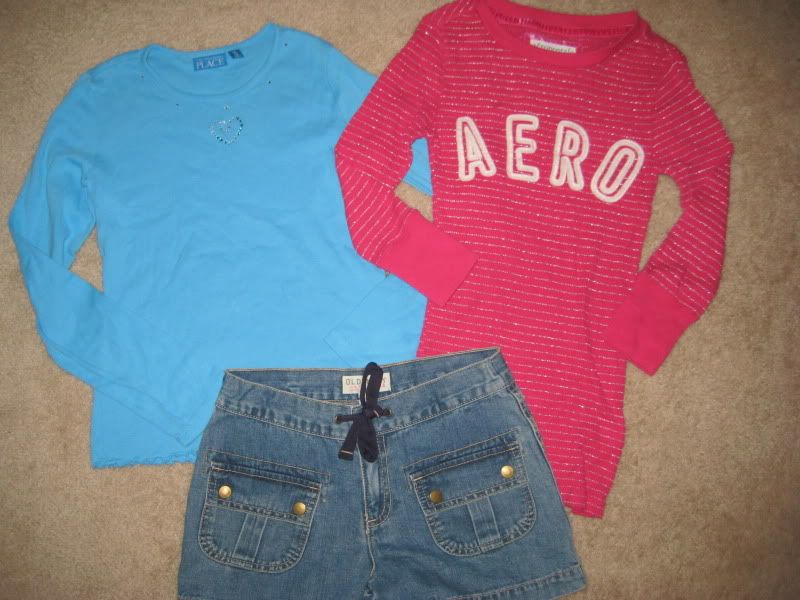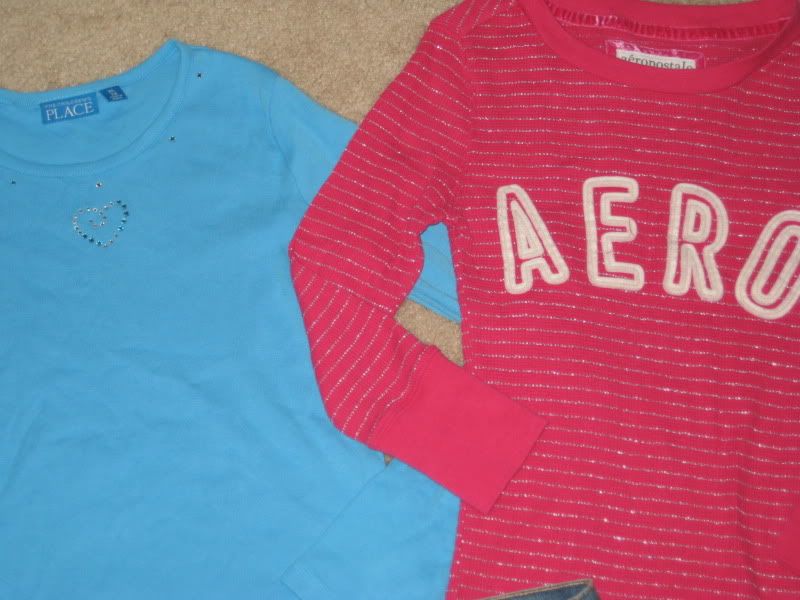 8) Aeropostale sz. XS blue sparkly silver striped tank....$3
Justice ¢¾sz. 10 hot pink sparkly monkey print shirt.....$3
The Children's Place sz. 10/12 blue/white camo cotton ribbed knit tank...$3
The Children's Place sz. 10/12 cotton ribbed knit sparkly rhinestone multi-striped tank....$3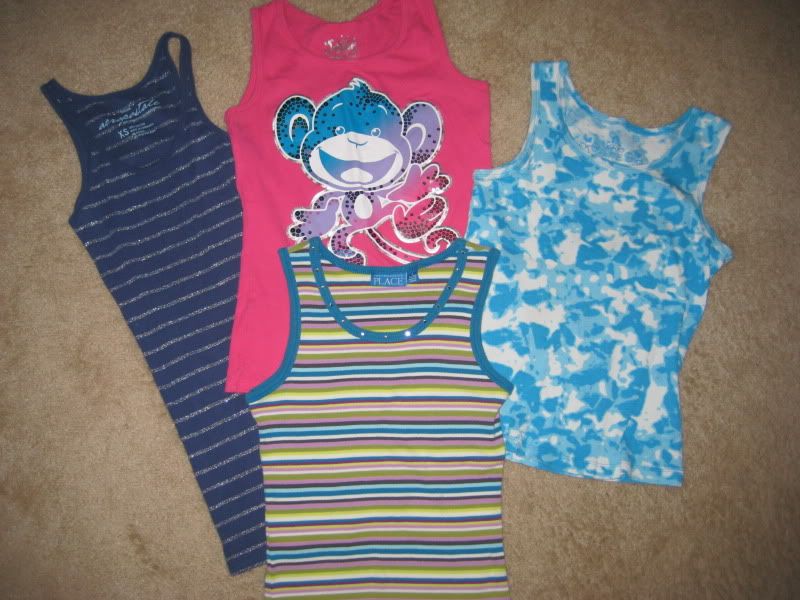 9) GAP sz. 12 slim denim stretch fashion flare jeans with adjustable waist....$4
GAP sz. L(10) multi-striped cotton knit comfy shirt with cinching on both sides....$3
GAP sz. 10 creamy white textured cotton knit hoodie with front pocket and sparkly rhinestone heart on pocket...$4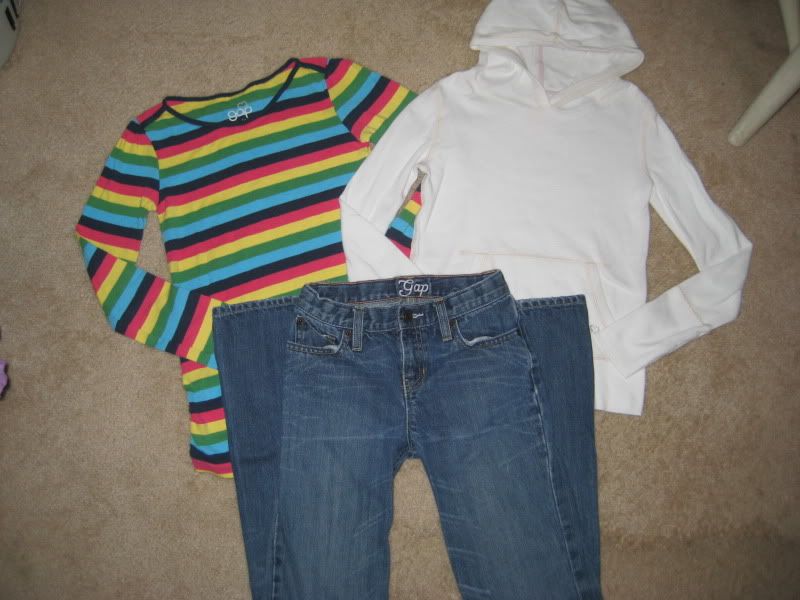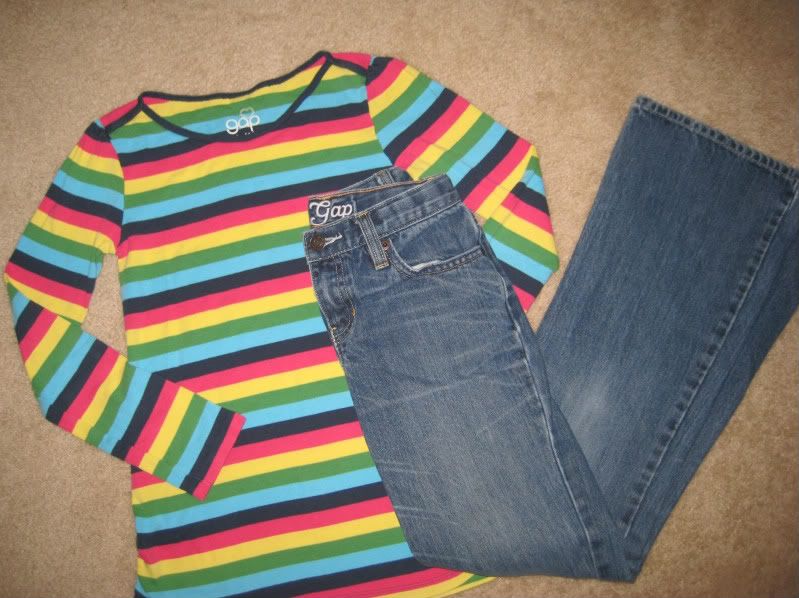 10) Old Navy "The Darling"(tag cut out) sz.12 Reg. denim stretch fashion flare jeans with adjustable waist....$4
Old Navy "The Girlfriend" sz. 12 Reg. classic rise denim stretch flare jeans with adjustable waist....$4
Old Navy "The Darling" sz. 12 slim denim stretch boot cut jeans with adjustable waist....$4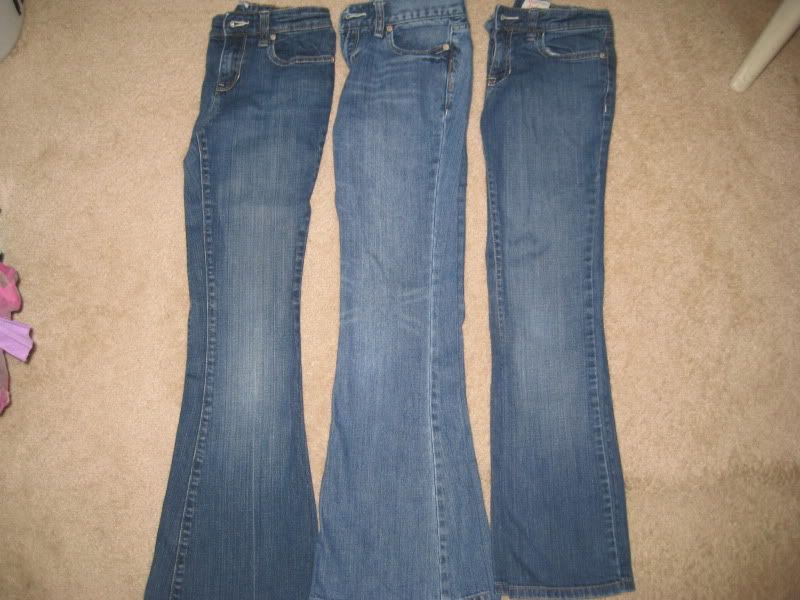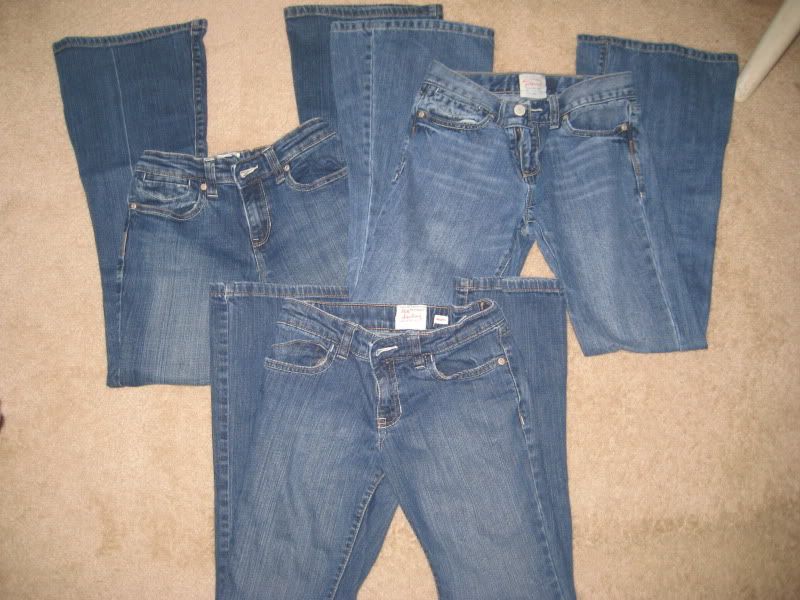 11) Xhiliration sz. 12 denim stretch fashion flared jeans with sparkly studded pockets and adjustable waist...$4
Macy's Imperial Star sz. 10 denim stretch jeans with adjustable waist, sparkly rhinestones and dangly silver stars on pockets....$4
Macy's Vigoss sz. 12 denim stretch jeans with embroidered pockets....$4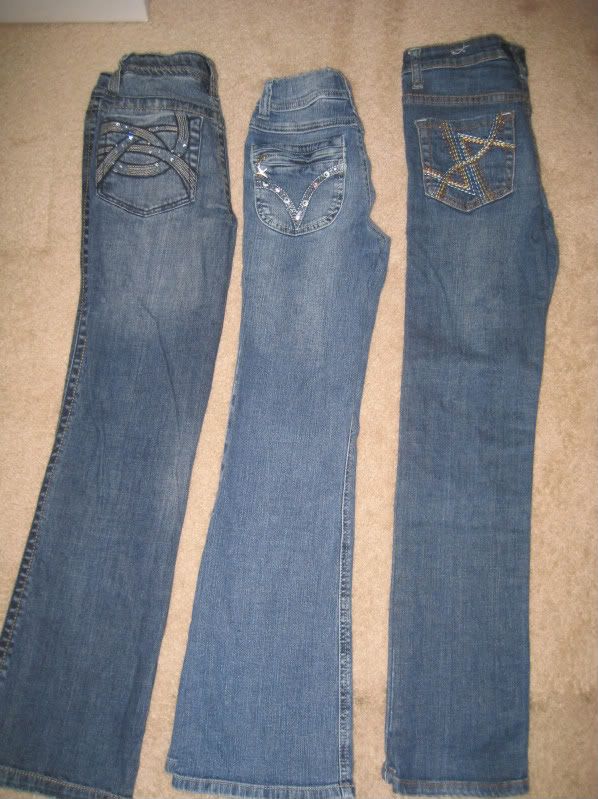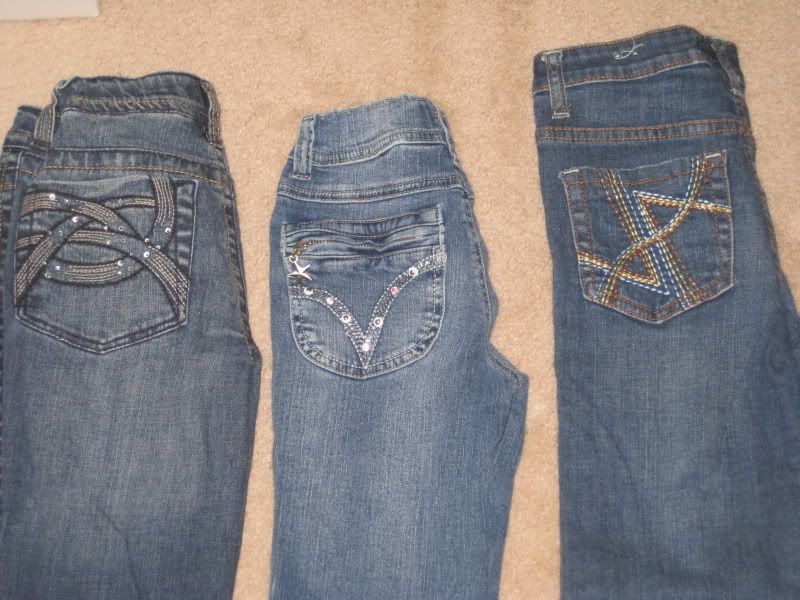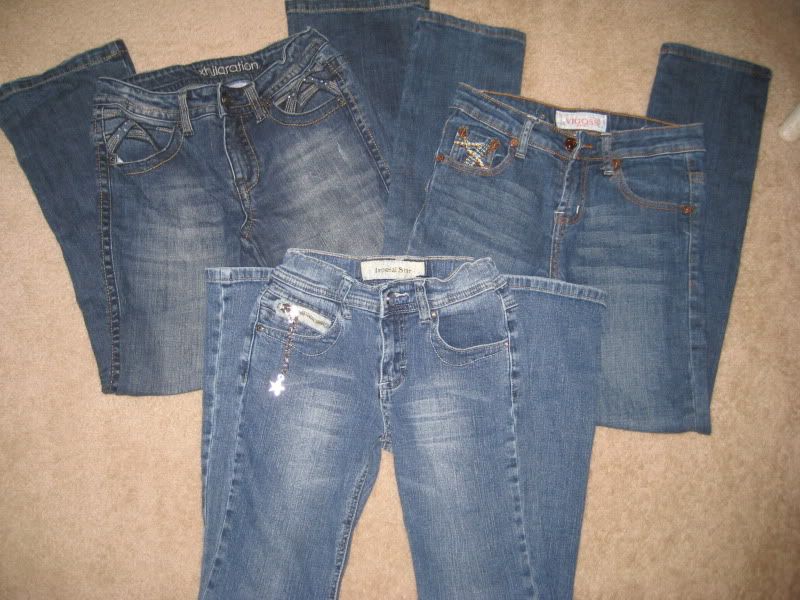 12) Old Navy sz. 12 slim denim stretch hpster bootcut jeans...$4
Old Navy sz. 12 slim hipster flare lighter wash denim jeans with adjustable waist....$4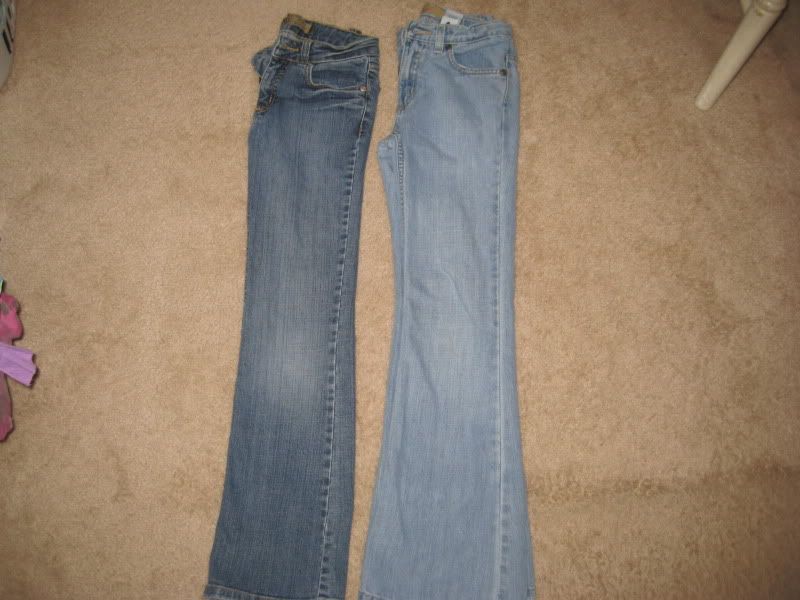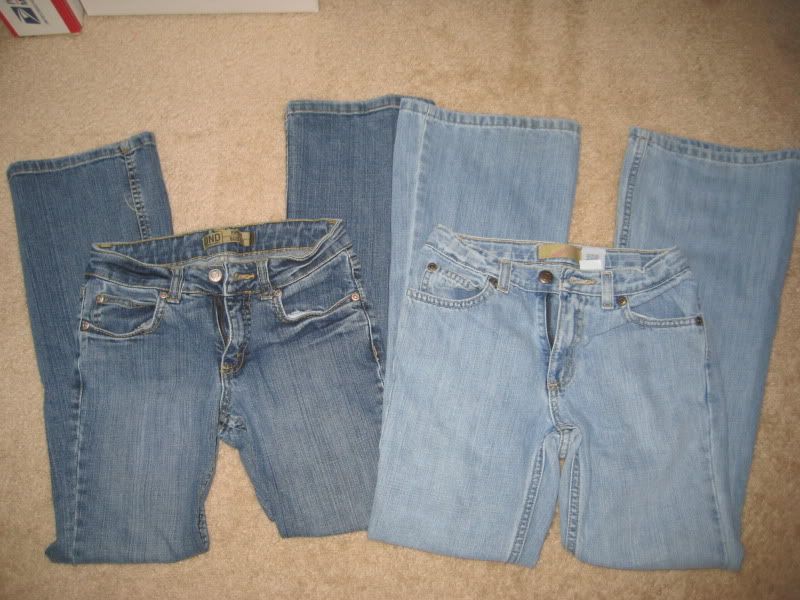 13) Justice ¢¾ sz. 10 Navy blue cotton ribbed knit button front shirt....cute, cute....$3
Limited Too sz. 10 bright pink cotton knit stylish shirt.....$3
Justice ¢¾ sz. 12 slim lime green thin, thin corduroy velvet feeling stretch skinny fit pants.....awesome! $4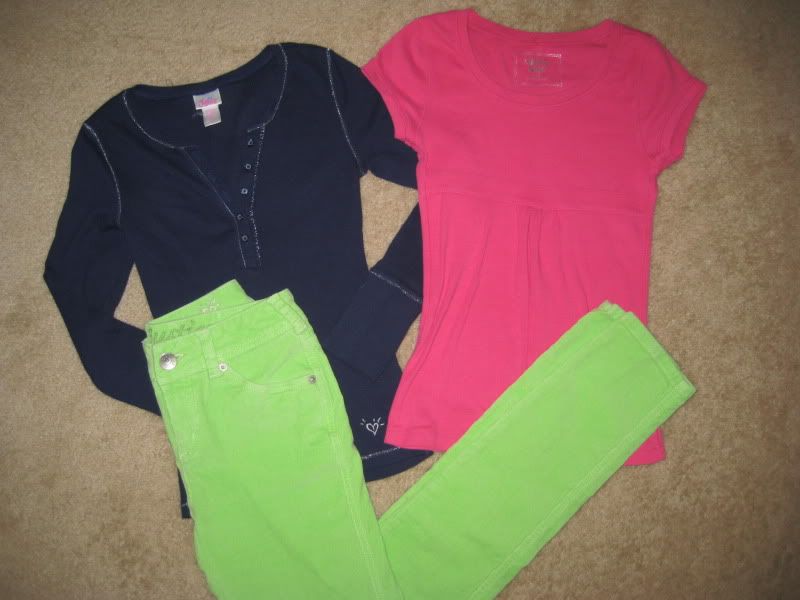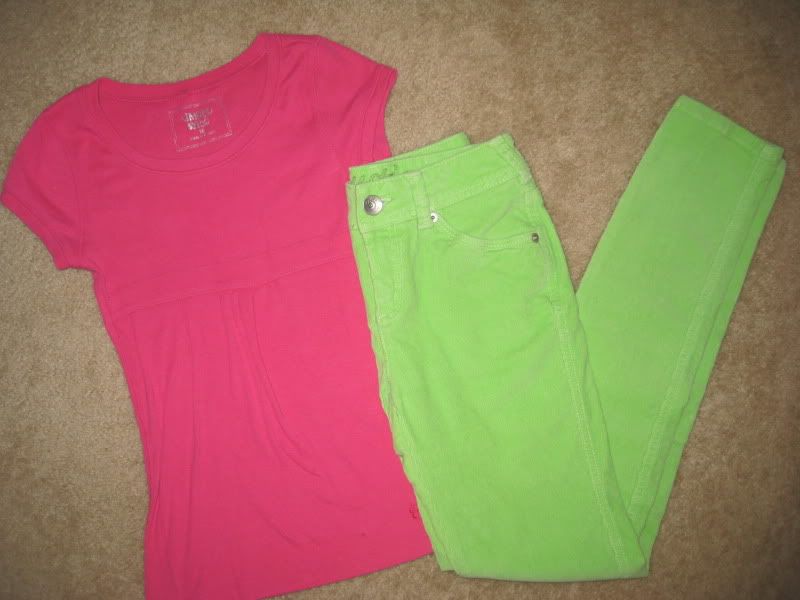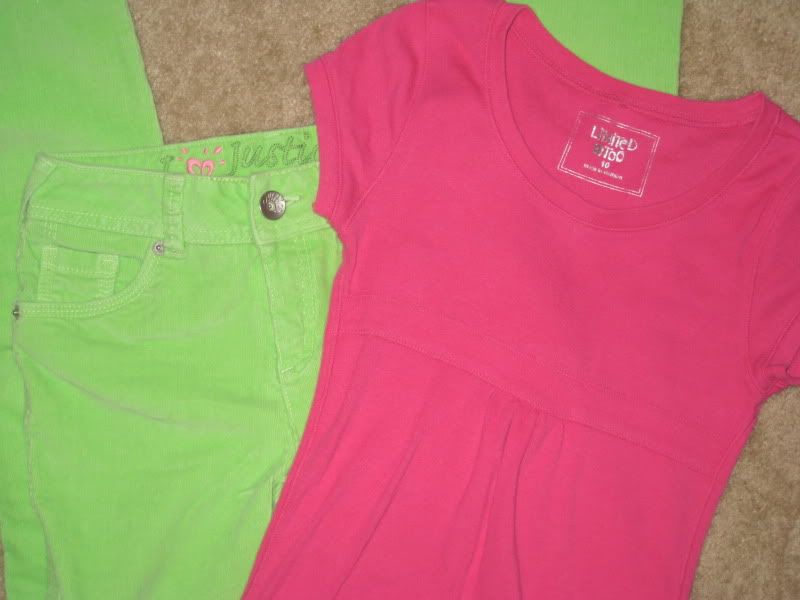 14) Faded Glory sz. 10/12 blue floral print cotton knit swing style shirt....$3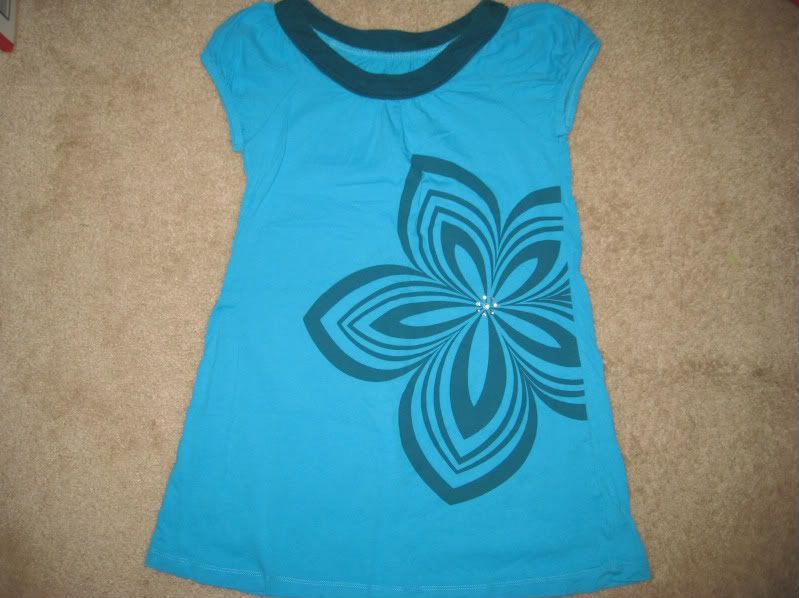 15) Bonnie Jean sz. 12 coral pink cotton knit plaid skirt dress....$3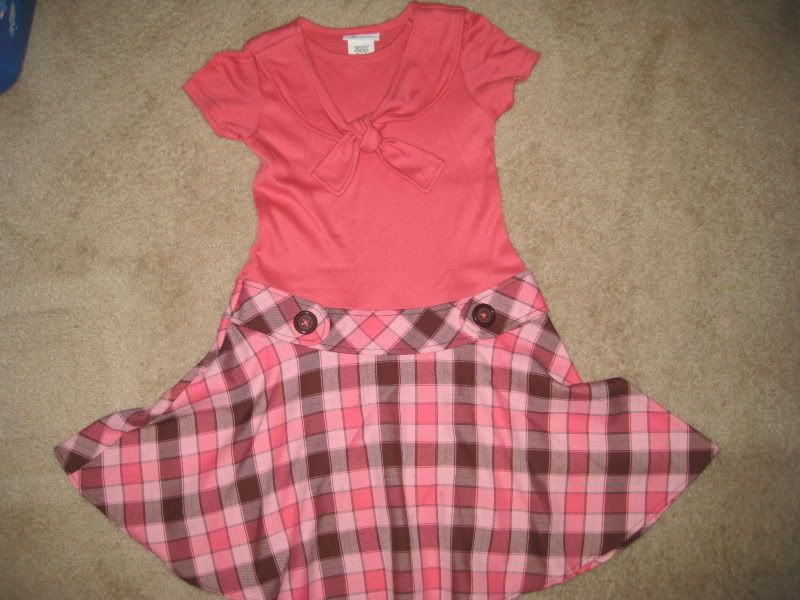 16) The Children's Place sz. 14 flowy polyester pink polka dot lined dress, zips in ties in back with ruffle along bottom....sweet dress....$4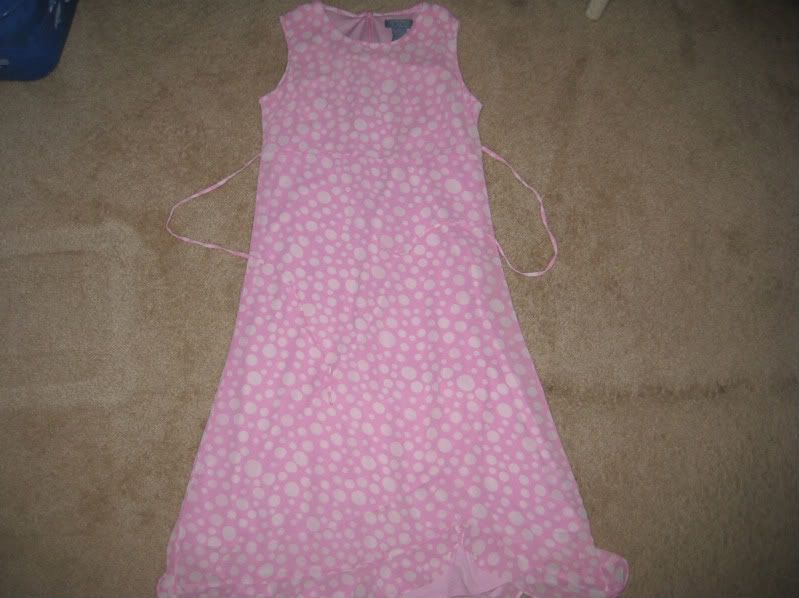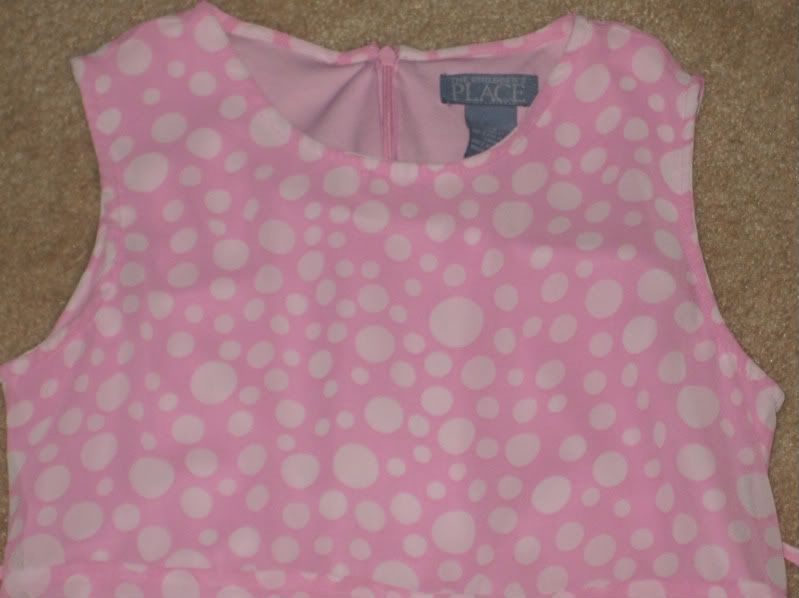 17) Pink Vanilla sz. 14 pink/brown/cream polka dot flowy polyester/spandex dress that also ties in back....$3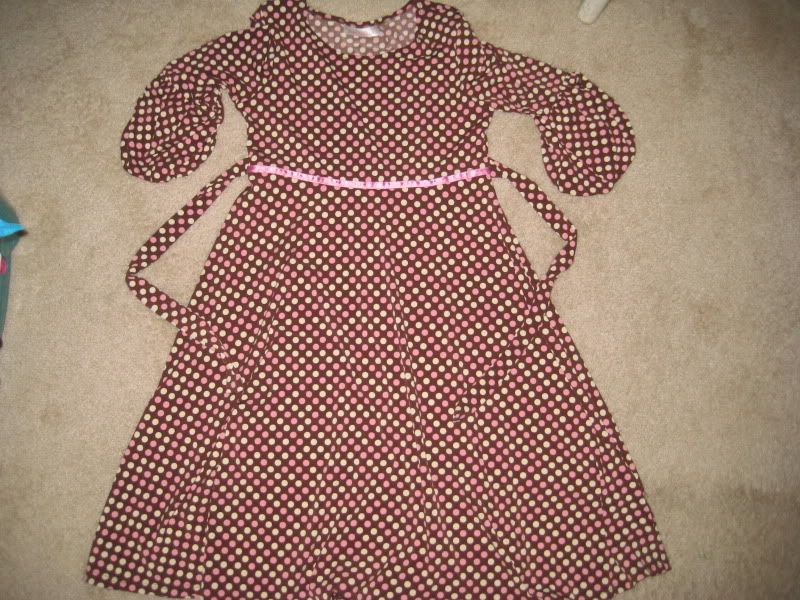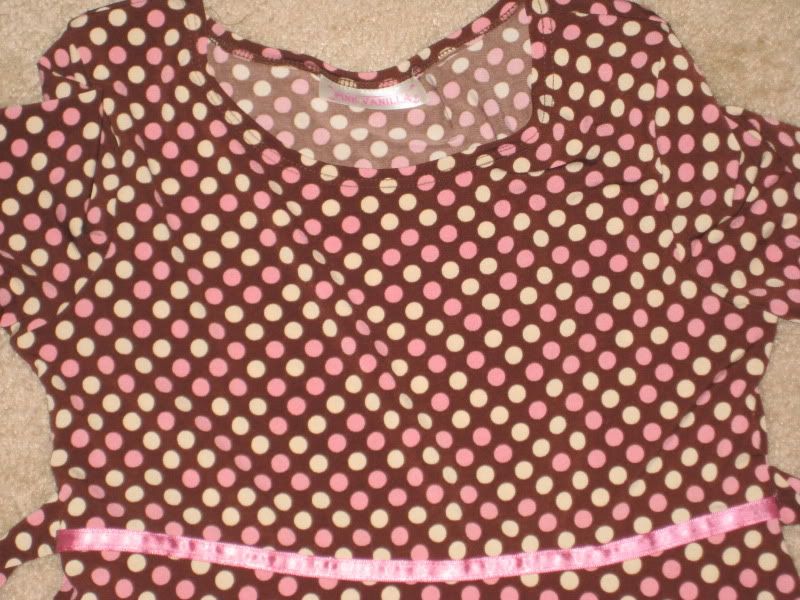 18) My Michelle sz. 12 creamy white stretch lace bodice and sleeves with black velour ruffled edge dress that ties in back....beautiful! $5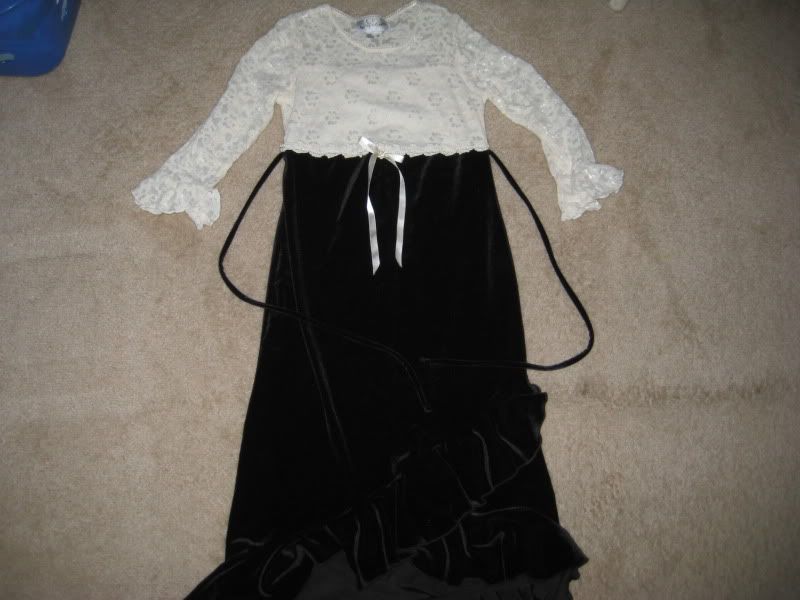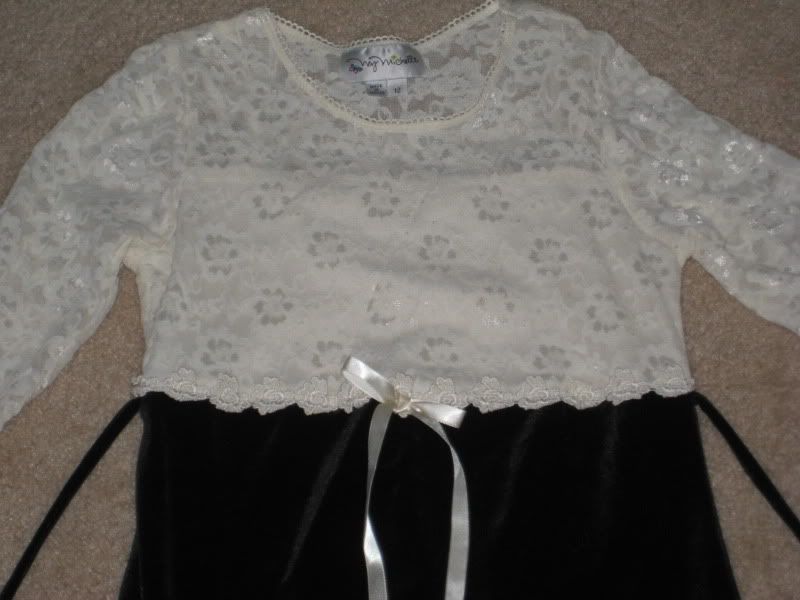 19) Sugar Tart sz. 14 cotton knit sweet sherbet orange multi-striped dress....$3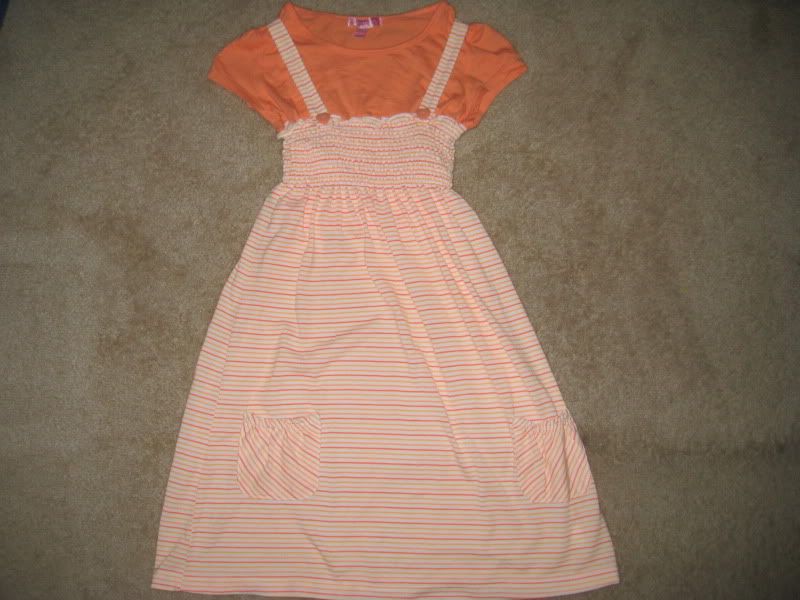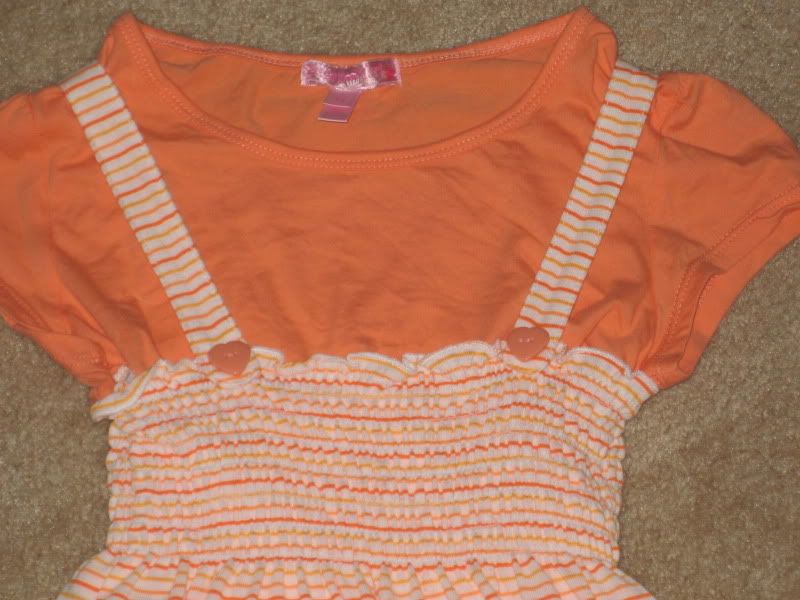 20) Faded Glory sz. 14 purple cotton knit plaid dress with sparkly rhinestone bow on front....$4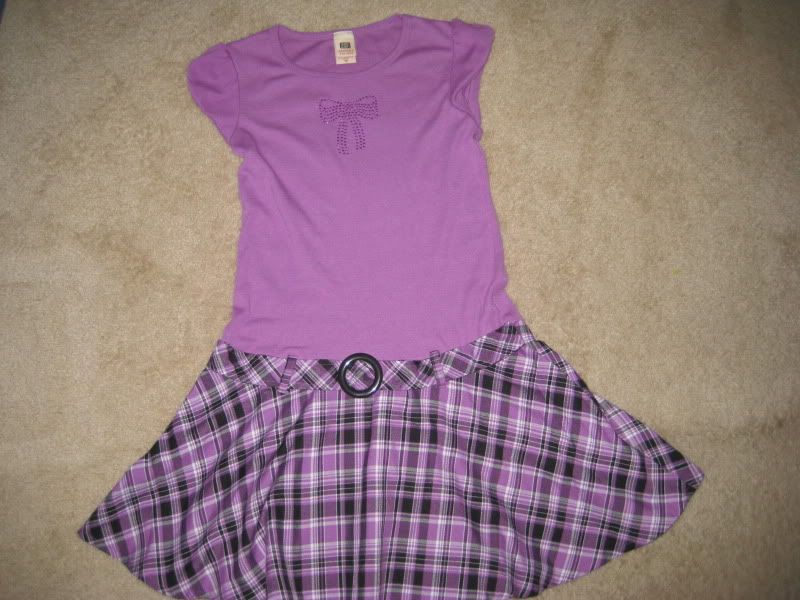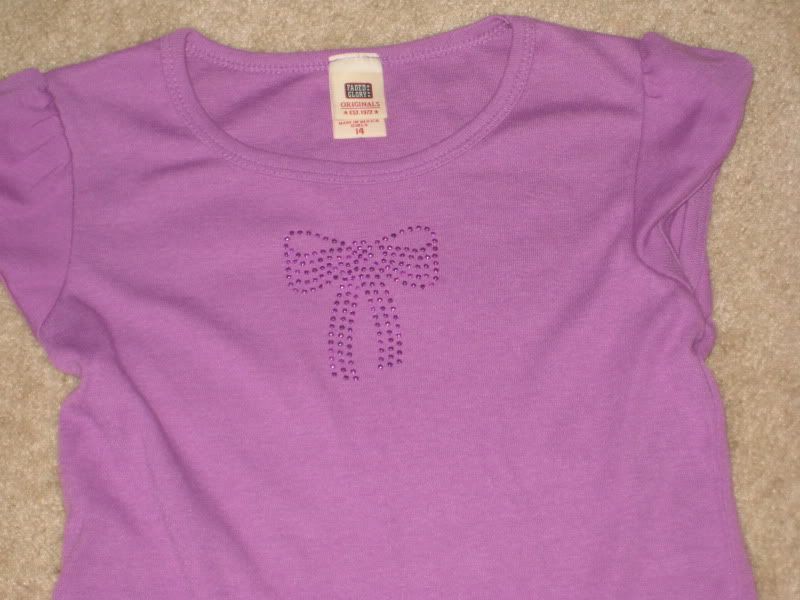 Reply To This Post Return to Posts Index VegSource Home
---