Reply To This Post Return to Posts Index VegSource Home
---
| | |
| --- | --- |
| From: | WendyCheryl (98.157.177.186) |
| Subject: | More Adorable Little Girls sz. 4, 5, 6 to 7/8 Clothes!*Pics Inside* |
| Date: | April 12, 2010 at 7:39 pm PST |
Here are lots of adorable little girl clothes sz. 4,5, 5/6, 6/6X to 7/8 all in excellent gently used condition from our non-smoking and pet-free home! I also have another post of girls sz. 7/8, 10/12-12/14 clothes if interested!!! Three girls and always lots of fabulous clothes:o)
I only accept Paypal payments....all forms of Paypal including credit card except for echecks which take tooooooooo long to clear...sorry.
I ship same day or next day once payment comes through!! Thanks so much!! Blessings!
1) GAP NWT sz. 4yrs. colorful candy pink/orange sherbet striped cotton knit handkerchief style hem summer dress...love it! $5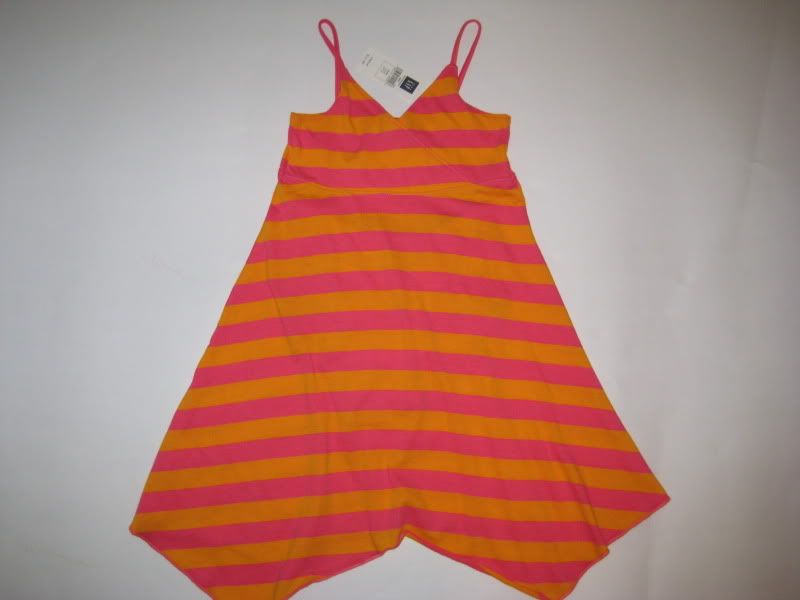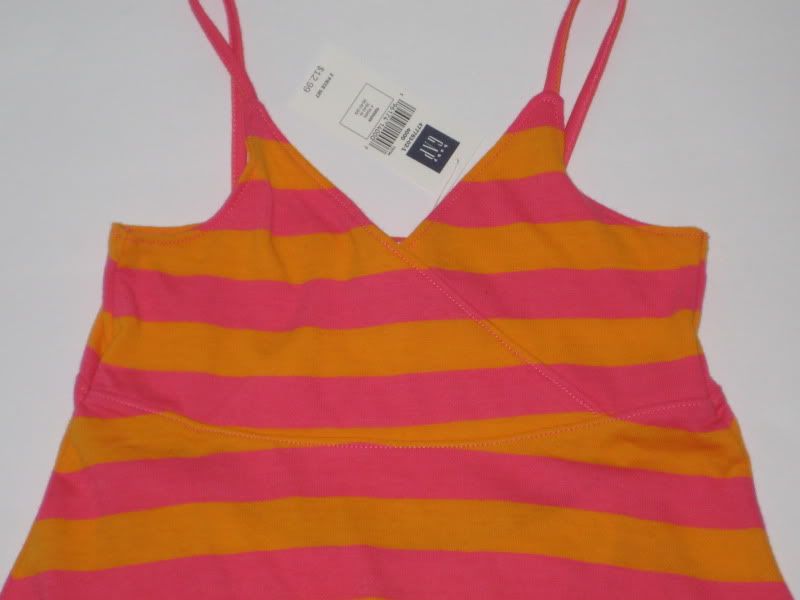 2) Byer Girl sz. 5 flowy, sparkly polyester floral print dress.....$4
3)Disney Princess sz. 6 two-piece adorable outfit! The cotton/spandex leggings are a brown with bright pink heart print and the swing top is a very soft pink velour with Cinderella applique adorned with embroidered hearts and flowers ....so sweet! $7 for the set!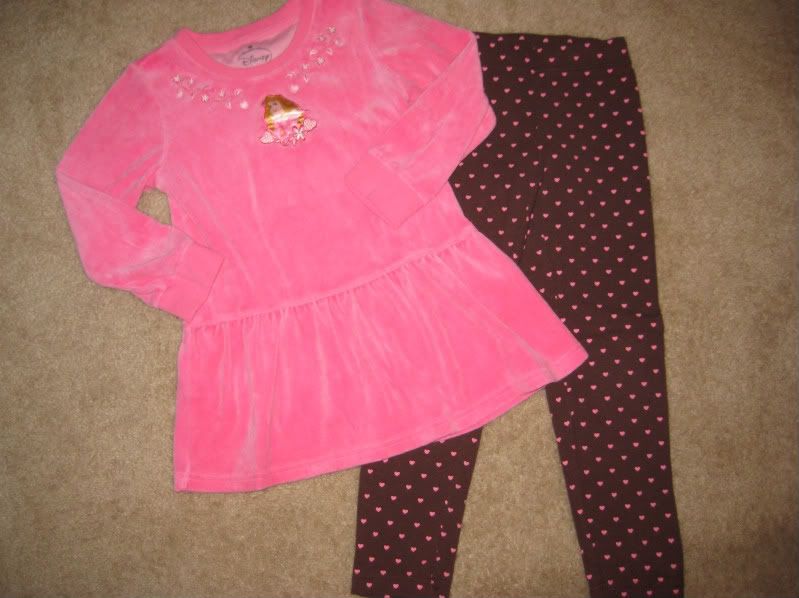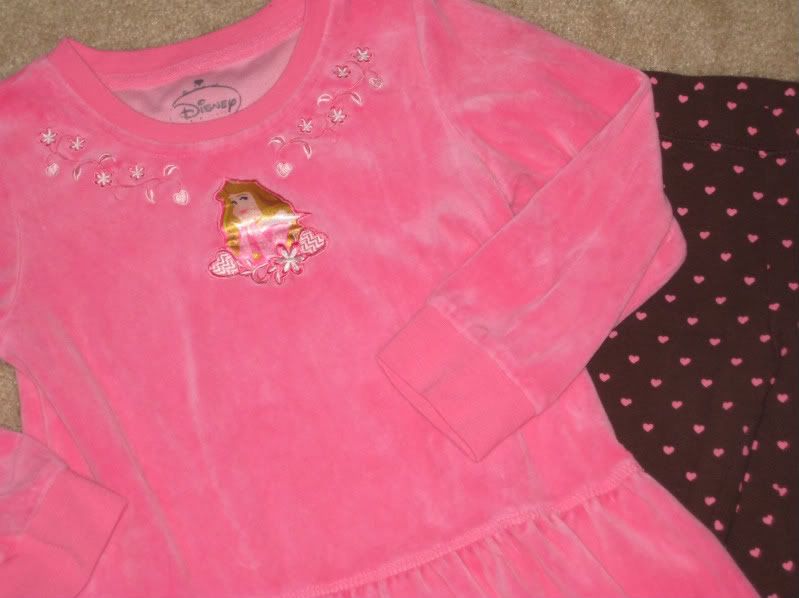 4) Target Basic Editions sz. 6/6X bright pink cotton plaid summer dress with embroidered flowers around neckline...$3
Jona Michelle sz. 6 bright yellow floral print summer dress with ric rac trim and ties at each shoulder....$3
NWT Claires bright yellow and pink stretchy beaded necklaces that easily slip over head! $2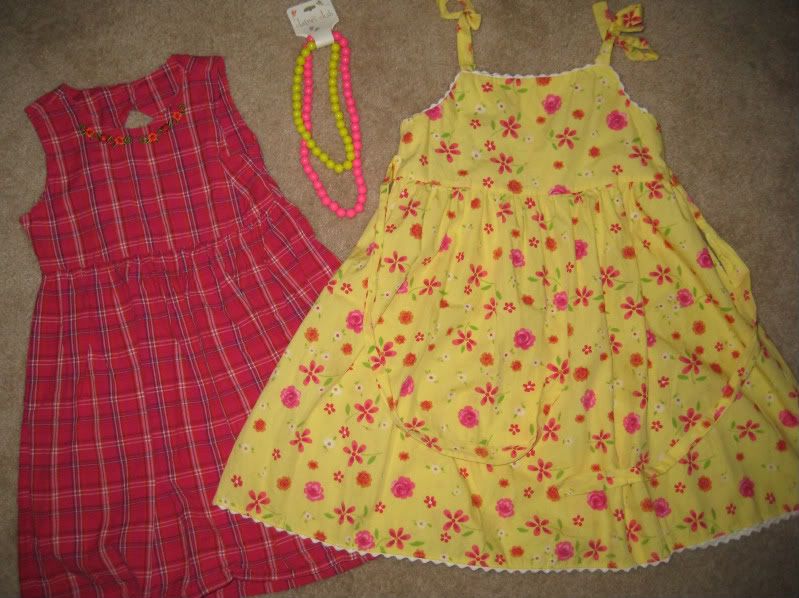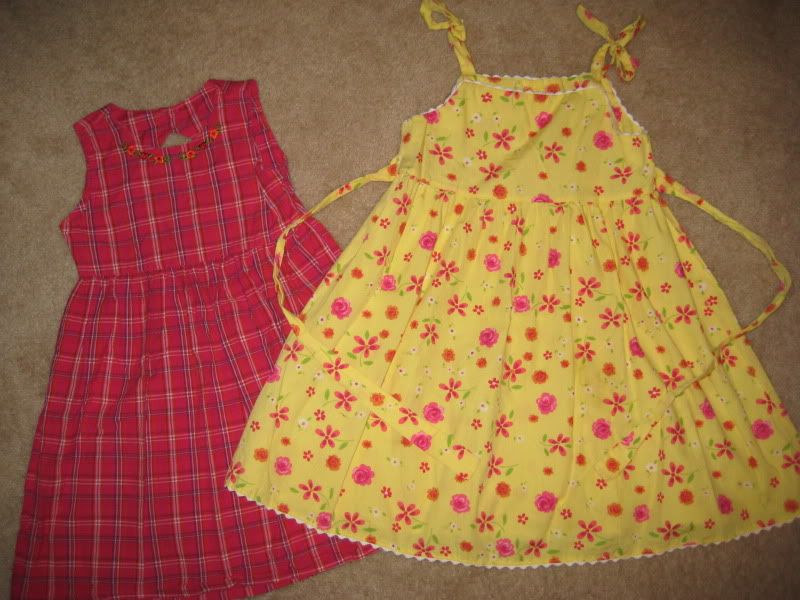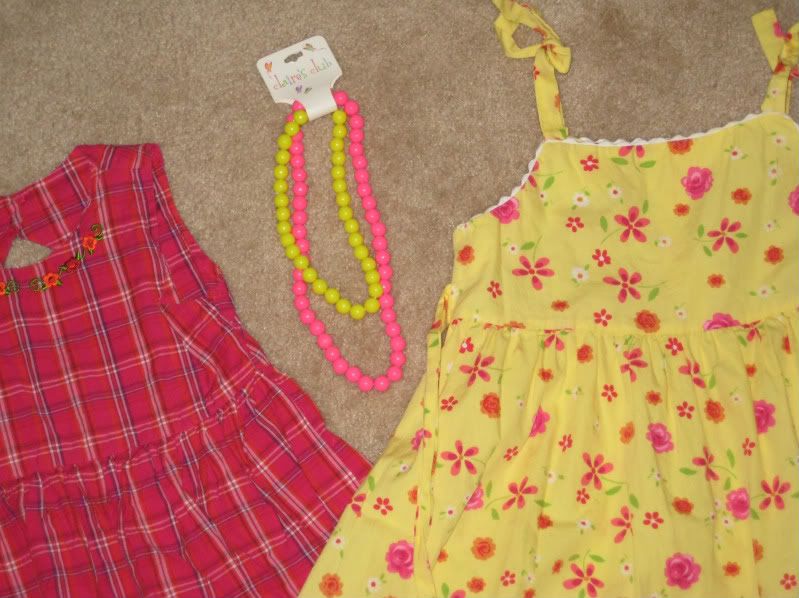 5) Target Circo sz. M(6-6X) pink floral print soft velour long sleeved dress....$3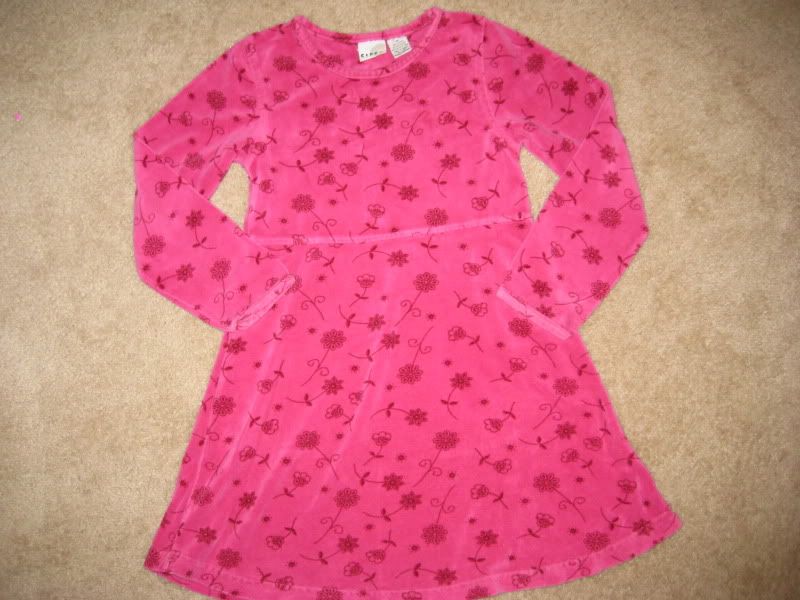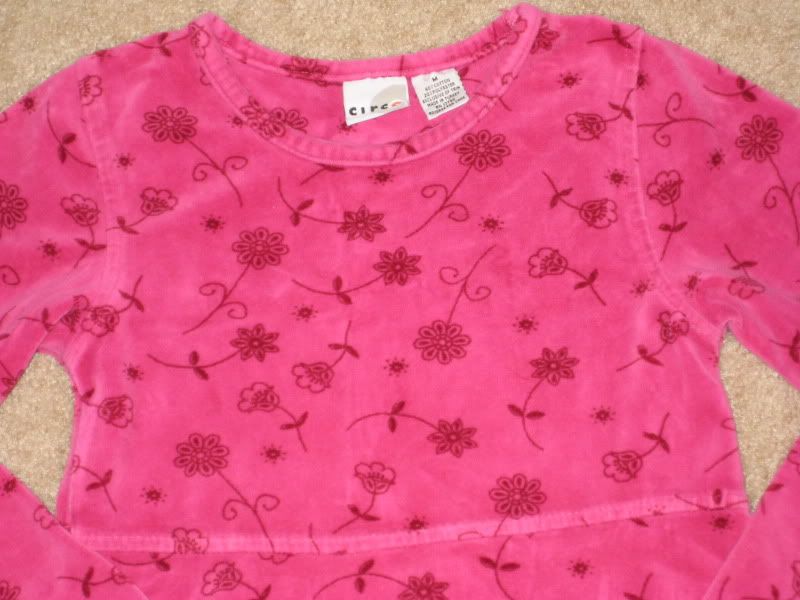 6) Faded Glory sz. 7 hot pink cotton knit hoodie style long sleeved shirt...our daughter wore it with leggings...so adorable!! $3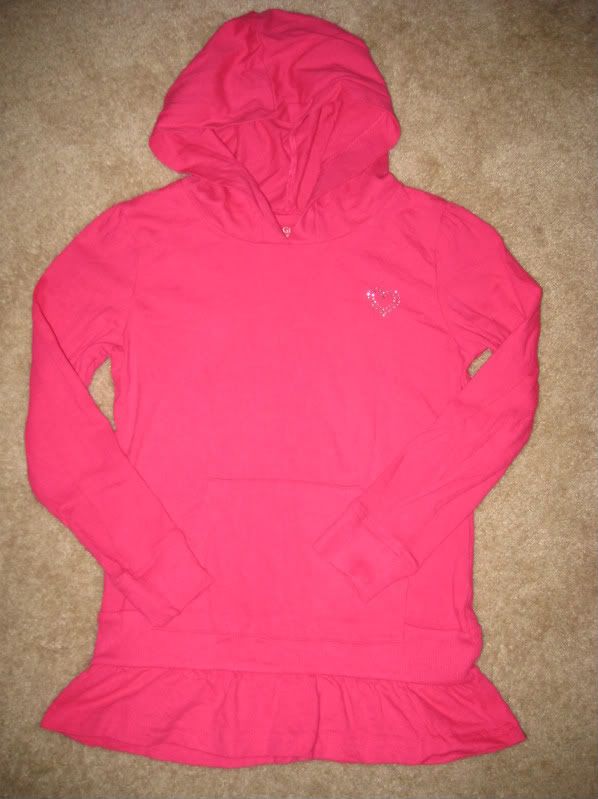 7) The Children's Place sz. 6X/7 bright floral print denim stretch skort with adjustable waist and buttons and zips in front...$3
Macy's Roxy sz. 6 pink denim ruffled skort ....buttons and snaps in front.....cute!!! $3
Arizona sz. 6 hot pink denim stretch capris with sparkly rhinestones ......$3
GAP sz. XS 4-5 lavendar cotton ribbed knit summer shirt with cute embroidered pink palm tree.....$3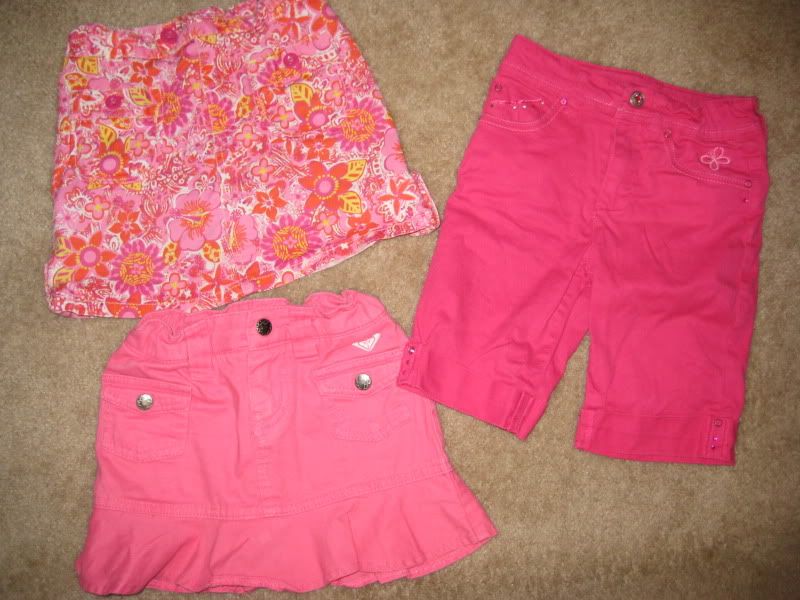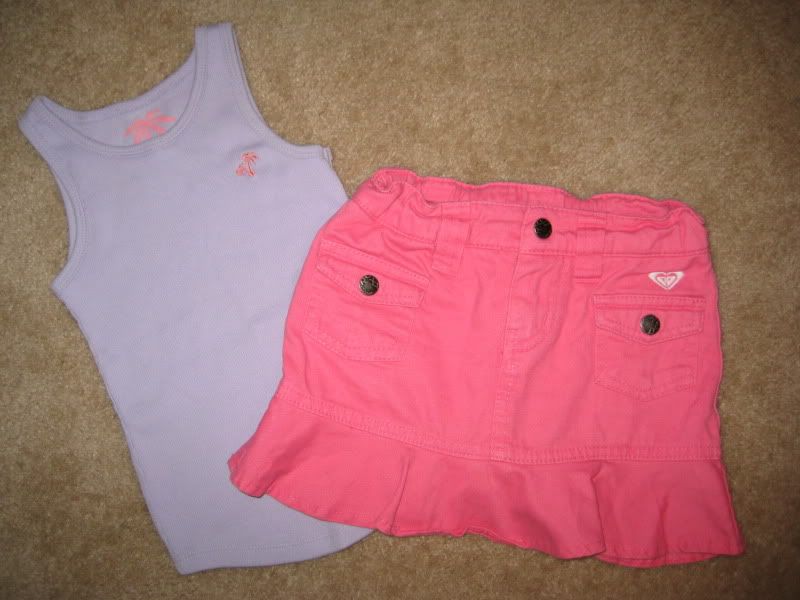 8) Children's Place sz. 5/6 raspberry pink cotton ribbed knit shirt with sparkly pink rhinestones...$3
Arizona sz. 6 lavendar cotton/spandex turtleneck with sparkly embroidered butterfly...$3
Bongo sz. 5 slim denim stretch jeans with sparkly shimmery hearts and flowers up and down each leg and matching sparkly purple belt....$4

9) Arizona Jeans sz. 5 slim denim stretch fashion flared jeans with colorful sparkly embroidered butterflies on back pockets with matching sparkly embroidered belt and adjustable waist....$4
The Children's Place sz. 5 sparkly denim stretch fashion flared jeans with adjustable waist....$4
Bongo sz. 5 denim stretch fashion flare jeans with pink sparkly embroidered butterflies and sparkly rhinestones with matching butterfly rhinestone studded belt....$4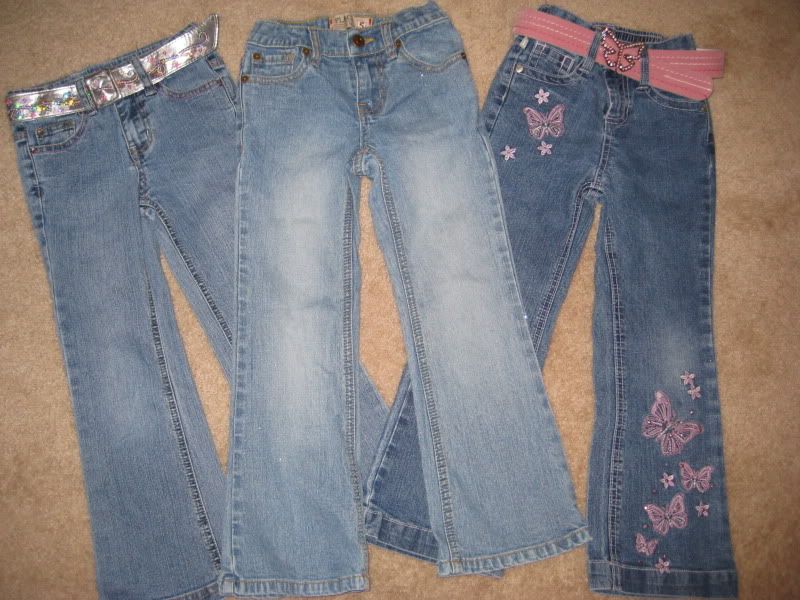 10) Bongo sz. 5 denim stretch fashion flared jeans with sparkly embroidered flowers and adjustable waist ....$4
L.E.I. sz. 6 reg. denim stretch fashion flare jeans with adjustable waist...$4
Arizona Jeans sz. 6 slim denim stretch fashion flare jeanswith adjustable waist and sparkly pink embroidered butterflies on back pockets...$4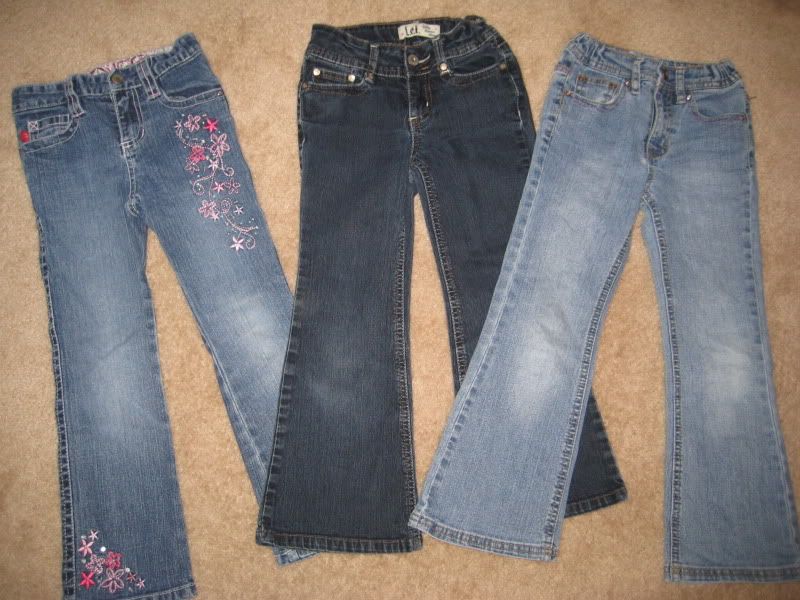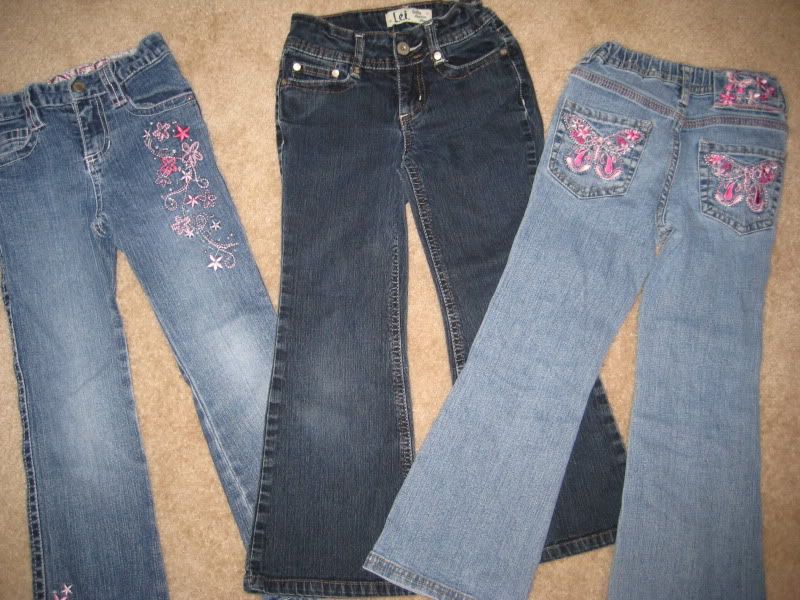 11) Limited Too sz. 8 aqua cotton knit summer shirt with sparkly sequin detailing and shimmery screen print....$3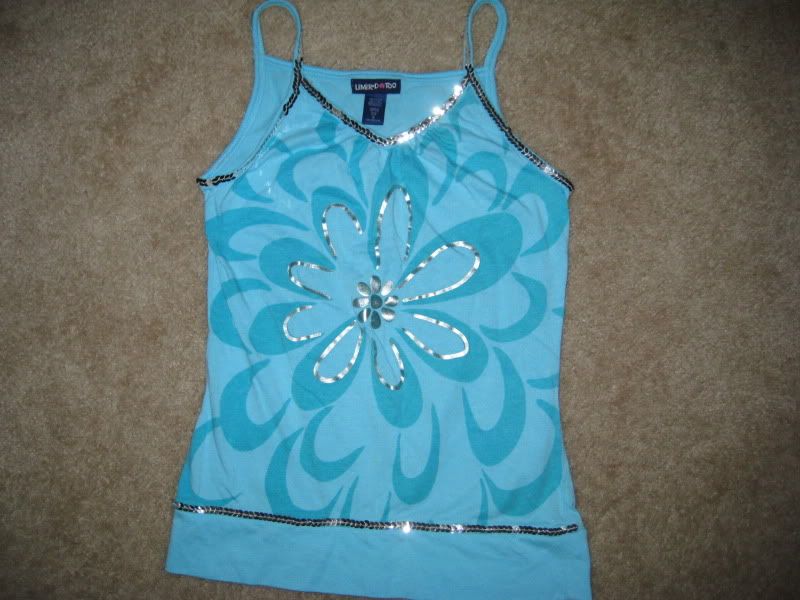 12) The Children's Place sz. 7/8 cute, cute leopard print Princess sparkly studded cotton knit shirt...$3
The Children's Place sz. 7/8 blue cotton knit colorful snowflake print shirt...$3
The Children's Place sz. 6x/7 cute cotton knit sparkly cupcake print long sleeved shirt...$3
SO Wear it Declare it....sz. 7/8 cotton knit sparkly butterfly print shirt...$3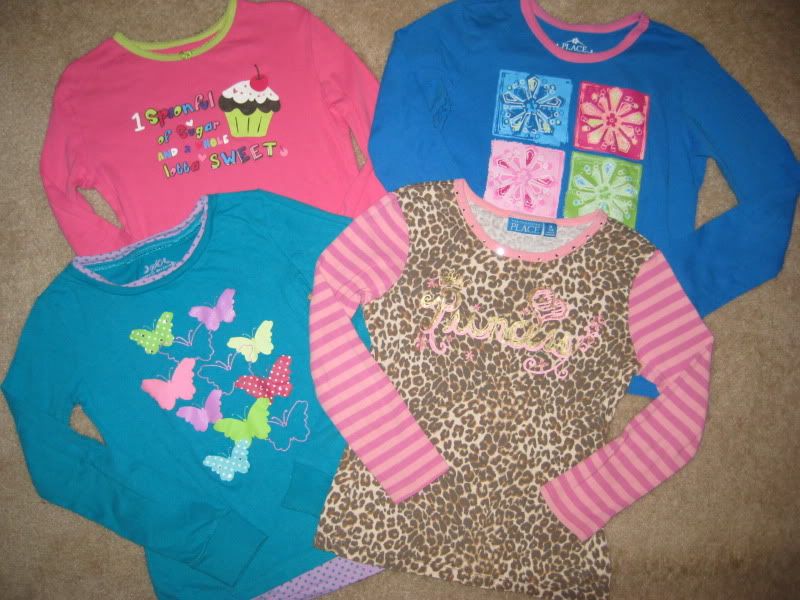 13) Old Navy sz. 6 khaki denim jumper....soooooooo adorable on! $3
The Children's Place sz. 5/6 pink cotton ribbed knit shirt...$3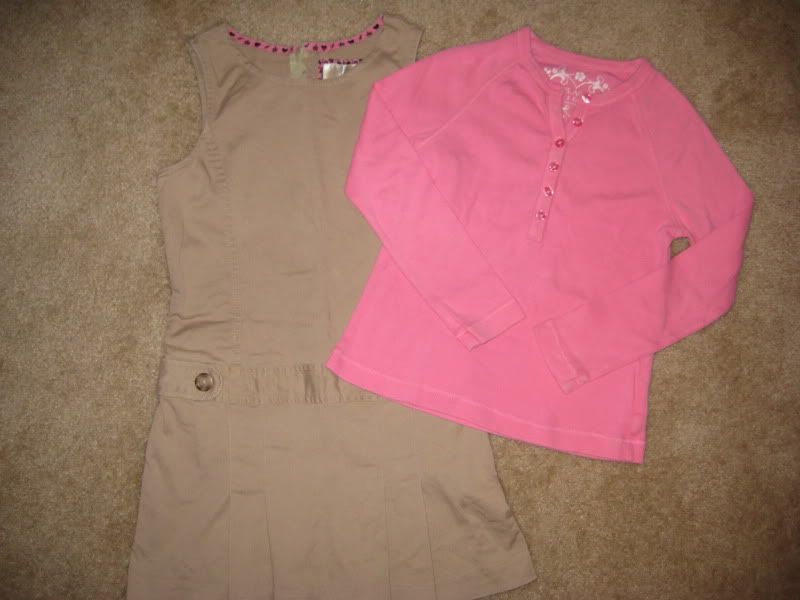 14) Walt Disney Princess sz. 5 hot pink cotton knit summer swing top with fun detailing...$3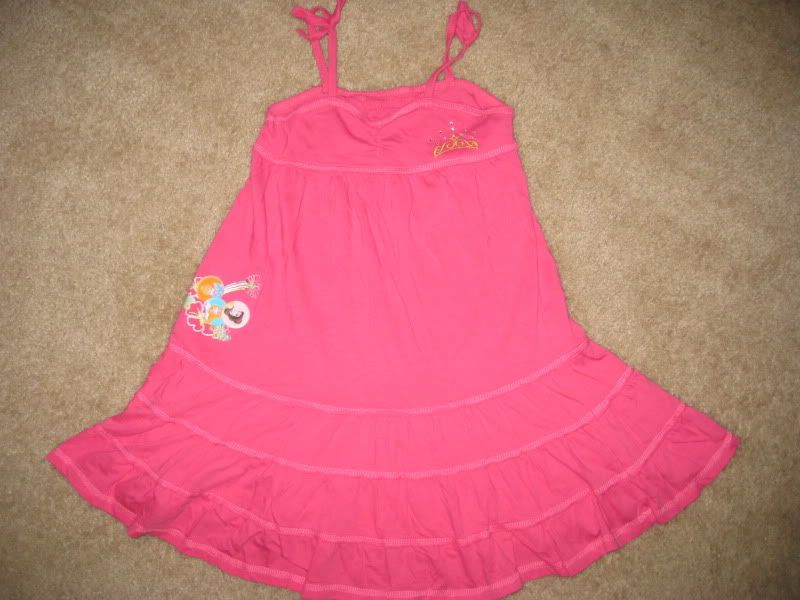 15) GAP sz. 4-5 brown cotton knit summer shirt....$3
GAP sz. 4-5 pink cotton knit summer shirt...$3
GAP sz. 5 yrs. raspberry pink cotton ribbed knit summer shirt....$3
GAP sz. 5 denim stretch skirt with embroidered detailing....$4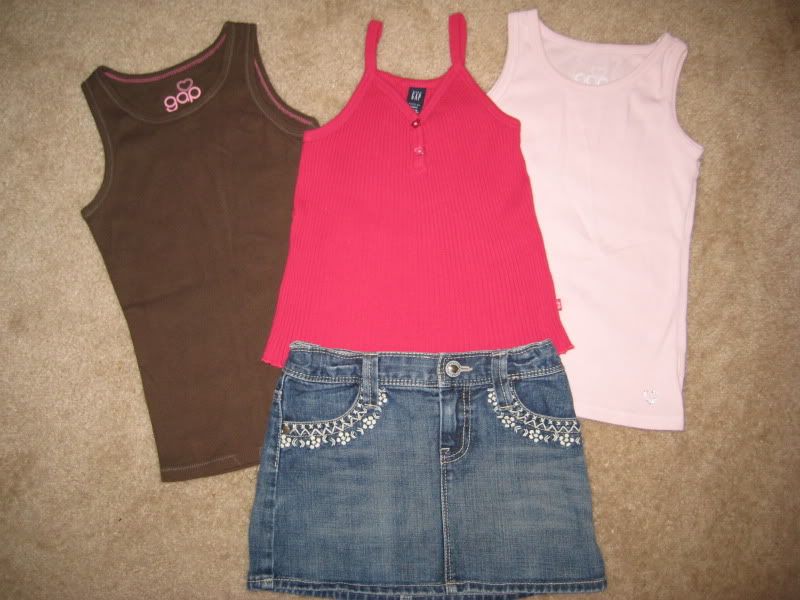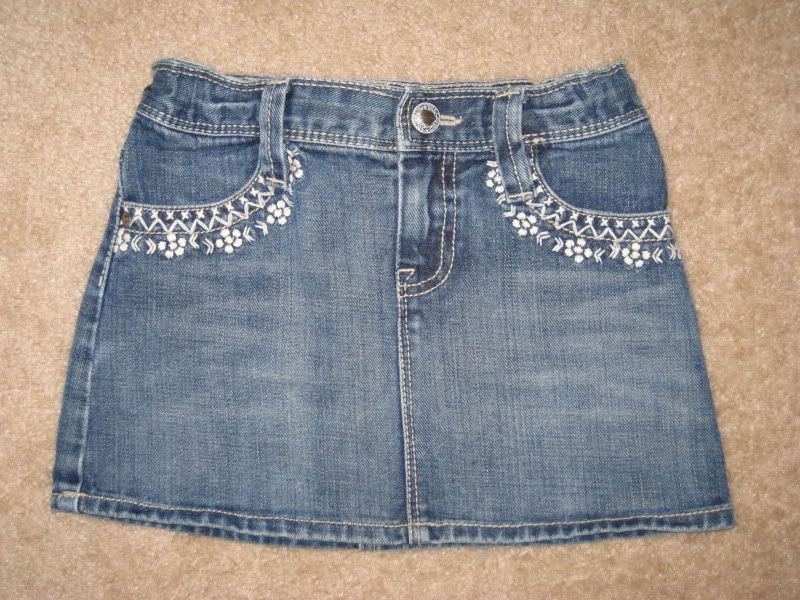 16) Old Navy sz. S pink cotton knit summer top that ties around the neck........so cute on....$2
Old Navy sz. 5 denim stretch shorts....$3

17) Paris Blues sz. 5 denim/ brown cotton tiered skirt with cotton lace detailing....$3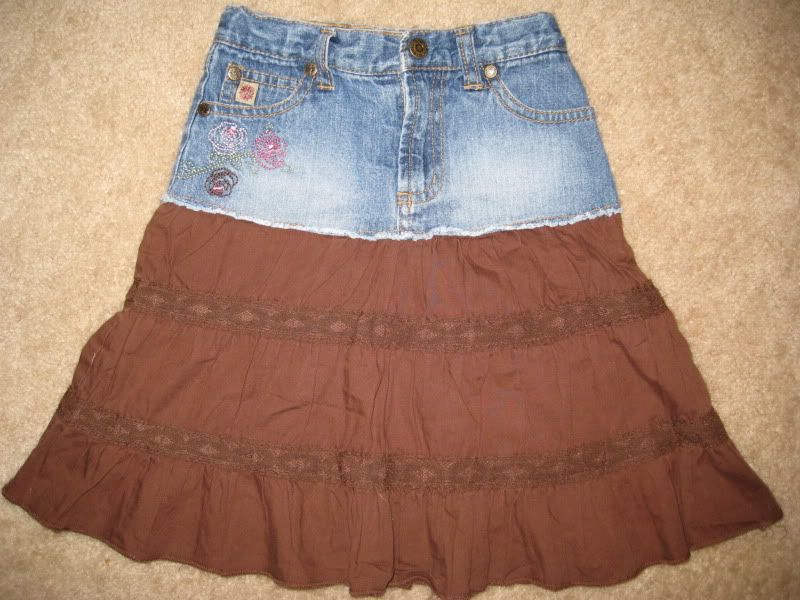 18) Arizona sz. 5 orange cotton knit summer shirt with yellow floral print....$3
Arizona sz. 5 multi-striped blue cotton knit summer top with sparkly appliqued butterfly print....$3
Arizona sz. 5 slim bright blue cotton shorts with adjustable waist.....$3

19) Arizona sz. 5 two-piece cotton knit sparkly screen print summer outfits.....pink tropical princess set or green princess jungle print set....$5 each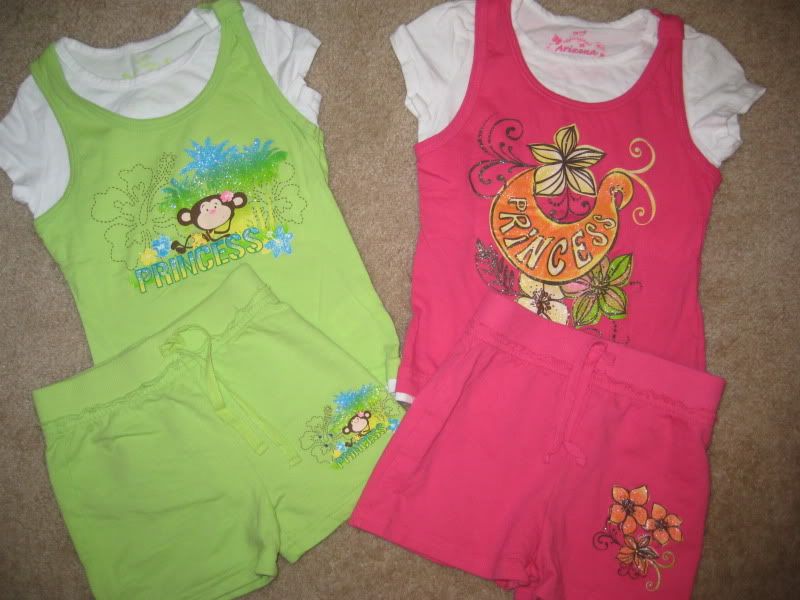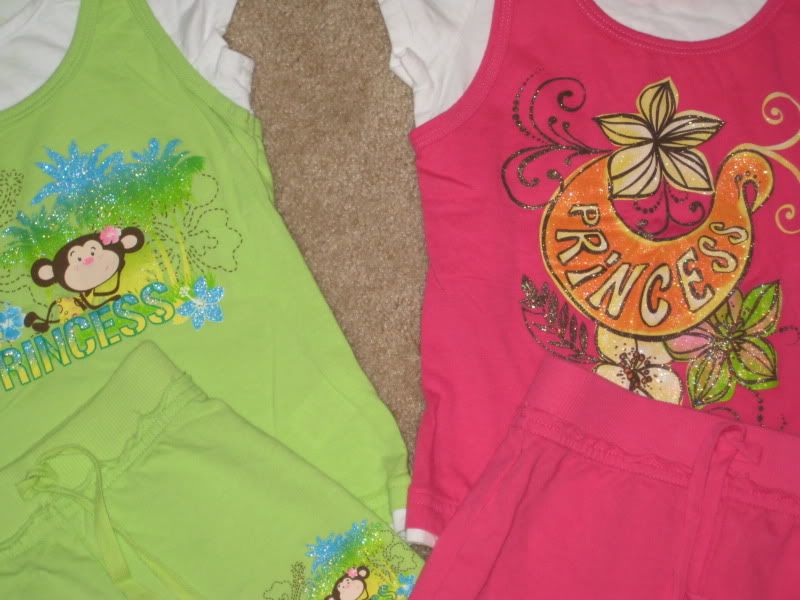 20) Lil Bratz sz. 6 hot pink cotton knit screen print shirt...$3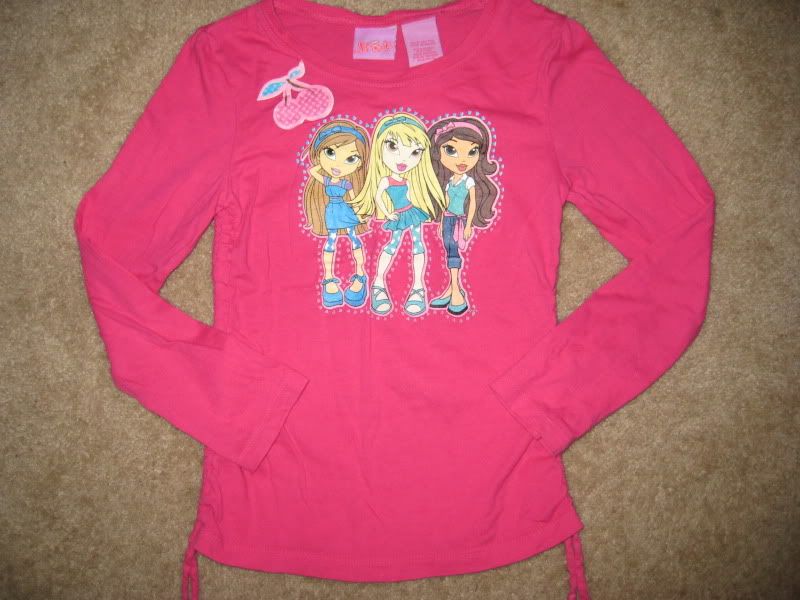 21) GAP sz. 4-5 raspberry cotton ribbed knit summer tee with butterfly print.....$3
GAP sz. 5 khaki cotton fashion skirt with adjustable waist....$3
22) OshKosh sz. 5 denim shorts with embroidered flowers on front...$3
Dream Genie sz. 5 denim stretch shorts....$3
The Children's Place sz. 5 denim stretch fashion skort with embroidered princess flower print with sparkly sequins...$3
Arizona sz. 6 slim denim stretch shorts with embroidered flowers on front and back....$3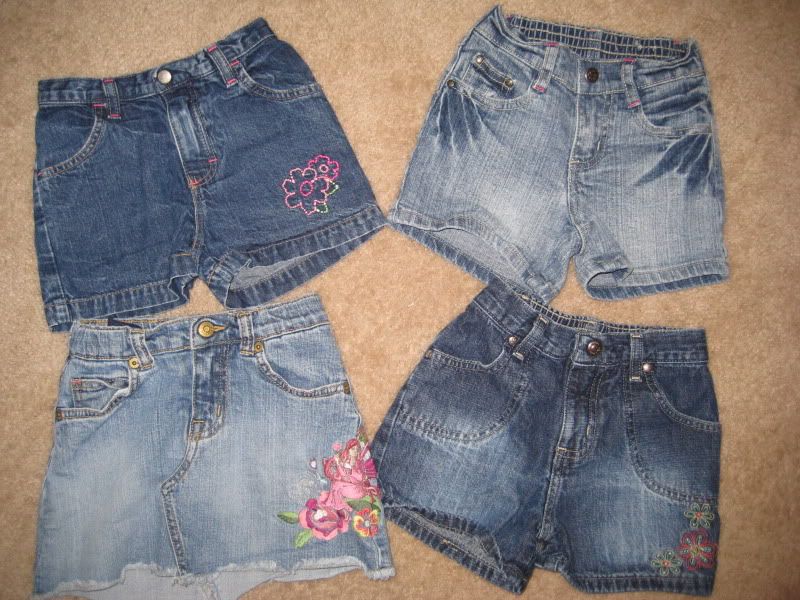 23) Faded Glory sz. 4 light denim stretch cute bermuda shorts with adjustable waist...$3
Arizona sz. 5T lightweight pink plaid cotton bermuda shorts with adjustable waist...$3
Arizona sz. 6 slim denim stretch capris with colorful embroidered butterflies and saprkly rhinestones with adjustable waist...$4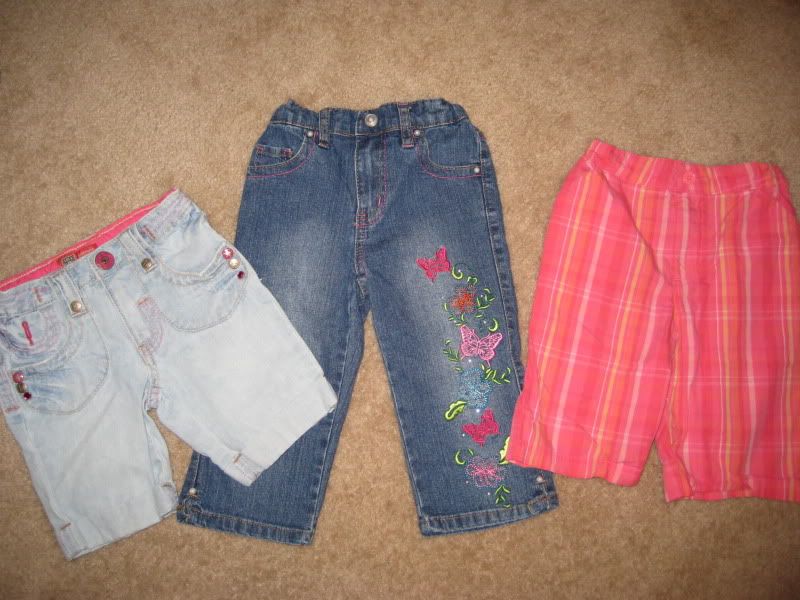 24) Disorderly Kids sz. 6X pink/grey cotton knit dress...$5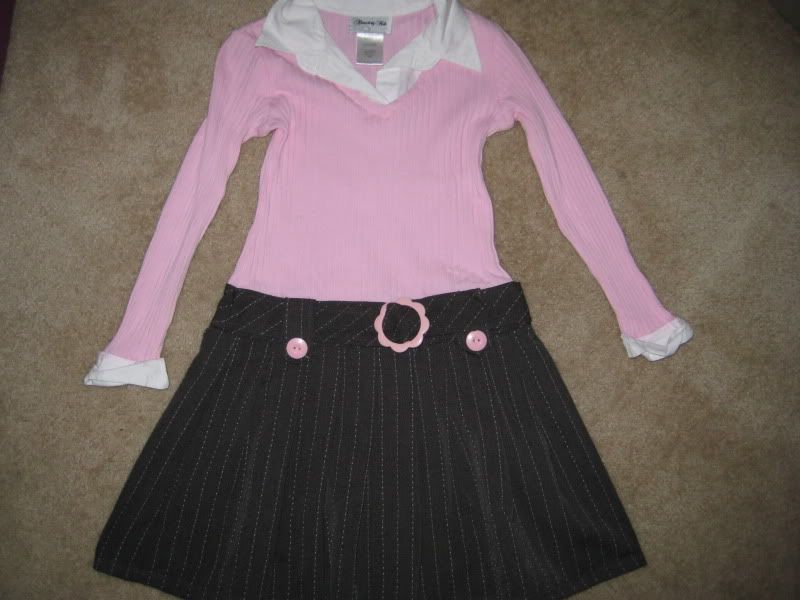 25) Disney Tinkerbell sz. 7/8 green cotton knit print pajamas...$3
Disney sz. 8 cotton knit princess pajamas...$3
Disney Tinkerbell sz. 6 pink print cotton knit pajamas...$3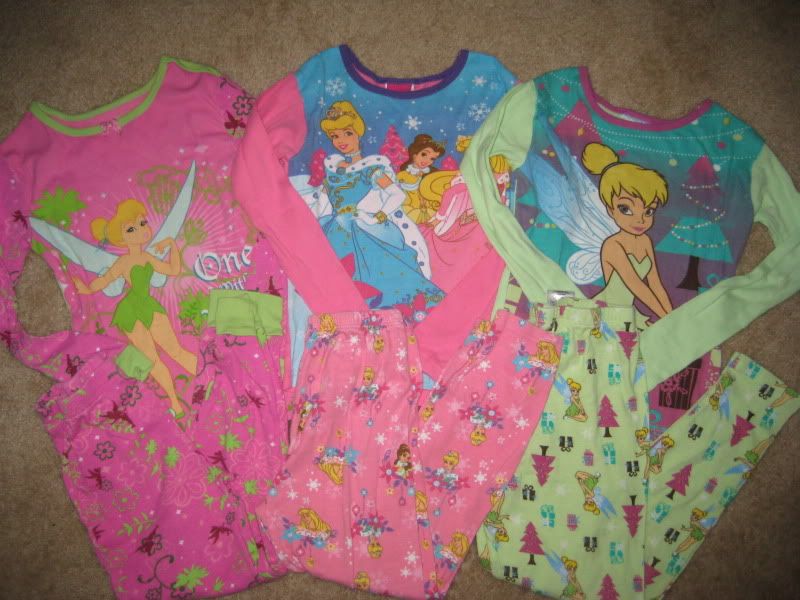 26) Carter's sz. blue floral print pajamas....$3
Faded Glory sz. 7/8 pink heart print pajamas...$3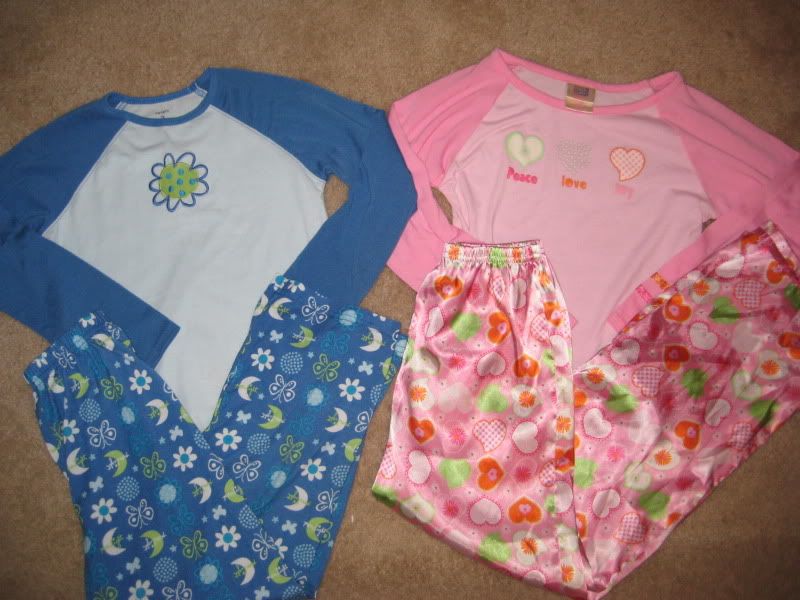 27) Hanna Andersson sz. 110....5,6,7 blue textured cotton knit jacket with embroidered flowers and flower shaped buttons...$4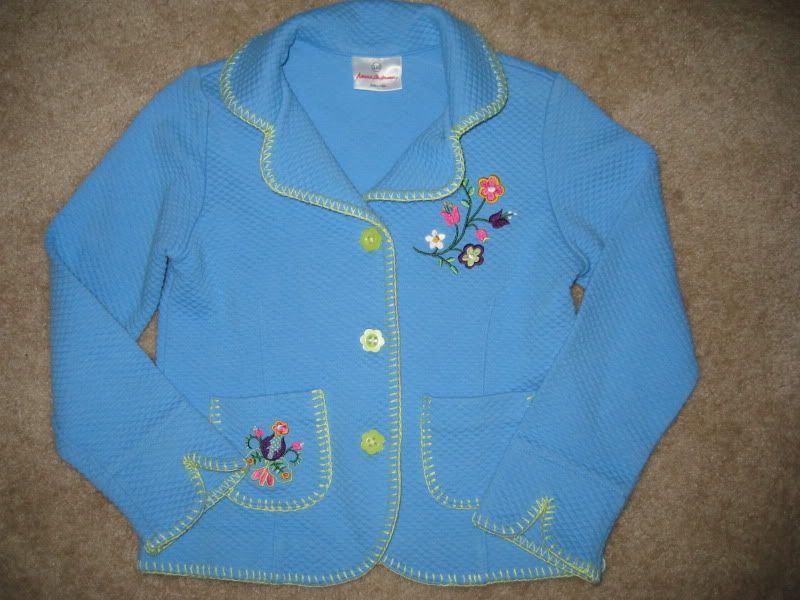 28) Brand new with tags Gymboree sz. 8 cotton floral print summer dress with matching headband....reg. $34.50....asking only $10.00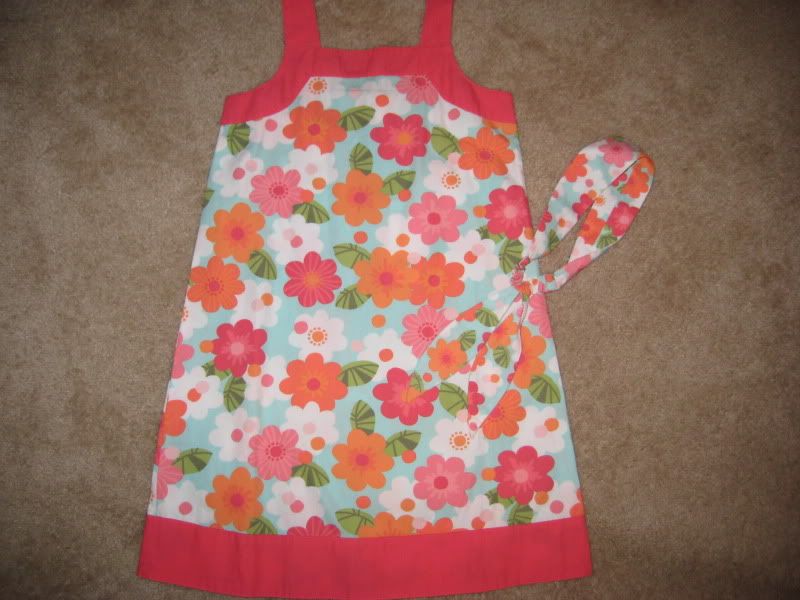 Reply To This Post Return to Posts Index VegSource Home
---