Reply To This Post Return to Posts Index VegSource Home
---
| | |
| --- | --- |
| From: | WendyCheryl (98.157.177.186) |
| Subject: | Sooooooooooo many girls sz. 8, 10, 12, 14 fabulous clothes! *Pictures Inside* |
| Date: | March 28, 2010 at 9:51 pm PST |
Here are lots of fabulous girls sz. 8....10/12, 12/14 clothes in excellent gently used condition from our non-smoking and pet-free home! I accept all forms of Paypal payments including credit cards, except for e-checks which can take toooooooooooooo long to clear....sorry. Shipping is extra. Thanks soooooooooooooooo much!!!
*I always respond to emails quickly and ship quickly too, so I ask that you please return my emails when inquiring about our clothes so that I know if you are really wanting them or not. Lately I have alot of gals taking the time to pick and chose the clothes they want and then I'm waiting for days holding them with no response back and then I miss out on selling them to someone else really wanting them too. Thank you sooooooooo much in advance for understanding! *
1) Arizona Jeans sz. 10/12 awesome brown soft velour hoodie jacket with satin lining inside hood and adorned with sparkly gold rhinestones with sparkly gold butterfly on front and sparkly studded zipper pull. Only worn one time! Soooooooooo pretty! Asking only $7!
Macy's Hannah Montana sz. M-8/10 pink cotton knit sparkly print hoodie shirt....$3
Macy's Hannah Montana sz. M-8/10 brown cotton knit sparkly print shirt...$3
Macy's Hannah Montana sz. M (10/12) fabulous pink longer style shirt with shimmery print and matching fashion belt with matching pink shimmery gold polka dot capri length leggings! Only $7 for the outfit!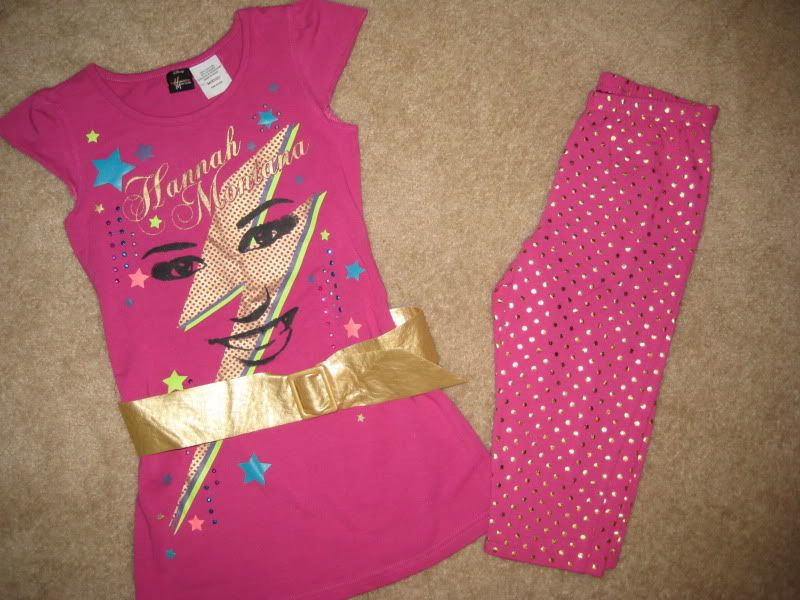 2) Macy's Hannah Montana sz. 12-14 aqua blue cotton knit hoodie shirt with shimmery sparkly butterfly print...$3
GAP sz. XXL (12) yellow cotton sweatshirt knit short sleeved hoodie that zips down the center with colorful "GAP" logo...$3
Macy's Imperial Starsz. 10 denim stretch fashion faded bermuda length shorts with sparkly studded butterfly and sparkly rhinestones around pockets....there are several rhinestones missing but still plenty sparkly and so cute! Adjustable waistband....$3
Arizona Jean sz. 10 slim denim stretch bermuda length shorts with colorful embroidered butterflies adorned with sparkly rhinestones and pink leather ties on each side ....Cute!! $3

3) ARizona Jeans sz. 10/12 long sleeved cotton knit sparkly print shirts....$3 each.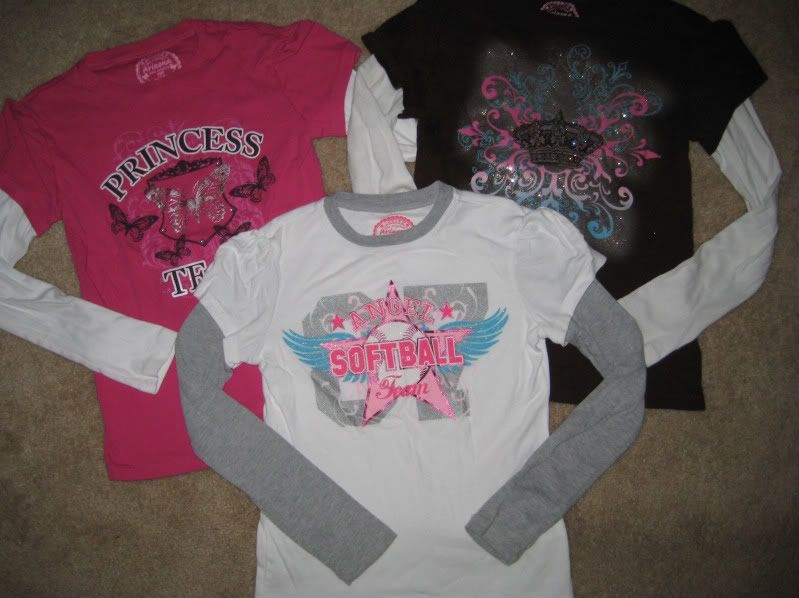 4) Macy's Imperial Star sz. 10 denim stretch fashion flare jeans with sparkly rhinestones and dangly silver stars hanging from pockets...$5
Macy's Imperial Star sz. 10 denim stretch fashion flare jeans with embroidered flowers adorned with sparkly sequins....$5
Macy's Imperial Star sz. 10 denim stretch fashion flare jeans with sparkly silver thread stitching and sparkly rhinestones on back pockets....$5
Macy's Yaso sz. 10 denim stretch fashion flare jeans with cool gold sparkly embroidered design on back pockets...$5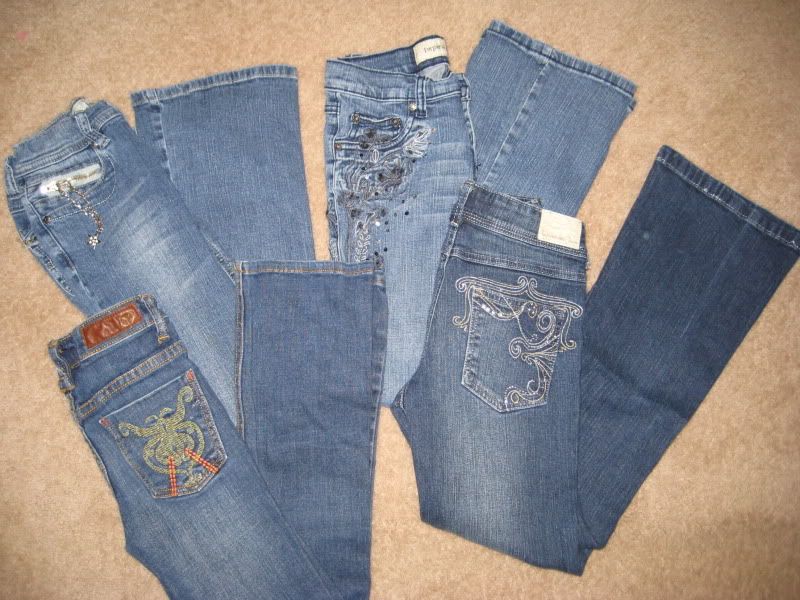 5) MaxRave Lola sz. XS (8-10) cotton knit shimmery angel wing print shirt...$3
Macy's Jade sz. M(8-10) navy blue cotton knit screen print hoodie shirt...$3
Macy's Jade sz. 7 denim stretch fashion capris....these have the adjustable waist which I love for my girls and these fit our daughter when she was wearing 8's too....$4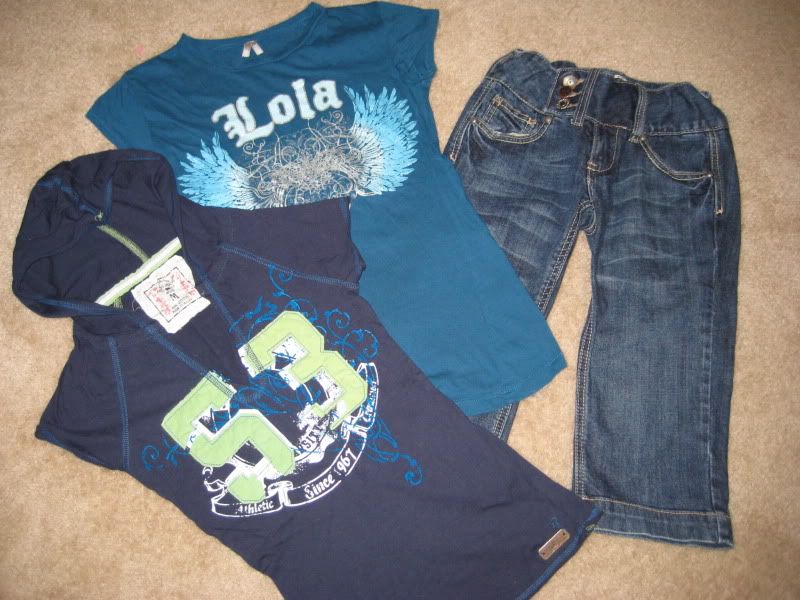 Macy's Jade sz. S blue/white striped cotton knit shirt...$3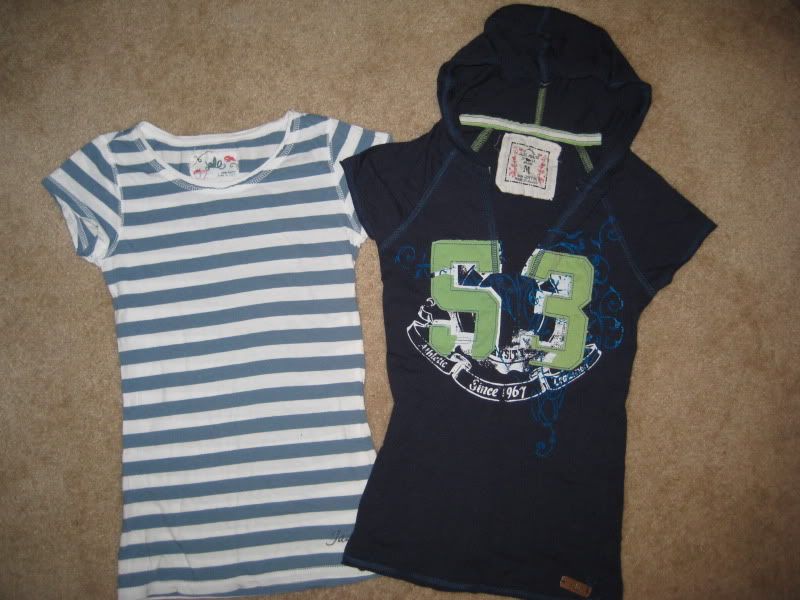 6) Sugar Tart sz. M(10-12) cute fun sparkly screen print cotton knit shirt...$3
Arizona sz. M(10-12) yellow cotton knit shirt with sparkly rhinestones ....$3
Arizona sz. M(10-12) cotton knit multi-striped polo shirt...$3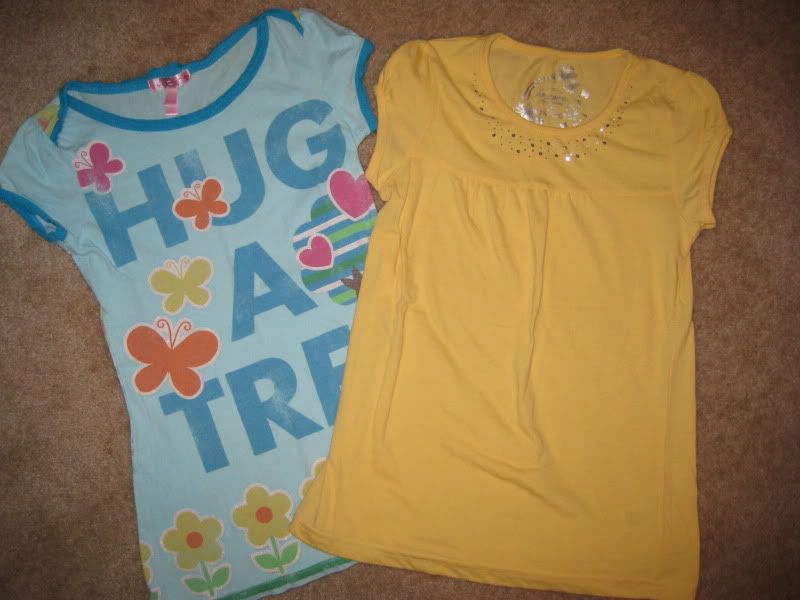 9) The Children's Place sz. L(10-12) cotton/spandex multi-striped summer shirt...$3
7) Gymboree sz. 12 cotton knit green shirt...$3
Justice sz. 10 denim stretch fashion flare jeans with sparkly rhinestones...$4


8) Energy sz. 10/12 cotton ribbed knit heart print shirt...$3
Freshed Brewed sz. L(10-12) purply pink cotton knit shirt with sparkly heart,star and peace print....$3
Beautees sz. L blue cotton knit shirt with colorful sparkly rhinestone butterfly floral print...$3
Self Esteem sz. M brown cotton knit shirt with embossed butterfly print....$2

9) The Children's Place sz. L(10-12) cotton/spandex multi-striped summer shirt...$3
The Children's Place sz. L(10-12) cotton/spandex multi-striped summer shirt...$3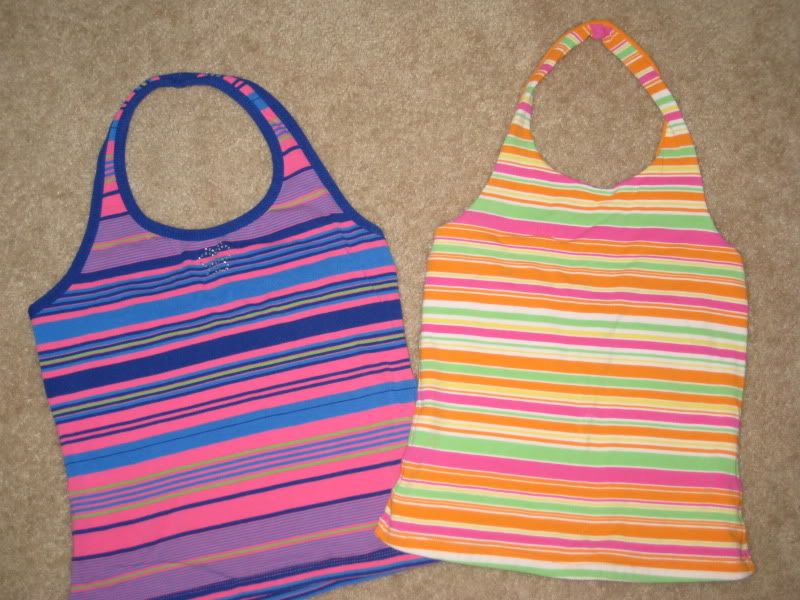 10) ROXY sz. L(12) cotton floral print summer top....soooooooo cute! $3
ROXY sz. 12 denim stretch capris.....$3

11) Aeropostale sz. XS slamon pink cotton knit summer shirt...$3
Limted Too sz. 10 slim fashion trendy denim stretch capris with embroidered flowers and chicken scratching detailing....love these! $4

12) Limited Too sz. 12 candy pink cotton knit lace trimmed with sparkly sequin bra tank camis....$3
Circo sz. 12 cotton knit multi-striped summer shirt....$2
Faded Glory sz. 12 denim stretch capris with heart print and adjustable waist....$4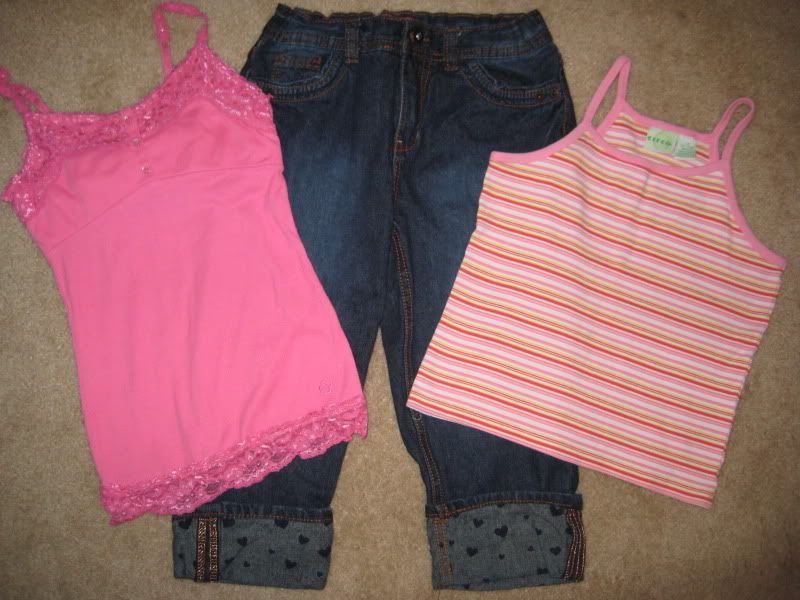 13) Lilly Bleu sz. 10/12 cute brown polka dot print cotton knit shirt with pink heart shaped buttons....$3
Makaveli sz. 10 denim stretch bermuda shorts with sparkly rhinestone detailing and gold stitching....$3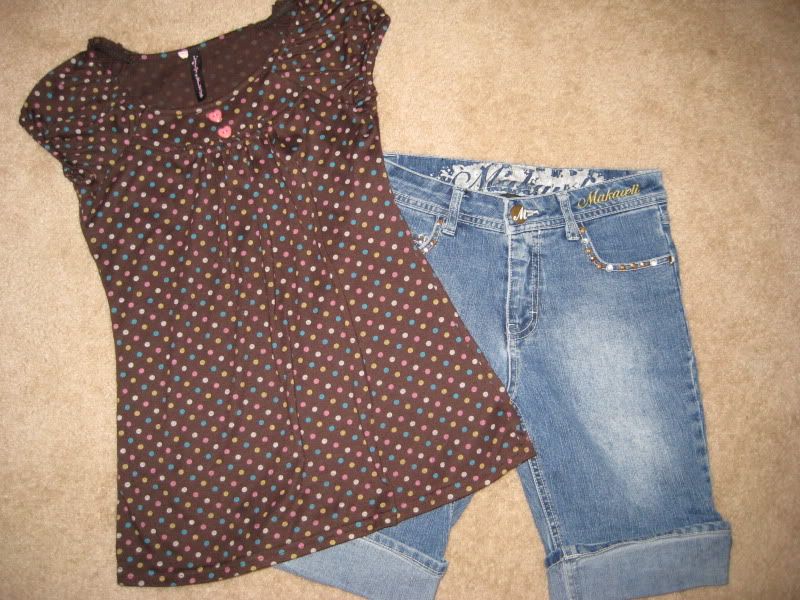 14) Julie's Closet sz. M yellow cotton knit heart print hoodie style shirt with drawstring waist.....$3
Macy's Greendog sz. S(10-12) brown cotton/spandex knit comfy flared pants with sparkly heat...$3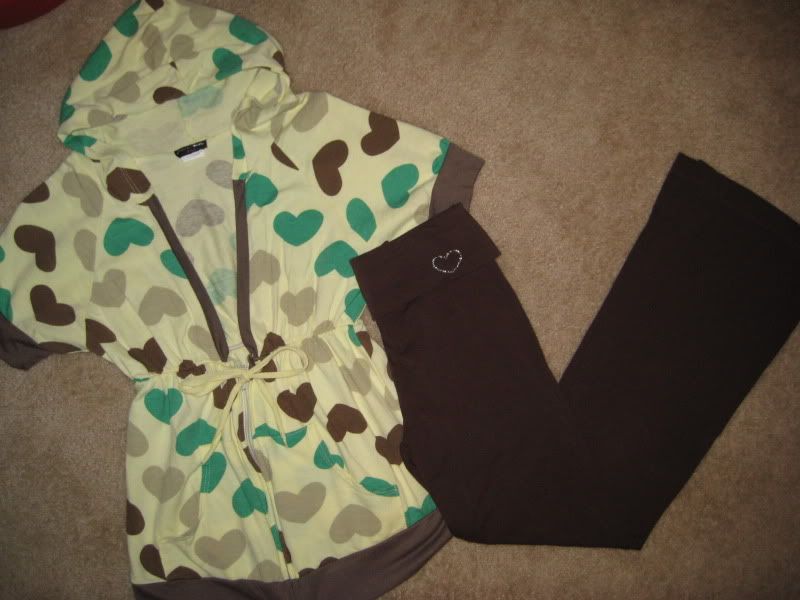 15) Gymboree Tennis Match 2008 line sz. 10 bold striped cotton knit summer shirt with sparkly embroidered flower on the front...$4
Arizona Jean sz. 10 slim denim stretch skirt...$3
Old Navy sz. 10 denim stretch skirt with adjustable waist...$3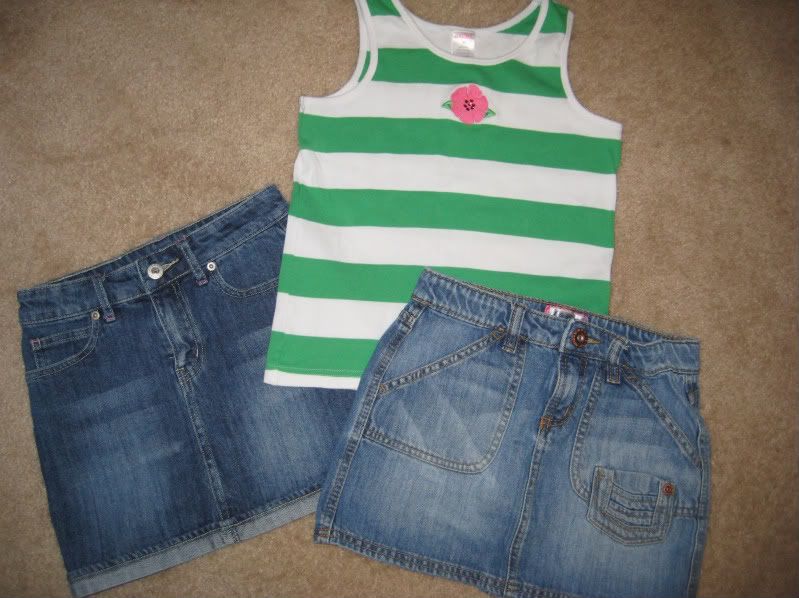 16) Arizona sz. 10 regular denim stretch colorful embroidered butterfly adorned with sparkly rhinestones....$3
Gymboree sz. 10 cherry red sparkly rhinestone trim denim cotton shorts with adustable waist....$3
Arizona sz. 12 denim stretch shorts with heart print....$3
Sz. 10 reversible board shorts....cute! $3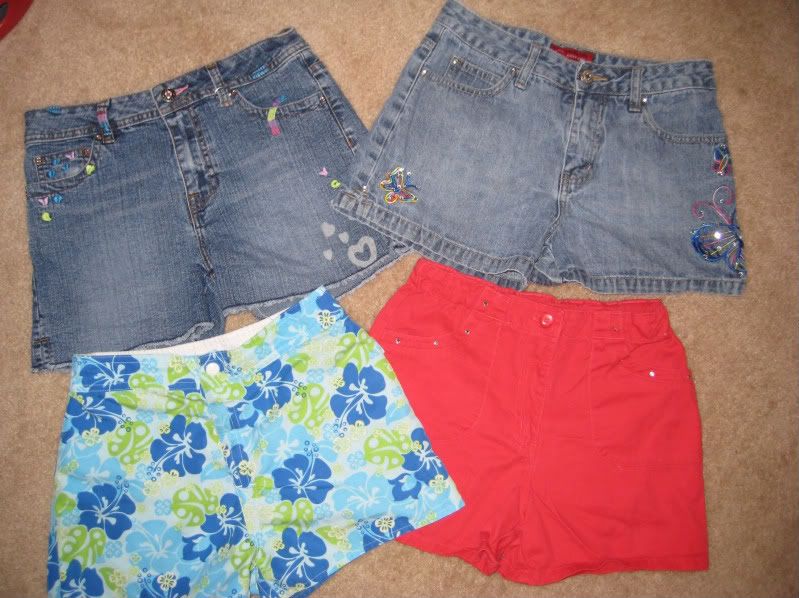 17) Arizona sz. 10 slim denim stretch capris with shimmery butterfly print adorned with sparkly rhinestones....$3
XOXO sz. 10 denim stretch capris with sparkly appliqued heart on one side of capris and features heart shaped pockets on the back....$3

18) Tommy HIlfiger sz. 10 denim stretch patchwork capris...$3
Arizona sz. 10 slim denim stretch capris with shimmery butterfly print adorned with sparkly rhinestones....$3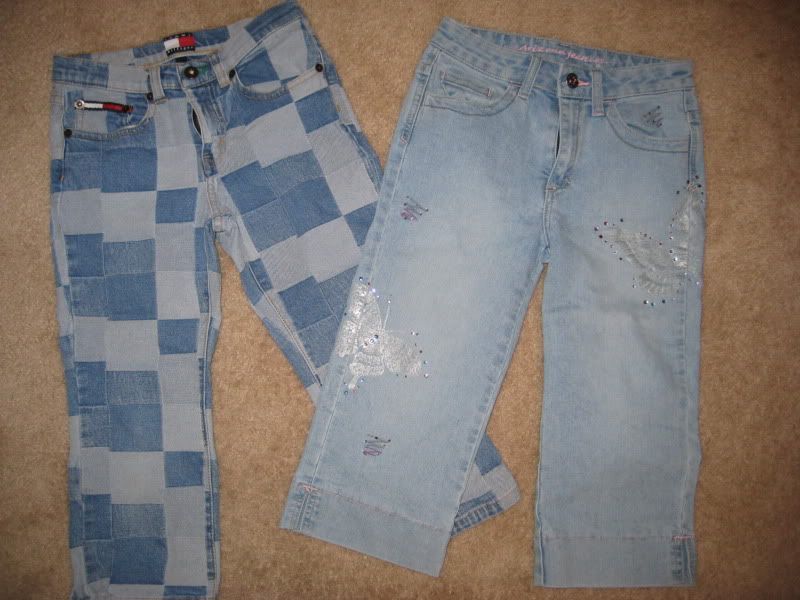 19) Arizona sz. 10/12 cotton knit floral print summer shirts...$3 each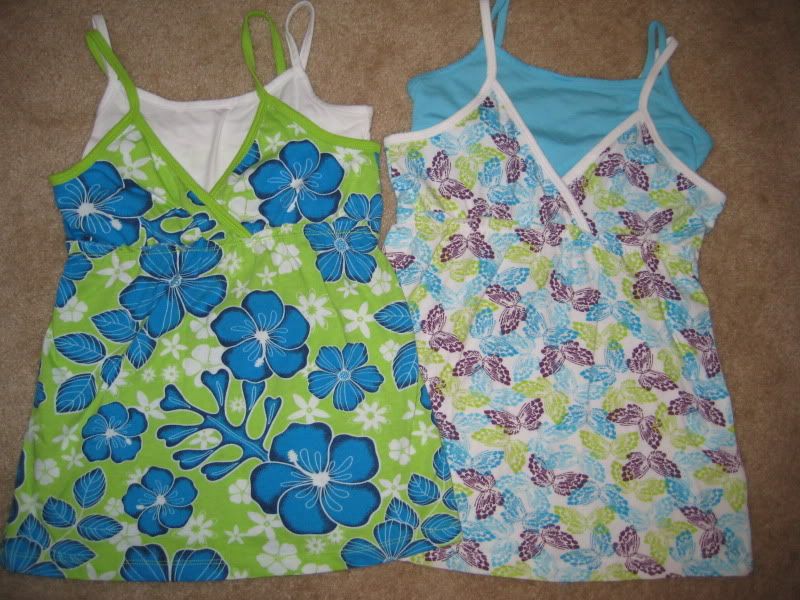 20) The Children's Place sz. 10/12 white cotton gauze summer top that is cotton lined with soft cotton lace trim.....$3
Rewind sz. 10 fun denim cotton floral layered skort....$3
Circo sz. 10/12 aqua cotton knit ruffled skort...$3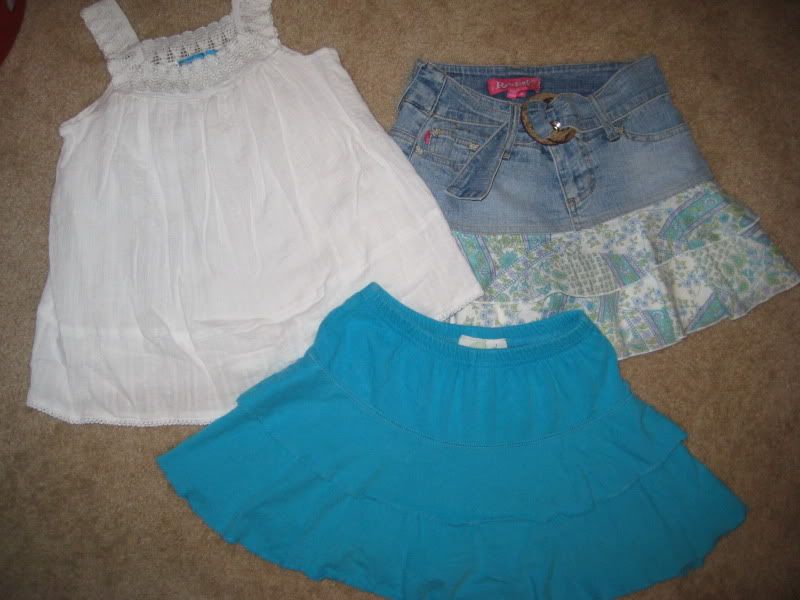 21) Macy's Bonnie Jean NWT sz. 12 polka dot print cotton summer dress.....$8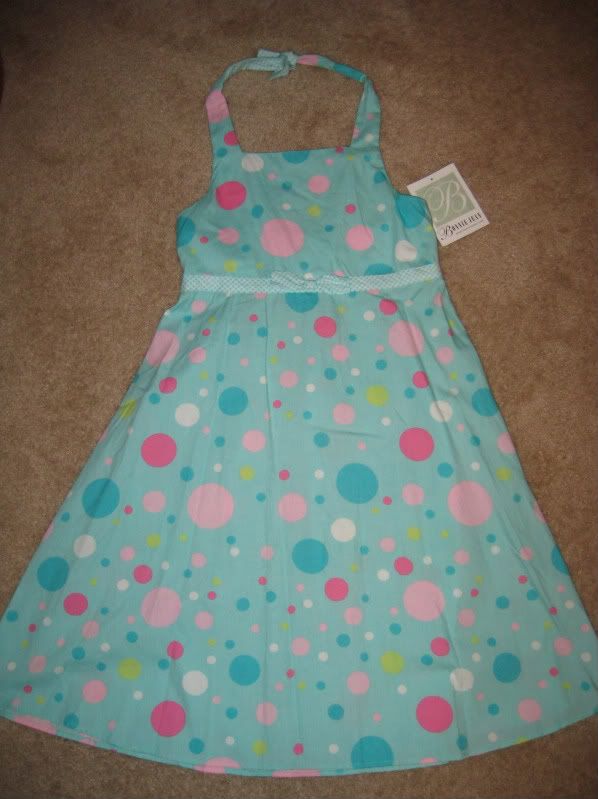 22) The Children's Place sz. 14 cotton/spandex bright multi-striped lighter blues, aqua,pink summer top adorned with sparkly rhinestones...$3
The Children's Place sz. 14 cotton/spandex multi-striped bright blues and pinks summer shirt with criss-cross shoulder straps across the back....$3
The Children's Place sz. 14 hot pink cotton knit ruffled tiered skirt....$3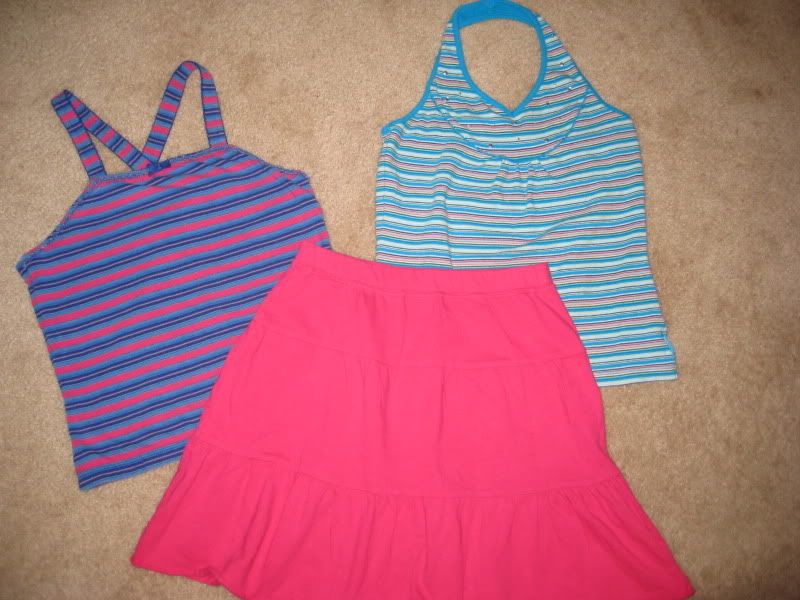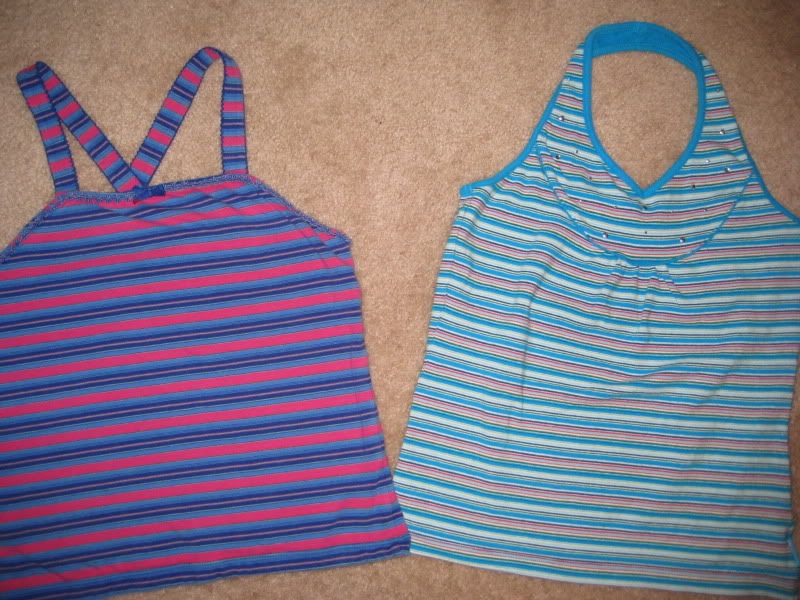 23) Macy's Greendog sz. 12 pink denim pleated skort.....$3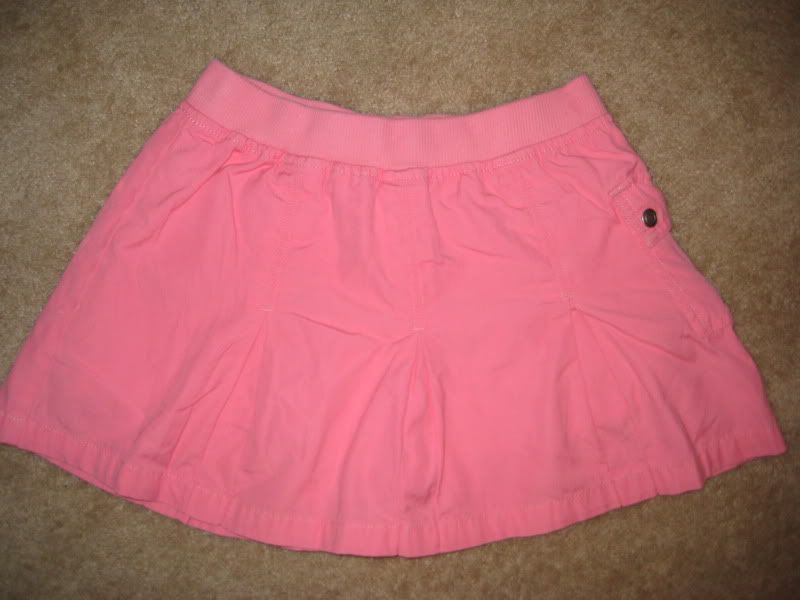 24) The Children's Place sz. 8 but ran bigger ....more like a 10/12.....fluffy, twirly multi-striped cotton summer skirt with crocheted cotton lace across front of waistband with sparkly sequins....sooooooooooo pretty!....$5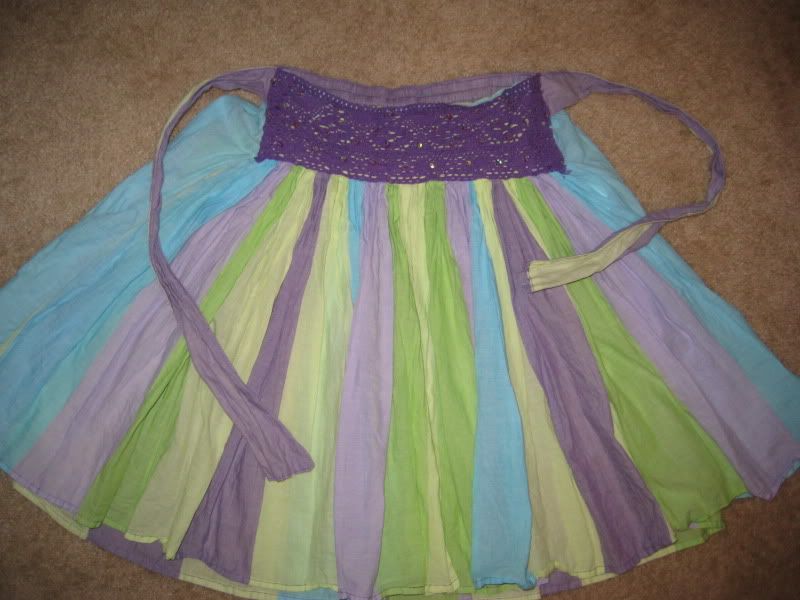 25) The Children's Place sz. XL(14) blue cotton knit lettuce edged shirt with sparkly rhinestone heart and rhinestones around neckline...$4
The Children's Place sz. XL(14) candy pink cotton knit lettuce edged shirt with sparkly rhinestone heart and rhinestones around neckline...$4
The Children's Place sz. XL(14) awesome cotton ribbed knit shirt with fabulous shimmery fun print with sparkly rhinestones....$4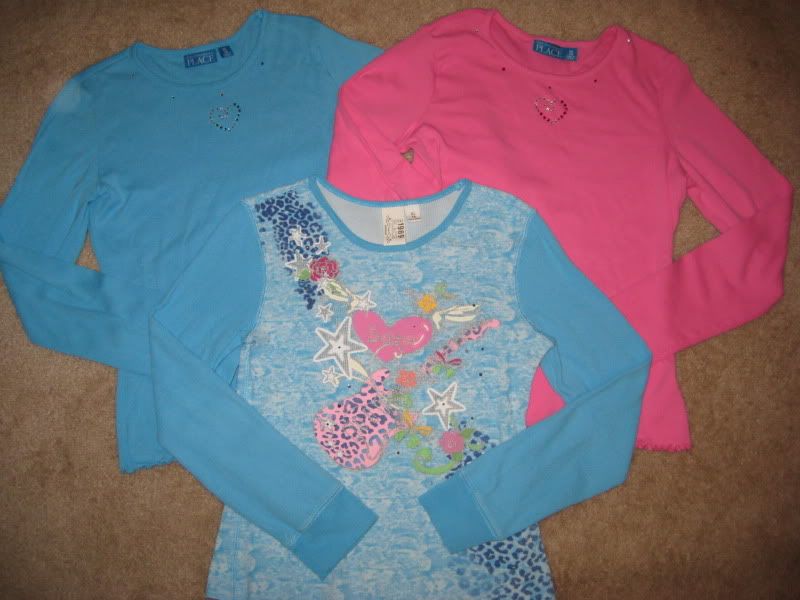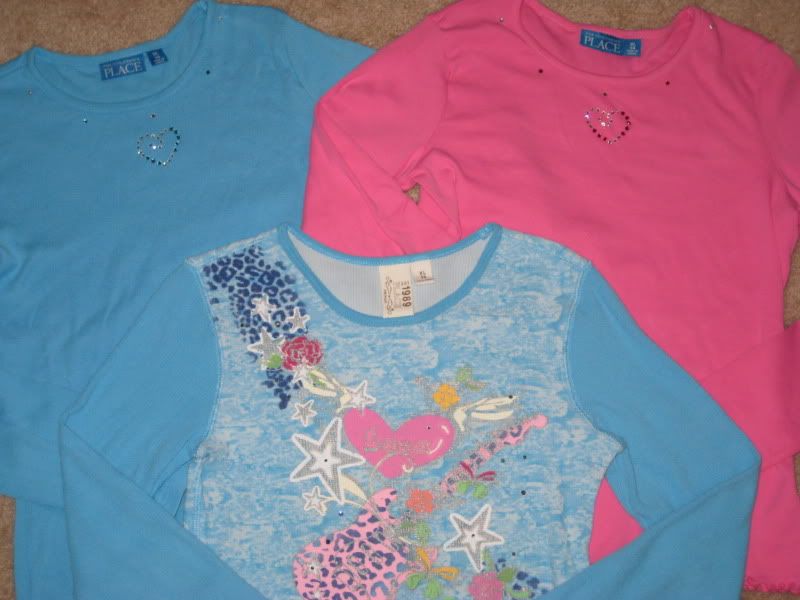 26) The Children's Place sz. 14 sparkly striped cardigan style sweater.....gorgeous! ...$7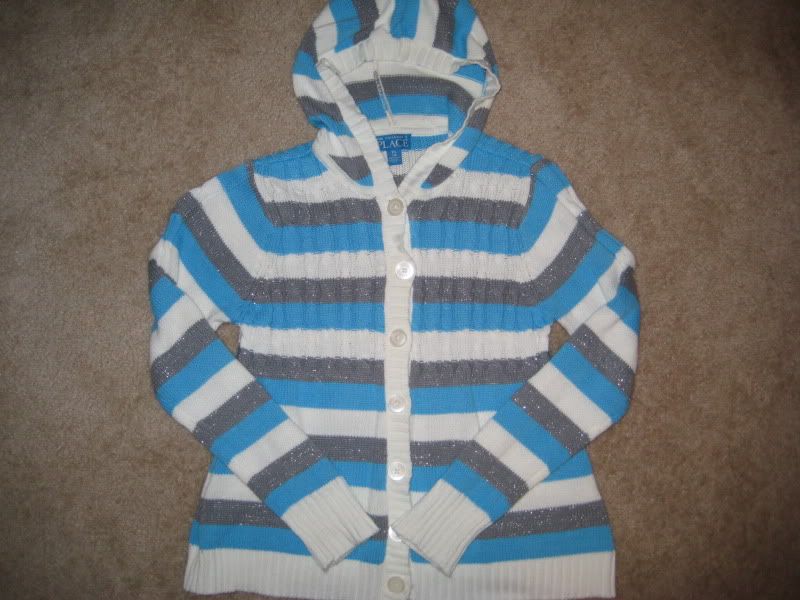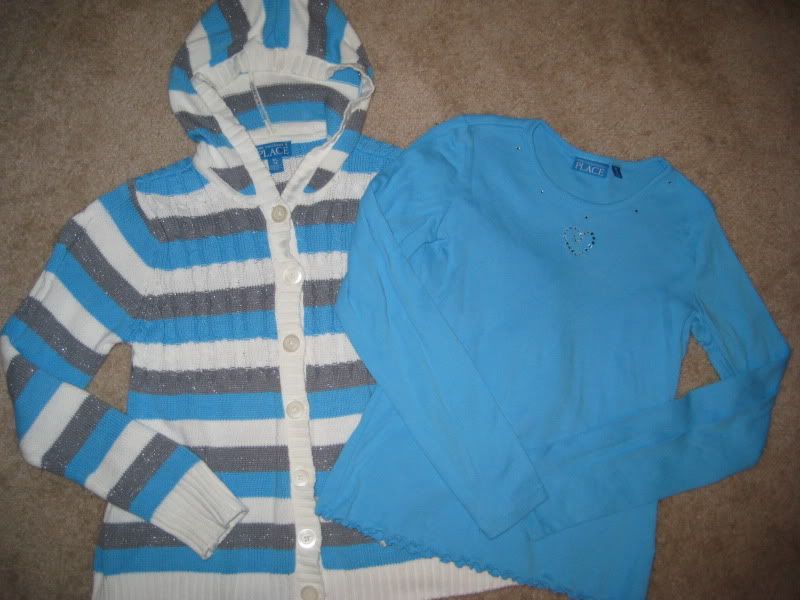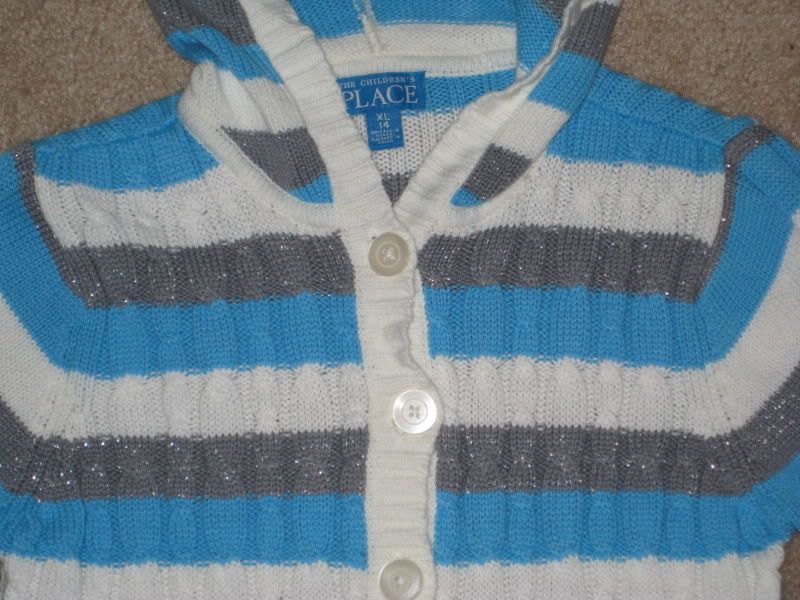 27) Aeropostale sz. S (12-14) bright blue thermal cotton knit logo print henly style shirt....$3
Limited Too sz. 14 navy blue/white multi-striped soft cotton knit shirt.....$3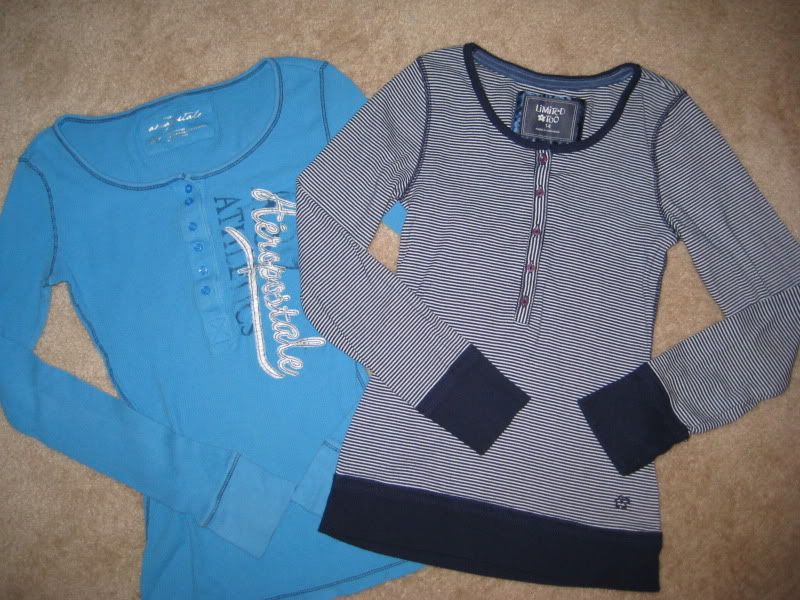 28) GAP sz. 12 brown cotton knit shirt with pink polka dots all over....$3
Kirra sz. XS rosey pink cotton ribbed knit hoodie style shirt....$3
Aeropostale sz. L (12/14) brown cotton knit logo shirt....$3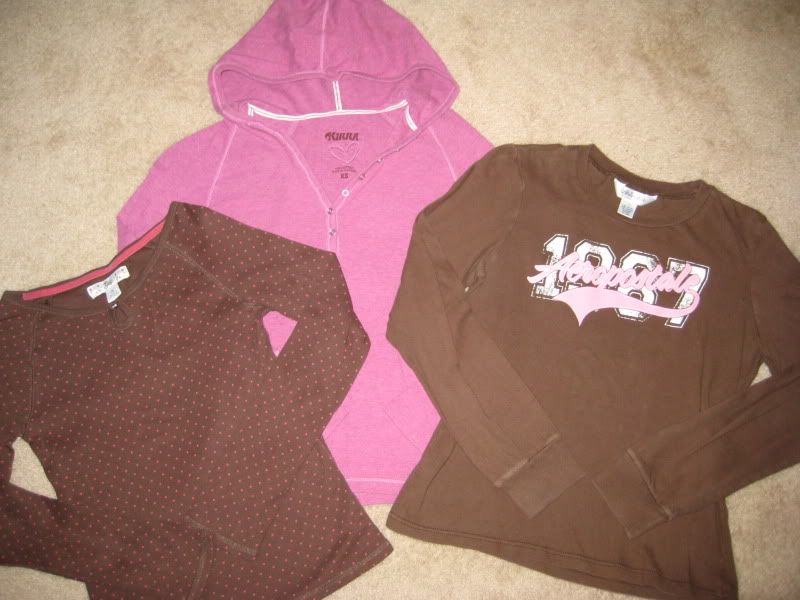 29) Limited Too sz. 14 brown cotton knit shirt with sparkly stitching.....$4
The Children's Place sz. 14 brown cotton ribbed knit lettuce edged sparkly rhinestone shirt....$4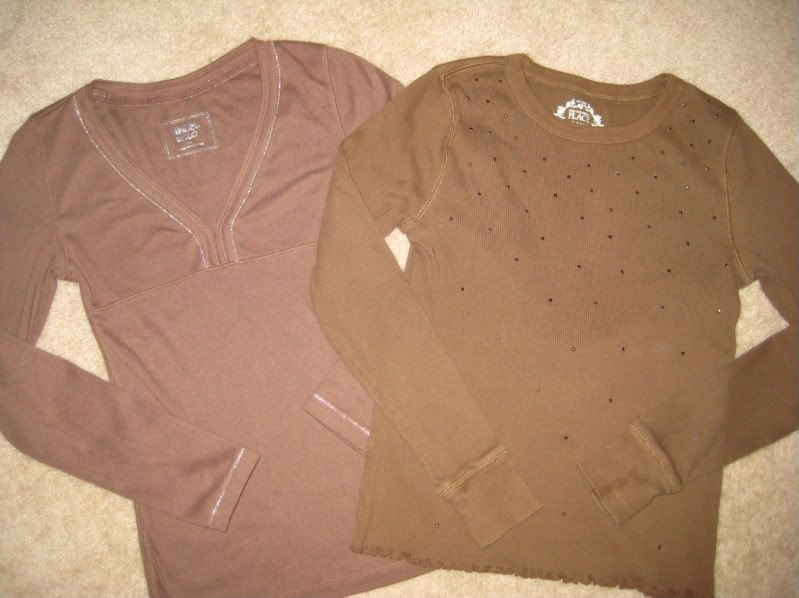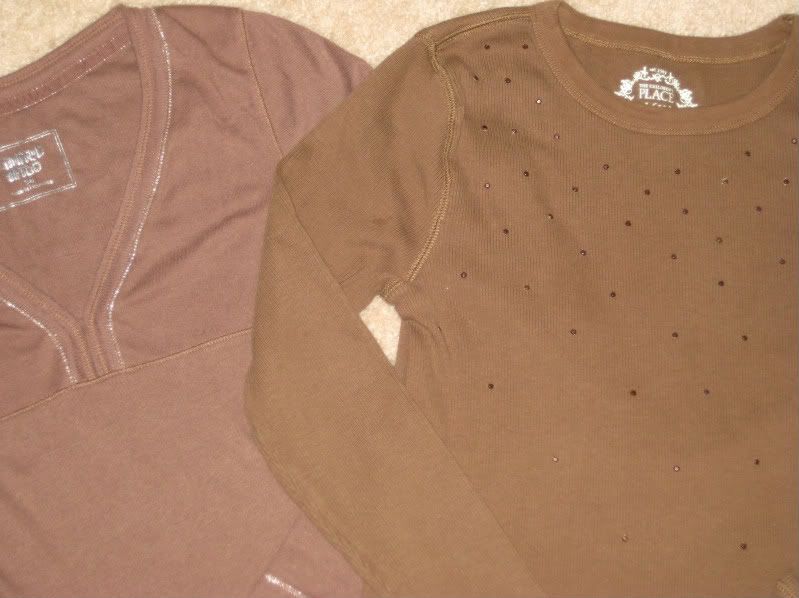 30) Energie sz. S ( 10/12) stretchy cotton thermal knit grey with butterfly print and black with stars and crown print shirts! $2 each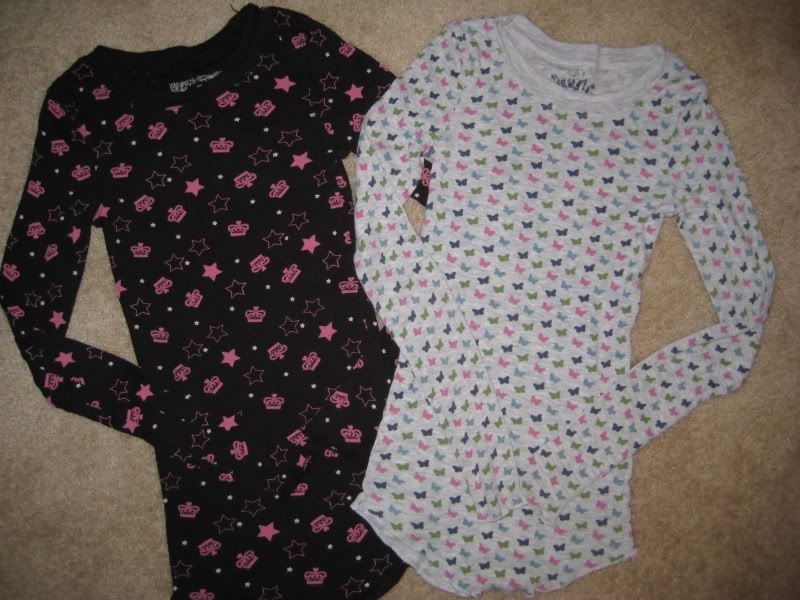 31) Unionbay sz. XL(14) pink heart print cotton knit hoodie shirt....$2
F*A*N*G* sz. S(12) brown cotton floral print shirt....$3
GAP sz. 10 creamy white cotton thermal knit hoodie with sparkly heart on pocket.....$4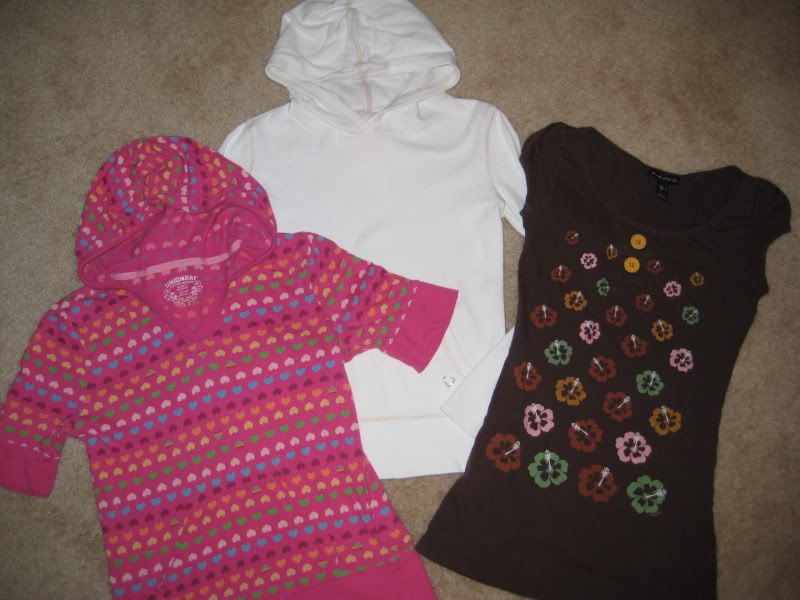 32) Macy's Greendog sz. 10-12 olive cotton knit hoodie shirt with sparkly thread stitching....$3
Arizona sz. 10/12 white cotton knit shirt with sparkly rhinestone butterfly print....$3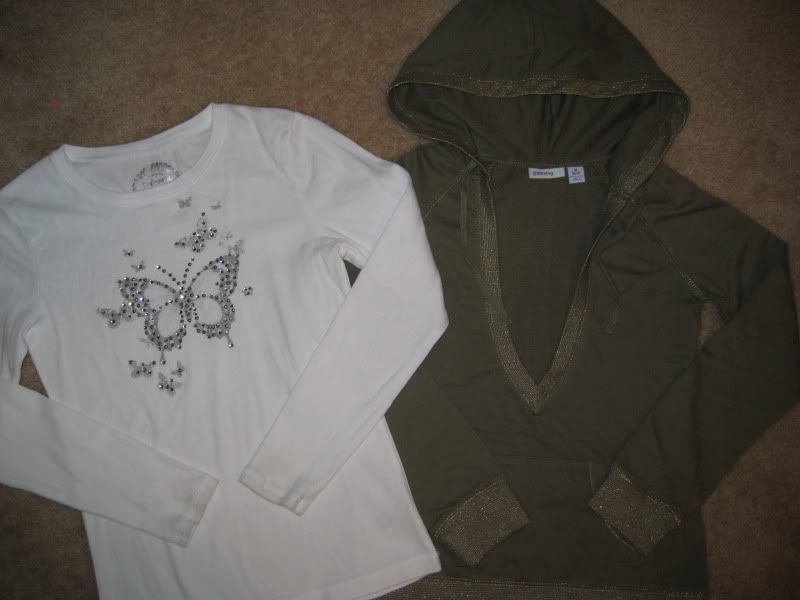 33)Knitworks sz. 14/16 floral print cotton knit shorter style sweatshirt hoodie....wear over tanks and camis....$2
Knit Works sz. 14/16 heart print cotton knit shorter style sweatshirt hoodie to wear over tanks, camis or t-shirts...$2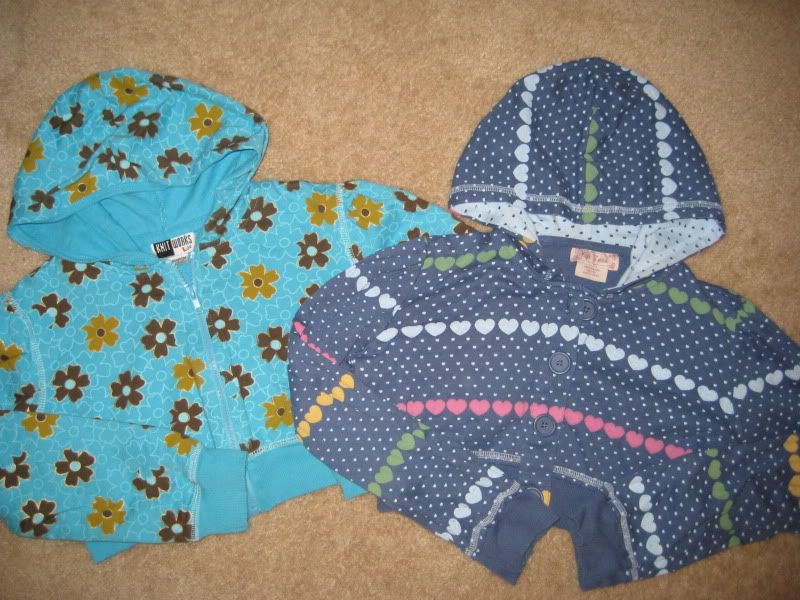 34) Aeropostale sz. XS hot pink polka dot cotton knit shirt with navy blue embroidered logo....$4
NWT Aeropostale sz. XS heather grey screen print cotton knit shirt...$5
NWT Aeropostale sz. XS green screen print cotton knit shirt.....$5
Aeropostale sz. XS teal cotton/spandex print bra tank.....$3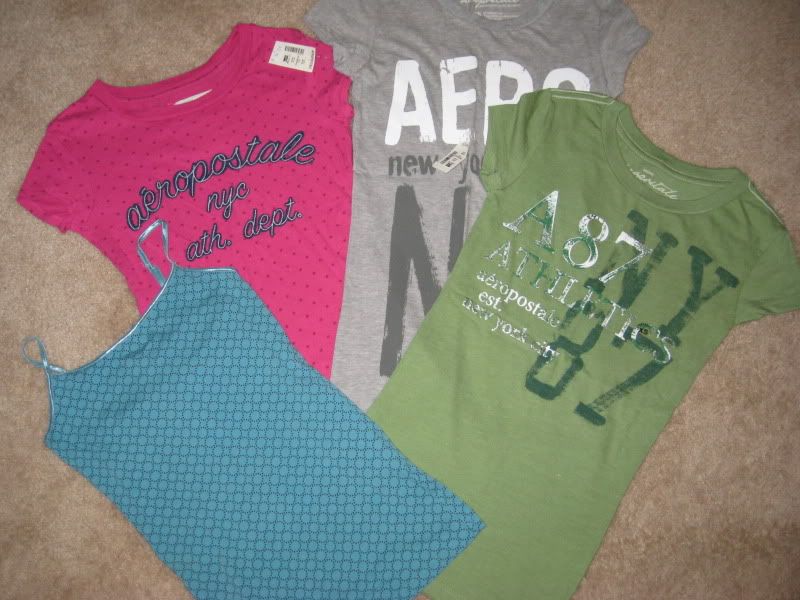 35) Limited Too sz. 10 denim stretch fashion capris with embroidered flowers adorned with tiny seed beeds .....$4
Arizona Co. sz. 10 slim denim stretch adjustable waist bermuda style shorts with embroidered butterflies, sparkly rhinestones and pink ties on each side....$4
Vanilla Star sz. 10 denim stretch capris with sparkly silver and aqua rhinestone butterfly and rhinestones around front and back pockets...$4
Arizona Jean sz. 10 slim denim stretch bermuda style shorts with sparkly rhinestone embroidered flowers....$4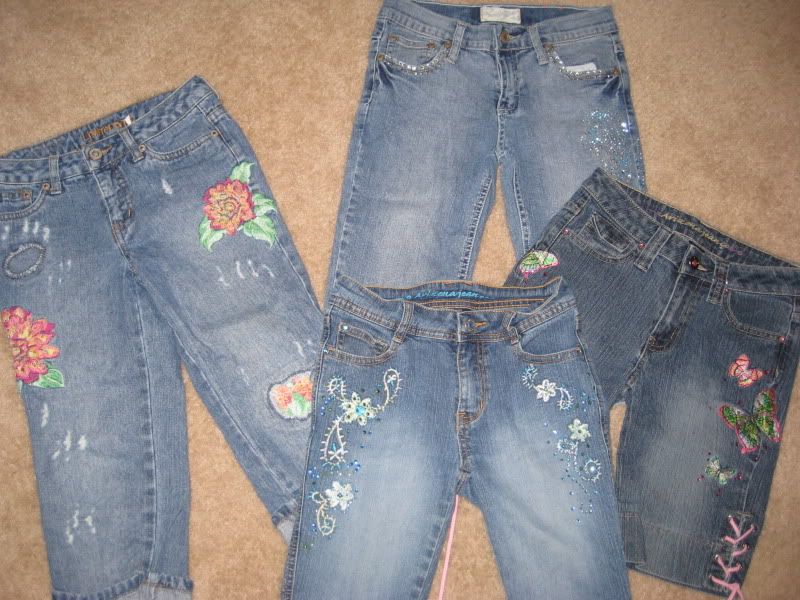 36) Aeropostale sz. XS striped cotton knit hoodie shirts with sparkly prints on front and back....$5 each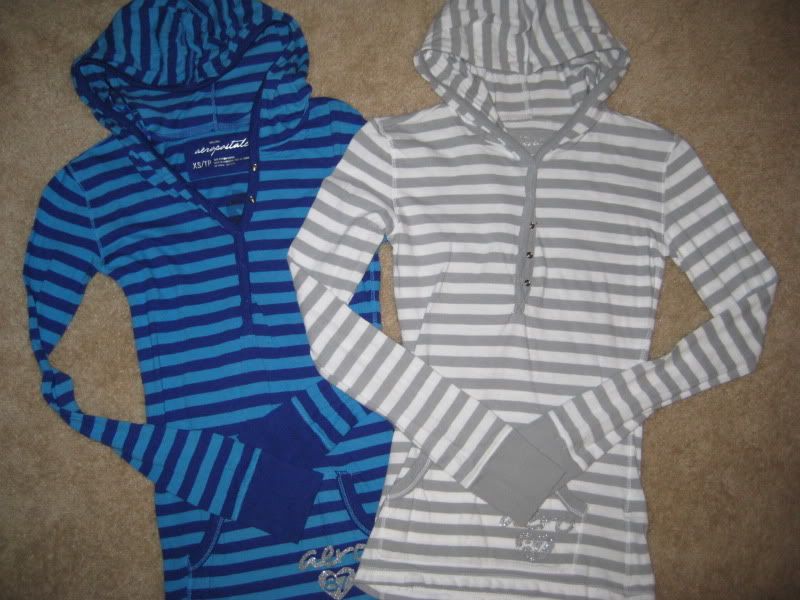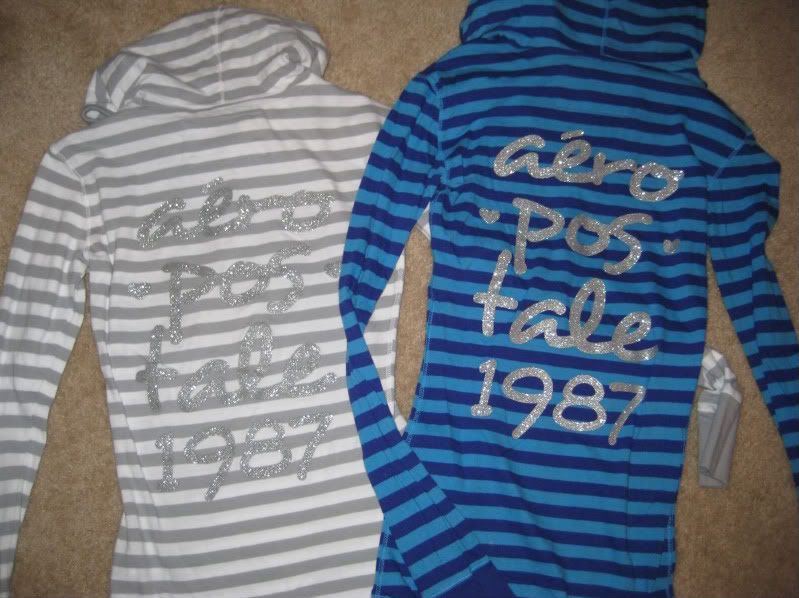 37) Knitworks sz. 7/8 hot pink soft sparkly sequin cotton knit shirt...$3
Arizona Jean sz. 7 denim stretch sparkly rhinestone bermuda style shorts....$3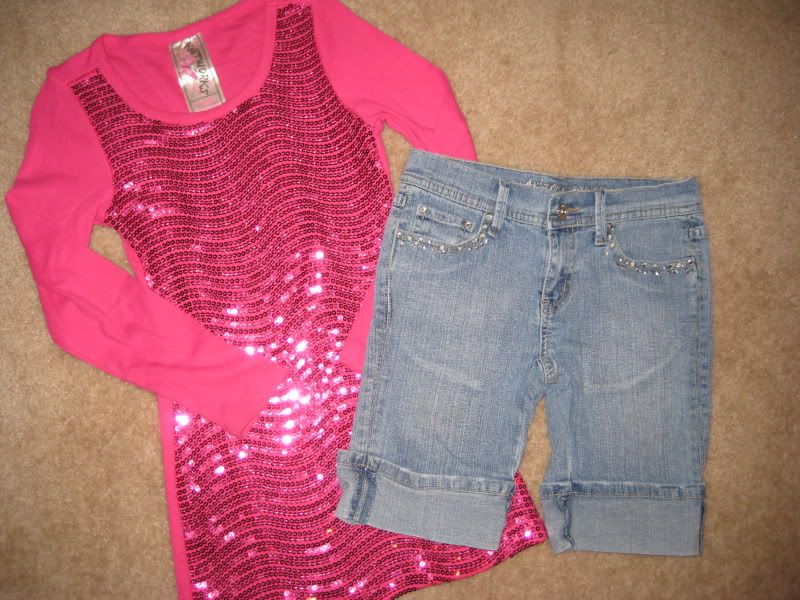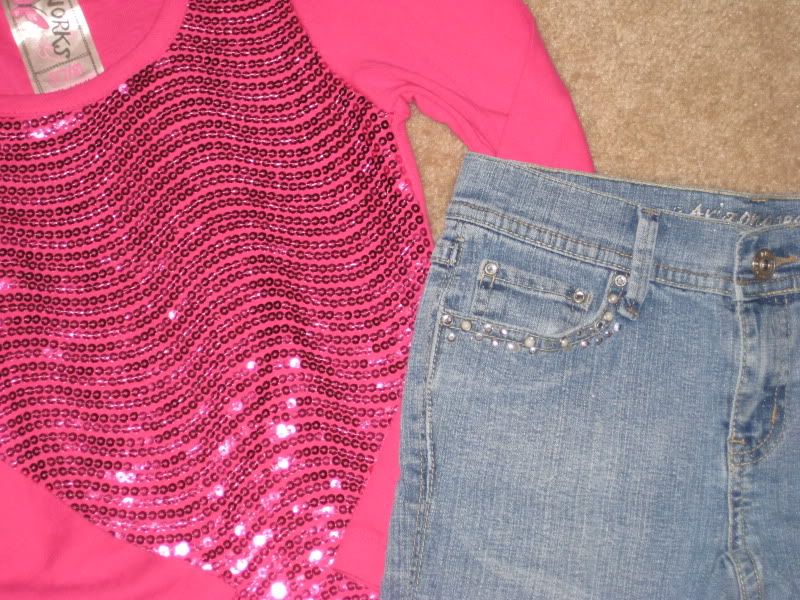 38) Xhiliration sz. L(10/12) cotton knit multi-striped pink hoodie style dress....$4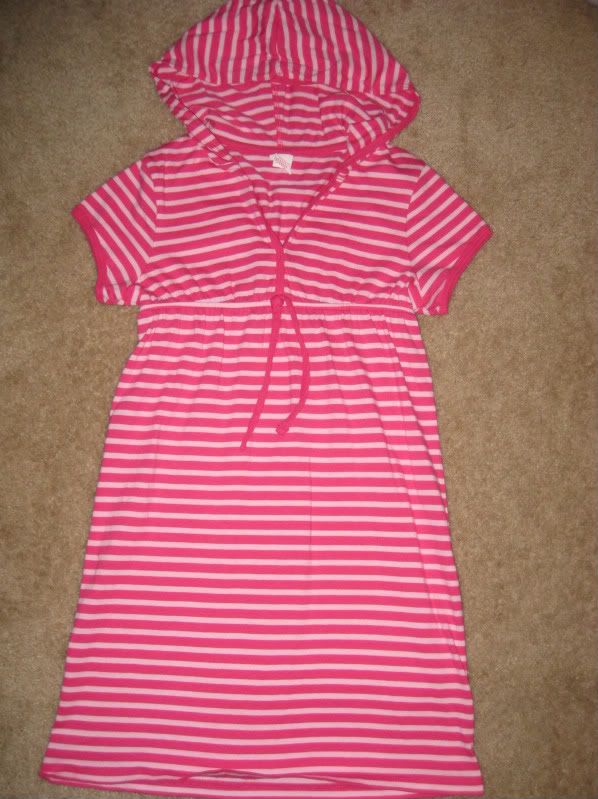 39) The Children's Place sz. 10 light brown cotton knit fluffly layered sparkly sequin dress....$6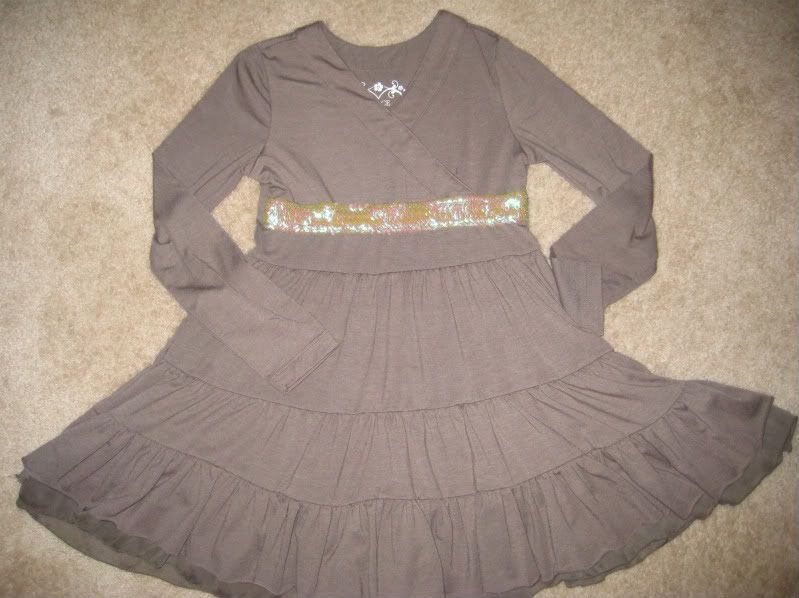 40) Macy's Roxy sz. M grey sweatshirt hoodie with appliqued logo....$5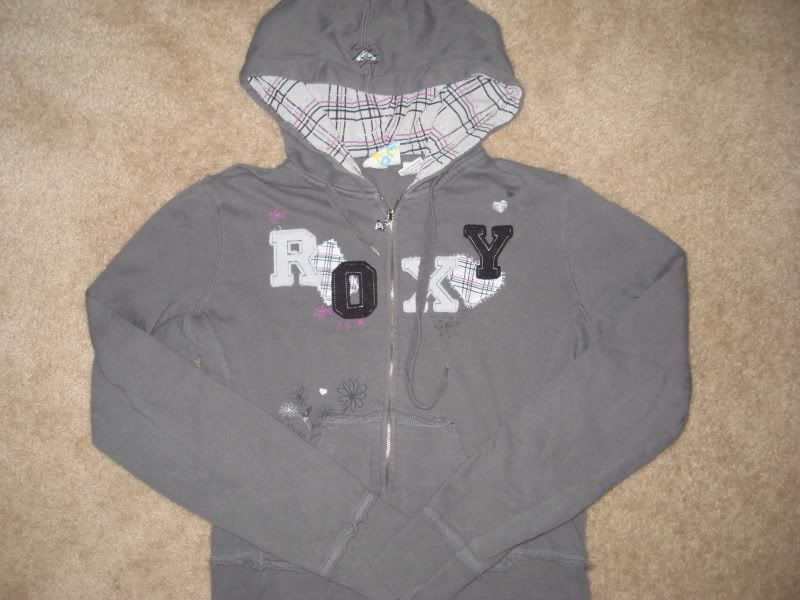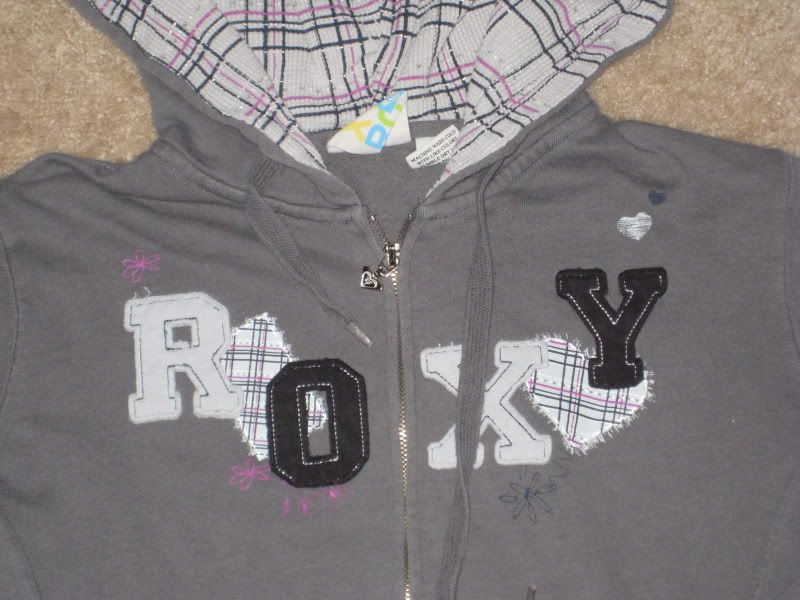 41) Macy's Beautees sz. S (10/12) creamy acrylic sweater.....$4
Macy's Greendog NWT sz. L (12/14) black cotton baby doll style sweater....$5


42) EArth Girl sz. M(10/12) adorable cotton knit top that ties in back with heart buttons down the front....$4
Gap Kids sz. L(10) blue cotton cableknit button down the front cardigan style hoodie sweater...$5
ByerGirl sz. 12 polyester/rayon/spandex twirly brown skirt with matching belt an dzips in the back......$5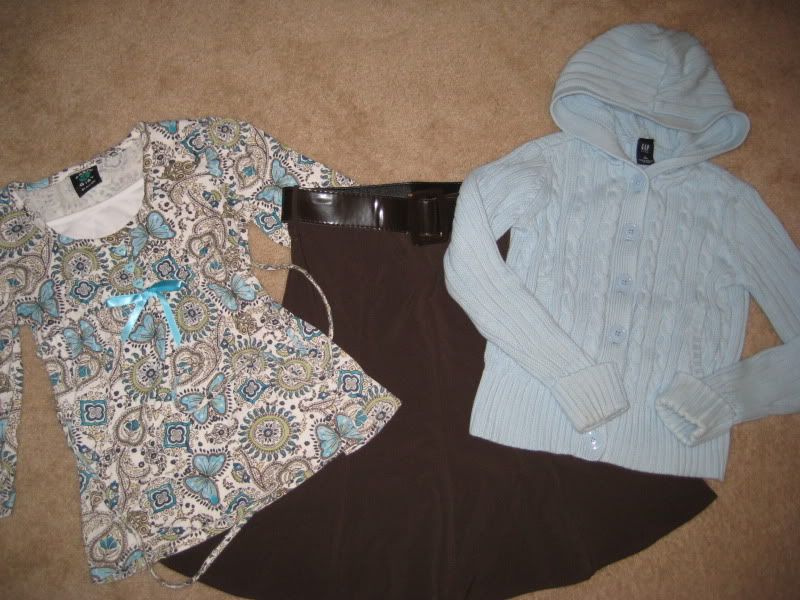 43 NWT Arizona sz. L(14/16) cotton knit sparkly print shirts.....$3 each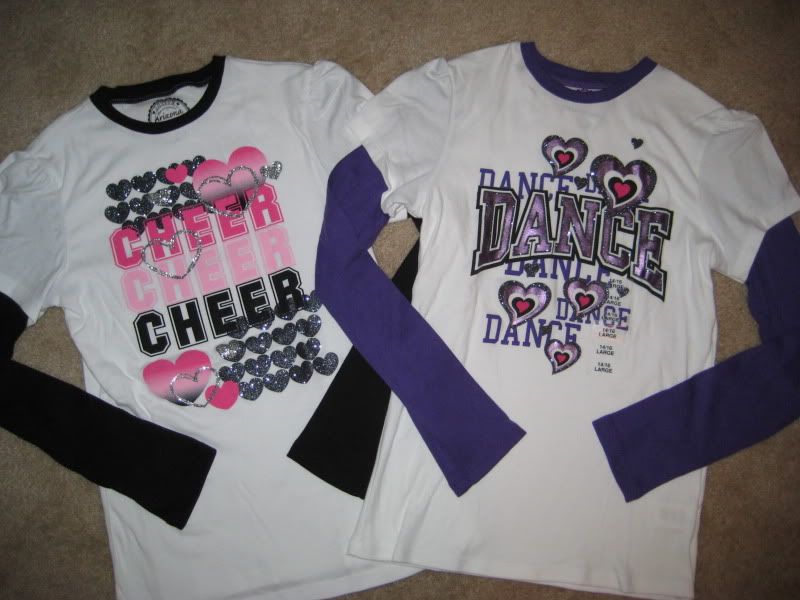 44) NWT Gymboree beautiful sz. 10 shimmery sparkly fluffy layers of tulling dress with heart print bodice.......love it!! $10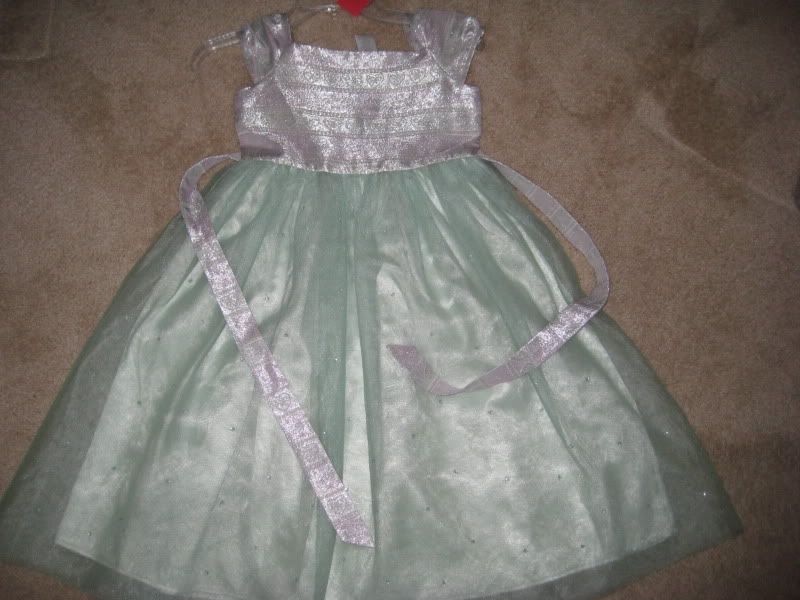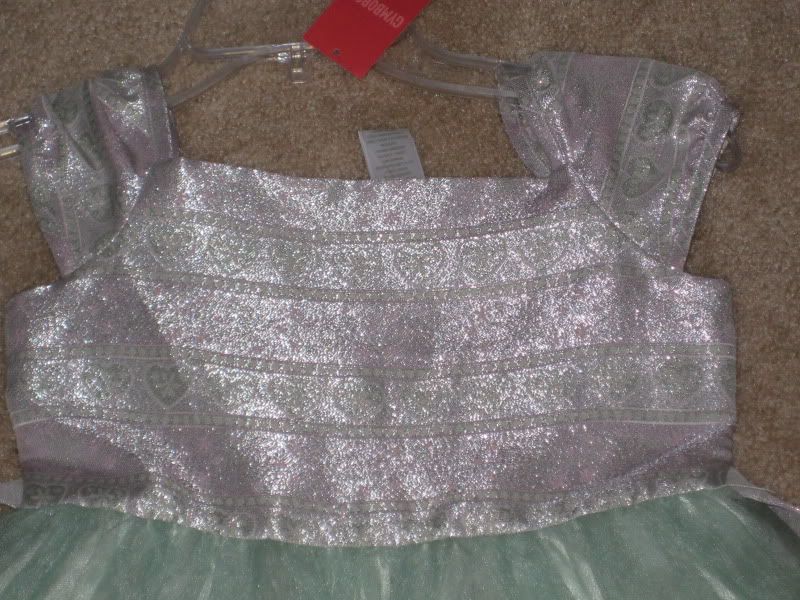 45) Macy's Kandy Kiss sz. 12 comfy soft poly/spandex knit dress that ties in back....adorable! $5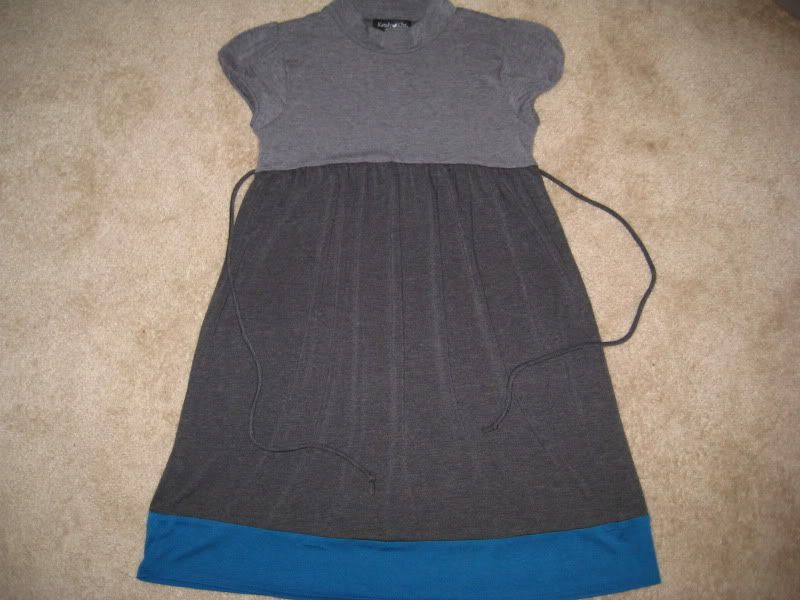 Reply To This Post Return to Posts Index VegSource Home
---