HOMESCHOOLERS: We have some very cool advertisers on this website, and as VegSource is supported by advertising, we're happy about that. If you can't see any ads, you might have an ad blocker, or a setting in your browser which blocks ads from showing up. Consider turning on ads while on vegsource so that you can see what they have to offer, and so that this site can remain free.
Reply To This Post Return to Posts Index VegSource Home
---
| | |
| --- | --- |
| From: | WendyCheryl (98.157.177.186) |
| Subject: | Lots of adorable little girl sz. 5/6, 6/6X.7/8 clothes! *Pictures Inside* |
| Date: | March 9, 2010 at 3:29 pm PST |
Here are lots of adorable little girl clothes from sz. 5/6, 6/6X to 7/8 all in excellent gently used condition from our non-smoking and pet-free home! I also will be listing lots of sz. 4/5 and 10/12-12/14 girls clothes in other posts if interested!!! Three girls and always lots of fabulous clothes:o)
I only accept Paypal payments....all forms of Paypal including credit card except for echecks which take tooooooooo long to clear...sorry.
I ship same day or next day once payment comes through!! Thanks so much!! Blessings!

1) GAP sz. 5 yrs. (6-6X) gorgeous star floral cotton jumper style dress completely lined and zips in the back and comes with matching creamy white cotton knit shirt....$8 for set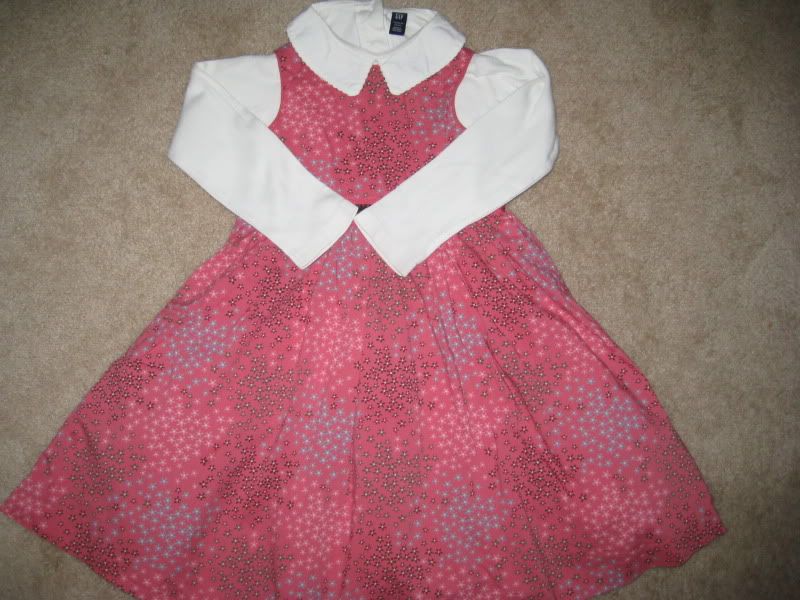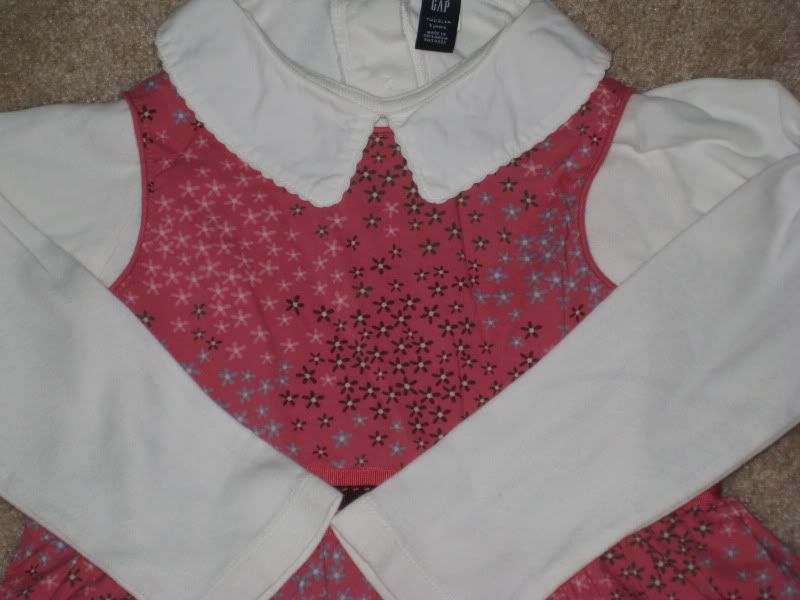 2) J.Khaki Kids brigth pink cotton knit long sleeved shirt with cotton lace trim...$3
Gymboree sz. 7 denim skort with embroidered flowers and ruffled hem....soooooooo cute! $3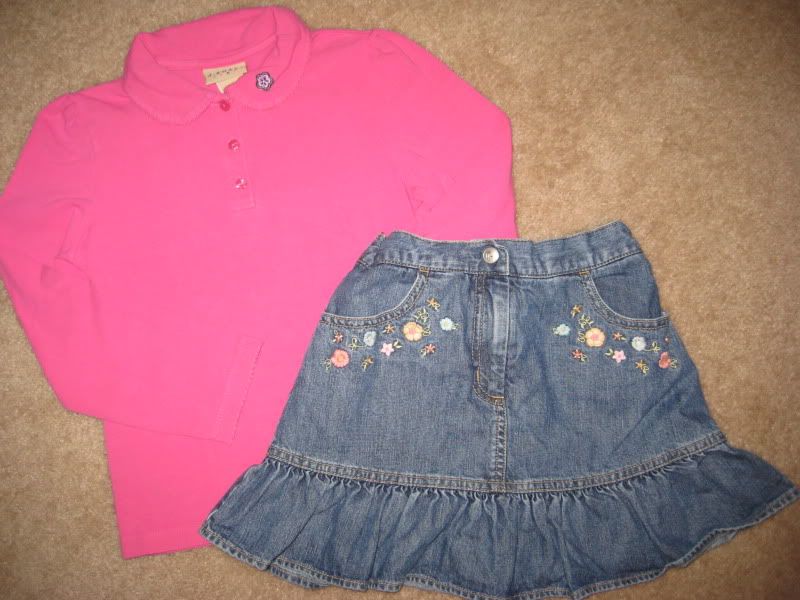 3)Disney Princess sz. 6 two-piece adorable outfit! The cotton/spandex leggings are a brown with bright pink heart print and the swing top is a very soft pink velour with Cinderella applique adorned with embroidered hearts and flowers ....so sweet! $8 for the set!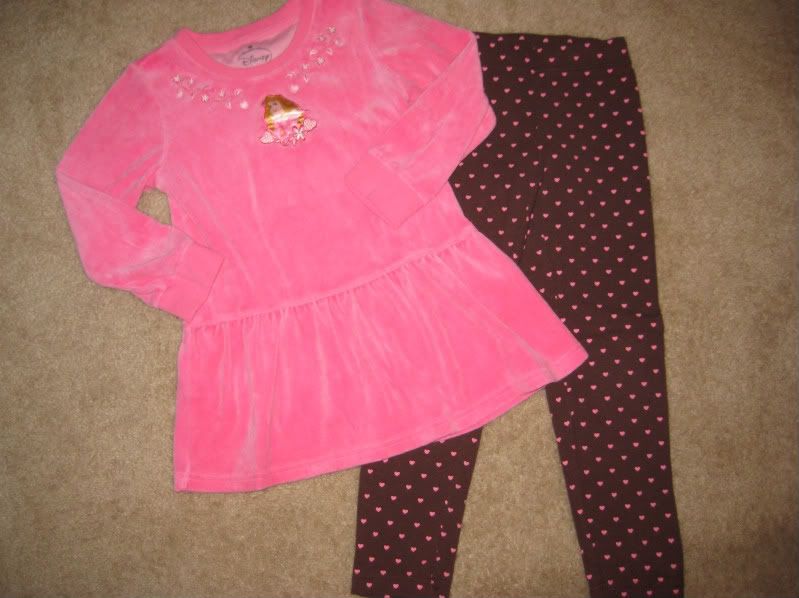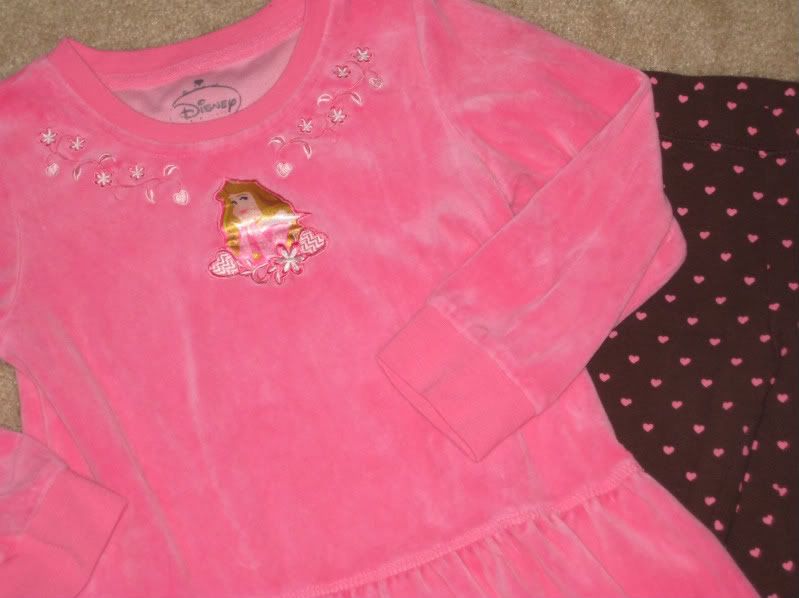 4) Target BAsic Editions sz. 6/6X bright pink cotton plaid summer dress with embroidered flowers around neckline...$3
Jona Michelle sz. 6 bright yellow floral print summer dress with ric rac trim and ties at each shoulder....$3
NWT Claires bright yellow and pink stretchy beaded necklaces that easily slip over head! $2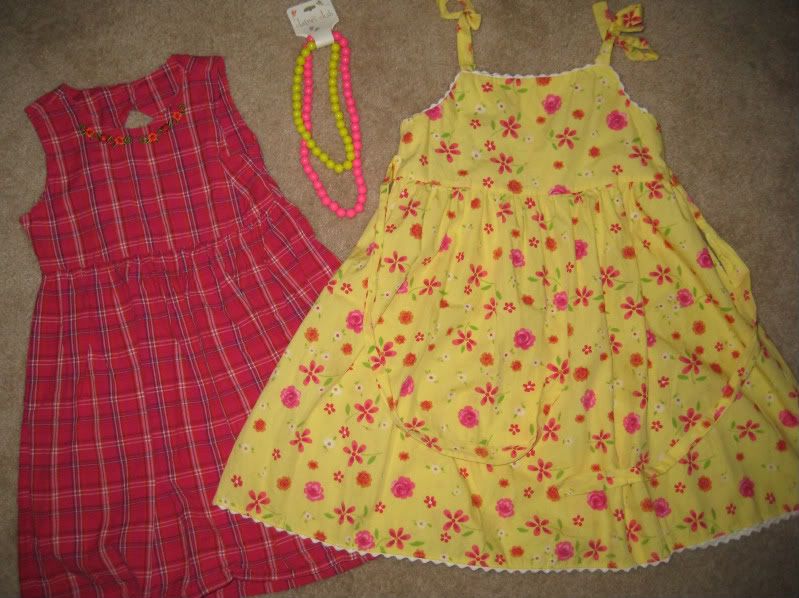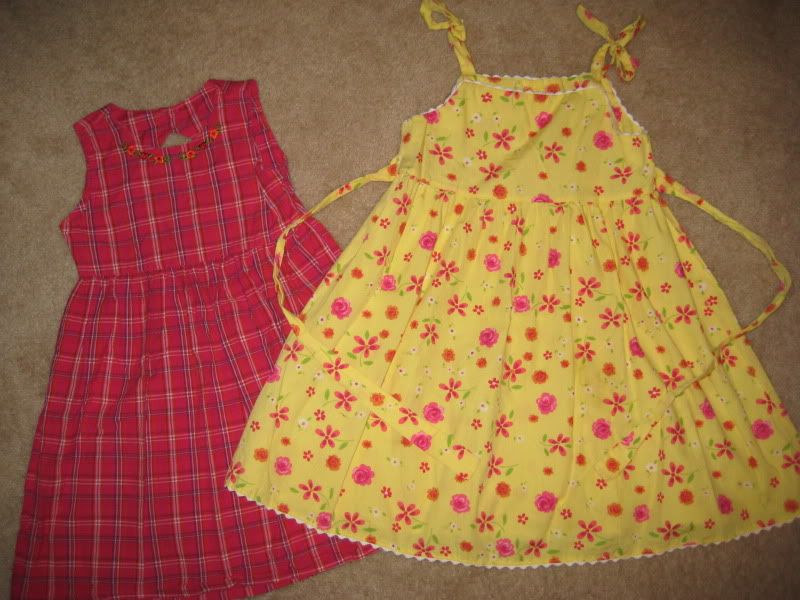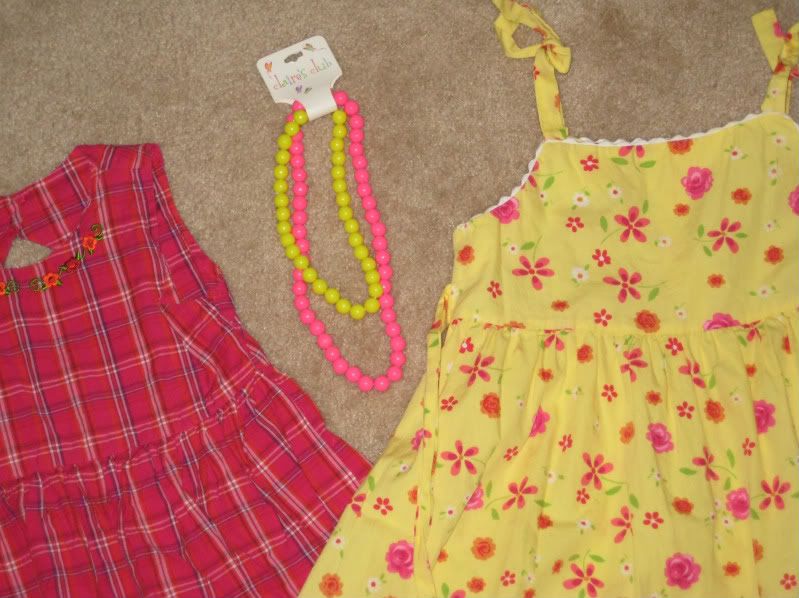 5) Target Circo sz. M(6-6X) pink floral print soft velour long sleeved dress....$3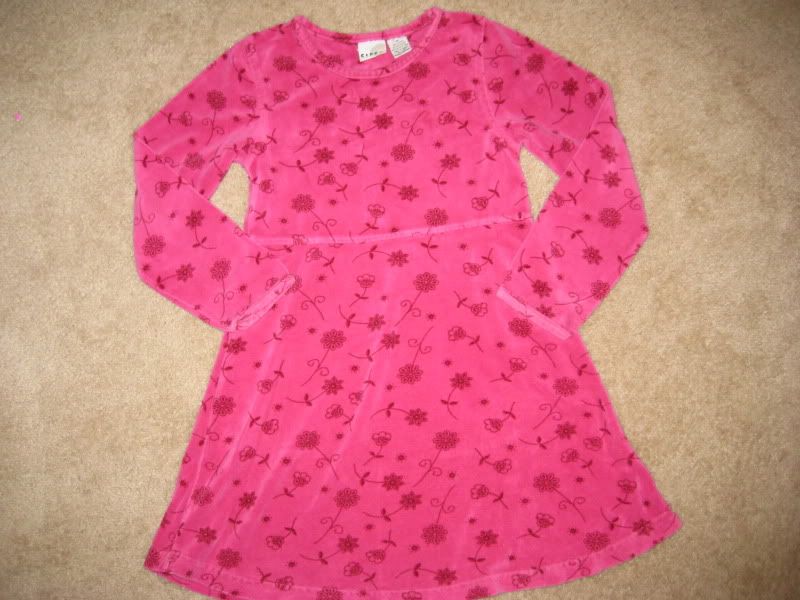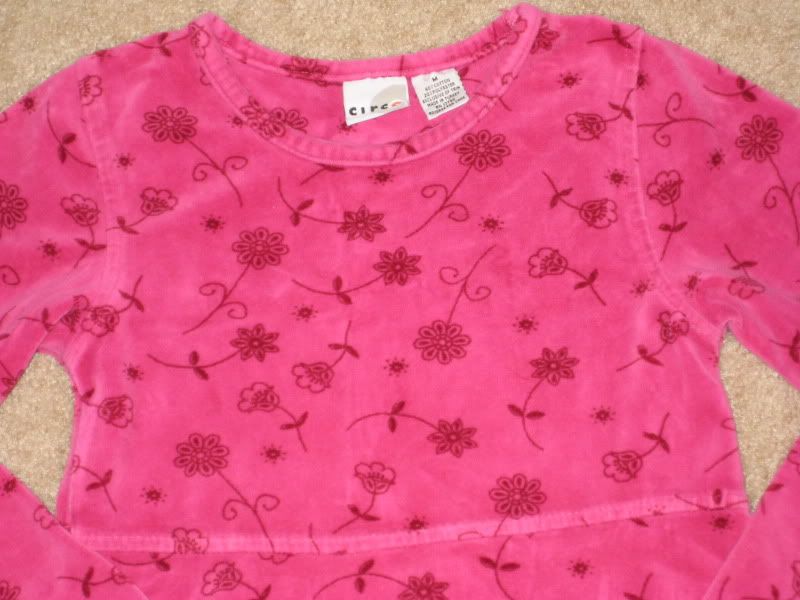 6) Gymboree sz. 6 corally pink cotton knit summer shirt with appliqued tropical flower....$3
Gap sz. 6-7 yellow cotton knit shirt with colorful butterfly print....$3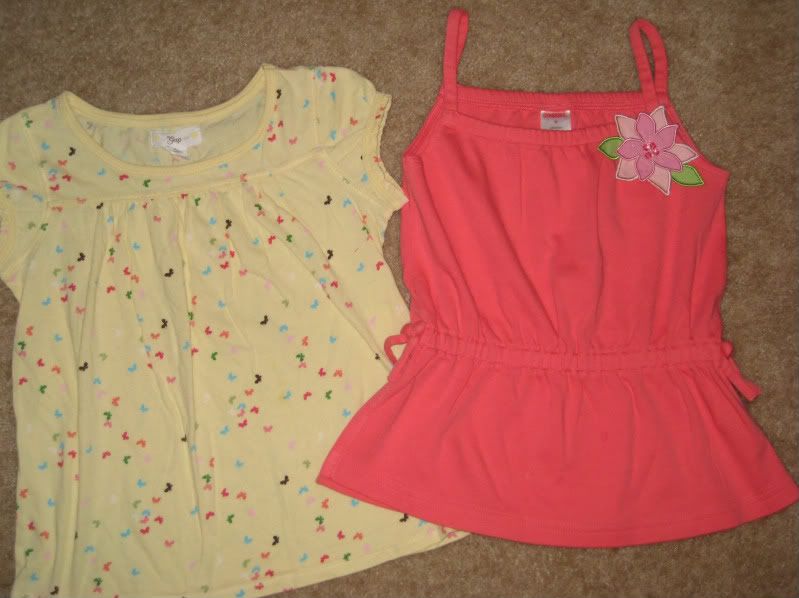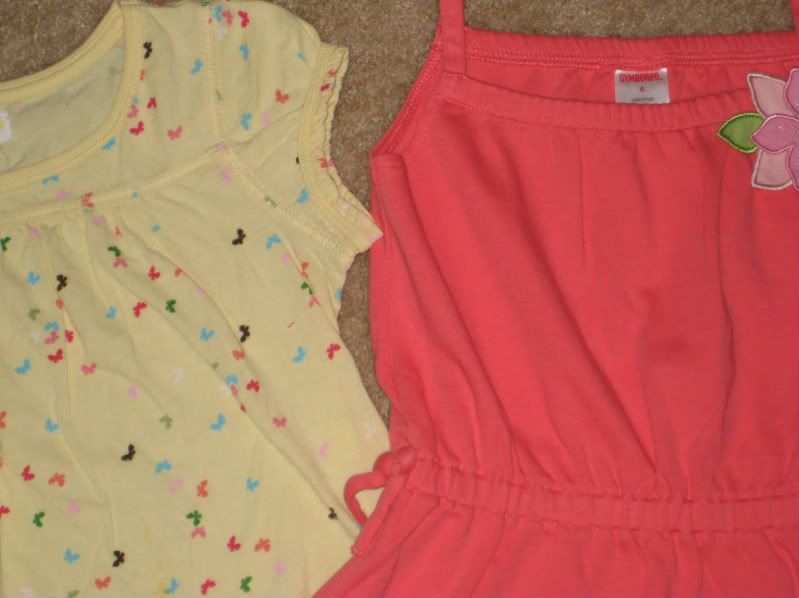 ="Photobucket">
Ā@
7) Jona Michelle sz. 6 blue cotton floral print summer dress that buttons and ties in back......$3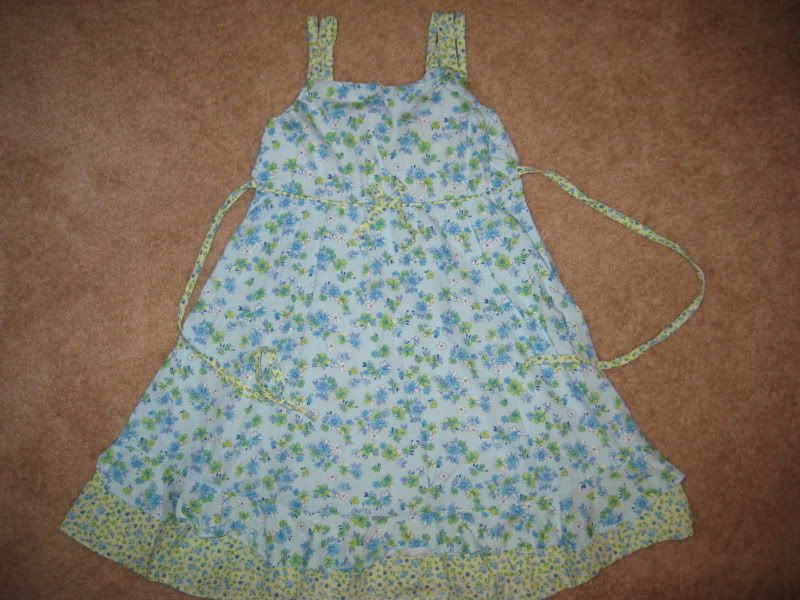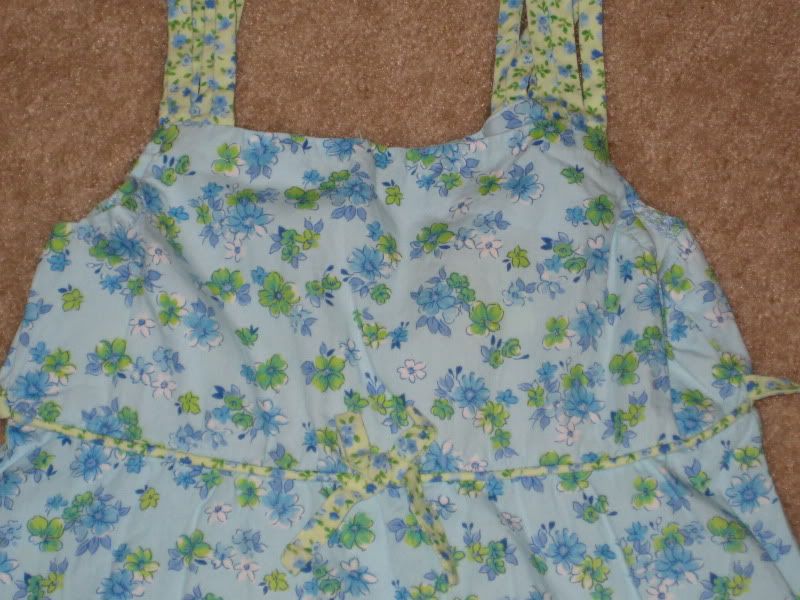 8) Strawberry Shortcake sz. 7/8 sparkly printed bright pink cotton knit shirt...$2
Strawberry Shortcake sz. 6 brown cotton denim style pants with embroidered hearts and flowers along hemline....$2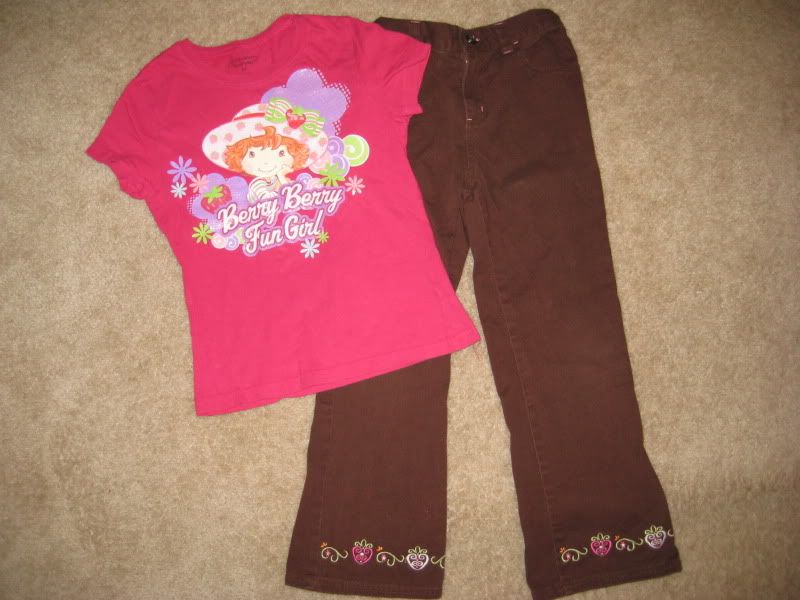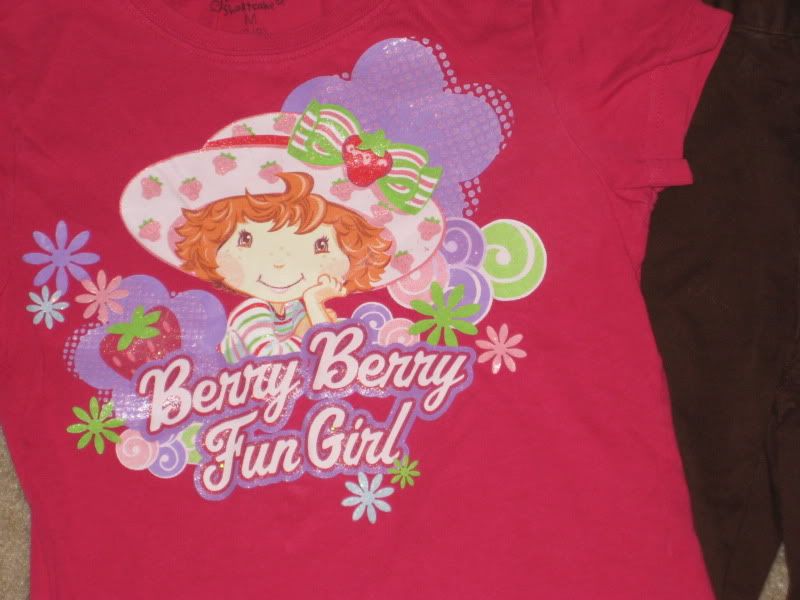 9) BCX Girl sz. 6 flowly polyester floral print top and matching sz. 5 poly/rayonspandex gaucho style flowy pants with thin pin stripes and elastic waist in back and detachable fun belt....these ran big so I purchased the 5's.......adorable outfit!! $6 for set!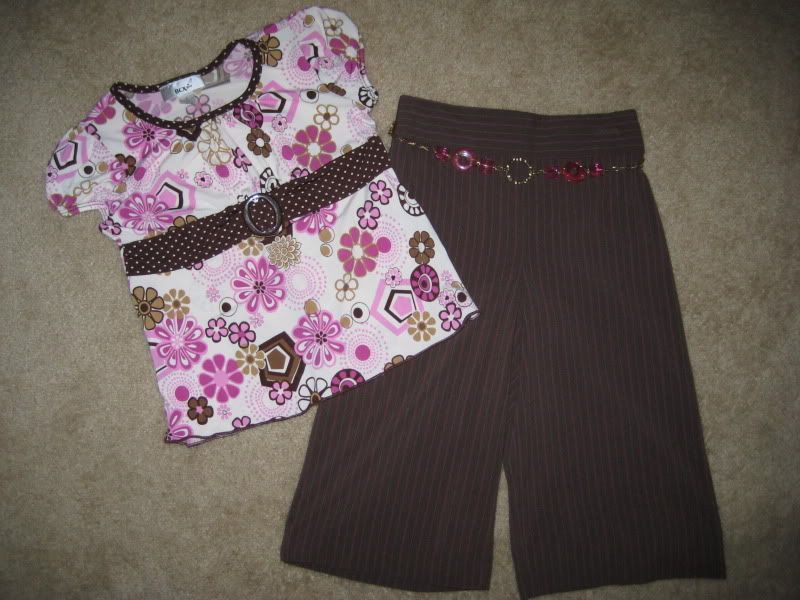 10) Bonnie Jean sz. 6 pink & white gingham checked puffy short sleeved summer dress with sheer ribbon bow around waist adorned with attached satin roses. It buttons and ties in the back and sooooooooo cute on! $3
Little Billy sz. 6X white eyelit cotton floral print dress with eyelit trim and buttons in the back...$3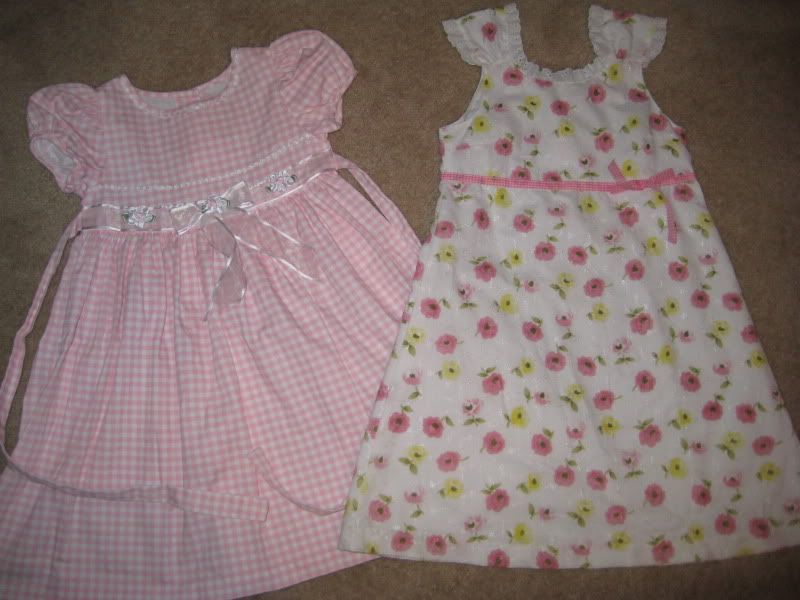 11) Carter's sz. 6 cotton knit polo style dress...$3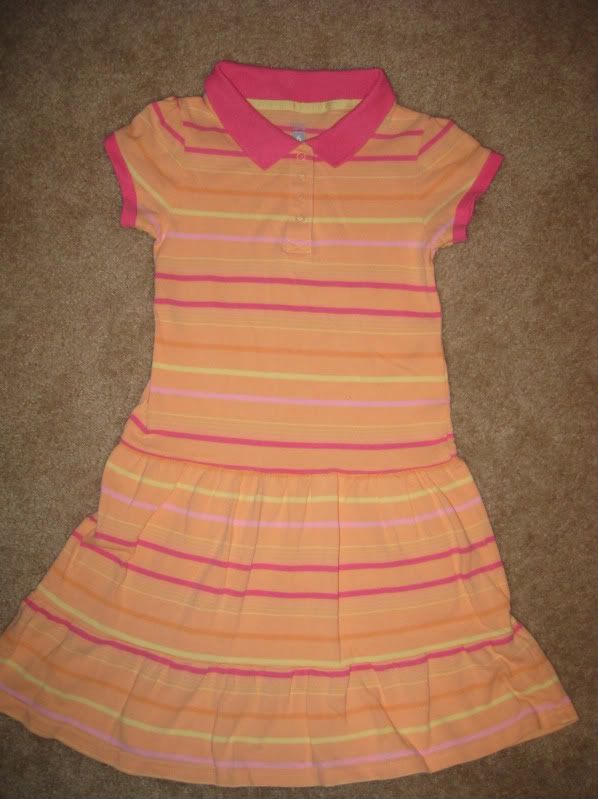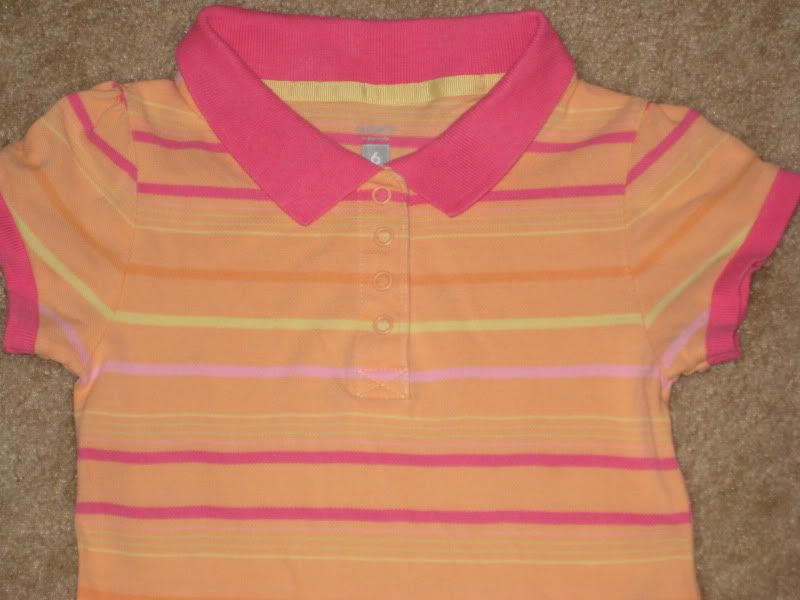 12) The Children's Place sz. 7/8 cute, cute leopard print Princess sparkly studded cotton knit shirt...$3
The Children's Place sz. 7/8 blue cotton knit colorful snowflake print shirt...$3
The Children's Place sz. 6x/7 cute cotton knit sparkly cupcake print long sleeved shirt...$3
SO Wear it Declare it....sz. 7/8 cotton knit sparkly butterfly print shirt...$3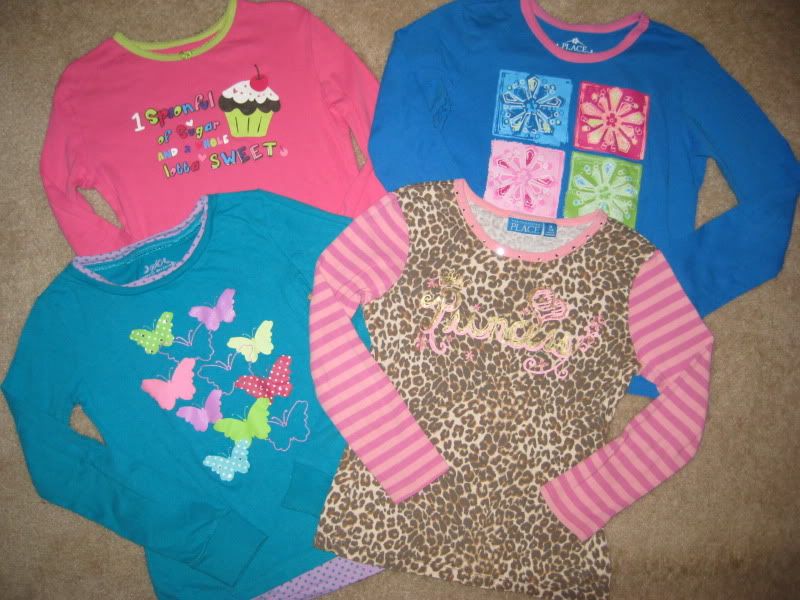 13) Disney Tinkerbell sz. 7/8 green cotton knit print pajamas...$3
Bratz Kids sz. 7/8 pink print cotton knit pajamas...$3
Disney Tinkerbell sz. 6 pink print cotton knit pajamas...$3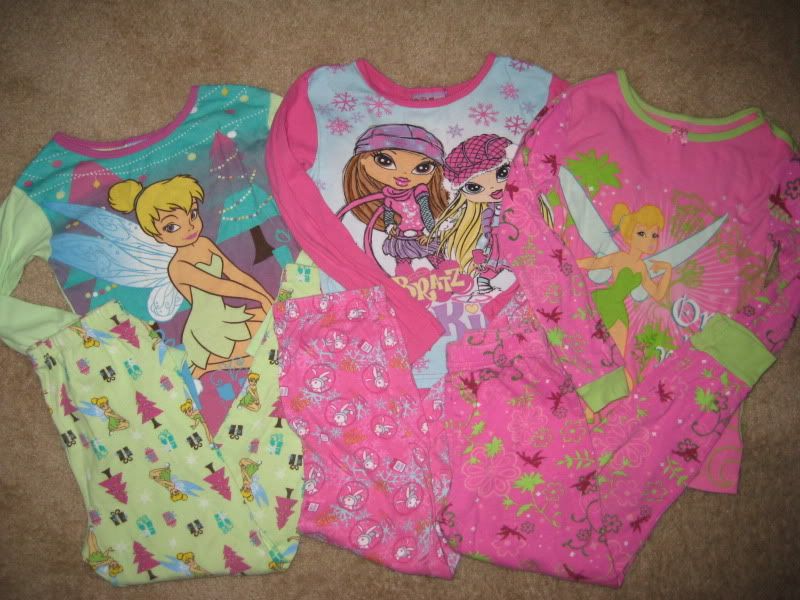 14) Rubbies sz. 6 hot pink cotton/spandex summer shirt with cute sparkly jeweled appliqued flowers on front and fun fringe trim around the bottom of shirt....$3
Disney sz. M 7/8 hot pink cotton knit summer top with sparkly Princess Ariel print on front....$2


15) Disorderly Kids sz. 5....but ran bigger ....more like a 6 /6X..... polyester floral print very flowy summer top that ties around neck........with matching hot pink cotton/spandex capris style lace trimmed leggings.....$6 for set! Sooooooo adorable on!!


16) The Children's Place sz. 6X/7 bright floral print denim stretch skort with adjustable waist and buttons and zips in front...$3
Macy's Roxy sz. 6 pink denim ruffled skort ....buttons and snaps in front.....cute!!! $3
Arizona sz. 6 hot pink denim stretch capris with sparkly rhinestones ......$3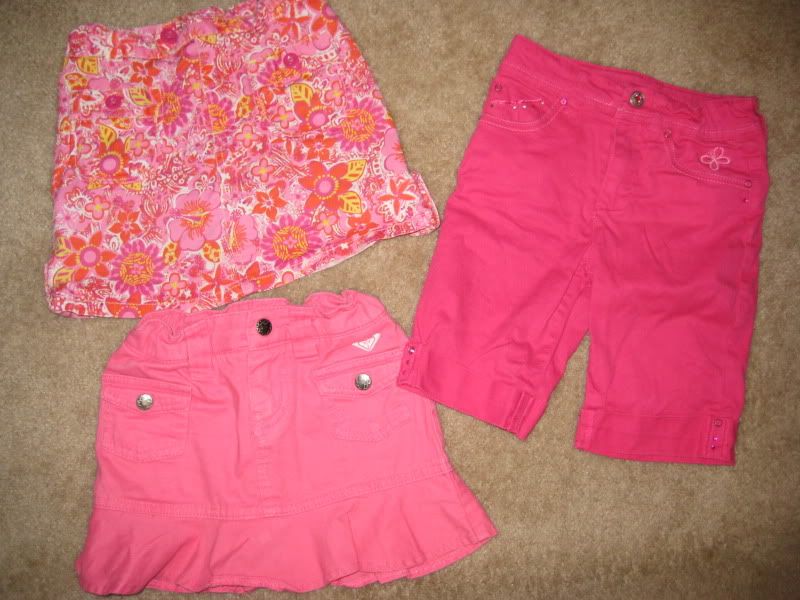 17) Arizona sz. 6 cotton floral print summer shirt....$3
Arizona sz. 6 bright blue cotton shorts with sparkly rhinestones and embroidered butterflies...$3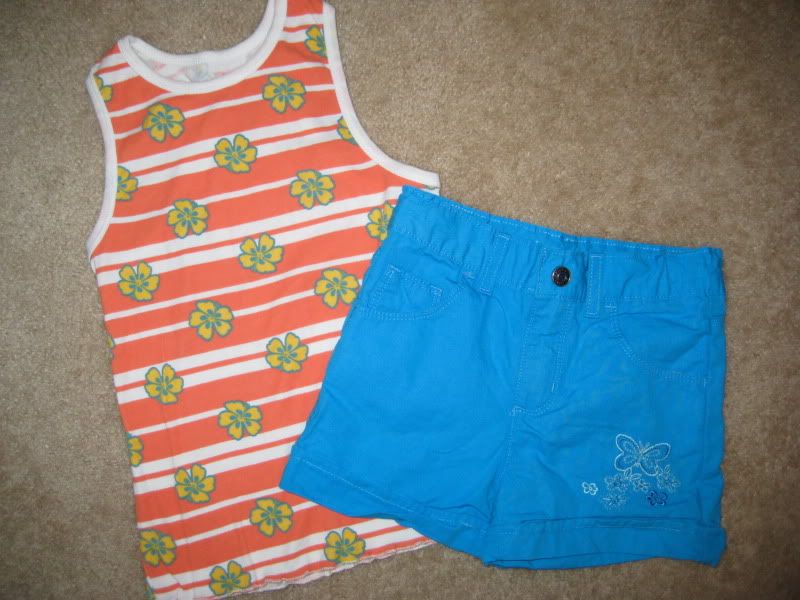 18) The Children's Place sz. 7/8 cotton plaid summer top...cute!!! $3
The Children's Place sz. 6X/7 pink cotton/spandex comfy shorts....$3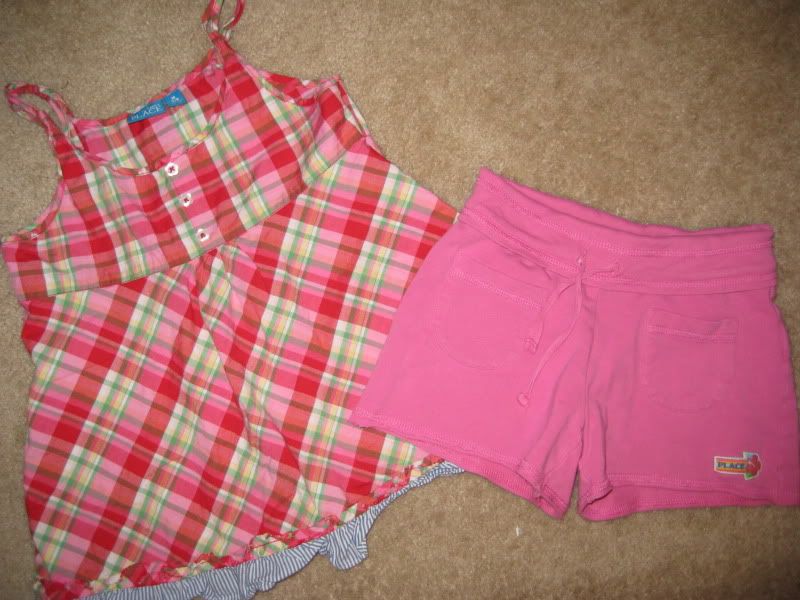 19) Carter's sz. blue floral print pajamas....$3
Faded Glory sz. 7/8 pink heart print pajamas...$3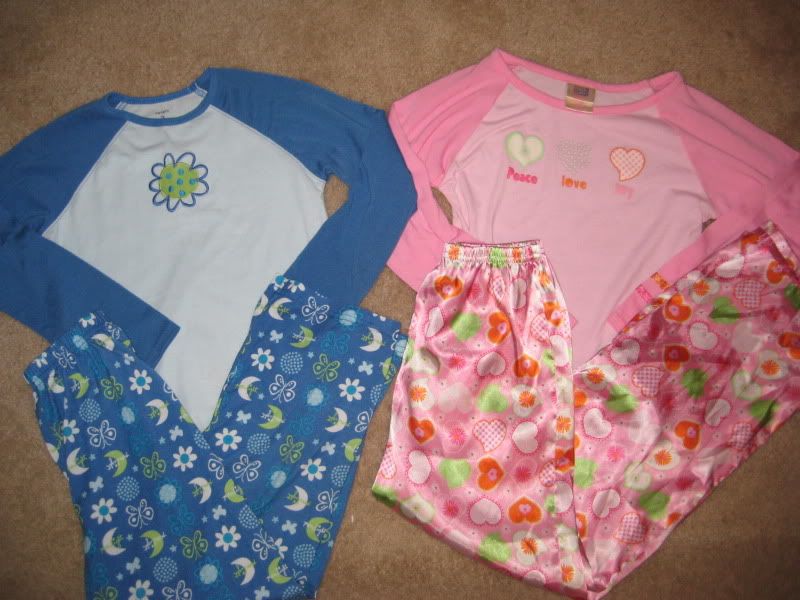 20) Old Navy sz. S 7/8 Acrylic/wool multi-striped hoodie sweater.....$3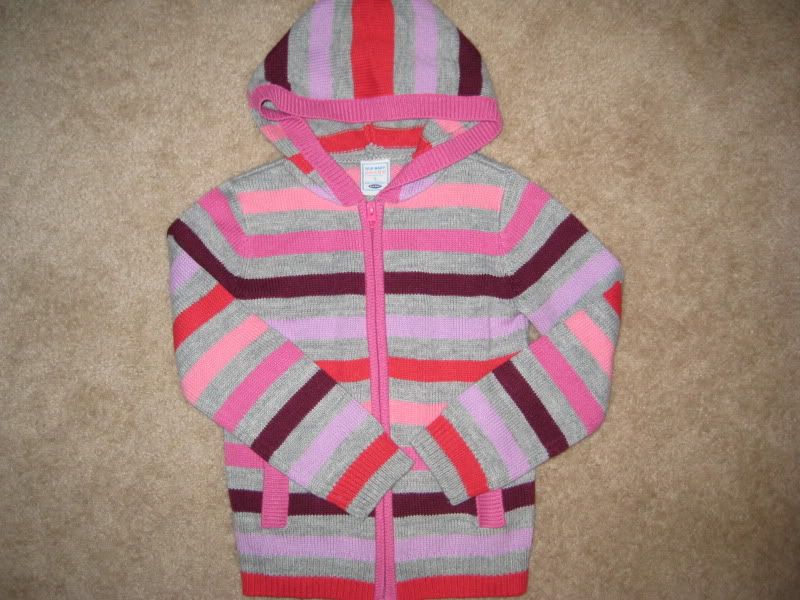 21) Here are nine little girl fashion belts! $6 for all!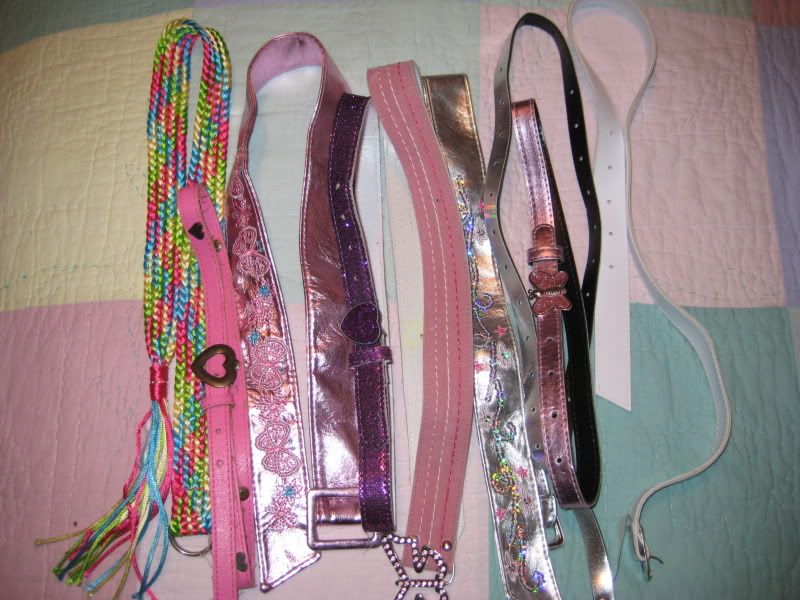 22) NWT brown fashion bag with sparkly silver heart print all over...$2
Brand New Fancy Nancy glamorous purse and heart shaped glasses...$2
Brand New Hello Kitty canvas /vinyl lined sparkly lunchbag that zips open...$2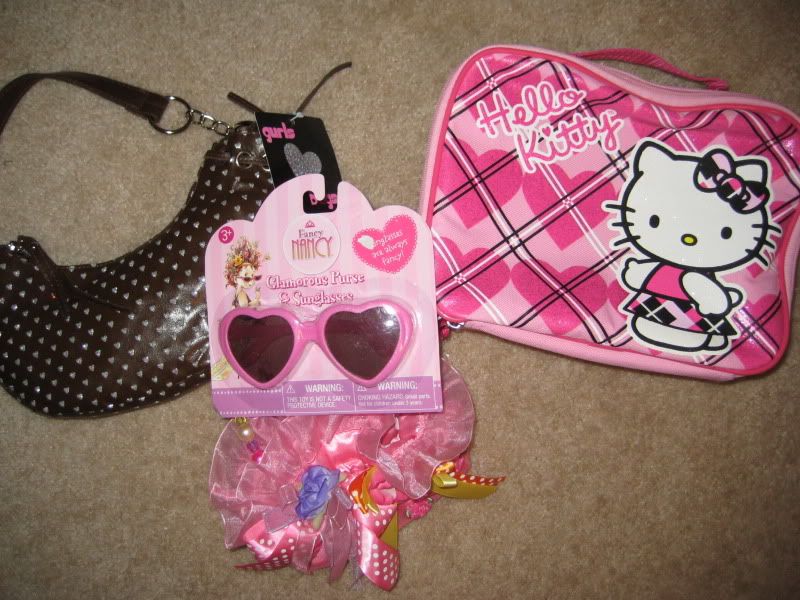 23) Faded Glory thick cotton knit tights in gently used condition....all are sz. 4-6 and the one red Gymboree pair are sz. 5-7yrs. Only $2 each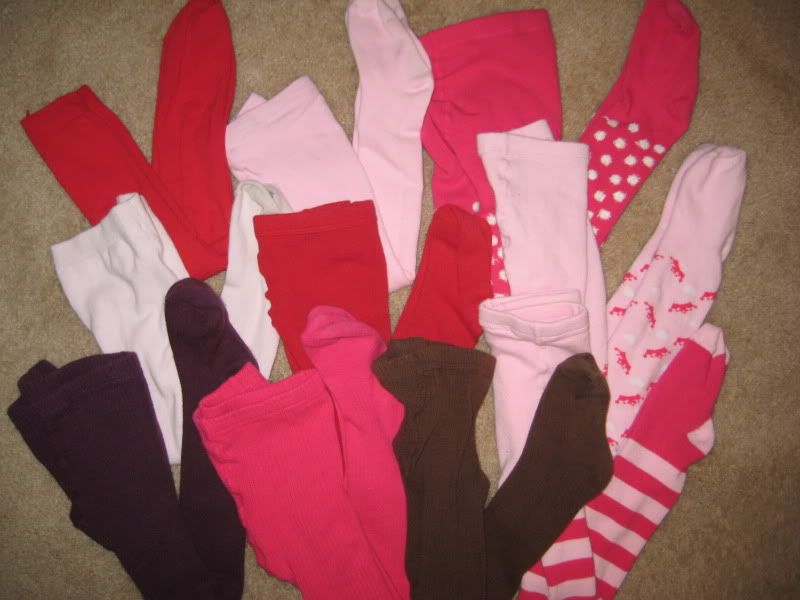 24) Disney sz. 8 cotton knit princess pajamas...$3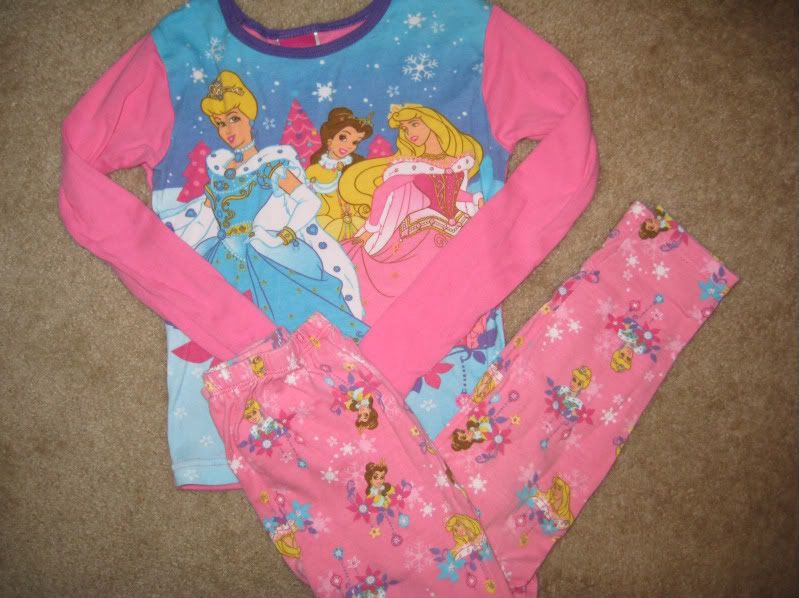 25) NWT Total Girl sz. 6/6X 3-piece flannel princess poodle pajamas...$4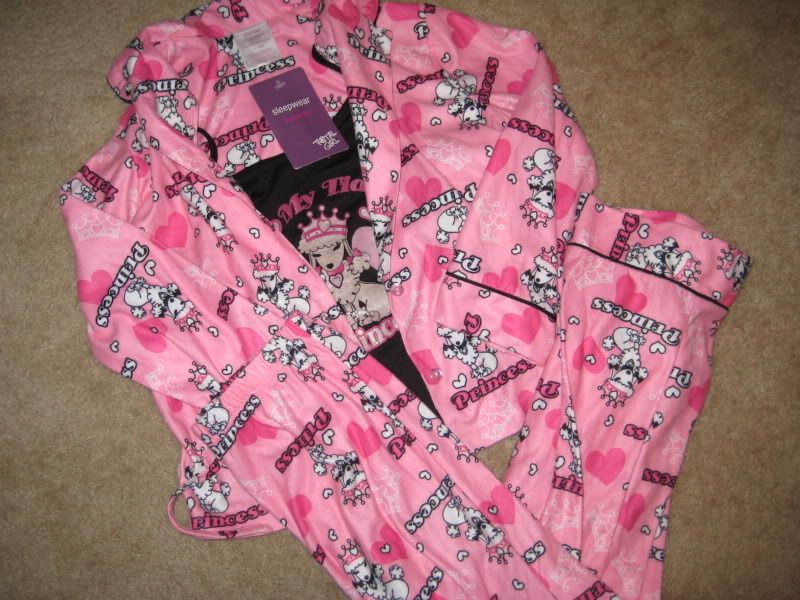 26) Bobby Jack sz. 6/6X polyester bubblegum print pajamas set...$3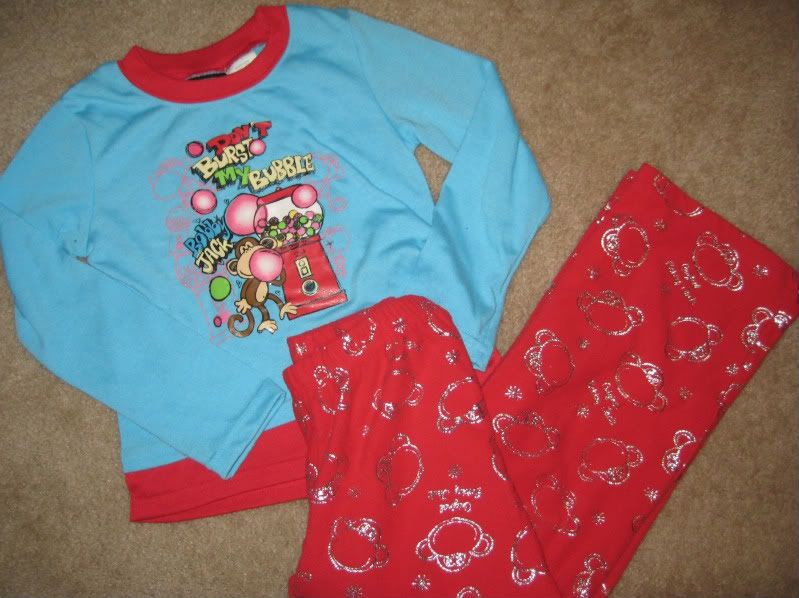 27) Macy's Greendog sz. 7/8 comfy flannel monkey print pajamas....$3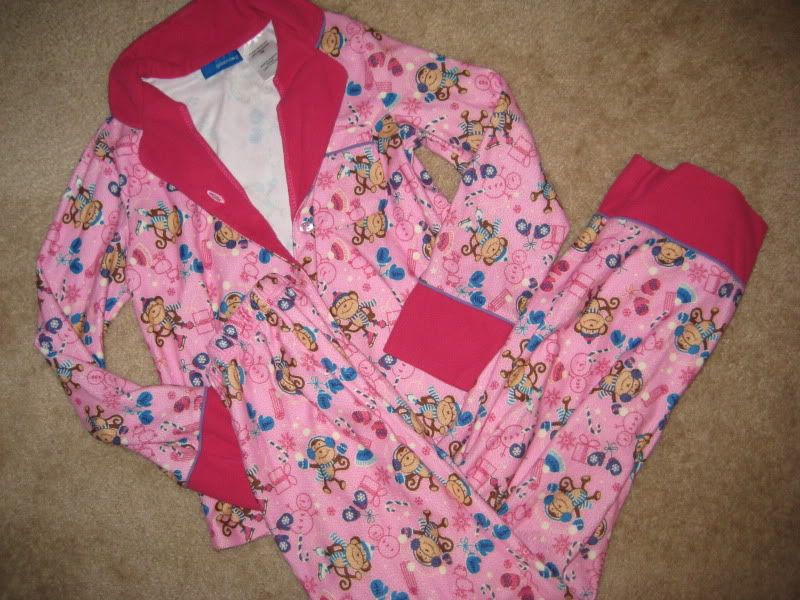 Reply To This Post Return to Posts Index VegSource Home
---